Funny Shayari "Itna Sa Fasana Hai"
|
Masoom Mohabbat Ka.
Bas Itna Sa Fasana Hai.
Ammi Ghar se Nikalne Nahi Deti.
Aur Mujhe Date Par Jana Hai.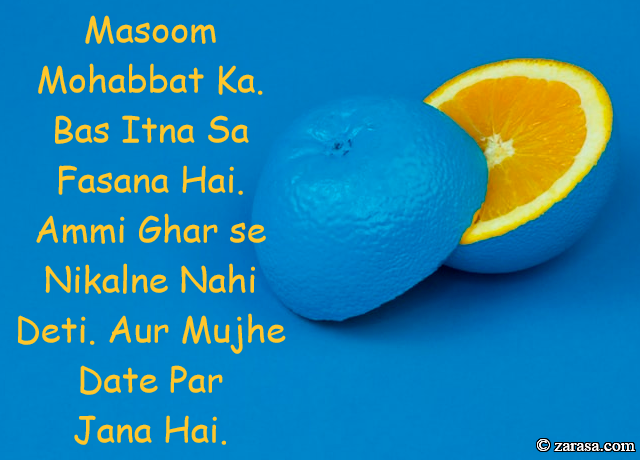 ---

मासूम मोहब्बत का .
बस इतना सा फ़साना है .
अम्मी घर से निकलने नहीं देती .
और मुझे डेट पर जाना है .



---

ماسوم موحبّت کا .
بس اتنا سا فسانہ ہے .
عی گھر سے نکلنے نہیں دیتی .
اور مجھے ڈٹے پر جانا ہے .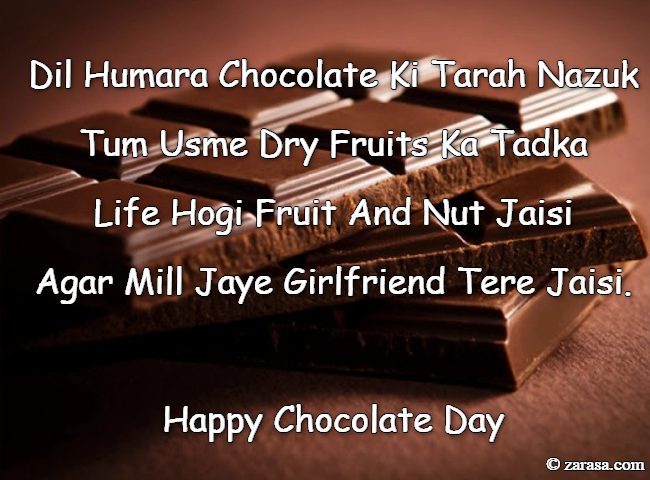 Dil Humara Chocolate Ki Tarah Nazuk
Tum Usme Dry Fruits Ka Tadka
Life Hogi Fruit And Nut Jaisi
Agar Mill Jaye Girlfriend Tere Jaisi.
Happy Chocolate Day
दिल हमारा चॉक्लेट की तरह नाज़ुक
तम उसमें ड्राई फ्रूट्स का तड़का
लाइफ होगी फ्रूट एंड नट जैसी
अगर मिल जाए गर्लफ्रेंड तेरी जैसी।
دل ہمارا چوکلاتے کی طرح نازک
تم اسمے درے فروٹس کا تڑکا
لائف ہوگی فروٹ اینڈ نٹ جیسی
اگر مل جائے گرل فرینڈ تیرے جیسی
---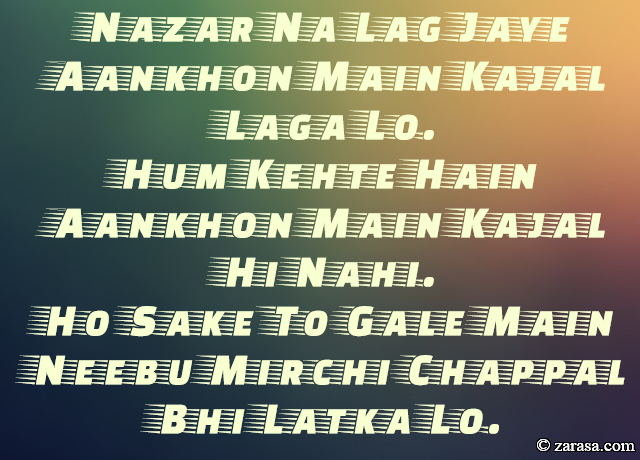 Nazar Na Lag Jaye Aankhon Main Kajal Laga Lo.
Hum Kehte Hain Aankhon Main Kajal Hi Nahi.
Ho Sake To Gale Main Neebu Mirchi Chappal Bhi Latka Lo.
नज़र ना लग जाये आँखों मैं काजल लगा लो .
हम कहते हैं आँखों मैं काजल ही नहीं .
हो सके तो गले मैं नीबू मिर्ची चप्पल भी लटका लो .
نظر نہ لگ جائے آنکھوں میں کاجل لگا لو .
ہم کہتے ہیں آنکھوں میں کاجل ہی نہیں .
ہو سکے تو گلے میں نیبو مرچی چپپل بھی لٹکا لو .
---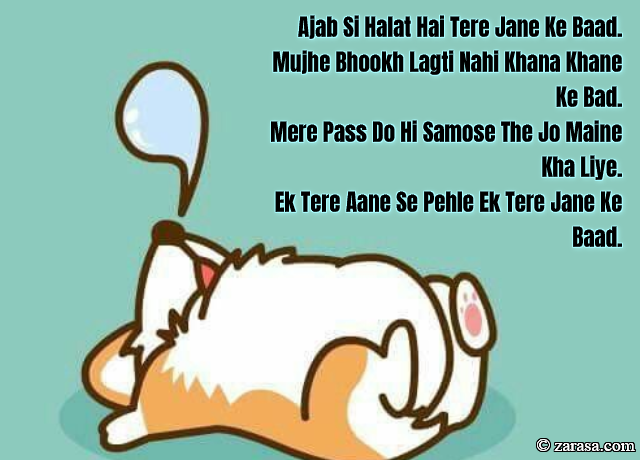 Ajab Si Halat Hai Tere Jane Ke Baad.
Mujhe Bhookh Lagti Nahi Khana Khane Ke Bad.
Mere Pass Do Hi Samose The Jo Maine Kha Liye.
Ek Tere Aane Se Pehle Ek Tere Jane Ke Baad.
अजब सी हालत है तेरे जाने के बाद,
मुझे भूख लगती नहीं खाना खाने के बाद,
मेरे पास दो ही समोसे थे जो मैंने खा लिए,
एक तेरे आने से पहले, एक तेरे जाने के बाद।
عجب سی حالت ہے تیرے جانے کے بعد .
مجھے بھوکھ لگتی نہیں کھانا خانے کے بعد .
میرے پاسس دو ہی سموسے تھے جو مہینے کھا لئے .
ایک تیرے آنے سے پہلے ایک تیرے جانے کے بعد .
---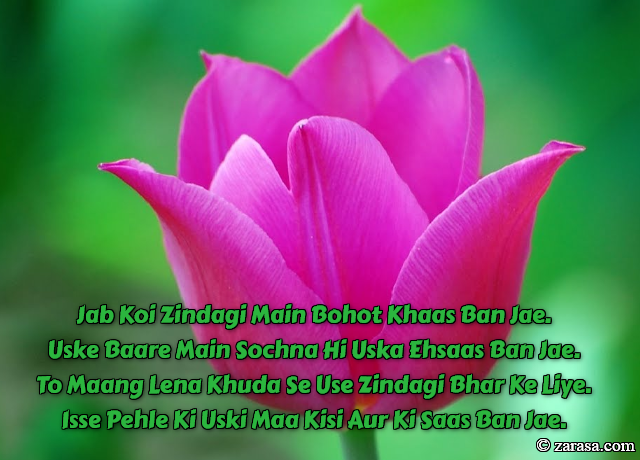 Jab Koi Zindagi Main Bohot Khaas Ban Jae.
Uske Baare Main Sochna Hi Uska Ehsaas Ban Jae.
To Maang Lena Khuda Se Use Zindagi Bhar Ke Liye.
Isse Pehle Ki Uski Maa Kisi Aur Ki Saas Ban Jae.
जब कोई ज़िन्दगी मैं बोहोत ख़ास बन जाए .
उसके बारे मैं सोचना ही उसका एहसास बन जाए .
तो मांग लेना खुदा से उसे ज़िन्दगी भर के लिए .
इससे पहले की उसकी माँ किसी और की सास बन जाए .

جب کوئی زندگی میں بوہوت خاص بن جاۓ .
اسکے بارے میں سوچنا ہی اسکا احساس بن جاۓ .
تو مانگ لینا خدا سے اسے زندگی بھر کے لئے .
اسے پہلے کی اسکی ما کسی اور کی ساس بن جاۓ .

---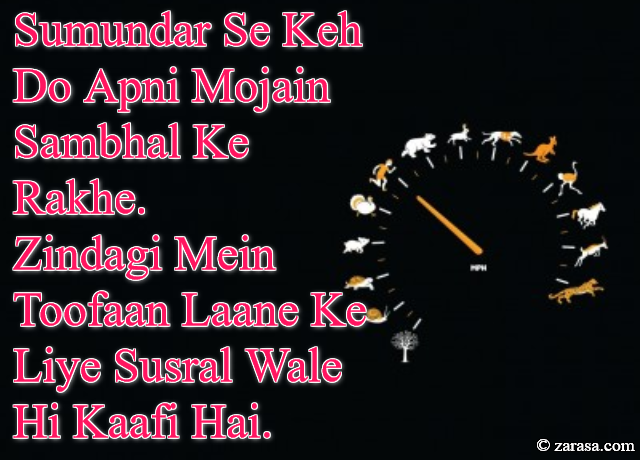 Sumundar Se Keh Do Apni Mojain Sambhal Ke Rakhe.
Zindagi Mein Toofaan Laane Ke Liye Susral Wale Hi Kaafi Hai.
समुन्दर से कह दो अपनी मोजैं संभल के रखे .
ज़िन्दगी में तूफ़ान लाने के लिए सुसराल वाले ही काफी है .
سمندر سے کہ دو اپنی موجیں سمبھال کے رکھے .
زندگی میں طوفان لانے کے لئے سسرال والے ہی کافی ہے .
---