Funny Shayari "Aksar Nahaya Nahi Karte"
|
Aye Gulaab Apni Khushbu Ko.
Mere Doston Par Nichawar Kar De.
Yeh Sardi Ke Mausam Main.
Aksar Nahaya Nahi Karte.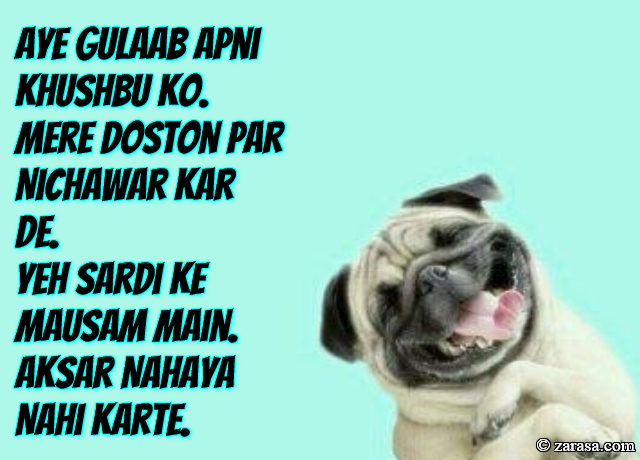 ---

ए गुलाब अपनी खुशबू को
मेरे दोस्तों पर न्योछावर कर दे,
यह सर्दी के मौसम में
अक्सर नहाया नहीं करते।



---

ہے گلاب اپنی خوشبو کو .
میرے دوستوں پر نچھاور کر دے .
یہ سردی کے موسم میں .
اکثر نہایا نہیں کرتے .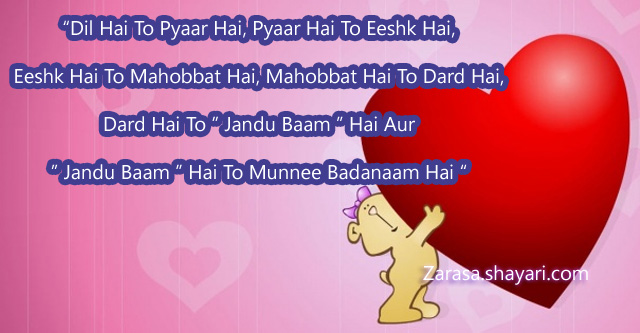 "Dil Hai To Pyaar Hai, Pyaar Hai To Eeshk Hai,
Eeshk Hai To Mahobbat Hai, Mahobbat Hai To Dard Hai,
Dard Hai To " Jandu Baam " Hai Aur
" Jandu Baam " Hai To Munnee Badanaam Hai "

 

 

"दिल है तो प्यार है, प्यार है तो ईश्क है,
ईश्क है तो महोब्बत है, महोब्बत है तो दर्द है,
दर्द है तो " जंडु बाम " है और
" जंडु बाम " है तो मुन्नी बदनाम है "
دل ہے تو محبت ہے، محبت ہے تو يشك ہے
يشك ہے تو مهوببت ہے، مهوببت ہے تو درد ہے
درد ہے تو "جڈ بام" ہے اور
"جڈ بام" ہے تو منی بدنام ہے "
---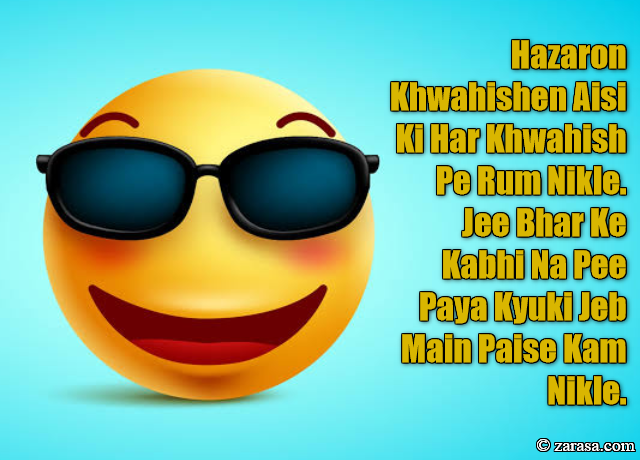 Hazaron Khwahishen Aisi Ki Har Khwahish Pe Rum Nikle.
Jee Bhar Ke Kabhi Na Pee Paya Kyuki Jeb Main Paise Kam Nikle.
हज़ारों ख्वाहिशें ऐसी कि हर ख्वाहिश पे रम निकले.
जी भर के कभी ना पी पाया क्योंकि जेब में पैसे कम निकले.

ہزاروں خواہشیں ایسی کی ہر خواہش پی روم نکلے .
جی بھر کے کبھی نہ پی پایا کیکی جیب میں پیسے کم نکلے .

---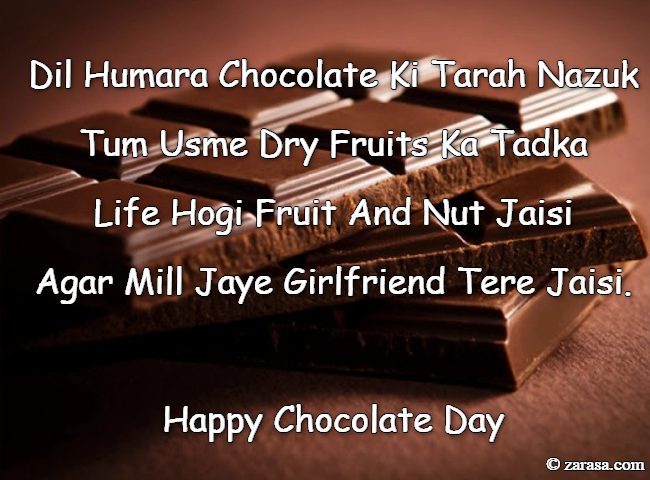 Dil Humara Chocolate Ki Tarah Nazuk
Tum Usme Dry Fruits Ka Tadka
Life Hogi Fruit And Nut Jaisi
Agar Mill Jaye Girlfriend Tere Jaisi.
Happy Chocolate Day
दिल हमारा चॉक्लेट की तरह नाज़ुक
तम उसमें ड्राई फ्रूट्स का तड़का
लाइफ होगी फ्रूट एंड नट जैसी
अगर मिल जाए गर्लफ्रेंड तेरी जैसी।
دل ہمارا چوکلاتے کی طرح نازک
تم اسمے درے فروٹس کا تڑکا
لائف ہوگی فروٹ اینڈ نٹ جیسی
اگر مل جائے گرل فرینڈ تیرے جیسی
---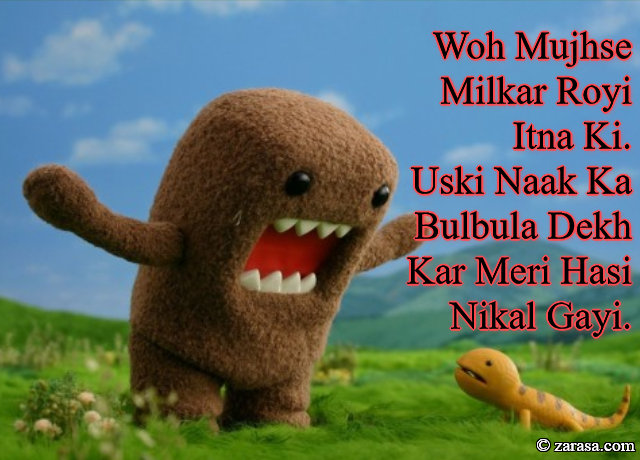 Woh Mujhse Milkar Royi Itna Ki.
Uski Naak Ka Bulbula Dekh Kar Meri Hasi Nikal Gayi.
वह मुझसे मिलकर रोई इतना की .
उसकी नाक का बुलबुला देख कर मेरी हसी निकल गयी .
وہ مجھسے ملکر رویی اتنا کی
اسکی ناک کا بلبلا دیکھ کر میری حسی نکل گی .
---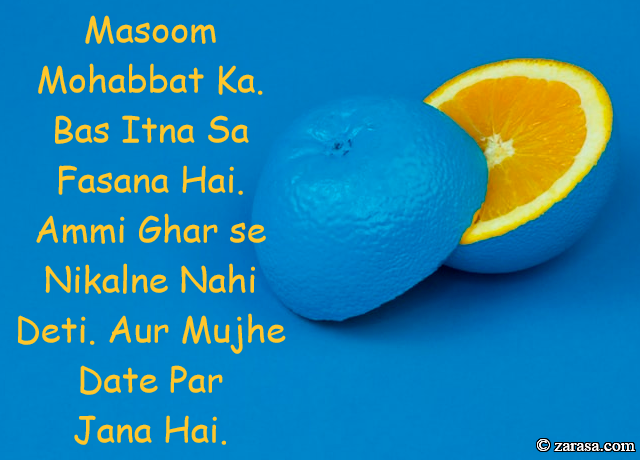 Masoom Mohabbat Ka.
Bas Itna Sa Fasana Hai.
Ammi Ghar se Nikalne Nahi Deti.
Aur Mujhe Date Par Jana Hai.
मासूम मोहब्बत का .
बस इतना सा फ़साना है .
अम्मी घर से निकलने नहीं देती .
और मुझे डेट पर जाना है .

ماسوم موحبّت کا .
بس اتنا سا فسانہ ہے .
عی گھر سے نکلنے نہیں دیتی .
اور مجھے ڈٹے پر جانا ہے .

---