Funny Shayari "Aksar Nahaya Nahi Karte"
|
Aye Gulaab Apni Khushbu Ko.
Mere Doston Par Nichawar Kar De.
Yeh Sardi Ke Mausam Main.
Aksar Nahaya Nahi Karte.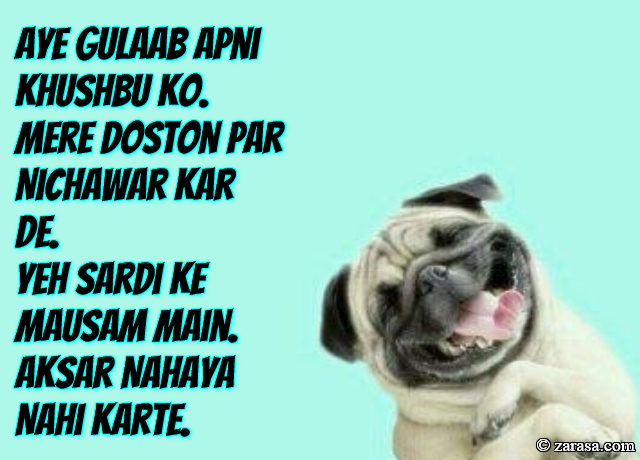 ---

ए गुलाब अपनी खुशबू को
मेरे दोस्तों पर न्योछावर कर दे,
यह सर्दी के मौसम में
अक्सर नहाया नहीं करते।



---

ہے گلاب اپنی خوشبو کو .
میرے دوستوں پر نچھاور کر دے .
یہ سردی کے موسم میں .
اکثر نہایا نہیں کرتے .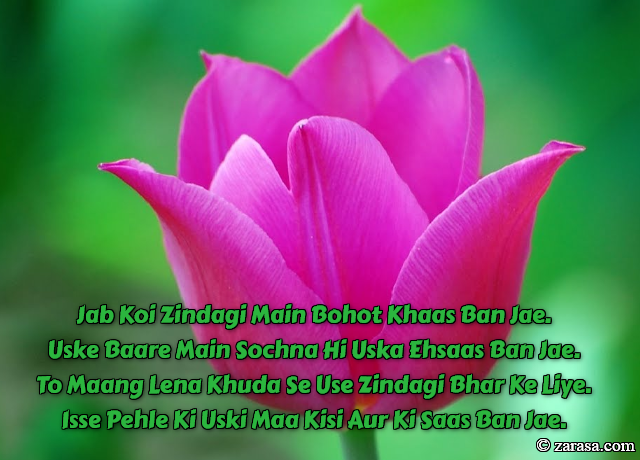 Jab Koi Zindagi Main Bohot Khaas Ban Jae.
Uske Baare Main Sochna Hi Uska Ehsaas Ban Jae.
To Maang Lena Khuda Se Use Zindagi Bhar Ke Liye.
Isse Pehle Ki Uski Maa Kisi Aur Ki Saas Ban Jae.
जब कोई ज़िन्दगी मैं बोहोत ख़ास बन जाए .
उसके बारे मैं सोचना ही उसका एहसास बन जाए .
तो मांग लेना खुदा से उसे ज़िन्दगी भर के लिए .
इससे पहले की उसकी माँ किसी और की सास बन जाए .

جب کوئی زندگی میں بوہوت خاص بن جاۓ .
اسکے بارے میں سوچنا ہی اسکا احساس بن جاۓ .
تو مانگ لینا خدا سے اسے زندگی بھر کے لئے .
اسے پہلے کی اسکی ما کسی اور کی ساس بن جاۓ .

---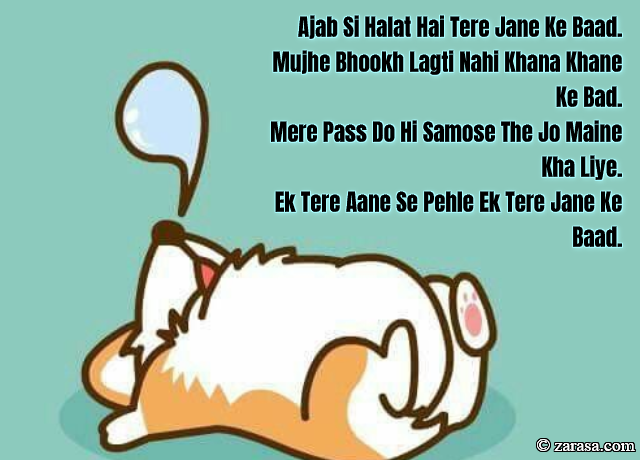 Ajab Si Halat Hai Tere Jane Ke Baad.
Mujhe Bhookh Lagti Nahi Khana Khane Ke Bad.
Mere Pass Do Hi Samose The Jo Maine Kha Liye.
Ek Tere Aane Se Pehle Ek Tere Jane Ke Baad.
अजब सी हालत है तेरे जाने के बाद,
मुझे भूख लगती नहीं खाना खाने के बाद,
मेरे पास दो ही समोसे थे जो मैंने खा लिए,
एक तेरे आने से पहले, एक तेरे जाने के बाद।
عجب سی حالت ہے تیرے جانے کے بعد .
مجھے بھوکھ لگتی نہیں کھانا خانے کے بعد .
میرے پاسس دو ہی سموسے تھے جو مہینے کھا لئے .
ایک تیرے آنے سے پہلے ایک تیرے جانے کے بعد .
---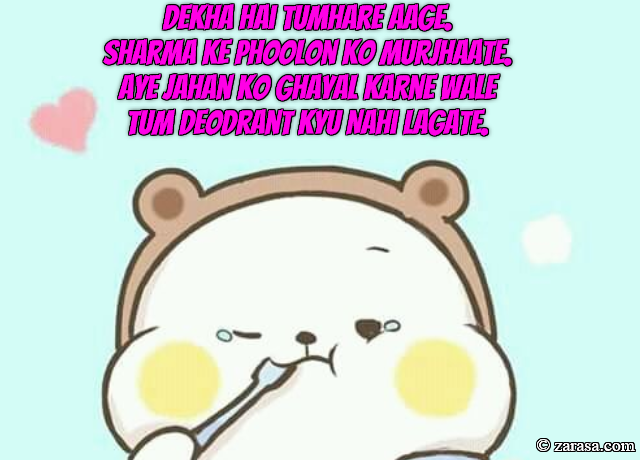 Dekha Hai Tumhare Aage.
Sharma Ke Phoolon Ko Murjhaate.
Aye Jahan Ko Ghayal Karne Wale
Tum Deodrant Kyu Nahi Lagate.
देखा है तुम्हारे आगे,
शर्मा के फूलों को मुरझाते,
ए जहाँ को घायल करने वाले
तुम डिओडोरेंट क्यों नहीं लगाते।
دیکھا ہے تمہارے آگے .
شرما کے پھولوں کو مرجھاتے .
ہے جہاں کو غیل کرنے والے .
تم دیودرانٹ کیو نہیں لگاتے .
---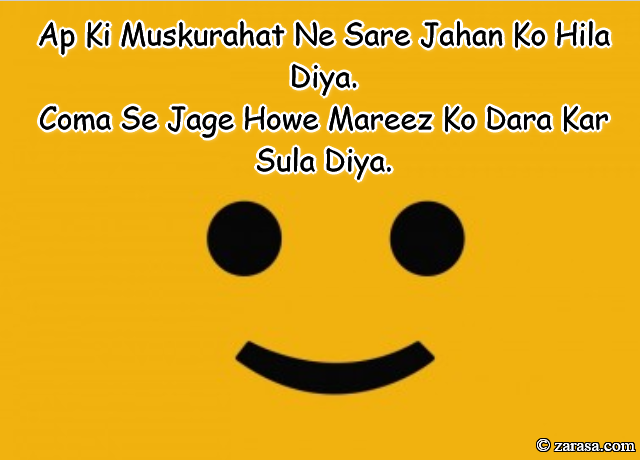 Ap Ki Muskurahat Ne Sare Jahan Ko Hila Diya.
Coma Se Jage Howe Mareez Ko Dara Kar Sula Diya.
आप की मुस्कराहट ने सरे जहाँ को हिला दिया .
कोमा से जगे हॉवे मरीज़ को डरा कर सुला दिया .
اپ کی مسکراہٹ نے سارے جہاں کو ہلا دیا .
کوما سے جاگے ہووے مریض کو ڈرا کر سلا دیا .
---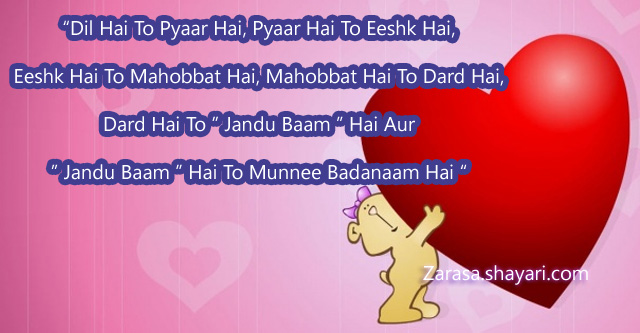 "Dil Hai To Pyaar Hai, Pyaar Hai To Eeshk Hai,
Eeshk Hai To Mahobbat Hai, Mahobbat Hai To Dard Hai,
Dard Hai To " Jandu Baam " Hai Aur
" Jandu Baam " Hai To Munnee Badanaam Hai "

 

 

"दिल है तो प्यार है, प्यार है तो ईश्क है,
ईश्क है तो महोब्बत है, महोब्बत है तो दर्द है,
दर्द है तो " जंडु बाम " है और
" जंडु बाम " है तो मुन्नी बदनाम है "
دل ہے تو محبت ہے، محبت ہے تو يشك ہے
يشك ہے تو مهوببت ہے، مهوببت ہے تو درد ہے
درد ہے تو "جڈ بام" ہے اور
"جڈ بام" ہے تو منی بدنام ہے "
---