Funny Shayari "Aksar Nahaya Nahi Karte"
|
Aye Gulaab Apni Khushbu Ko.
Mere Doston Par Nichawar Kar De.
Yeh Sardi Ke Mausam Main.
Aksar Nahaya Nahi Karte.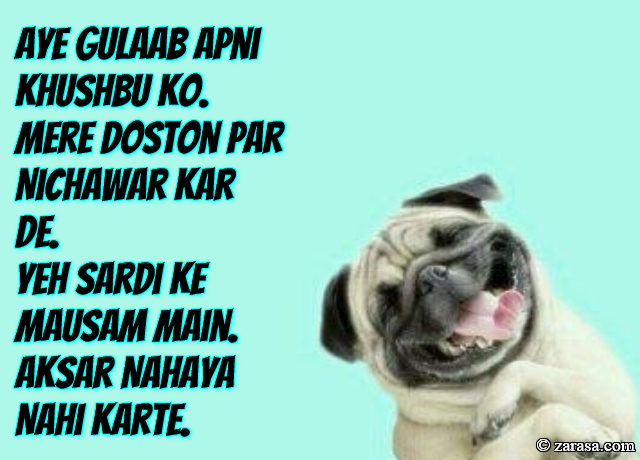 ---

ए गुलाब अपनी खुशबू को
मेरे दोस्तों पर न्योछावर कर दे,
यह सर्दी के मौसम में
अक्सर नहाया नहीं करते।



---

ہے گلاب اپنی خوشبو کو .
میرے دوستوں پر نچھاور کر دے .
یہ سردی کے موسم میں .
اکثر نہایا نہیں کرتے .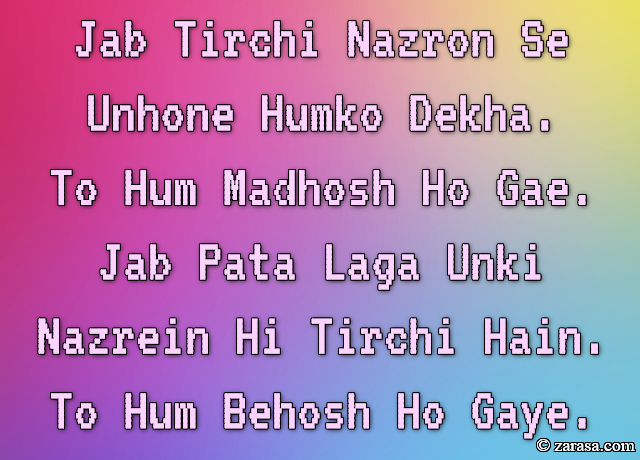 Jab Tirchi Nazron Se Unhone Humko Dekha.
To Hum Madhosh Ho Gae.
Jab Pata Laga Unki Nazrein Hi Tirchi Hain.
To Hum Behosh Ho Gaye.
जब तिरछी नज़रों से उन्होंने हमको देखा .
तो हम मदहोश हो गए .
जब पता लगा उनकी नज़रें ही तिरछी हैं .
तो हम बेहोश हो गए .

جب ترچھی نظروں سے انہونے ہمکو دیکھا .
تو ہم مدہوش ہو گے .
جب پتا لگا انکی نظریں ہی ترچھی ہیں .
تو ہم بیہوش ہو گئے .

---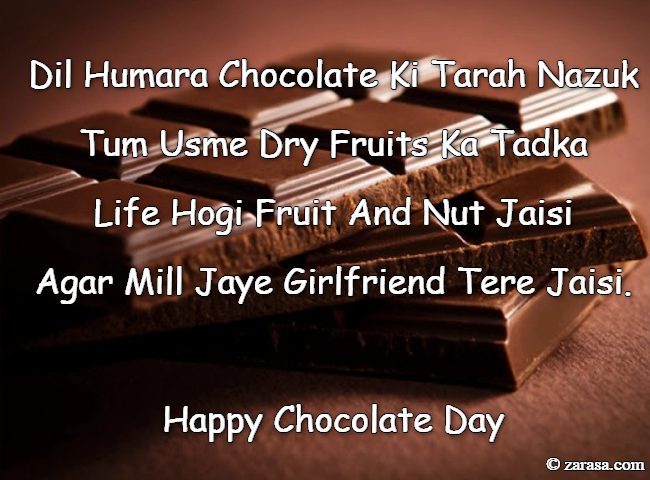 Dil Humara Chocolate Ki Tarah Nazuk
Tum Usme Dry Fruits Ka Tadka
Life Hogi Fruit And Nut Jaisi
Agar Mill Jaye Girlfriend Tere Jaisi.
Happy Chocolate Day
दिल हमारा चॉक्लेट की तरह नाज़ुक
तम उसमें ड्राई फ्रूट्स का तड़का
लाइफ होगी फ्रूट एंड नट जैसी
अगर मिल जाए गर्लफ्रेंड तेरी जैसी।
دل ہمارا چوکلاتے کی طرح نازک
تم اسمے درے فروٹس کا تڑکا
لائف ہوگی فروٹ اینڈ نٹ جیسی
اگر مل جائے گرل فرینڈ تیرے جیسی
---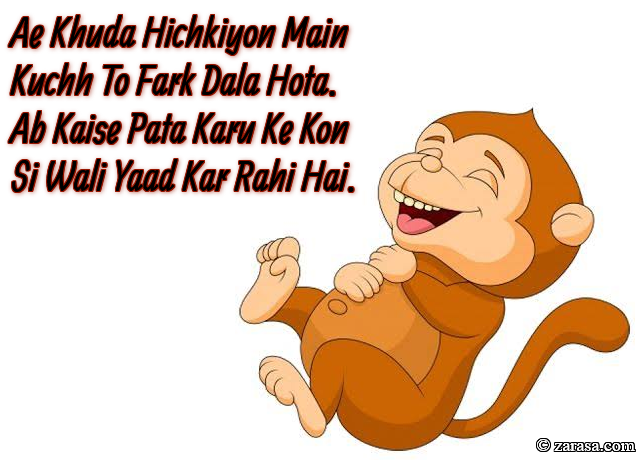 Ae Khuda Hichkiyon Main Kuchh To Fark Dala Hota.
Ab Kaise Pata Karu Ke Kon Si Wali Yaad Kar Rahi Hai.
ऐ खुदा हिचकियों में कुछ तो फर्क डाला होता,
अब कैसे पता करूँ के कौन सी वाली याद कर रही है।




اے خدا ہچکیوں میں کچھ تو پھڑک ڈالا ہوتا .
اب کیسے پتا کرو کے کون سی والی یاد کر رہی ہے .

---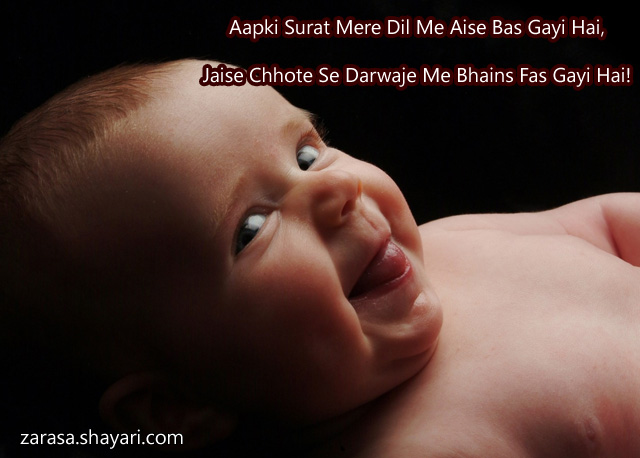 Aapki Surat Mere Dil Me Aise Bas Gayi Hai,
Jaise Chhote Se Darwaje Me Bhains Fas Gayi Hai!






आपकी सूरत मेरे दिल में ऐसे बस गयी है,
जैसे छोटे से दरवाजे में भैंस फास गयी है! .
آپ سورت میرے دل میں ایسے بس گئی ہے
جیسے چھوٹے سے دروازے میں بھینس پھاس گئی ہے
---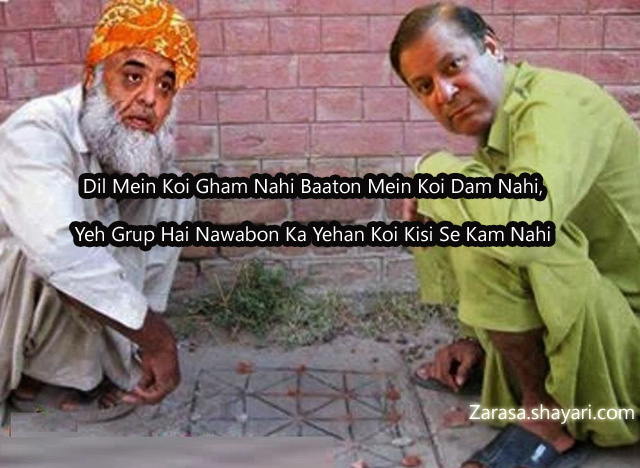 Dil Mein Koi Gham Nahi Baaton Mein Koi Dam Nahi,
Yeh Grup Hai Nawabon Ka Yehan Koi Kisi Se Kam Nahi

 


दिल में कोई गम नहीं बातों में कोई दम नहीं,
ये ग्रुप है नवाबो का यहाँ कोई किसीसे कम नहीं।
دل میں کوئی غم نہیں باتوں میں کوئی دم نہیں
یہ گروپ ہے نوابوں کا یہاں کوئی کسی سے کم نہیں
---