Funny Shayari "Ek Tere Aane Se Pehle Ek Tere Jane Ke Baad"
|
Ajab Si Halat Hai Tere Jane Ke Baad.
Mujhe Bhookh Lagti Nahi Khana Khane Ke Bad.
Mere Pass Do Hi Samose The Jo Maine Kha Liye.
Ek Tere Aane Se Pehle Ek Tere Jane Ke Baad.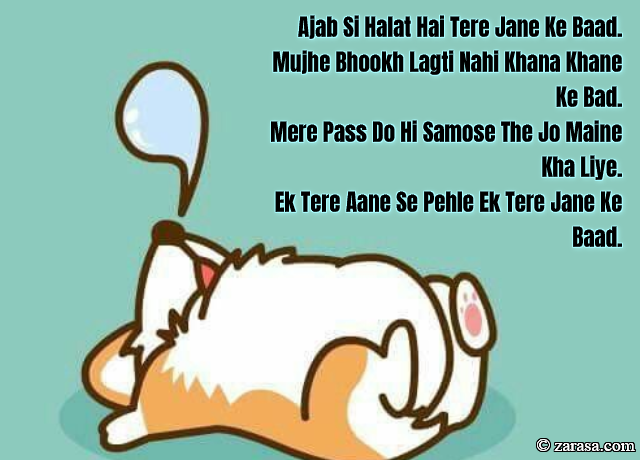 ---

अजब सी हालत है तेरे जाने के बाद,
मुझे भूख लगती नहीं खाना खाने के बाद,
मेरे पास दो ही समोसे थे जो मैंने खा लिए,
एक तेरे आने से पहले, एक तेरे जाने के बाद।


---

عجب سی حالت ہے تیرے جانے کے بعد .
مجھے بھوکھ لگتی نہیں کھانا خانے کے بعد .
میرے پاسس دو ہی سموسے تھے جو مہینے کھا لئے .
ایک تیرے آنے سے پہلے ایک تیرے جانے کے بعد .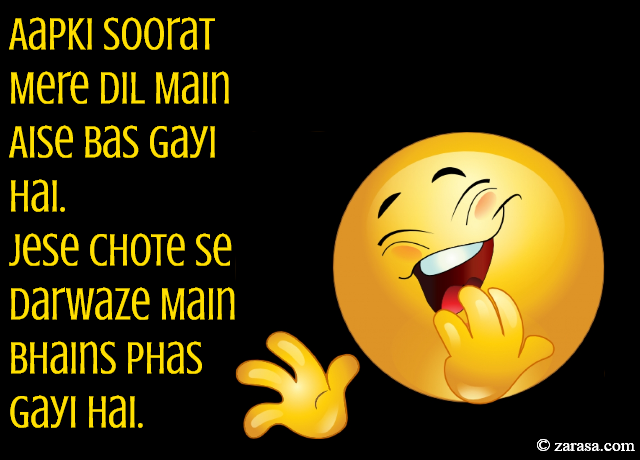 Aapki Soorat Mere Dil Main Aise Bas Gayi Hai.
Jese Chote Se Darwaze Main Bhains Phas Gayi Hai.


आपकी सूरत मेरे दिल में ऐसे बस गयी है,
जैसे छोटे से दरवाज़े में भैस फस गयी है।

آپکی صورت میرے دل میں ایسے بس گی ہے .
جیسے چھوٹے سے دروازے می بھینس فاس گی ہے .


---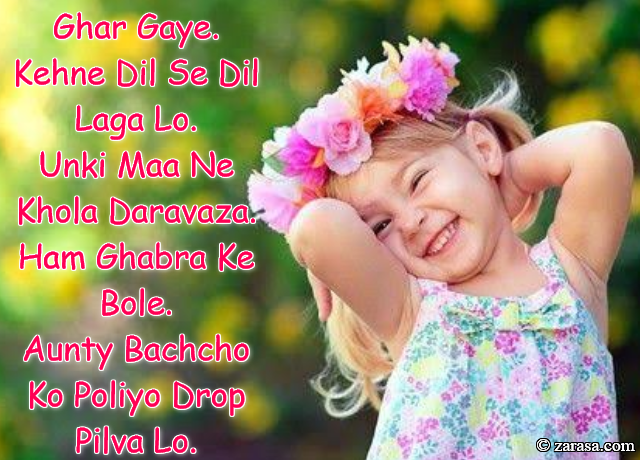 Jab Ham Unke Ghar Gaye.
Kehne Dil Se Dil Laga Lo.
Unki Maa Ne Khola Daravaza.
Ham Ghabra Ke Bole.
Aunty Bachcho Ko Poliyo Drop Pilva Lo.
जब हम उनके घर गए .
कहने दिल से दिल लगा लो .
उनकी माँ ने खोला दरवाज़ा .
हम घबरा के बोले .
आंटी बच्चो को पोलियो ड्राप पिलवा लो .

جب ہم انکے گھر گئے .
کہنے دل سے دل لگا لو .
انکی ما نے کھولا دروازہ .
ہم گھبرا کے بولے .
اونتے بچّھو کو پولیو ڈراپ پلوا لو .

---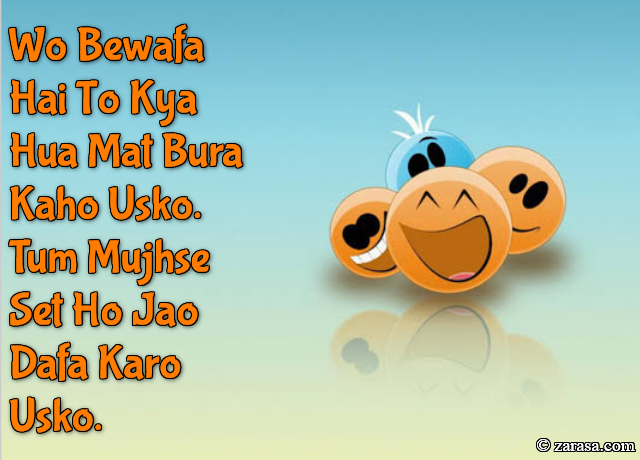 Wo Bewafa Hai To Kya Hua Mat Bura Kaho Usko.
Tum Mujhse Set Ho Jao Dafa Karo Usko.
वह बेवफा है तो क्या हुआ मत बुरा कहो उसको.
तुम मुझसे सेट हो जाओ दफा करो उसको.
وہ بیوفا ہے تو کیا ہوا مت برا کہو اسکو .
تم مجھسے سیٹ ہو جو دفع کرو اسکو .

---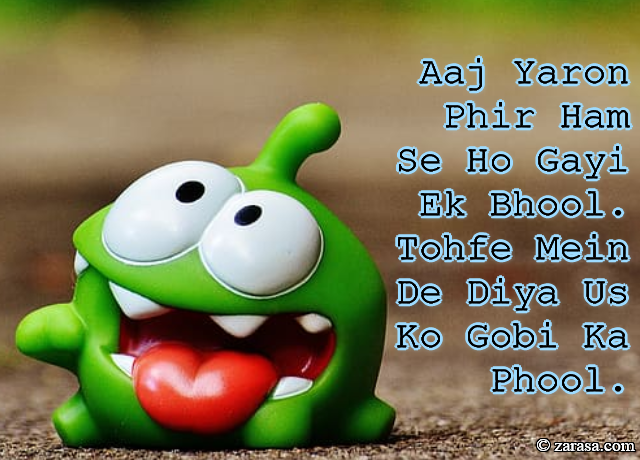 Aaj Yaron Phir Ham Se Ho Gayi Ek Bhool.
Tohfe Mein De Diya Us Ko Gobi Ka Phool.
आज यारों फिर हम से हो गई एक भूल .
तोहफे में दे दिया उस को गोबी का फूल .
آج یاروں پھر ہم سے ہو گی ایک بھول .
توہفے میں دے دیا اس کو گوبی کا پھول .
---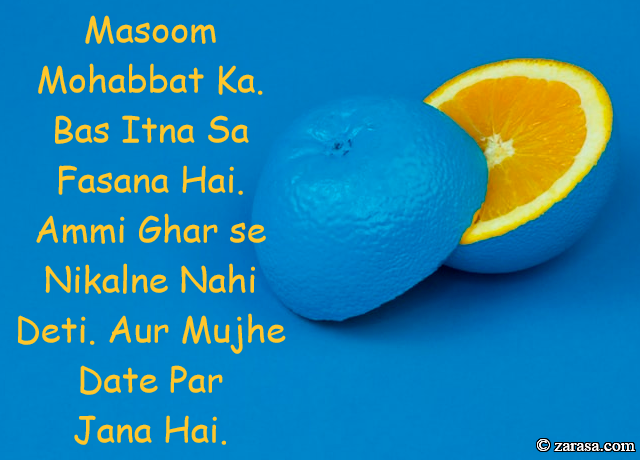 Masoom Mohabbat Ka.
Bas Itna Sa Fasana Hai.
Ammi Ghar se Nikalne Nahi Deti.
Aur Mujhe Date Par Jana Hai.
मासूम मोहब्बत का .
बस इतना सा फ़साना है .
अम्मी घर से निकलने नहीं देती .
और मुझे डेट पर जाना है .

ماسوم موحبّت کا .
بس اتنا سا فسانہ ہے .
عی گھر سے نکلنے نہیں دیتی .
اور مجھے ڈٹے پر جانا ہے .

---