Funny Shayari "Ek Tere Aane Se Pehle Ek Tere Jane Ke Baad"
|
Ajab Si Halat Hai Tere Jane Ke Baad.
Mujhe Bhookh Lagti Nahi Khana Khane Ke Bad.
Mere Pass Do Hi Samose The Jo Maine Kha Liye.
Ek Tere Aane Se Pehle Ek Tere Jane Ke Baad.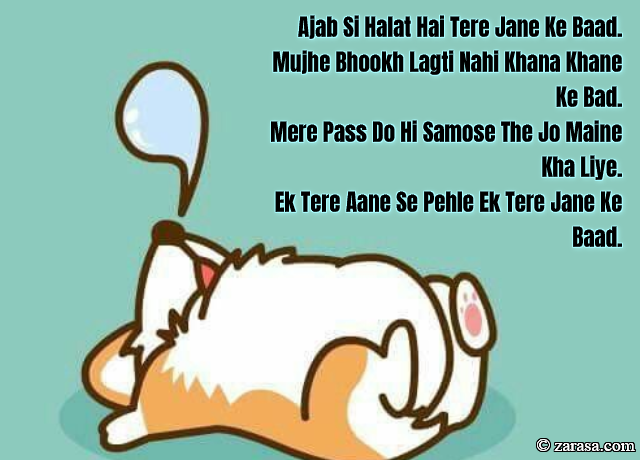 ---

अजब सी हालत है तेरे जाने के बाद,
मुझे भूख लगती नहीं खाना खाने के बाद,
मेरे पास दो ही समोसे थे जो मैंने खा लिए,
एक तेरे आने से पहले, एक तेरे जाने के बाद।


---

عجب سی حالت ہے تیرے جانے کے بعد .
مجھے بھوکھ لگتی نہیں کھانا خانے کے بعد .
میرے پاسس دو ہی سموسے تھے جو مہینے کھا لئے .
ایک تیرے آنے سے پہلے ایک تیرے جانے کے بعد .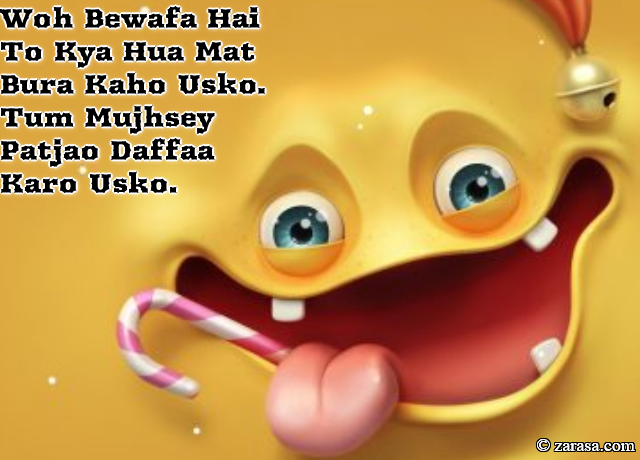 Woh Bewafa Hai To Kya Hua Mat Bura Kaho Usko.
Tum Mujhsey Patjao Daffaa Karo Usko.
वह बेवफा है तो क्या हुआ मत बुरा कहो उसको .
तुम मुझसे पटजाओ दफा करो उसको .
وہ بیوفا ہے تو کیا ہوا مت برا کہو اسکو .
تم مجھسے پتجاؤ دففا کرو اسکو .
---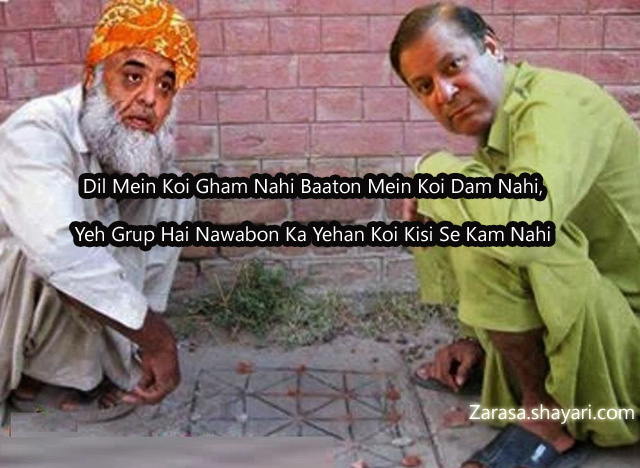 Dil Mein Koi Gham Nahi Baaton Mein Koi Dam Nahi,
Yeh Grup Hai Nawabon Ka Yehan Koi Kisi Se Kam Nahi

 


दिल में कोई गम नहीं बातों में कोई दम नहीं,
ये ग्रुप है नवाबो का यहाँ कोई किसीसे कम नहीं।
دل میں کوئی غم نہیں باتوں میں کوئی دم نہیں
یہ گروپ ہے نوابوں کا یہاں کوئی کسی سے کم نہیں
---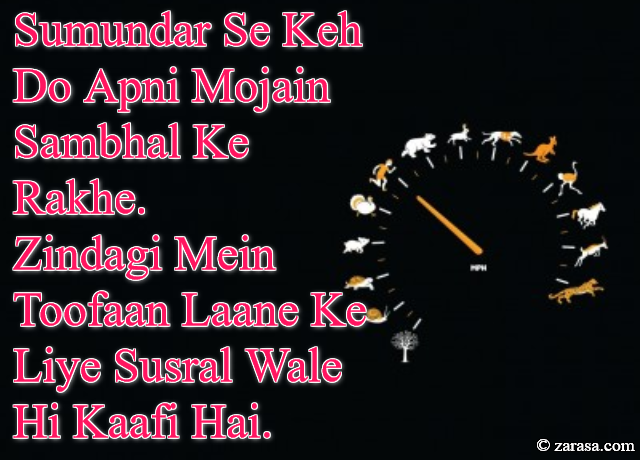 Sumundar Se Keh Do Apni Mojain Sambhal Ke Rakhe.
Zindagi Mein Toofaan Laane Ke Liye Susral Wale Hi Kaafi Hai.
समुन्दर से कह दो अपनी मोजैं संभल के रखे .
ज़िन्दगी में तूफ़ान लाने के लिए सुसराल वाले ही काफी है .
سمندر سے کہ دو اپنی موجیں سمبھال کے رکھے .
زندگی میں طوفان لانے کے لئے سسرال والے ہی کافی ہے .
---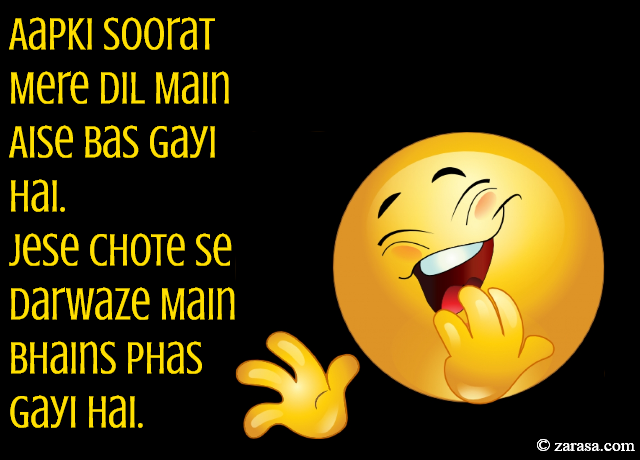 Aapki Soorat Mere Dil Main Aise Bas Gayi Hai.
Jese Chote Se Darwaze Main Bhains Phas Gayi Hai.


आपकी सूरत मेरे दिल में ऐसे बस गयी है,
जैसे छोटे से दरवाज़े में भैस फस गयी है।

آپکی صورت میرے دل میں ایسے بس گی ہے .
جیسے چھوٹے سے دروازے می بھینس فاس گی ہے .


---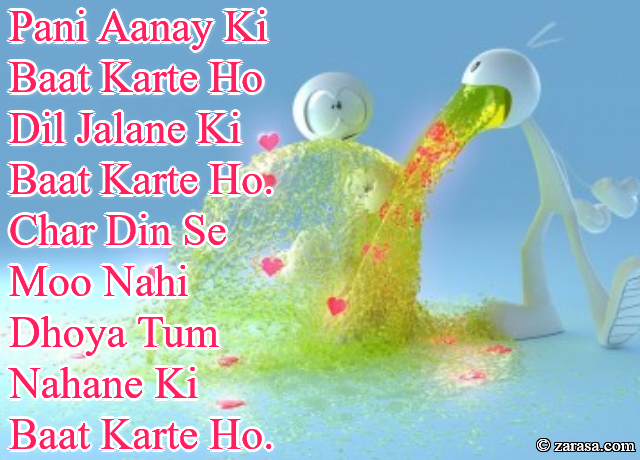 Pani Aanay Ki Baat Karte Ho Dil Jalane Ki Baat Karte Ho.
Char Din Se Moo Nahi Dhoya Tum Nahane Ki Baat Karte Ho.
पानी आने की बात करते हो दिल जलने की बात करते हो .
चार दिन से मू नहीं धोया तुम नहाने की बात करते हो .
پانی آنے کی بات کرتے ہو دل جلانے کی بات کرتا ہو .
چار دن سے مو نہیں دھویا تم نہانے کی بات کرتے ہو .
---