Funny Shayari"Akbar Ne Kharide 3-3 Ghode."
|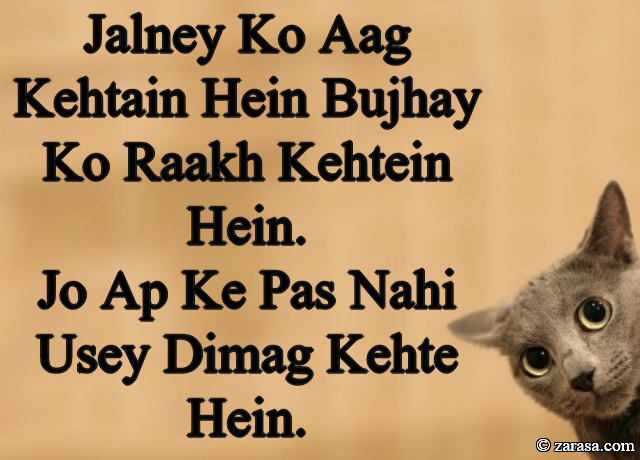 Jalney Ko Aag Kehtain Hein Bujhay Ko Raakh Kehtein Hein.
Jo Ap Ke Pas Nahi Usey Dimag Kehte Hein.
जलने को आग कहतें हैं बुझाय को राख कहतें हैं .
जो आप के पास नहीं उसे दिमाग कहते हैं .
جلنے کو آگ کہتیں ہیں بجھے کو راکھ کہتیں ہیں .
جو اپ کے پاس نہیں اسے دماگ کہتے ہیں .
---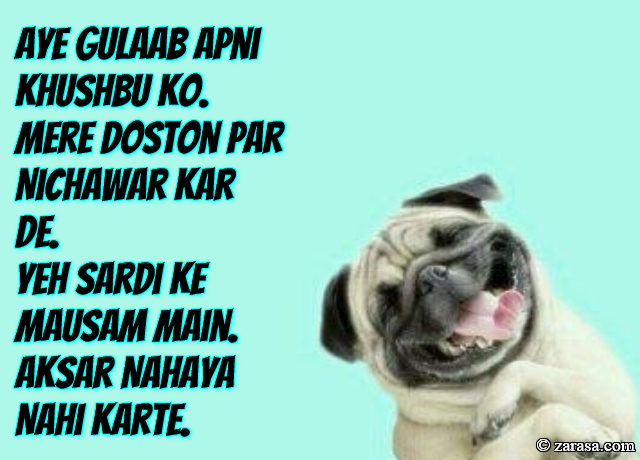 Aye Gulaab Apni Khushbu Ko.
Mere Doston Par Nichawar Kar De.
Yeh Sardi Ke Mausam Main.
Aksar Nahaya Nahi Karte.
ए गुलाब अपनी खुशबू को
मेरे दोस्तों पर न्योछावर कर दे,
यह सर्दी के मौसम में
अक्सर नहाया नहीं करते।

ہے گلاب اپنی خوشبو کو .
میرے دوستوں پر نچھاور کر دے .
یہ سردی کے موسم میں .
اکثر نہایا نہیں کرتے .

---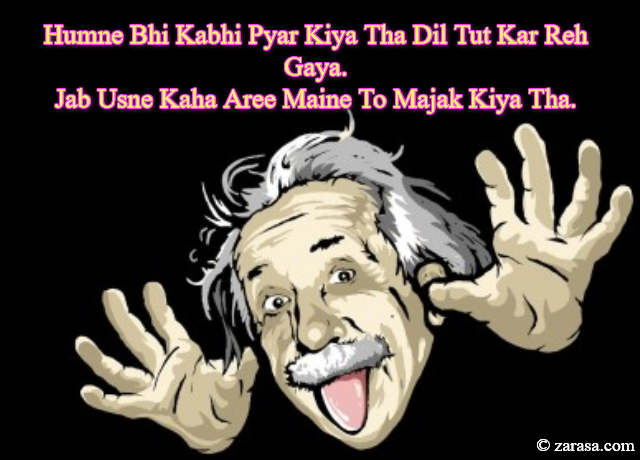 Humne Bhi Kabhi Pyar Kiya Tha Dil Tut Kar Reh Gaya.
Jab Usne Kaha Aree Maine To Majak Kiya Tha.
हमने भी कभी प्यार किया था दिल टूट कर रह गया .
जब उसने कहा ारी मैंने तो मज़ाक किया था .
ہمنے بھی کبھی پیار کیا تھا دل ٹوٹ کر رہ گیا .
جب اسنے کہا ارے مہینے تو مذک کیا تھا .
---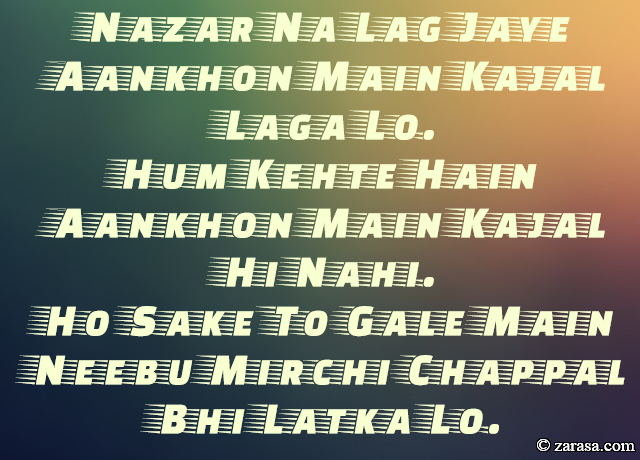 Nazar Na Lag Jaye Aankhon Main Kajal Laga Lo.
Hum Kehte Hain Aankhon Main Kajal Hi Nahi.
Ho Sake To Gale Main Neebu Mirchi Chappal Bhi Latka Lo.
नज़र ना लग जाये आँखों मैं काजल लगा लो .
हम कहते हैं आँखों मैं काजल ही नहीं .
हो सके तो गले मैं नीबू मिर्ची चप्पल भी लटका लो .
نظر نہ لگ جائے آنکھوں میں کاجل لگا لو .
ہم کہتے ہیں آنکھوں میں کاجل ہی نہیں .
ہو سکے تو گلے میں نیبو مرچی چپپل بھی لٹکا لو .
---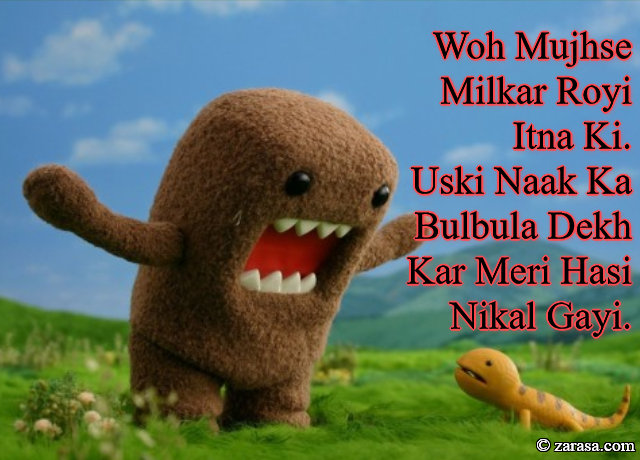 Woh Mujhse Milkar Royi Itna Ki.
Uski Naak Ka Bulbula Dekh Kar Meri Hasi Nikal Gayi.
वह मुझसे मिलकर रोई इतना की .
उसकी नाक का बुलबुला देख कर मेरी हसी निकल गयी .
وہ مجھسے ملکر رویی اتنا کی
اسکی ناک کا بلبلا دیکھ کر میری حسی نکل گی .
---