Funny Shayari l""जानू सॉरी ! इ हेट लव स्टोरी "
|
Choohe ko Lagee Billee Goree Goree,
Dono Lage Milane Choree Choree,
Chooha Bola:
"Aao khele Aankh Michaulee,"
Billee Choohe ko kha kar Bolee
"Jaanu Sorry !
I HateS Love Story"!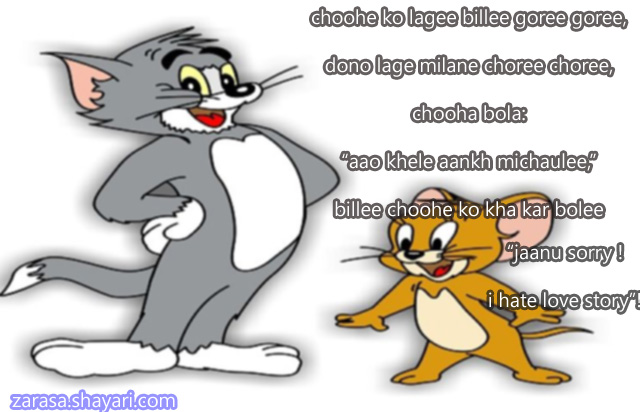 ---

चूहे को लगी बिल्ली गोरी गोरी,
दोनों लगे मिलाने चोरी चोरी,
चूहा बोला:
"आओ खेले आँख मिचौली,"
बिल्ली चूहे को खा कर बोली
"जानू  सॉरी  !
इ  हेट  लव  स्टोरी "!


---

چوہے کو لگی بلی گوری گوری
دونوں لگے ملانے چوری چوری
چوہا بولا
"آؤ کھیلے آنکھ مچولی،"بلی چوہے کو کھا کر بولی
جانو سوررے ! ا ہتھے لوو سٹورے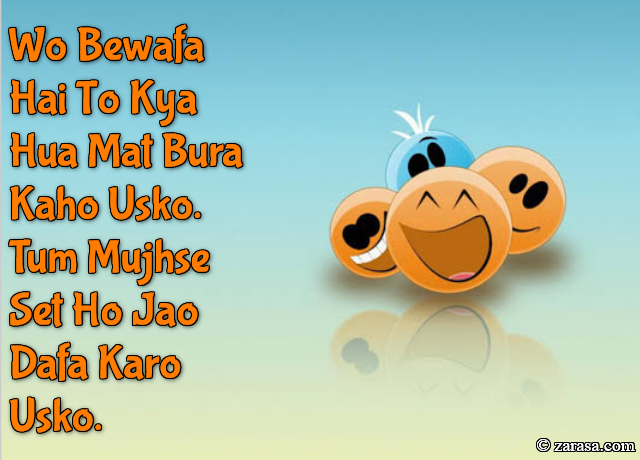 Wo Bewafa Hai To Kya Hua Mat Bura Kaho Usko.
Tum Mujhse Set Ho Jao Dafa Karo Usko.
वह बेवफा है तो क्या हुआ मत बुरा कहो उसको.
तुम मुझसे सेट हो जाओ दफा करो उसको.
وہ بیوفا ہے تو کیا ہوا مت برا کہو اسکو .
تم مجھسے سیٹ ہو جو دفع کرو اسکو .

---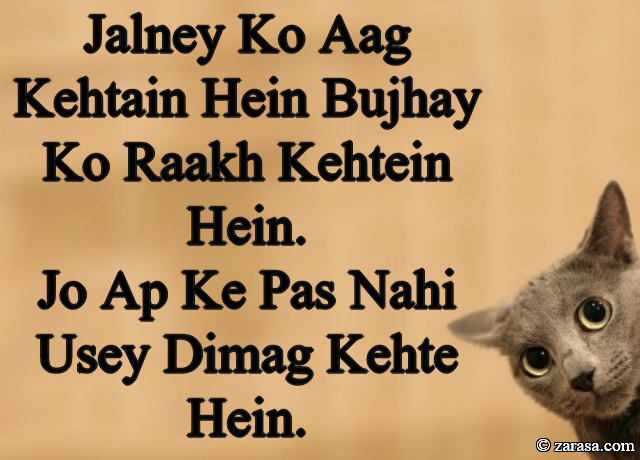 Jalney Ko Aag Kehtain Hein Bujhay Ko Raakh Kehtein Hein.
Jo Ap Ke Pas Nahi Usey Dimag Kehte Hein.
जलने को आग कहतें हैं बुझाय को राख कहतें हैं .
जो आप के पास नहीं उसे दिमाग कहते हैं .
جلنے کو آگ کہتیں ہیں بجھے کو راکھ کہتیں ہیں .
جو اپ کے پاس نہیں اسے دماگ کہتے ہیں .
---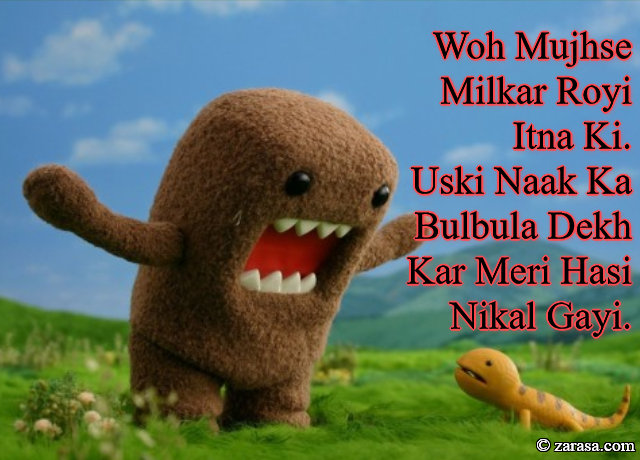 Woh Mujhse Milkar Royi Itna Ki.
Uski Naak Ka Bulbula Dekh Kar Meri Hasi Nikal Gayi.
वह मुझसे मिलकर रोई इतना की .
उसकी नाक का बुलबुला देख कर मेरी हसी निकल गयी .
وہ مجھسے ملکر رویی اتنا کی
اسکی ناک کا بلبلا دیکھ کر میری حسی نکل گی .
---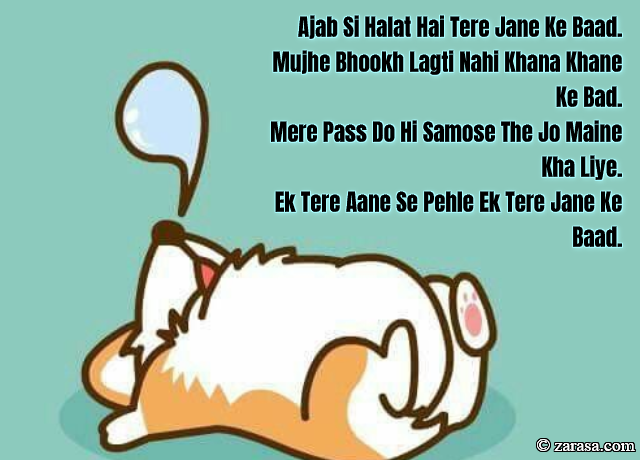 Ajab Si Halat Hai Tere Jane Ke Baad.
Mujhe Bhookh Lagti Nahi Khana Khane Ke Bad.
Mere Pass Do Hi Samose The Jo Maine Kha Liye.
Ek Tere Aane Se Pehle Ek Tere Jane Ke Baad.
अजब सी हालत है तेरे जाने के बाद,
मुझे भूख लगती नहीं खाना खाने के बाद,
मेरे पास दो ही समोसे थे जो मैंने खा लिए,
एक तेरे आने से पहले, एक तेरे जाने के बाद।
عجب سی حالت ہے تیرے جانے کے بعد .
مجھے بھوکھ لگتی نہیں کھانا خانے کے بعد .
میرے پاسس دو ہی سموسے تھے جو مہینے کھا لئے .
ایک تیرے آنے سے پہلے ایک تیرے جانے کے بعد .
---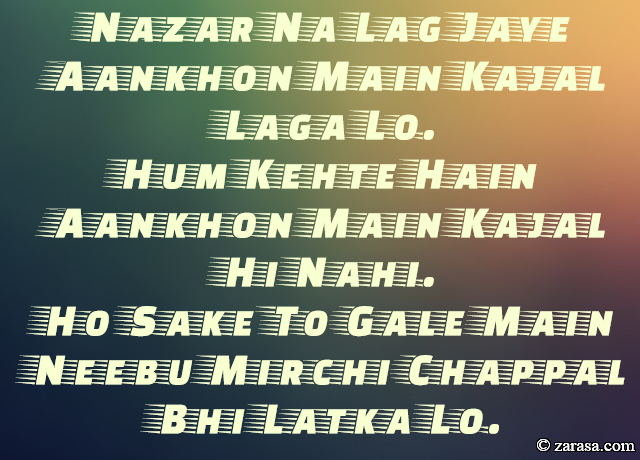 Nazar Na Lag Jaye Aankhon Main Kajal Laga Lo.
Hum Kehte Hain Aankhon Main Kajal Hi Nahi.
Ho Sake To Gale Main Neebu Mirchi Chappal Bhi Latka Lo.
नज़र ना लग जाये आँखों मैं काजल लगा लो .
हम कहते हैं आँखों मैं काजल ही नहीं .
हो सके तो गले मैं नीबू मिर्ची चप्पल भी लटका लो .
نظر نہ لگ جائے آنکھوں میں کاجل لگا لو .
ہم کہتے ہیں آنکھوں میں کاجل ہی نہیں .
ہو سکے تو گلے میں نیبو مرچی چپپل بھی لٹکا لو .
---