Funny Shayari l""जानू सॉरी ! इ हेट लव स्टोरी "
|
Choohe ko Lagee Billee Goree Goree,
Dono Lage Milane Choree Choree,
Chooha Bola:
"Aao khele Aankh Michaulee,"
Billee Choohe ko kha kar Bolee
"Jaanu Sorry !
I HateS Love Story"!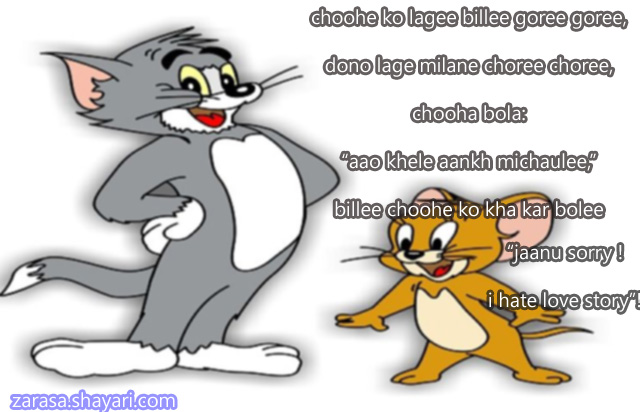 ---

चूहे को लगी बिल्ली गोरी गोरी,
दोनों लगे मिलाने चोरी चोरी,
चूहा बोला:
"आओ खेले आँख मिचौली,"
बिल्ली चूहे को खा कर बोली
"जानू  सॉरी  !
इ  हेट  लव  स्टोरी "!


---

چوہے کو لگی بلی گوری گوری
دونوں لگے ملانے چوری چوری
چوہا بولا
"آؤ کھیلے آنکھ مچولی،"بلی چوہے کو کھا کر بولی
جانو سوررے ! ا ہتھے لوو سٹورے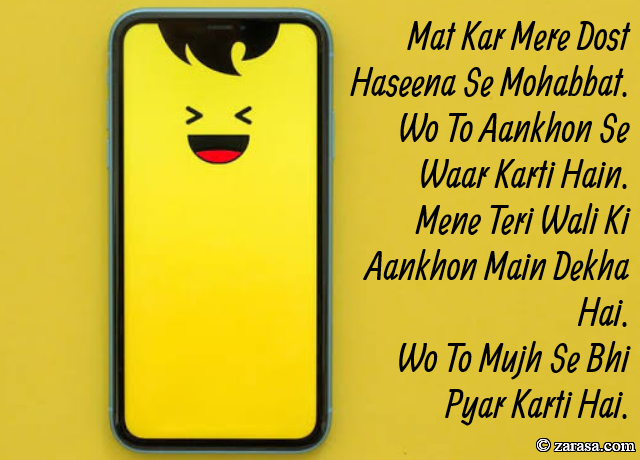 Mat Kar Mere Dost Haseena Se Mohabbat.
Wo To Aankhon Se Waar Karti Hain.
Mene Teri Wali Ki Aankhon Main Dekha Hai.
Wo To Mujh Se Bhi Pyar Karti Hai.
मत कर मेरे दोस्त हसीना से मोहब्बत,
वो तो आँखों से वार करती हैं,
मैंने तेरी वाली की आँखों में देखा है,
वो तो मुझ से भी प्यार करती है।

مت کر میرے دوست حسینہ سے موحبّت .
وو تو آنکھوں سے وار کرتی ہیں .
منے تیری والی کی آنکھوں میں دیکھا ہے .
وو تو مجھ سے بھی پیار کرتی ہے .

---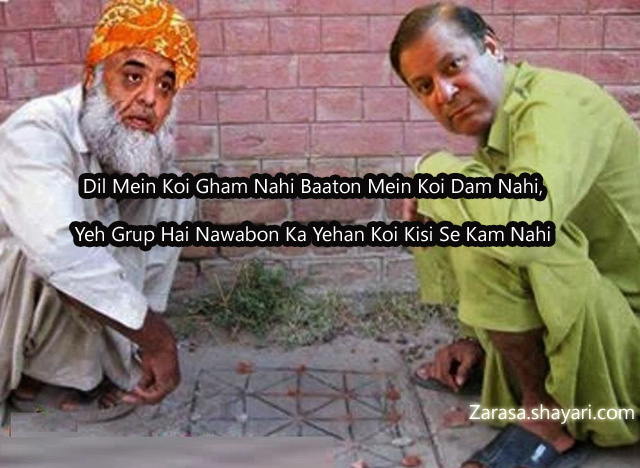 Dil Mein Koi Gham Nahi Baaton Mein Koi Dam Nahi,
Yeh Grup Hai Nawabon Ka Yehan Koi Kisi Se Kam Nahi

 


दिल में कोई गम नहीं बातों में कोई दम नहीं,
ये ग्रुप है नवाबो का यहाँ कोई किसीसे कम नहीं।
دل میں کوئی غم نہیں باتوں میں کوئی دم نہیں
یہ گروپ ہے نوابوں کا یہاں کوئی کسی سے کم نہیں
---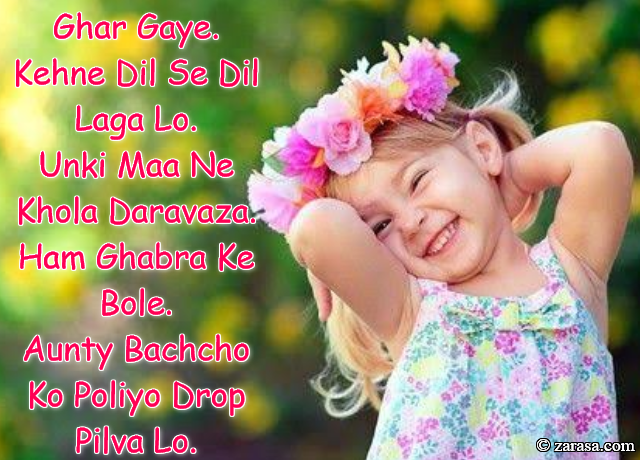 Jab Ham Unke Ghar Gaye.
Kehne Dil Se Dil Laga Lo.
Unki Maa Ne Khola Daravaza.
Ham Ghabra Ke Bole.
Aunty Bachcho Ko Poliyo Drop Pilva Lo.
जब हम उनके घर गए .
कहने दिल से दिल लगा लो .
उनकी माँ ने खोला दरवाज़ा .
हम घबरा के बोले .
आंटी बच्चो को पोलियो ड्राप पिलवा लो .

جب ہم انکے گھر گئے .
کہنے دل سے دل لگا لو .
انکی ما نے کھولا دروازہ .
ہم گھبرا کے بولے .
اونتے بچّھو کو پولیو ڈراپ پلوا لو .

---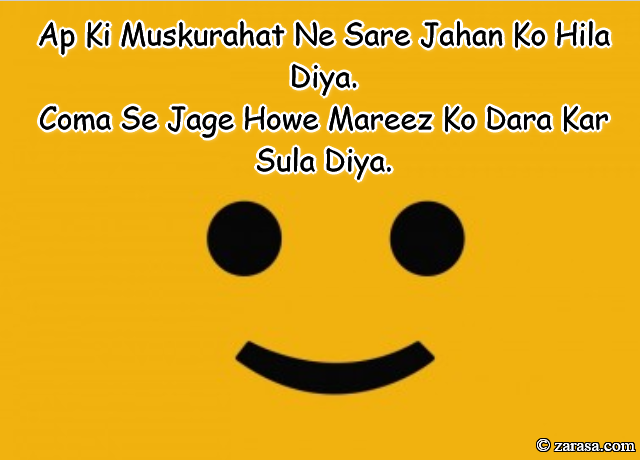 Ap Ki Muskurahat Ne Sare Jahan Ko Hila Diya.
Coma Se Jage Howe Mareez Ko Dara Kar Sula Diya.
आप की मुस्कराहट ने सरे जहाँ को हिला दिया .
कोमा से जगे हॉवे मरीज़ को डरा कर सुला दिया .
اپ کی مسکراہٹ نے سارے جہاں کو ہلا دیا .
کوما سے جاگے ہووے مریض کو ڈرا کر سلا دیا .
---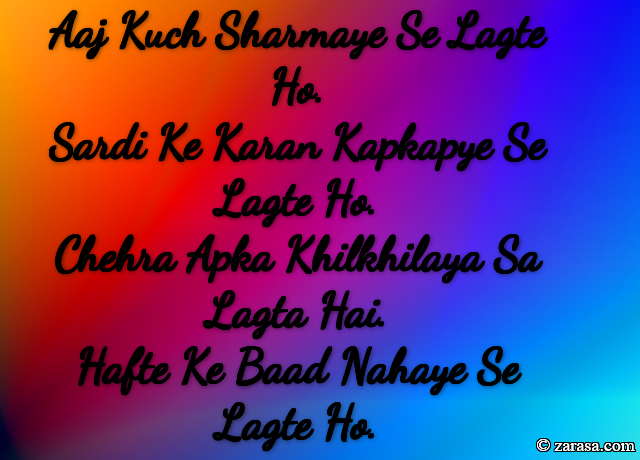 Aaj Kuch Sharmaye Se Lagte Ho.
Sardi Ke Karan Kapkapye Se Lagte Ho.
Chehra Apka Khilkhilaya Sa Lagta Hai.
Hafte Ke Baad Nahaye Se Lagte Ho.
आज कुछ शर्माए से लगते हो,
सर्दी के कारण कपकपए से लगते हो,
चेहरा आपका खिलखिलाये सा लगता है,
हफ्ते के बाद नहाए से लगते हो।

آج کچھ شرماے سے لگتے ہو .
سردی کے کران کپکپیسے لگتے ہو .
چہرہ اپکا کھلکھلایا سا لگتا ہے .
ہفتے کے بعد ناہے سے لگتے ہو .
---