Funny Shayari "Kajal Laga Lo"
|
Nazar Na Lag Jaye Aankhon Main Kajal Laga Lo.
Hum Kehte Hain Aankhon Main Kajal Hi Nahi.
Ho Sake To Gale Main Neebu Mirchi Chappal Bhi Latka Lo.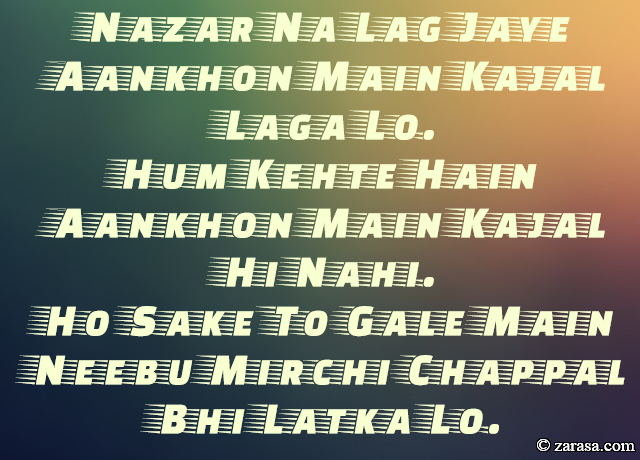 ---

नज़र ना लग जाये आँखों मैं काजल लगा लो .
हम कहते हैं आँखों मैं काजल ही नहीं .
हो सके तो गले मैं नीबू मिर्ची चप्पल भी लटका लो .


---

نظر نہ لگ جائے آنکھوں میں کاجل لگا لو .
ہم کہتے ہیں آنکھوں میں کاجل ہی نہیں .
ہو سکے تو گلے میں نیبو مرچی چپپل بھی لٹکا لو .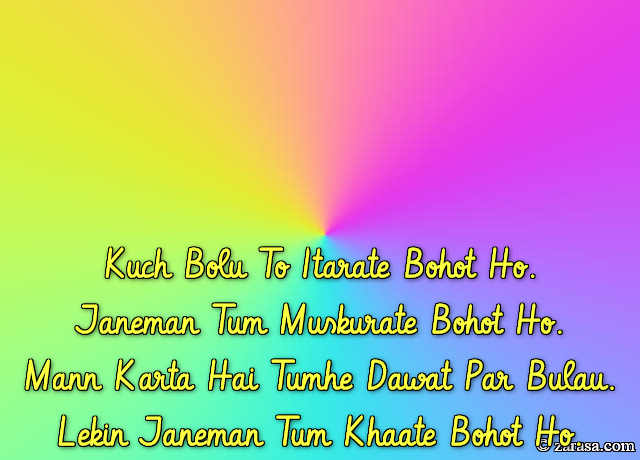 Kuch Bolu To Itarate Bohot Ho.
Janeman Tum Muskurate Bohot Ho.
Mann Karta Hai Tumhe Dawat Par Bulau.
Lekin Janeman Tum Khaate Bohot Ho.
कुछ बोलू तो इतराते बहुत हो .
जानेमन तुम मुस्करात बहुत हो .
मन करता है तुम्हे दावत पर बुलाऊ .
लेकिन जानेमन तुम खाते बहुत हो .
کچھ بولو تو اترتے بوہوت ہو .
جنیمن تم مسکراتے بوہوت ہو .
منن کرتا ہے تمھ دعوت پر بلو .
لیکن جنیمن تم کھاتے بوہوت ہو .
---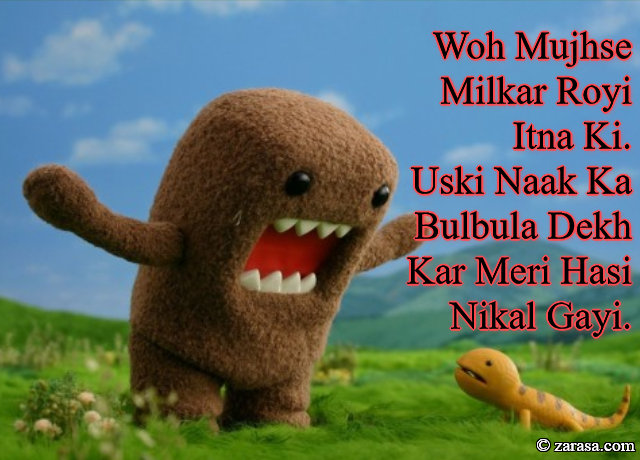 Woh Mujhse Milkar Royi Itna Ki.
Uski Naak Ka Bulbula Dekh Kar Meri Hasi Nikal Gayi.
वह मुझसे मिलकर रोई इतना की .
उसकी नाक का बुलबुला देख कर मेरी हसी निकल गयी .
وہ مجھسے ملکر رویی اتنا کی
اسکی ناک کا بلبلا دیکھ کر میری حسی نکل گی .
---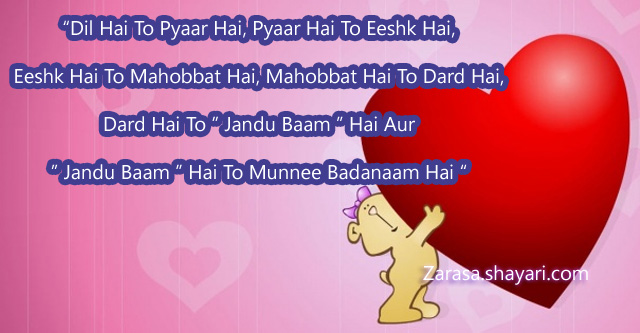 "Dil Hai To Pyaar Hai, Pyaar Hai To Eeshk Hai,
Eeshk Hai To Mahobbat Hai, Mahobbat Hai To Dard Hai,
Dard Hai To " Jandu Baam " Hai Aur
" Jandu Baam " Hai To Munnee Badanaam Hai "

 

 

"दिल है तो प्यार है, प्यार है तो ईश्क है,
ईश्क है तो महोब्बत है, महोब्बत है तो दर्द है,
दर्द है तो " जंडु बाम " है और
" जंडु बाम " है तो मुन्नी बदनाम है "
دل ہے تو محبت ہے، محبت ہے تو يشك ہے
يشك ہے تو مهوببت ہے، مهوببت ہے تو درد ہے
درد ہے تو "جڈ بام" ہے اور
"جڈ بام" ہے تو منی بدنام ہے "
---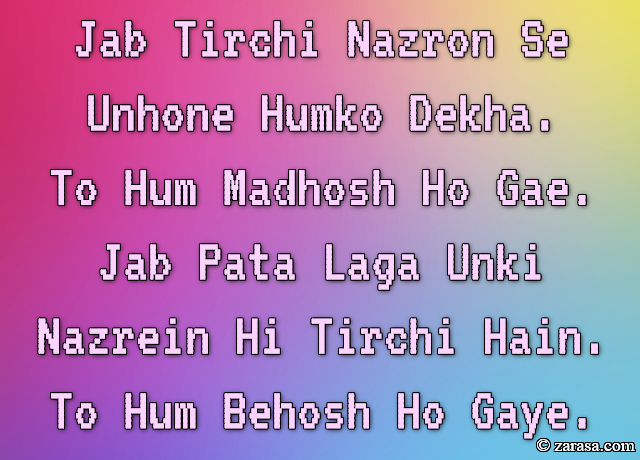 Jab Tirchi Nazron Se Unhone Humko Dekha.
To Hum Madhosh Ho Gae.
Jab Pata Laga Unki Nazrein Hi Tirchi Hain.
To Hum Behosh Ho Gaye.
जब तिरछी नज़रों से उन्होंने हमको देखा .
तो हम मदहोश हो गए .
जब पता लगा उनकी नज़रें ही तिरछी हैं .
तो हम बेहोश हो गए .

جب ترچھی نظروں سے انہونے ہمکو دیکھا .
تو ہم مدہوش ہو گے .
جب پتا لگا انکی نظریں ہی ترچھی ہیں .
تو ہم بیہوش ہو گئے .

---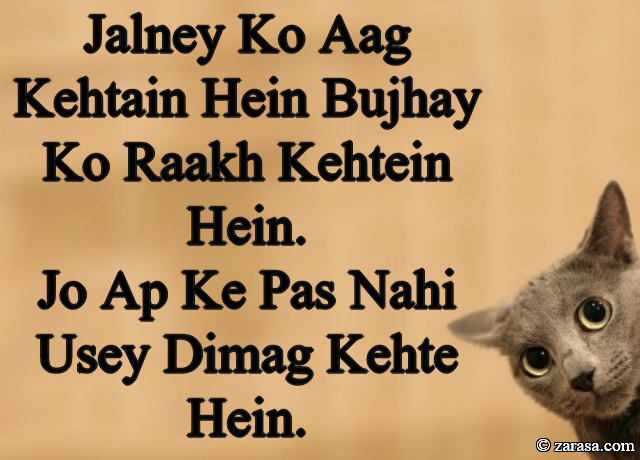 Jalney Ko Aag Kehtain Hein Bujhay Ko Raakh Kehtein Hein.
Jo Ap Ke Pas Nahi Usey Dimag Kehte Hein.
जलने को आग कहतें हैं बुझाय को राख कहतें हैं .
जो आप के पास नहीं उसे दिमाग कहते हैं .
جلنے کو آگ کہتیں ہیں بجھے کو راکھ کہتیں ہیں .
جو اپ کے پاس نہیں اسے دماگ کہتے ہیں .
---