Funny Shayari"Daffaa Karo Usko"
|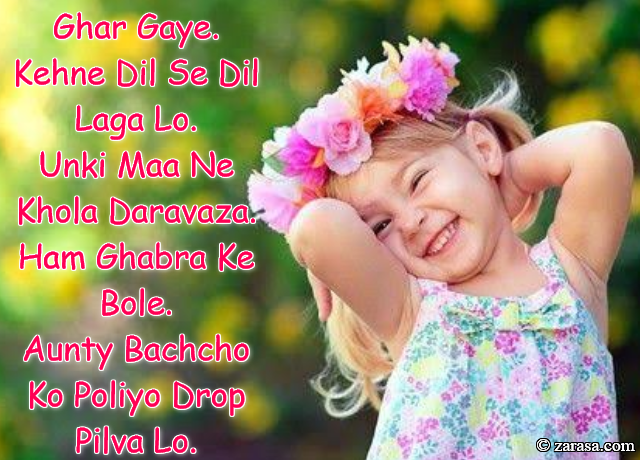 Jab Ham Unke Ghar Gaye.
Kehne Dil Se Dil Laga Lo.
Unki Maa Ne Khola Daravaza.
Ham Ghabra Ke Bole.
Aunty Bachcho Ko Poliyo Drop Pilva Lo.
जब हम उनके घर गए .
कहने दिल से दिल लगा लो .
उनकी माँ ने खोला दरवाज़ा .
हम घबरा के बोले .
आंटी बच्चो को पोलियो ड्राप पिलवा लो .

جب ہم انکے گھر گئے .
کہنے دل سے دل لگا لو .
انکی ما نے کھولا دروازہ .
ہم گھبرا کے بولے .
اونتے بچّھو کو پولیو ڈراپ پلوا لو .

---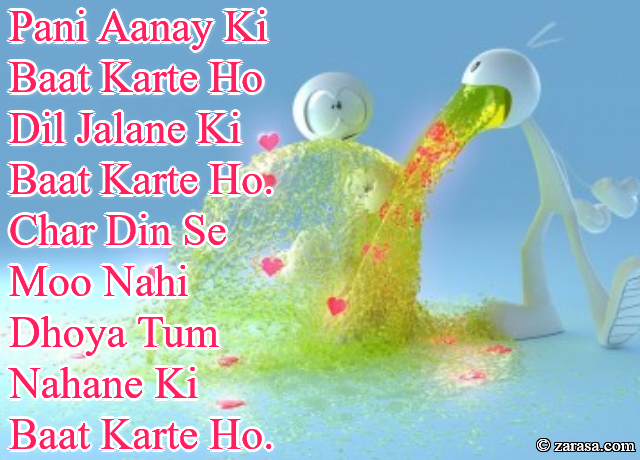 Pani Aanay Ki Baat Karte Ho Dil Jalane Ki Baat Karte Ho.
Char Din Se Moo Nahi Dhoya Tum Nahane Ki Baat Karte Ho.
पानी आने की बात करते हो दिल जलने की बात करते हो .
चार दिन से मू नहीं धोया तुम नहाने की बात करते हो .
پانی آنے کی بات کرتے ہو دل جلانے کی بات کرتا ہو .
چار دن سے مو نہیں دھویا تم نہانے کی بات کرتے ہو .
---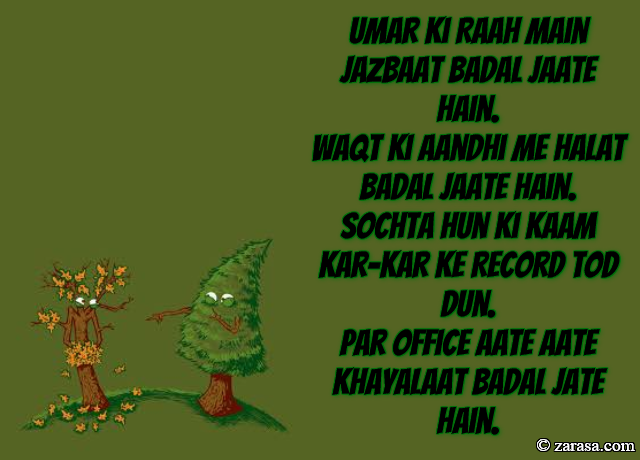 Umar Ki Raah Main Jazbaat Badal Jaate Hain.
Waqt Ki Aandhi Me Halat Badal Jaate Hain.
Sochta Hun Ki Kaam Kar-Kar Ke Record Tod Dun.
Par Office Aate Aate Khayalaat Badal Jate Hain.
उम्र की राह में जज्बात बदल जाते है,
वक़्त की आंधी में हालात बदल जाते है,
सोचता हूँ कि काम कर-कर के रिकॉर्ड तोड़ दूँ,
पर ऑफिस आते आते ख़यालात बदल जाते है।


امر کی راہ میں جذبات بدل جاتے ہیں .
وقت کی آندھی مے حالت بدل جاتے ہیں .
سوچتا ہوں کی کام کر -کر کے ریکارڈ ٹاڈ دن .
پر آفس آتے آتے خیالات بدل جاتے ہیں .
---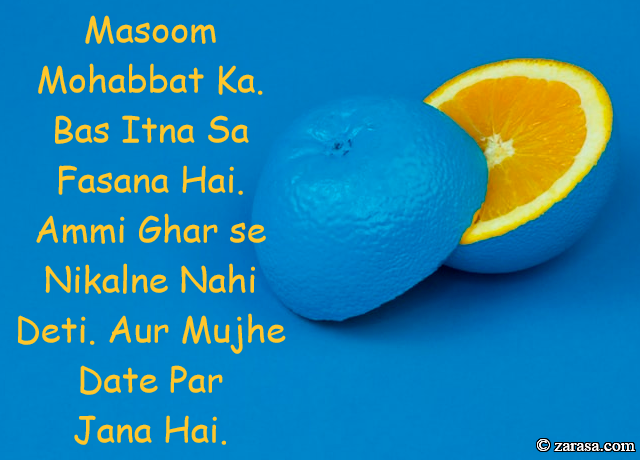 Masoom Mohabbat Ka.
Bas Itna Sa Fasana Hai.
Ammi Ghar se Nikalne Nahi Deti.
Aur Mujhe Date Par Jana Hai.
मासूम मोहब्बत का .
बस इतना सा फ़साना है .
अम्मी घर से निकलने नहीं देती .
और मुझे डेट पर जाना है .

ماسوم موحبّت کا .
بس اتنا سا فسانہ ہے .
عی گھر سے نکلنے نہیں دیتی .
اور مجھے ڈٹے پر جانا ہے .

---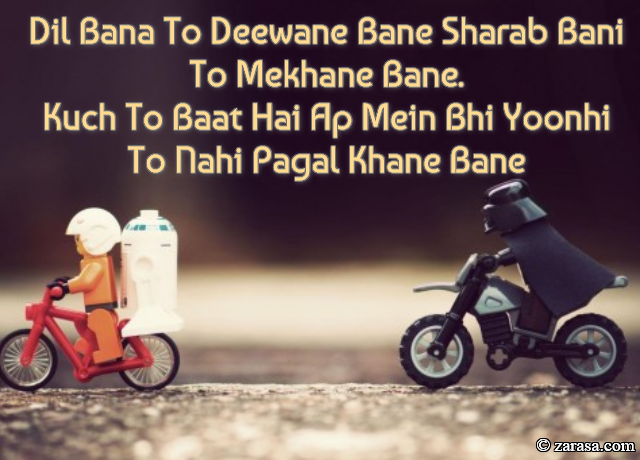 Dil Bana To Deewane Bane Sharab Bani To Mekhane Bane.
Kuch To Baat Hai Ap Mein Bhi Yoonhi To Nahi Pagal Khane Bane.
दिल बना तो दीवाने बने शराब बानी तो मखाने बने .
कुछ तो बात है आप में भी यूँही तो नहीं पागल खाने बने .
دل بنا تو دیوانے بنے شراب بنی تو میخانے بنے .
کچھ تو بات ہے اپ میں بھی یونہی تو نہیں پاگل خانے بنے .
---