Funny Shayari "Madhosh Ho Gae"
|
Jab Tirchi Nazron Se Unhone Humko Dekha.
To Hum Madhosh Ho Gae.
Jab Pata Laga Unki Nazrein Hi Tirchi Hain.
To Hum Behosh Ho Gaye.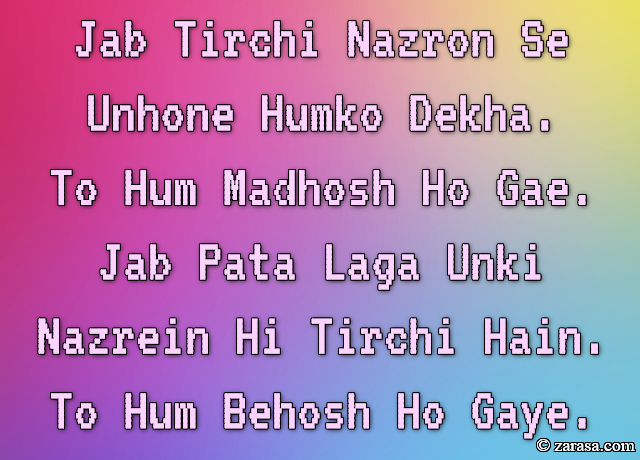 ---

जब तिरछी नज़रों से उन्होंने हमको देखा .
तो हम मदहोश हो गए .
जब पता लगा उनकी नज़रें ही तिरछी हैं .
तो हम बेहोश हो गए .



---

جب ترچھی نظروں سے انہونے ہمکو دیکھا .
تو ہم مدہوش ہو گے .
جب پتا لگا انکی نظریں ہی ترچھی ہیں .
تو ہم بیہوش ہو گئے .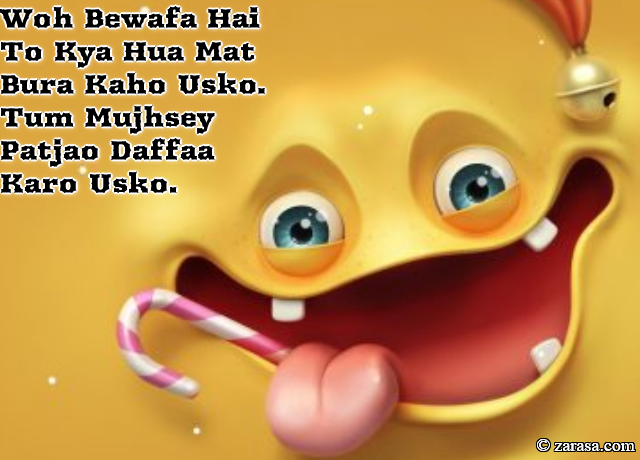 Woh Bewafa Hai To Kya Hua Mat Bura Kaho Usko.
Tum Mujhsey Patjao Daffaa Karo Usko.
वह बेवफा है तो क्या हुआ मत बुरा कहो उसको .
तुम मुझसे पटजाओ दफा करो उसको .
وہ بیوفا ہے تو کیا ہوا مت برا کہو اسکو .
تم مجھسے پتجاؤ دففا کرو اسکو .
---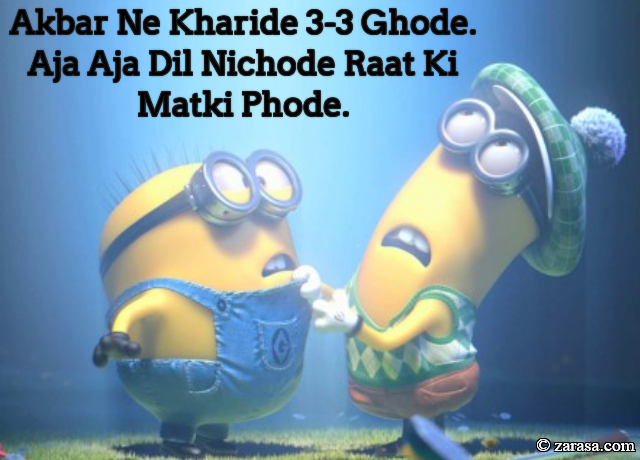 Akbar Ne Kharide 3-3 Ghode.
Aja Aja Dil Nichode Raat Ki Matki Phode.
अख़बार ने ख़रीदे ३ -३ घोड़े .
अजा अजा दिल निचोड़े रात की मटकी फोड़े .
اکبر نے خریدے ٣ -٣ غودے .
آجا آجا دل نچودے رات کی متکی فوڈے .
---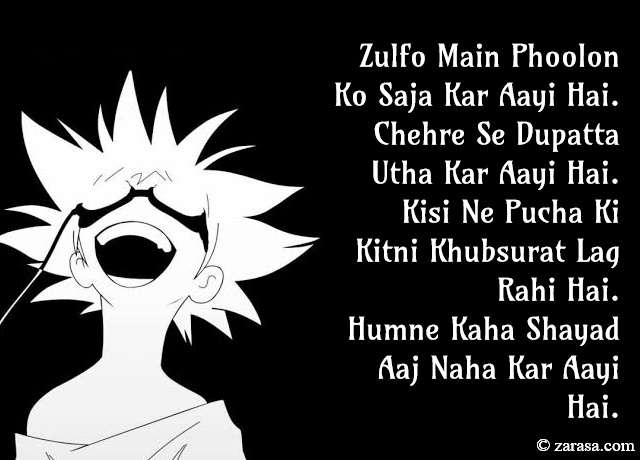 Zulfo Main Phoolon Ko Saja Kar Aayi Hai.
Chehre Se Dupatta Utha Kar Aayi Hai.
Kisi Ne Pucha Ki Kitni Khubsurat Lag Rahi Hai.
Humne Kaha Shayad Aaj Naha Kar Aayi Hai.
जुल्फों में फूलों को सजा के आयी,
चेहरे से दुपट्टा उठा के आयी,
किसी ने पूछा आज बड़ी खुबसूरत लग रही है,
हमने कहा शायद आज नहा के आयी।

زلفو میں پھولوں کو سجا کر آی ہے .
چہرے سے دوپٹے اٹھا کر آی ہے .
کسی نے پچا کی کتنی خوبصورت لگ رہی ہے .
ہمنے کہا شاید آج نہ کر آی ہے .

---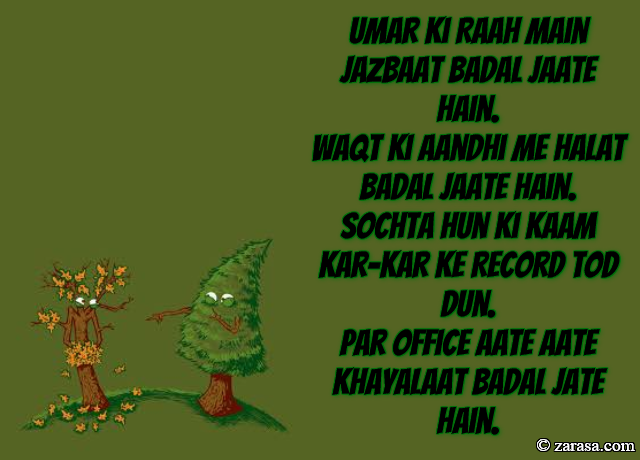 Umar Ki Raah Main Jazbaat Badal Jaate Hain.
Waqt Ki Aandhi Me Halat Badal Jaate Hain.
Sochta Hun Ki Kaam Kar-Kar Ke Record Tod Dun.
Par Office Aate Aate Khayalaat Badal Jate Hain.
उम्र की राह में जज्बात बदल जाते है,
वक़्त की आंधी में हालात बदल जाते है,
सोचता हूँ कि काम कर-कर के रिकॉर्ड तोड़ दूँ,
पर ऑफिस आते आते ख़यालात बदल जाते है।


امر کی راہ میں جذبات بدل جاتے ہیں .
وقت کی آندھی مے حالت بدل جاتے ہیں .
سوچتا ہوں کی کام کر -کر کے ریکارڈ ٹاڈ دن .
پر آفس آتے آتے خیالات بدل جاتے ہیں .
---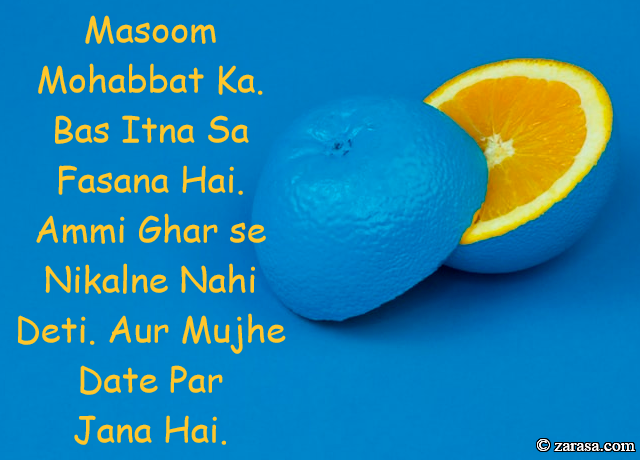 Masoom Mohabbat Ka.
Bas Itna Sa Fasana Hai.
Ammi Ghar se Nikalne Nahi Deti.
Aur Mujhe Date Par Jana Hai.
मासूम मोहब्बत का .
बस इतना सा फ़साना है .
अम्मी घर से निकलने नहीं देती .
और मुझे डेट पर जाना है .

ماسوم موحبّت کا .
بس اتنا سا فسانہ ہے .
عی گھر سے نکلنے نہیں دیتی .
اور مجھے ڈٹے پر جانا ہے .

---