Funny Shayari"Char Din Se Moo Nahi Dhoya Tum Nahane Ki Baat Karte Ho"
|
Pani Aanay Ki Baat Karte Ho Dil Jalane Ki Baat Karte Ho.
Char Din Se Moo Nahi Dhoya Tum Nahane Ki Baat Karte Ho.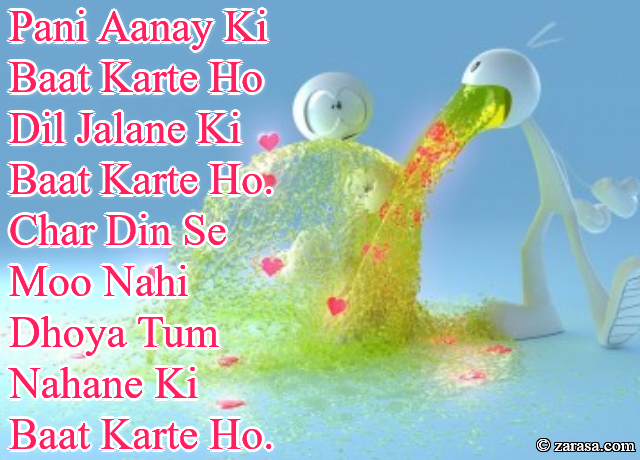 ---

पानी आने की बात करते हो दिल जलने की बात करते हो .
चार दिन से मू नहीं धोया तुम नहाने की बात करते हो .


---

پانی آنے کی بات کرتے ہو دل جلانے کی بات کرتا ہو .
چار دن سے مو نہیں دھویا تم نہانے کی بات کرتے ہو .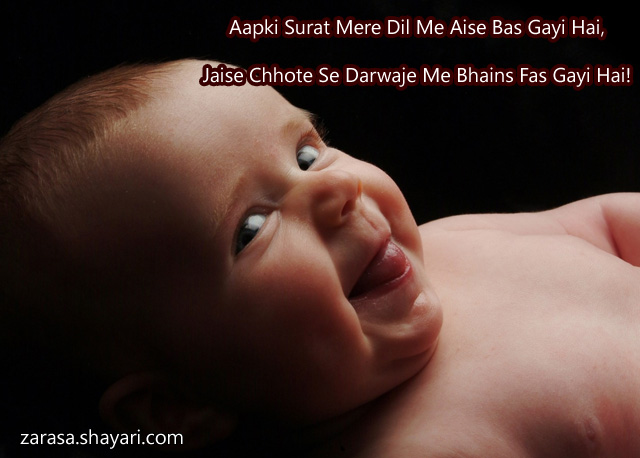 Aapki Surat Mere Dil Me Aise Bas Gayi Hai,
Jaise Chhote Se Darwaje Me Bhains Fas Gayi Hai!






आपकी सूरत मेरे दिल में ऐसे बस गयी है,
जैसे छोटे से दरवाजे में भैंस फास गयी है! .
آپ سورت میرے دل میں ایسے بس گئی ہے
جیسے چھوٹے سے دروازے میں بھینس پھاس گئی ہے
---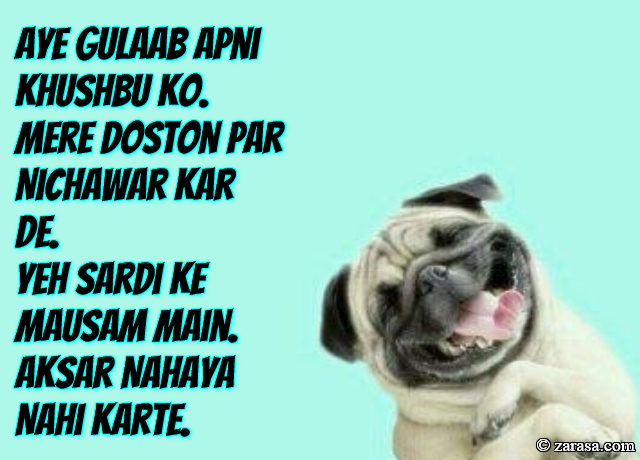 Aye Gulaab Apni Khushbu Ko.
Mere Doston Par Nichawar Kar De.
Yeh Sardi Ke Mausam Main.
Aksar Nahaya Nahi Karte.
ए गुलाब अपनी खुशबू को
मेरे दोस्तों पर न्योछावर कर दे,
यह सर्दी के मौसम में
अक्सर नहाया नहीं करते।

ہے گلاب اپنی خوشبو کو .
میرے دوستوں پر نچھاور کر دے .
یہ سردی کے موسم میں .
اکثر نہایا نہیں کرتے .

---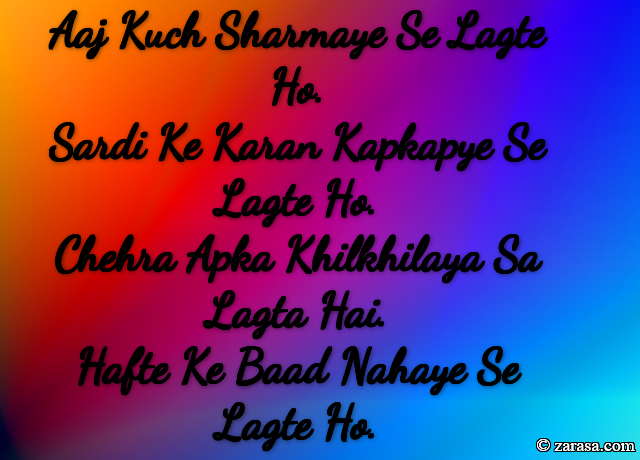 Aaj Kuch Sharmaye Se Lagte Ho.
Sardi Ke Karan Kapkapye Se Lagte Ho.
Chehra Apka Khilkhilaya Sa Lagta Hai.
Hafte Ke Baad Nahaye Se Lagte Ho.
आज कुछ शर्माए से लगते हो,
सर्दी के कारण कपकपए से लगते हो,
चेहरा आपका खिलखिलाये सा लगता है,
हफ्ते के बाद नहाए से लगते हो।

آج کچھ شرماے سے لگتے ہو .
سردی کے کران کپکپیسے لگتے ہو .
چہرہ اپکا کھلکھلایا سا لگتا ہے .
ہفتے کے بعد ناہے سے لگتے ہو .
---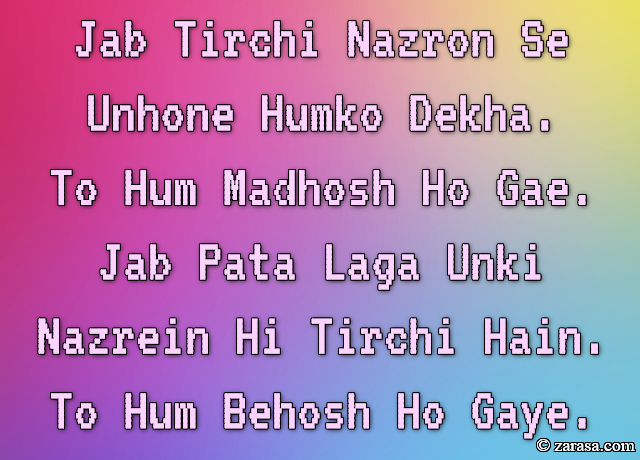 Jab Tirchi Nazron Se Unhone Humko Dekha.
To Hum Madhosh Ho Gae.
Jab Pata Laga Unki Nazrein Hi Tirchi Hain.
To Hum Behosh Ho Gaye.
जब तिरछी नज़रों से उन्होंने हमको देखा .
तो हम मदहोश हो गए .
जब पता लगा उनकी नज़रें ही तिरछी हैं .
तो हम बेहोश हो गए .

جب ترچھی نظروں سے انہونے ہمکو دیکھا .
تو ہم مدہوش ہو گے .
جب پتا لگا انکی نظریں ہی ترچھی ہیں .
تو ہم بیہوش ہو گئے .

---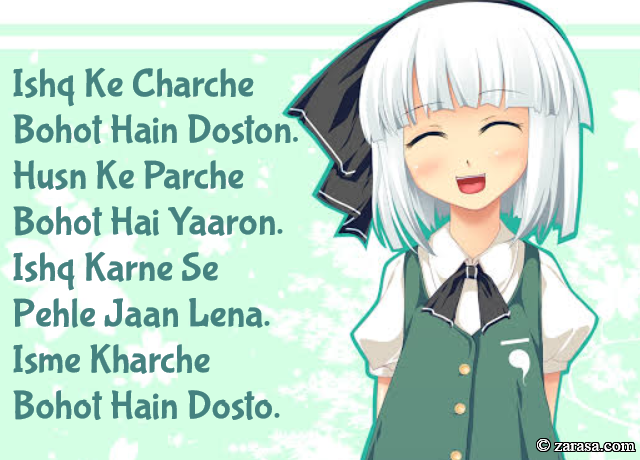 Ishq Ke Charche Bohot Hain Doston.
Husn Ke Parche Bohot Hai Yaaron.
Ishq Karne Se Pehle Jaan Lena.
Isme Kharche Bohot Hain Dosto.
इश्क़ के Charche बोहोत हैं दोस्तों .
हुस्न के पर्चे बोहोत है यारों .
इश्क़ करने से पहले जान लेना .
इसमें खर्चे बोहोत हैं दोस्तों .

عشق کے چرچے بوہوت ہیں دوستوں .
حسن کے پرچے بوہوت ہے یاروں .
عشق کرنے سے پہلے جان لینا .
اسمے خرچے بوہوت ہیں دوستو .

---