Funny Shayari "Uska Ehsaas Ban Jae"
|
Jab Koi Zindagi Main Bohot Khaas Ban Jae.
Uske Baare Main Sochna Hi Uska Ehsaas Ban Jae.
To Maang Lena Khuda Se Use Zindagi Bhar Ke Liye.
Isse Pehle Ki Uski Maa Kisi Aur Ki Saas Ban Jae.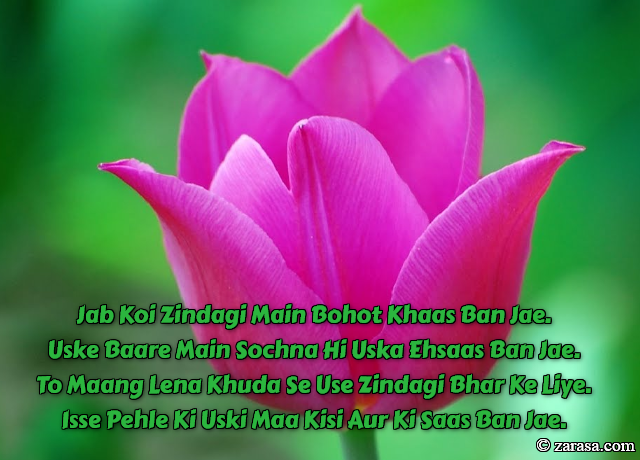 ---

जब कोई ज़िन्दगी मैं बोहोत ख़ास बन जाए .
उसके बारे मैं सोचना ही उसका एहसास बन जाए .
तो मांग लेना खुदा से उसे ज़िन्दगी भर के लिए .
इससे पहले की उसकी माँ किसी और की सास बन जाए .



---

جب کوئی زندگی میں بوہوت خاص بن جاۓ .
اسکے بارے میں سوچنا ہی اسکا احساس بن جاۓ .
تو مانگ لینا خدا سے اسے زندگی بھر کے لئے .
اسے پہلے کی اسکی ما کسی اور کی ساس بن جاۓ .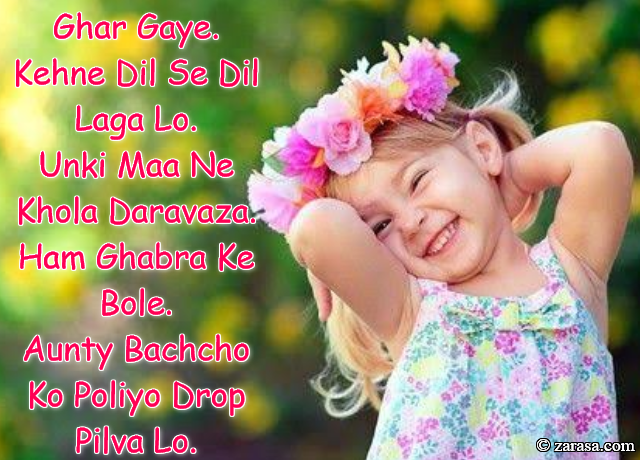 Jab Ham Unke Ghar Gaye.
Kehne Dil Se Dil Laga Lo.
Unki Maa Ne Khola Daravaza.
Ham Ghabra Ke Bole.
Aunty Bachcho Ko Poliyo Drop Pilva Lo.
जब हम उनके घर गए .
कहने दिल से दिल लगा लो .
उनकी माँ ने खोला दरवाज़ा .
हम घबरा के बोले .
आंटी बच्चो को पोलियो ड्राप पिलवा लो .

جب ہم انکے گھر گئے .
کہنے دل سے دل لگا لو .
انکی ما نے کھولا دروازہ .
ہم گھبرا کے بولے .
اونتے بچّھو کو پولیو ڈراپ پلوا لو .

---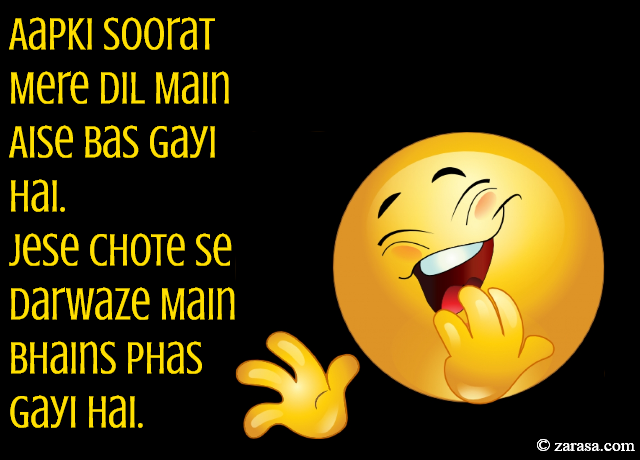 Aapki Soorat Mere Dil Main Aise Bas Gayi Hai.
Jese Chote Se Darwaze Main Bhains Phas Gayi Hai.


आपकी सूरत मेरे दिल में ऐसे बस गयी है,
जैसे छोटे से दरवाज़े में भैस फस गयी है।

آپکی صورت میرے دل میں ایسے بس گی ہے .
جیسے چھوٹے سے دروازے می بھینس فاس گی ہے .


---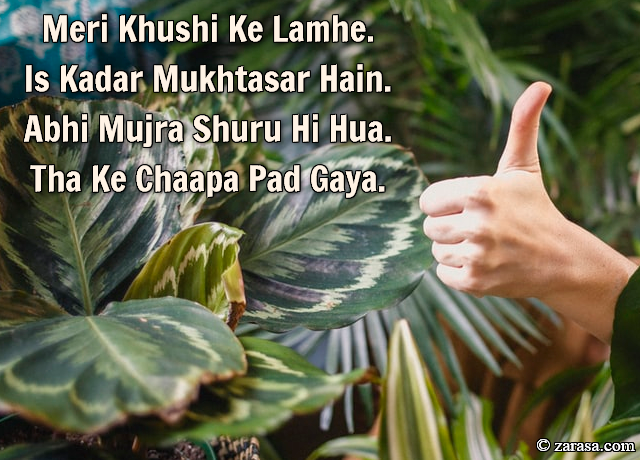 Meri Khushi Ke Lamhe.
Is Kadar Mukhtasar Hain.
Abhi Mujra Shuru Hi Hua.
Tha Ke Chaapa Pad Gaya.
मेरी ख़ुशी के लम्हे .
इस कदर मुख़्तसर हैं .
अभी मुजरा शुरू ही हुआ .
था के छापा पद गया .
میری خوشی کے لمحے .
اس کدر مختصر ہیں .
ابھی مجرا شرو ہی ہوا .
تھا کے چھاپا پیڈ گیا .
---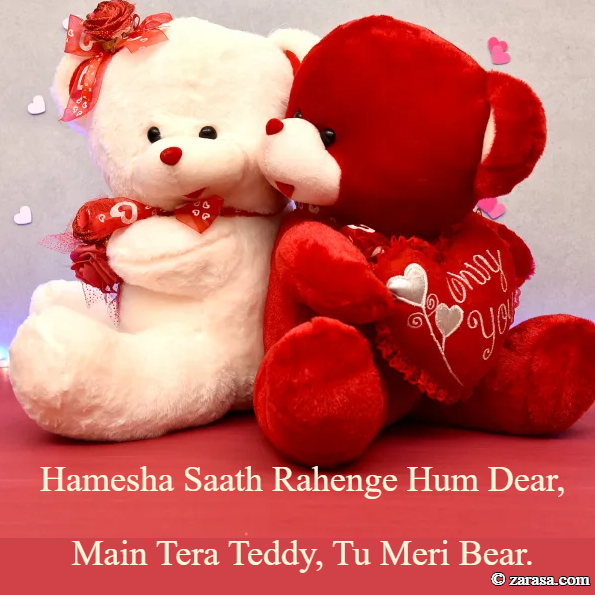 Hamesha Saath Rahenge Hum Dear,
Main Tera Teddy, Tu Meri Bear.

हमेशा साथ रहेंगे हम डियर,

मैं तेरा टेडी, तू मेरी बियर
ہمیشہ ساتھ رہینگے ہم دیر
میں تیرا تددے تو میری بیر
---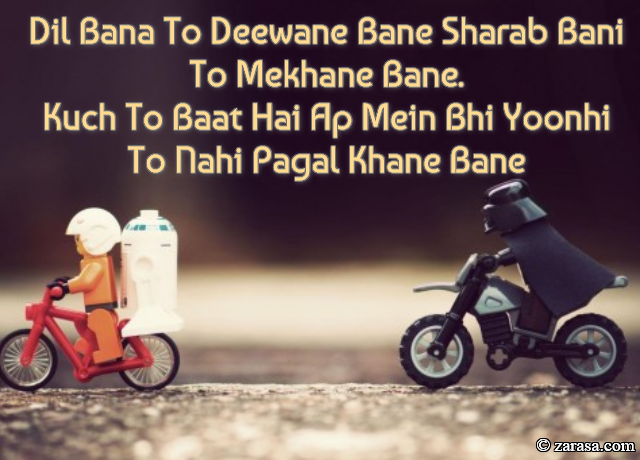 Dil Bana To Deewane Bane Sharab Bani To Mekhane Bane.
Kuch To Baat Hai Ap Mein Bhi Yoonhi To Nahi Pagal Khane Bane.
दिल बना तो दीवाने बने शराब बानी तो मखाने बने .
कुछ तो बात है आप में भी यूँही तो नहीं पागल खाने बने .
دل بنا تو دیوانے بنے شراب بنی تو میخانے بنے .
کچھ تو بات ہے اپ میں بھی یونہی تو نہیں پاگل خانے بنے .
---