Funny Shayari "Uska Ehsaas Ban Jae"
|
Jab Koi Zindagi Main Bohot Khaas Ban Jae.
Uske Baare Main Sochna Hi Uska Ehsaas Ban Jae.
To Maang Lena Khuda Se Use Zindagi Bhar Ke Liye.
Isse Pehle Ki Uski Maa Kisi Aur Ki Saas Ban Jae.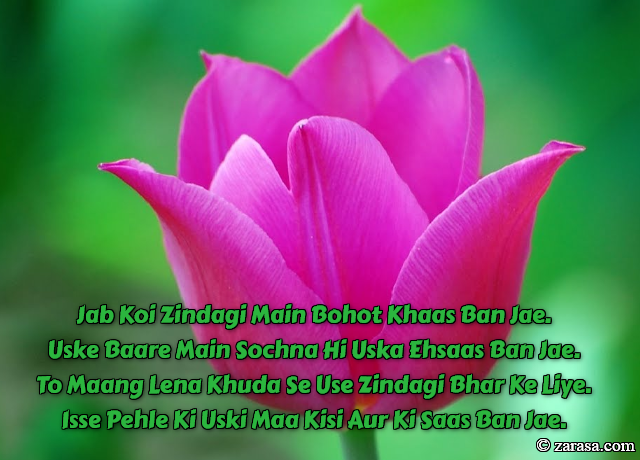 ---

जब कोई ज़िन्दगी मैं बोहोत ख़ास बन जाए .
उसके बारे मैं सोचना ही उसका एहसास बन जाए .
तो मांग लेना खुदा से उसे ज़िन्दगी भर के लिए .
इससे पहले की उसकी माँ किसी और की सास बन जाए .



---

جب کوئی زندگی میں بوہوت خاص بن جاۓ .
اسکے بارے میں سوچنا ہی اسکا احساس بن جاۓ .
تو مانگ لینا خدا سے اسے زندگی بھر کے لئے .
اسے پہلے کی اسکی ما کسی اور کی ساس بن جاۓ .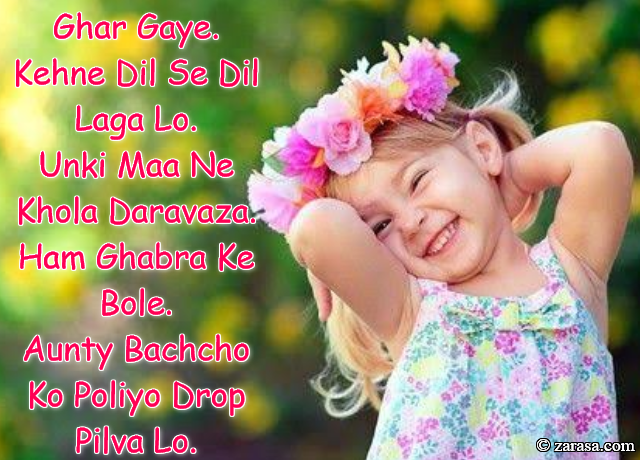 Jab Ham Unke Ghar Gaye.
Kehne Dil Se Dil Laga Lo.
Unki Maa Ne Khola Daravaza.
Ham Ghabra Ke Bole.
Aunty Bachcho Ko Poliyo Drop Pilva Lo.
जब हम उनके घर गए .
कहने दिल से दिल लगा लो .
उनकी माँ ने खोला दरवाज़ा .
हम घबरा के बोले .
आंटी बच्चो को पोलियो ड्राप पिलवा लो .

جب ہم انکے گھر گئے .
کہنے دل سے دل لگا لو .
انکی ما نے کھولا دروازہ .
ہم گھبرا کے بولے .
اونتے بچّھو کو پولیو ڈراپ پلوا لو .

---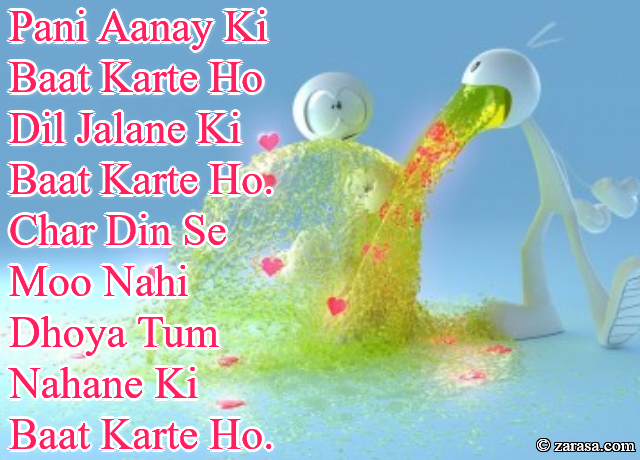 Pani Aanay Ki Baat Karte Ho Dil Jalane Ki Baat Karte Ho.
Char Din Se Moo Nahi Dhoya Tum Nahane Ki Baat Karte Ho.
पानी आने की बात करते हो दिल जलने की बात करते हो .
चार दिन से मू नहीं धोया तुम नहाने की बात करते हो .
پانی آنے کی بات کرتے ہو دل جلانے کی بات کرتا ہو .
چار دن سے مو نہیں دھویا تم نہانے کی بات کرتے ہو .
---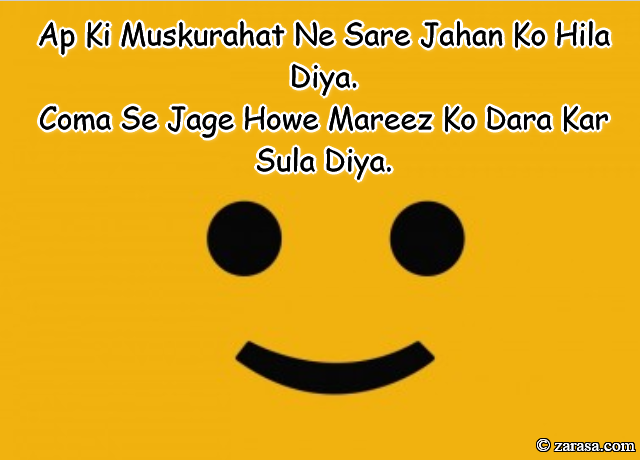 Ap Ki Muskurahat Ne Sare Jahan Ko Hila Diya.
Coma Se Jage Howe Mareez Ko Dara Kar Sula Diya.
आप की मुस्कराहट ने सरे जहाँ को हिला दिया .
कोमा से जगे हॉवे मरीज़ को डरा कर सुला दिया .
اپ کی مسکراہٹ نے سارے جہاں کو ہلا دیا .
کوما سے جاگے ہووے مریض کو ڈرا کر سلا دیا .
---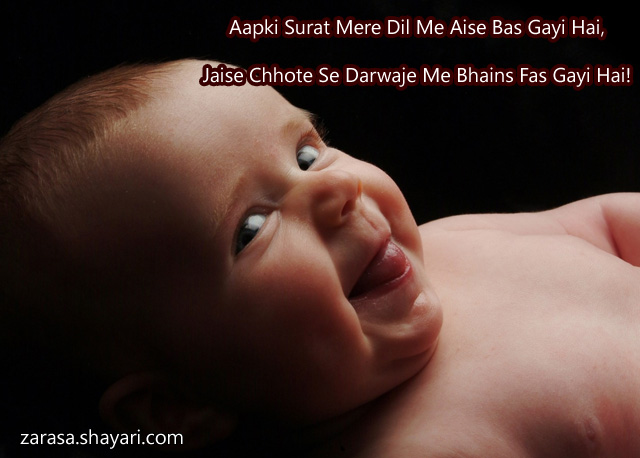 Aapki Surat Mere Dil Me Aise Bas Gayi Hai,
Jaise Chhote Se Darwaje Me Bhains Fas Gayi Hai!






आपकी सूरत मेरे दिल में ऐसे बस गयी है,
जैसे छोटे से दरवाजे में भैंस फास गयी है! .
آپ سورت میرے دل میں ایسے بس گئی ہے
جیسے چھوٹے سے دروازے میں بھینس پھاس گئی ہے
---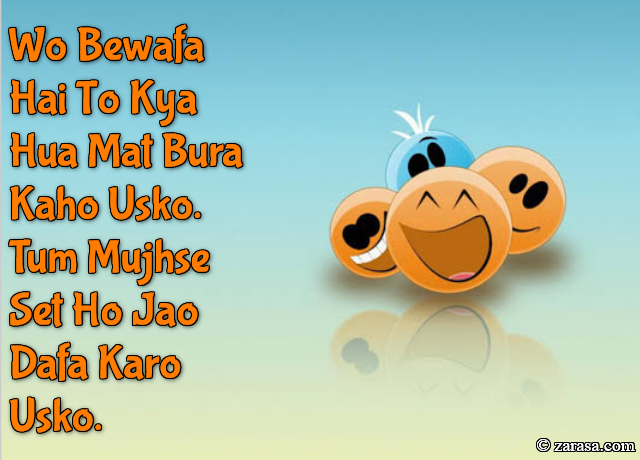 Wo Bewafa Hai To Kya Hua Mat Bura Kaho Usko.
Tum Mujhse Set Ho Jao Dafa Karo Usko.
वह बेवफा है तो क्या हुआ मत बुरा कहो उसको.
तुम मुझसे सेट हो जाओ दफा करो उसको.
وہ بیوفا ہے تو کیا ہوا مت برا کہو اسکو .
تم مجھسے سیٹ ہو جو دفع کرو اسکو .

---