Funny Shayari"Aaj Yaron Phir Ham Se Ho Gayi Ek Bhool"
|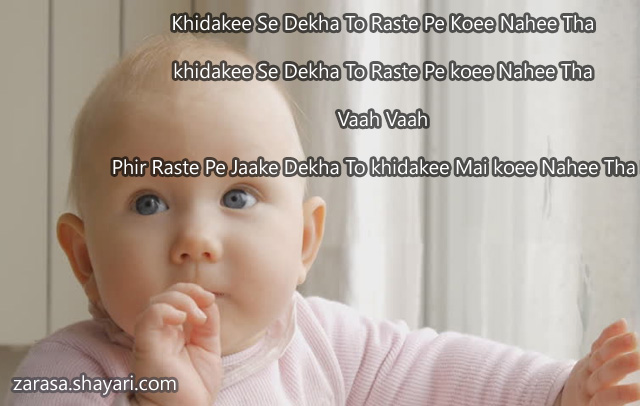 Khidakee Se Dekha To Raste Pe Koee Nahee Tha
khidakee Se Dekha To Raste Pe koee Nahee Tha
Vaah Vaah
Phir Raste Pe Jaake Dekha To khidakee Mai koee Nahee Tha ?

 



खिडकी से देखा तो रस्ते पे कोई नही था
खिडकी से देखा तो रस्ते पे कोई नही था
वाह वाह
फिर रस्ते पे जाके देखा तो खिडकी मै कोई नही था ?
کھڑکی سے دیکھا تو رستے پہ کوئی نہیں تھا
کھڑکی سے دیکھا تو رستے پہ کوئی نہیں تھا
واہ واہ
پھر رستے پہ جاکے دیکھا تو کھڑکی مے کوئی نہیں تھا
---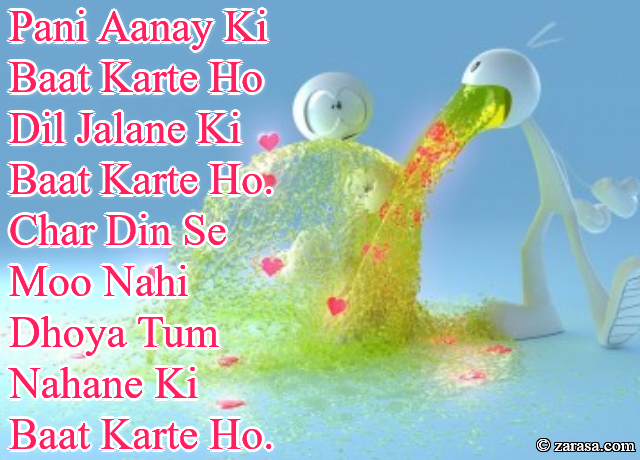 Pani Aanay Ki Baat Karte Ho Dil Jalane Ki Baat Karte Ho.
Char Din Se Moo Nahi Dhoya Tum Nahane Ki Baat Karte Ho.
पानी आने की बात करते हो दिल जलने की बात करते हो .
चार दिन से मू नहीं धोया तुम नहाने की बात करते हो .
پانی آنے کی بات کرتے ہو دل جلانے کی بات کرتا ہو .
چار دن سے مو نہیں دھویا تم نہانے کی بات کرتے ہو .
---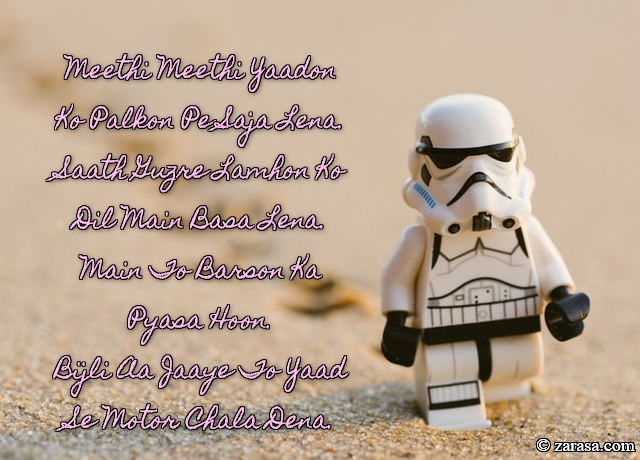 Meethi Meethi Yaadon Ko Palkon Pe Saja Lena.
Saath Guzre Lamhon Ko Dil Main Basa Lena.
Main To Barson Ka Pyasa Hoon.
Bijli Aa Jaaye To Yaad Se Motor Chala Dena.
मीठी मीठी यादों को पलकों पे सजा लेना .
साथ गुज़रे लम्हों को दिल मैं बसा लेना .
मैं तो बरसों का प्यासा हूँ .
बिजली आ जाए तो याद से मोटर चला देना .
میٹھی میٹھی یادوں کو پلکوں پی سجا لینا .
ساتھ گزرے لمحوں کو دل میں بسا لیںا .
میں تو برسوں کا پیاسا ہوں .
بجلی آ جائے تو یاد سے موٹر چلا دینا .
---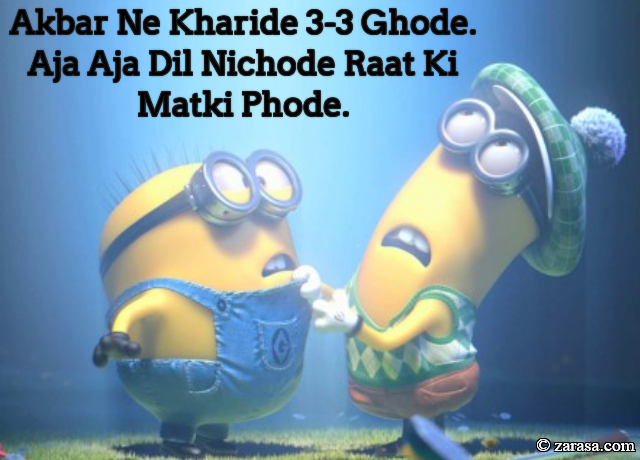 Akbar Ne Kharide 3-3 Ghode.
Aja Aja Dil Nichode Raat Ki Matki Phode.
अख़बार ने ख़रीदे ३ -३ घोड़े .
अजा अजा दिल निचोड़े रात की मटकी फोड़े .
اکبر نے خریدے ٣ -٣ غودے .
آجا آجا دل نچودے رات کی متکی فوڈے .
---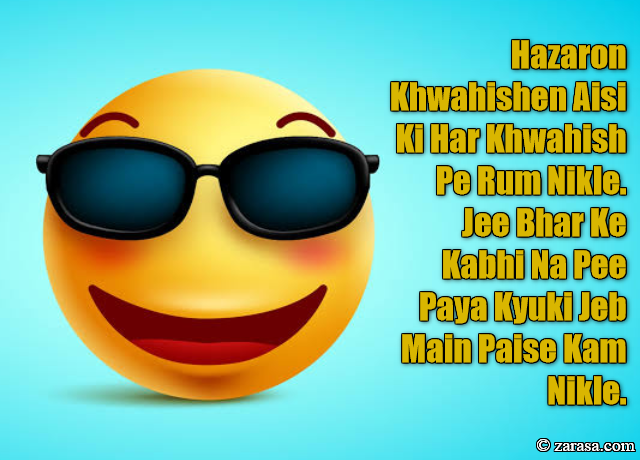 Hazaron Khwahishen Aisi Ki Har Khwahish Pe Rum Nikle.
Jee Bhar Ke Kabhi Na Pee Paya Kyuki Jeb Main Paise Kam Nikle.
हज़ारों ख्वाहिशें ऐसी कि हर ख्वाहिश पे रम निकले.
जी भर के कभी ना पी पाया क्योंकि जेब में पैसे कम निकले.

ہزاروں خواہشیں ایسی کی ہر خواہش پی روم نکلے .
جی بھر کے کبھی نہ پی پایا کیکی جیب میں پیسے کم نکلے .

---