Funny Shayari"Aaj Yaron Phir Ham Se Ho Gayi Ek Bhool"
|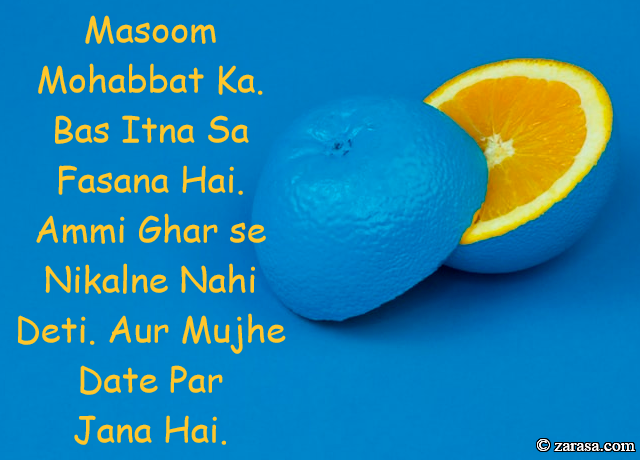 Masoom Mohabbat Ka.
Bas Itna Sa Fasana Hai.
Ammi Ghar se Nikalne Nahi Deti.
Aur Mujhe Date Par Jana Hai.
मासूम मोहब्बत का .
बस इतना सा फ़साना है .
अम्मी घर से निकलने नहीं देती .
और मुझे डेट पर जाना है .

ماسوم موحبّت کا .
بس اتنا سا فسانہ ہے .
عی گھر سے نکلنے نہیں دیتی .
اور مجھے ڈٹے پر جانا ہے .

---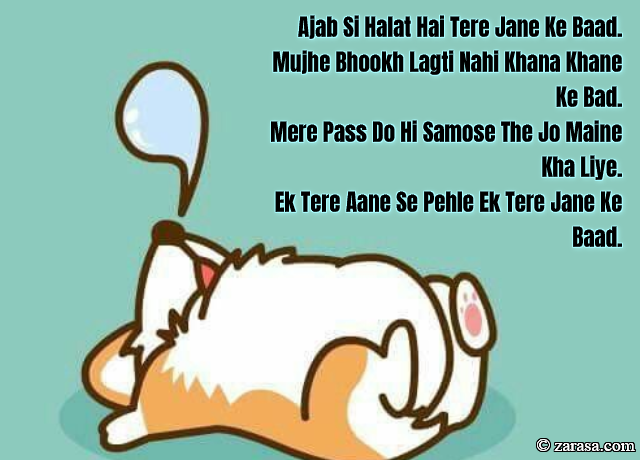 Ajab Si Halat Hai Tere Jane Ke Baad.
Mujhe Bhookh Lagti Nahi Khana Khane Ke Bad.
Mere Pass Do Hi Samose The Jo Maine Kha Liye.
Ek Tere Aane Se Pehle Ek Tere Jane Ke Baad.
अजब सी हालत है तेरे जाने के बाद,
मुझे भूख लगती नहीं खाना खाने के बाद,
मेरे पास दो ही समोसे थे जो मैंने खा लिए,
एक तेरे आने से पहले, एक तेरे जाने के बाद।
عجب سی حالت ہے تیرے جانے کے بعد .
مجھے بھوکھ لگتی نہیں کھانا خانے کے بعد .
میرے پاسس دو ہی سموسے تھے جو مہینے کھا لئے .
ایک تیرے آنے سے پہلے ایک تیرے جانے کے بعد .
---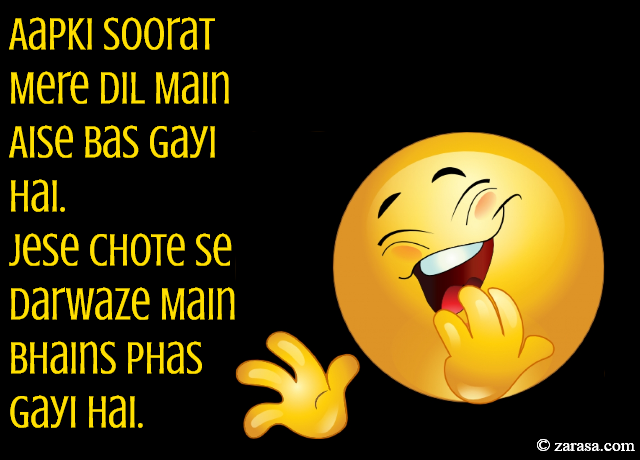 Aapki Soorat Mere Dil Main Aise Bas Gayi Hai.
Jese Chote Se Darwaze Main Bhains Phas Gayi Hai.


आपकी सूरत मेरे दिल में ऐसे बस गयी है,
जैसे छोटे से दरवाज़े में भैस फस गयी है।

آپکی صورت میرے دل میں ایسے بس گی ہے .
جیسے چھوٹے سے دروازے می بھینس فاس گی ہے .


---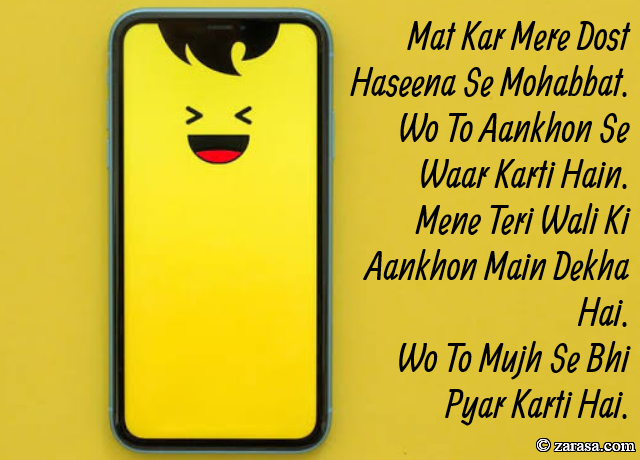 Mat Kar Mere Dost Haseena Se Mohabbat.
Wo To Aankhon Se Waar Karti Hain.
Mene Teri Wali Ki Aankhon Main Dekha Hai.
Wo To Mujh Se Bhi Pyar Karti Hai.
मत कर मेरे दोस्त हसीना से मोहब्बत,
वो तो आँखों से वार करती हैं,
मैंने तेरी वाली की आँखों में देखा है,
वो तो मुझ से भी प्यार करती है।

مت کر میرے دوست حسینہ سے موحبّت .
وو تو آنکھوں سے وار کرتی ہیں .
منے تیری والی کی آنکھوں میں دیکھا ہے .
وو تو مجھ سے بھی پیار کرتی ہے .

---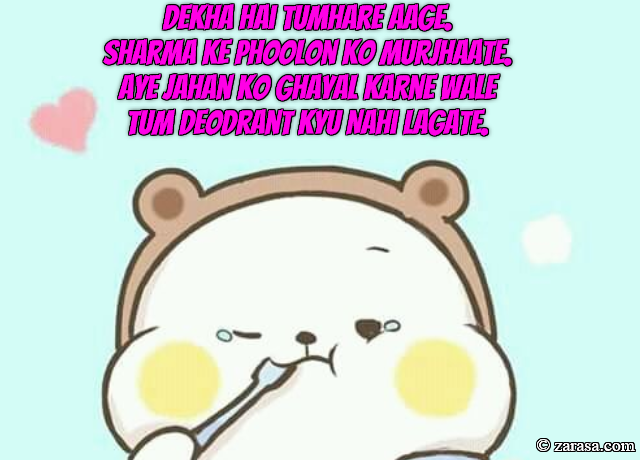 Dekha Hai Tumhare Aage.
Sharma Ke Phoolon Ko Murjhaate.
Aye Jahan Ko Ghayal Karne Wale
Tum Deodrant Kyu Nahi Lagate.
देखा है तुम्हारे आगे,
शर्मा के फूलों को मुरझाते,
ए जहाँ को घायल करने वाले
तुम डिओडोरेंट क्यों नहीं लगाते।
دیکھا ہے تمہارے آگے .
شرما کے پھولوں کو مرجھاتے .
ہے جہاں کو غیل کرنے والے .
تم دیودرانٹ کیو نہیں لگاتے .
---