Funny Shayari"Aaj Yaron Phir Ham Se Ho Gayi Ek Bhool"
|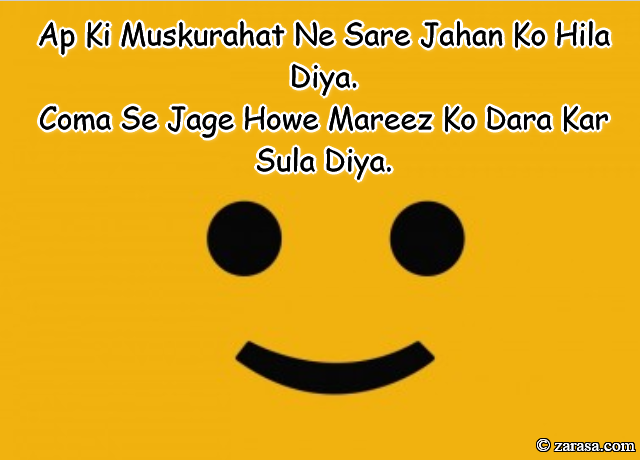 Ap Ki Muskurahat Ne Sare Jahan Ko Hila Diya.
Coma Se Jage Howe Mareez Ko Dara Kar Sula Diya.
आप की मुस्कराहट ने सरे जहाँ को हिला दिया .
कोमा से जगे हॉवे मरीज़ को डरा कर सुला दिया .
اپ کی مسکراہٹ نے سارے جہاں کو ہلا دیا .
کوما سے جاگے ہووے مریض کو ڈرا کر سلا دیا .
---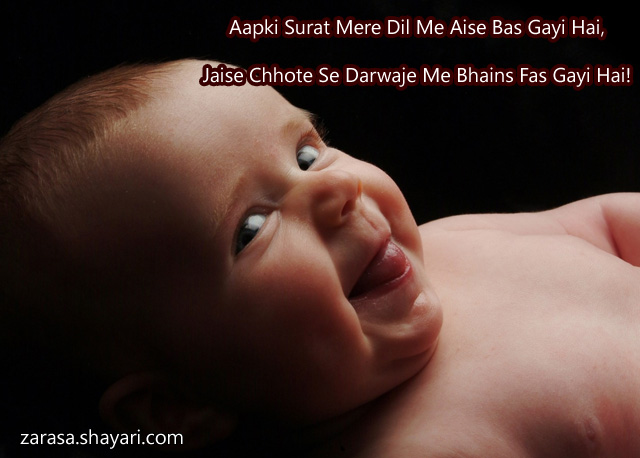 Aapki Surat Mere Dil Me Aise Bas Gayi Hai,
Jaise Chhote Se Darwaje Me Bhains Fas Gayi Hai!






आपकी सूरत मेरे दिल में ऐसे बस गयी है,
जैसे छोटे से दरवाजे में भैंस फास गयी है! .
آپ سورت میرے دل میں ایسے بس گئی ہے
جیسے چھوٹے سے دروازے میں بھینس پھاس گئی ہے
---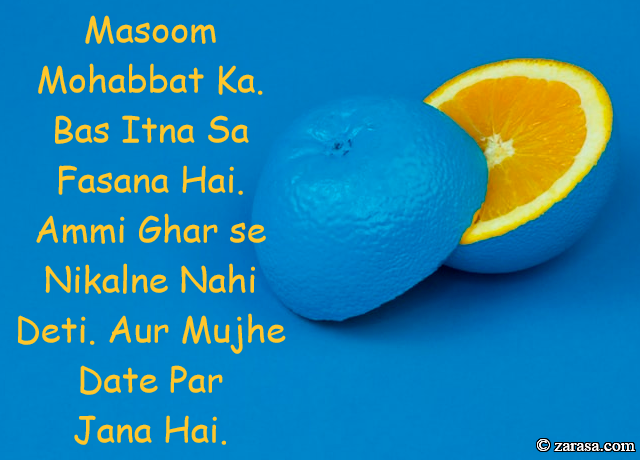 Masoom Mohabbat Ka.
Bas Itna Sa Fasana Hai.
Ammi Ghar se Nikalne Nahi Deti.
Aur Mujhe Date Par Jana Hai.
मासूम मोहब्बत का .
बस इतना सा फ़साना है .
अम्मी घर से निकलने नहीं देती .
और मुझे डेट पर जाना है .

ماسوم موحبّت کا .
بس اتنا سا فسانہ ہے .
عی گھر سے نکلنے نہیں دیتی .
اور مجھے ڈٹے پر جانا ہے .

---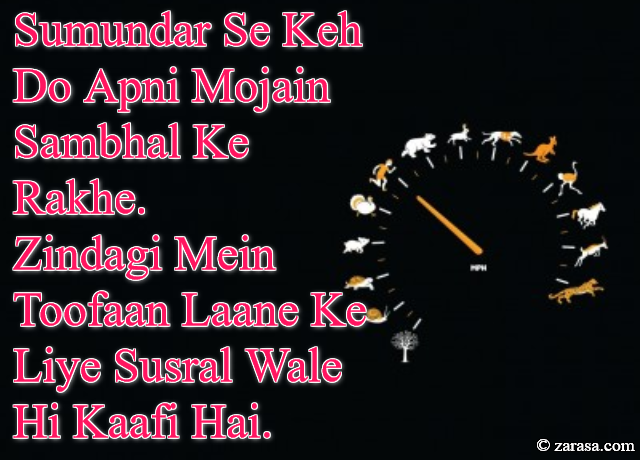 Sumundar Se Keh Do Apni Mojain Sambhal Ke Rakhe.
Zindagi Mein Toofaan Laane Ke Liye Susral Wale Hi Kaafi Hai.
समुन्दर से कह दो अपनी मोजैं संभल के रखे .
ज़िन्दगी में तूफ़ान लाने के लिए सुसराल वाले ही काफी है .
سمندر سے کہ دو اپنی موجیں سمبھال کے رکھے .
زندگی میں طوفان لانے کے لئے سسرال والے ہی کافی ہے .
---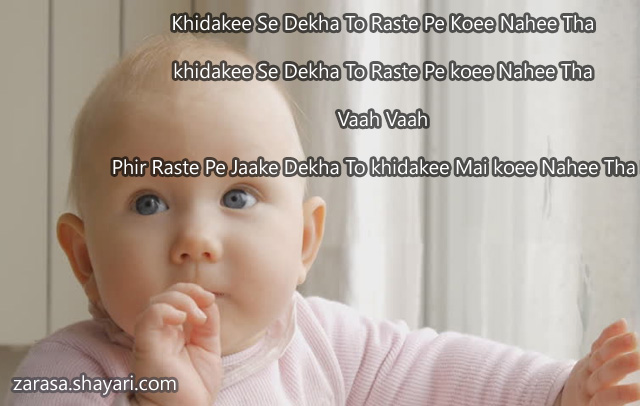 Khidakee Se Dekha To Raste Pe Koee Nahee Tha
khidakee Se Dekha To Raste Pe koee Nahee Tha
Vaah Vaah
Phir Raste Pe Jaake Dekha To khidakee Mai koee Nahee Tha ?

 



खिडकी से देखा तो रस्ते पे कोई नही था
खिडकी से देखा तो रस्ते पे कोई नही था
वाह वाह
फिर रस्ते पे जाके देखा तो खिडकी मै कोई नही था ?
کھڑکی سے دیکھا تو رستے پہ کوئی نہیں تھا
کھڑکی سے دیکھا تو رستے پہ کوئی نہیں تھا
واہ واہ
پھر رستے پہ جاکے دیکھا تو کھڑکی مے کوئی نہیں تھا
---