Funny Shayari "Jab Ham Unke Ghar Gaye"
|
Jab Ham Unke Ghar Gaye.
Kehne Dil Se Dil Laga Lo.
Unki Maa Ne Khola Daravaza.
Ham Ghabra Ke Bole.
Aunty Bachcho Ko Poliyo Drop Pilva Lo.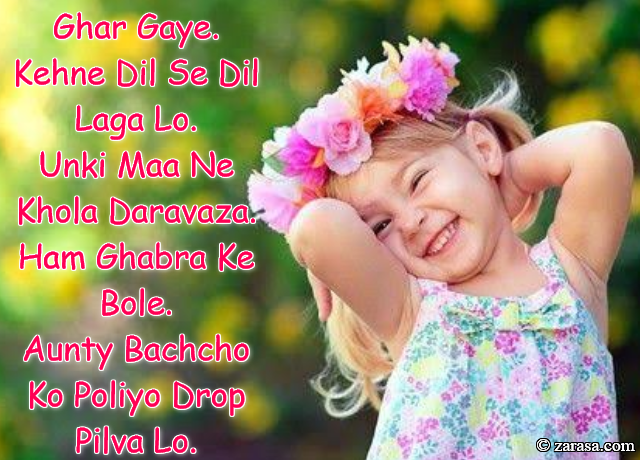 ---

जब हम उनके घर गए .
कहने दिल से दिल लगा लो .
उनकी माँ ने खोला दरवाज़ा .
हम घबरा के बोले .
आंटी बच्चो को पोलियो ड्राप पिलवा लो .



---

جب ہم انکے گھر گئے .
کہنے دل سے دل لگا لو .
انکی ما نے کھولا دروازہ .
ہم گھبرا کے بولے .
اونتے بچّھو کو پولیو ڈراپ پلوا لو .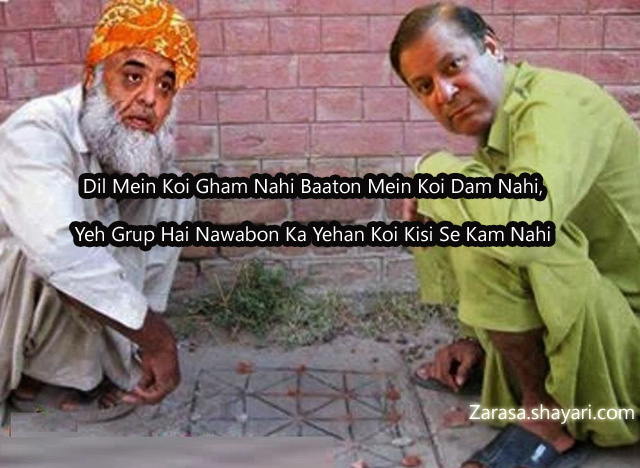 Dil Mein Koi Gham Nahi Baaton Mein Koi Dam Nahi,
Yeh Grup Hai Nawabon Ka Yehan Koi Kisi Se Kam Nahi

 


दिल में कोई गम नहीं बातों में कोई दम नहीं,
ये ग्रुप है नवाबो का यहाँ कोई किसीसे कम नहीं।
دل میں کوئی غم نہیں باتوں میں کوئی دم نہیں
یہ گروپ ہے نوابوں کا یہاں کوئی کسی سے کم نہیں
---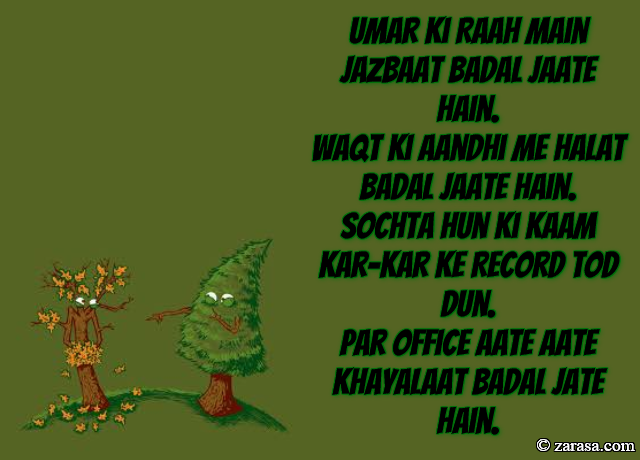 Umar Ki Raah Main Jazbaat Badal Jaate Hain.
Waqt Ki Aandhi Me Halat Badal Jaate Hain.
Sochta Hun Ki Kaam Kar-Kar Ke Record Tod Dun.
Par Office Aate Aate Khayalaat Badal Jate Hain.
उम्र की राह में जज्बात बदल जाते है,
वक़्त की आंधी में हालात बदल जाते है,
सोचता हूँ कि काम कर-कर के रिकॉर्ड तोड़ दूँ,
पर ऑफिस आते आते ख़यालात बदल जाते है।


امر کی راہ میں جذبات بدل جاتے ہیں .
وقت کی آندھی مے حالت بدل جاتے ہیں .
سوچتا ہوں کی کام کر -کر کے ریکارڈ ٹاڈ دن .
پر آفس آتے آتے خیالات بدل جاتے ہیں .
---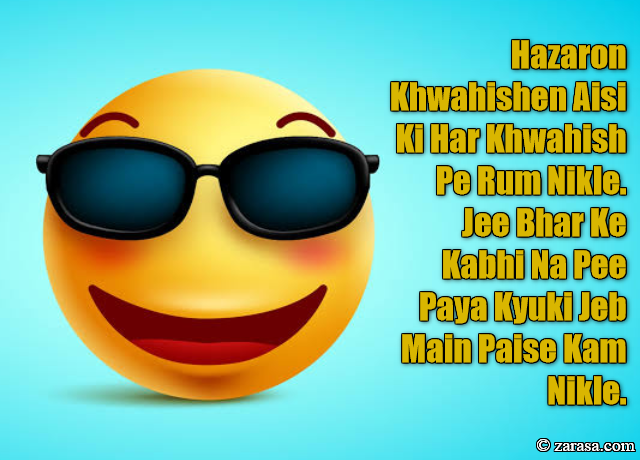 Hazaron Khwahishen Aisi Ki Har Khwahish Pe Rum Nikle.
Jee Bhar Ke Kabhi Na Pee Paya Kyuki Jeb Main Paise Kam Nikle.
हज़ारों ख्वाहिशें ऐसी कि हर ख्वाहिश पे रम निकले.
जी भर के कभी ना पी पाया क्योंकि जेब में पैसे कम निकले.

ہزاروں خواہشیں ایسی کی ہر خواہش پی روم نکلے .
جی بھر کے کبھی نہ پی پایا کیکی جیب میں پیسے کم نکلے .

---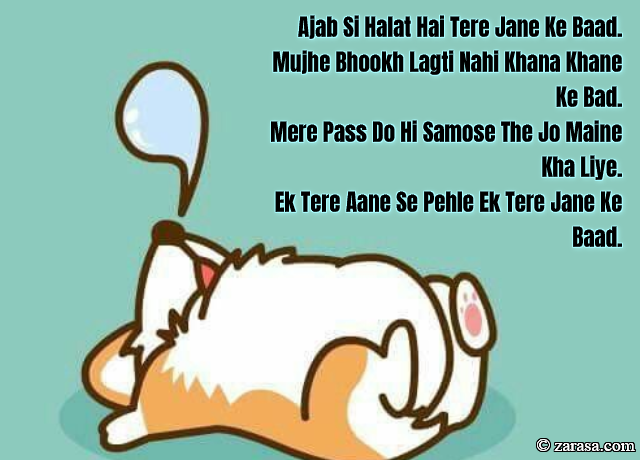 Ajab Si Halat Hai Tere Jane Ke Baad.
Mujhe Bhookh Lagti Nahi Khana Khane Ke Bad.
Mere Pass Do Hi Samose The Jo Maine Kha Liye.
Ek Tere Aane Se Pehle Ek Tere Jane Ke Baad.
अजब सी हालत है तेरे जाने के बाद,
मुझे भूख लगती नहीं खाना खाने के बाद,
मेरे पास दो ही समोसे थे जो मैंने खा लिए,
एक तेरे आने से पहले, एक तेरे जाने के बाद।
عجب سی حالت ہے تیرے جانے کے بعد .
مجھے بھوکھ لگتی نہیں کھانا خانے کے بعد .
میرے پاسس دو ہی سموسے تھے جو مہینے کھا لئے .
ایک تیرے آنے سے پہلے ایک تیرے جانے کے بعد .
---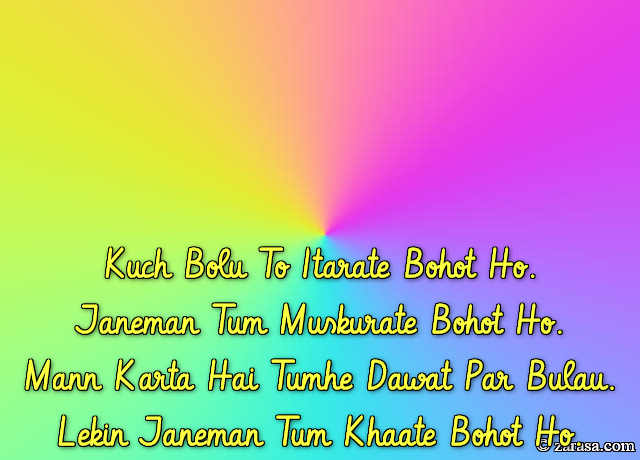 Kuch Bolu To Itarate Bohot Ho.
Janeman Tum Muskurate Bohot Ho.
Mann Karta Hai Tumhe Dawat Par Bulau.
Lekin Janeman Tum Khaate Bohot Ho.
कुछ बोलू तो इतराते बहुत हो .
जानेमन तुम मुस्करात बहुत हो .
मन करता है तुम्हे दावत पर बुलाऊ .
लेकिन जानेमन तुम खाते बहुत हो .
کچھ بولو تو اترتے بوہوت ہو .
جنیمن تم مسکراتے بوہوت ہو .
منن کرتا ہے تمھ دعوت پر بلو .
لیکن جنیمن تم کھاتے بوہوت ہو .
---