Funny Shayari"Sumundar Se Keh Do Apni Mojain Sambhal Ke Rakhe."
|
Sumundar Se Keh Do Apni Mojain Sambhal Ke Rakhe.
Zindagi Mein Toofaan Laane Ke Liye Susral Wale Hi Kaafi Hai.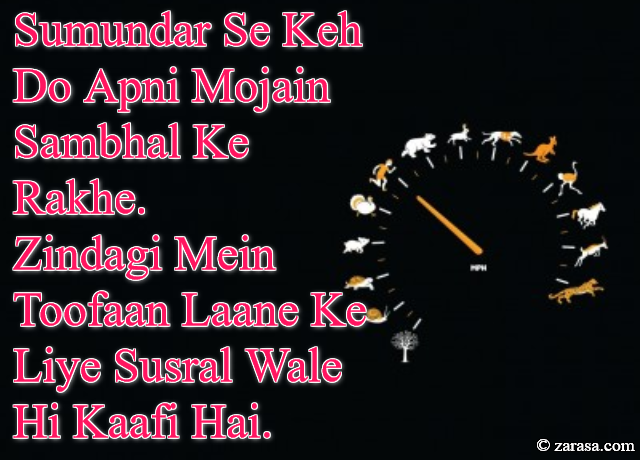 ---

समुन्दर से कह दो अपनी मोजैं संभल के रखे .
ज़िन्दगी में तूफ़ान लाने के लिए सुसराल वाले ही काफी है .


---

سمندر سے کہ دو اپنی موجیں سمبھال کے رکھے .
زندگی میں طوفان لانے کے لئے سسرال والے ہی کافی ہے .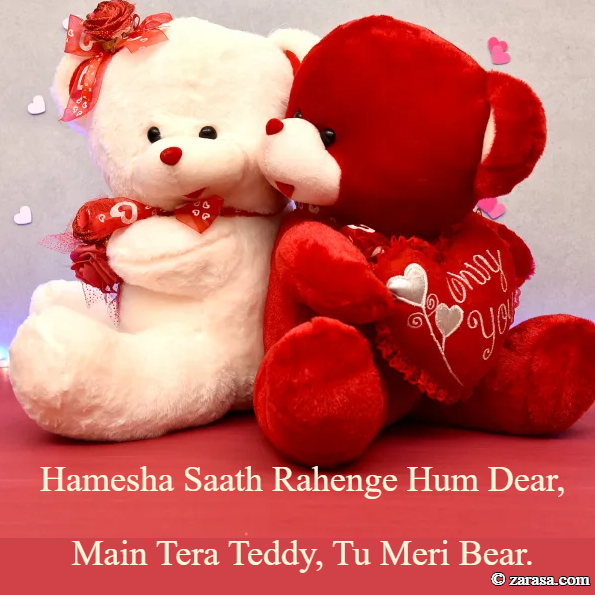 Hamesha Saath Rahenge Hum Dear,
Main Tera Teddy, Tu Meri Bear.

हमेशा साथ रहेंगे हम डियर,

मैं तेरा टेडी, तू मेरी बियर
ہمیشہ ساتھ رہینگے ہم دیر
میں تیرا تددے تو میری بیر
---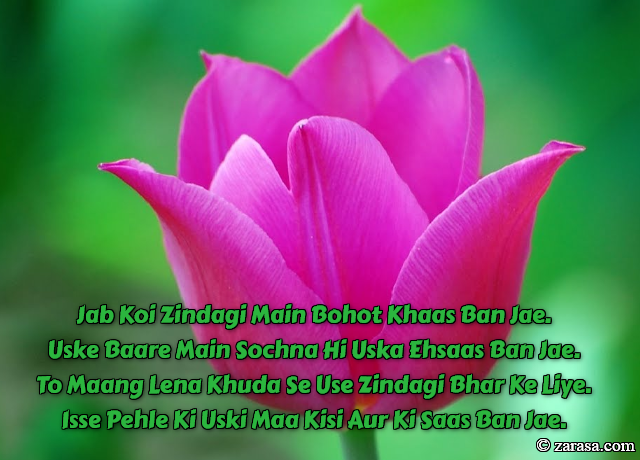 Jab Koi Zindagi Main Bohot Khaas Ban Jae.
Uske Baare Main Sochna Hi Uska Ehsaas Ban Jae.
To Maang Lena Khuda Se Use Zindagi Bhar Ke Liye.
Isse Pehle Ki Uski Maa Kisi Aur Ki Saas Ban Jae.
जब कोई ज़िन्दगी मैं बोहोत ख़ास बन जाए .
उसके बारे मैं सोचना ही उसका एहसास बन जाए .
तो मांग लेना खुदा से उसे ज़िन्दगी भर के लिए .
इससे पहले की उसकी माँ किसी और की सास बन जाए .

جب کوئی زندگی میں بوہوت خاص بن جاۓ .
اسکے بارے میں سوچنا ہی اسکا احساس بن جاۓ .
تو مانگ لینا خدا سے اسے زندگی بھر کے لئے .
اسے پہلے کی اسکی ما کسی اور کی ساس بن جاۓ .

---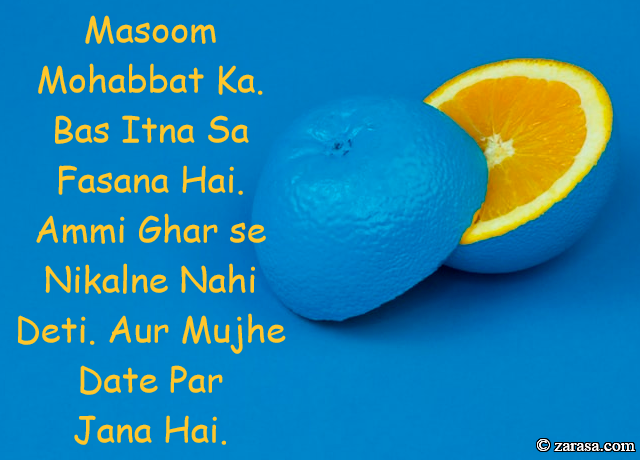 Masoom Mohabbat Ka.
Bas Itna Sa Fasana Hai.
Ammi Ghar se Nikalne Nahi Deti.
Aur Mujhe Date Par Jana Hai.
मासूम मोहब्बत का .
बस इतना सा फ़साना है .
अम्मी घर से निकलने नहीं देती .
और मुझे डेट पर जाना है .

ماسوم موحبّت کا .
بس اتنا سا فسانہ ہے .
عی گھر سے نکلنے نہیں دیتی .
اور مجھے ڈٹے پر جانا ہے .

---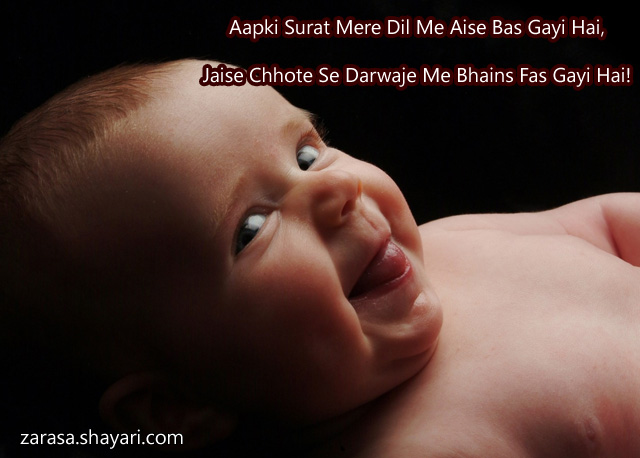 Aapki Surat Mere Dil Me Aise Bas Gayi Hai,
Jaise Chhote Se Darwaje Me Bhains Fas Gayi Hai!






आपकी सूरत मेरे दिल में ऐसे बस गयी है,
जैसे छोटे से दरवाजे में भैंस फास गयी है! .
آپ سورت میرے دل میں ایسے بس گئی ہے
جیسے چھوٹے سے دروازے میں بھینس پھاس گئی ہے
---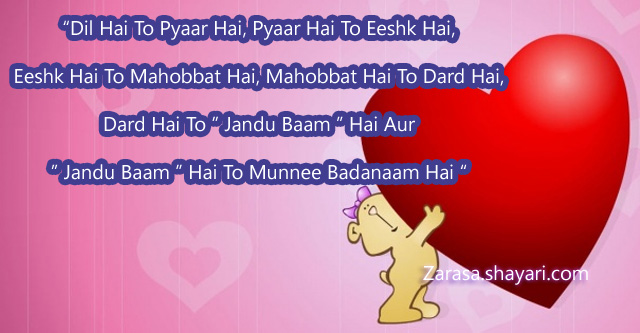 "Dil Hai To Pyaar Hai, Pyaar Hai To Eeshk Hai,
Eeshk Hai To Mahobbat Hai, Mahobbat Hai To Dard Hai,
Dard Hai To " Jandu Baam " Hai Aur
" Jandu Baam " Hai To Munnee Badanaam Hai "

 

 

"दिल है तो प्यार है, प्यार है तो ईश्क है,
ईश्क है तो महोब्बत है, महोब्बत है तो दर्द है,
दर्द है तो " जंडु बाम " है और
" जंडु बाम " है तो मुन्नी बदनाम है "
دل ہے تو محبت ہے، محبت ہے تو يشك ہے
يشك ہے تو مهوببت ہے، مهوببت ہے تو درد ہے
درد ہے تو "جڈ بام" ہے اور
"جڈ بام" ہے تو منی بدنام ہے "
---