Funny Shayari"Kuch To Baat Hai Ap Mein Bhi"
|
Dil Bana To Deewane Bane Sharab Bani To Mekhane Bane.
Kuch To Baat Hai Ap Mein Bhi Yoonhi To Nahi Pagal Khane Bane.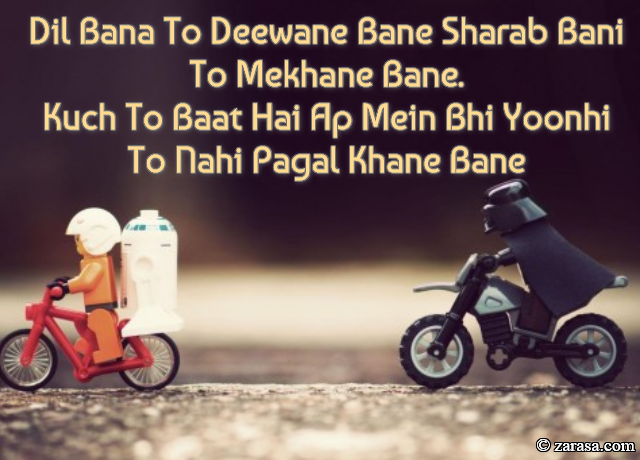 ---

दिल बना तो दीवाने बने शराब बानी तो मखाने बने .
कुछ तो बात है आप में भी यूँही तो नहीं पागल खाने बने .


---

دل بنا تو دیوانے بنے شراب بنی تو میخانے بنے .
کچھ تو بات ہے اپ میں بھی یونہی تو نہیں پاگل خانے بنے .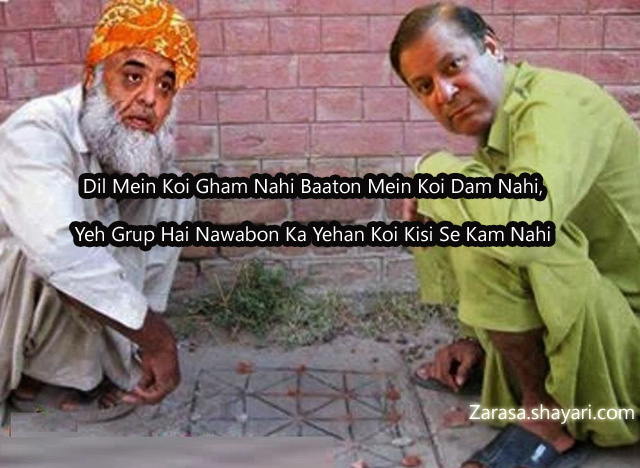 Dil Mein Koi Gham Nahi Baaton Mein Koi Dam Nahi,
Yeh Grup Hai Nawabon Ka Yehan Koi Kisi Se Kam Nahi

 


दिल में कोई गम नहीं बातों में कोई दम नहीं,
ये ग्रुप है नवाबो का यहाँ कोई किसीसे कम नहीं।
دل میں کوئی غم نہیں باتوں میں کوئی دم نہیں
یہ گروپ ہے نوابوں کا یہاں کوئی کسی سے کم نہیں
---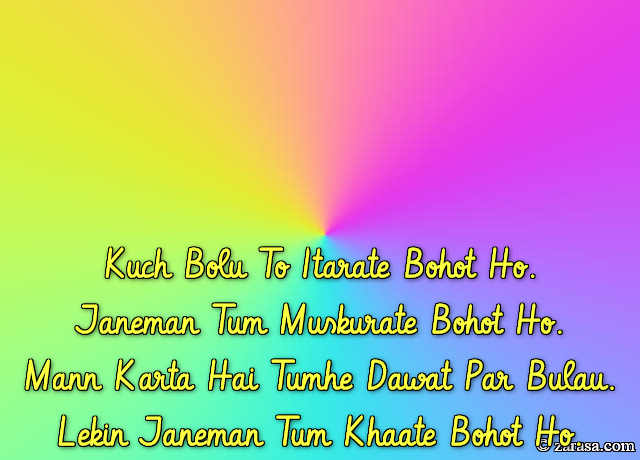 Kuch Bolu To Itarate Bohot Ho.
Janeman Tum Muskurate Bohot Ho.
Mann Karta Hai Tumhe Dawat Par Bulau.
Lekin Janeman Tum Khaate Bohot Ho.
कुछ बोलू तो इतराते बहुत हो .
जानेमन तुम मुस्करात बहुत हो .
मन करता है तुम्हे दावत पर बुलाऊ .
लेकिन जानेमन तुम खाते बहुत हो .
کچھ بولو تو اترتے بوہوت ہو .
جنیمن تم مسکراتے بوہوت ہو .
منن کرتا ہے تمھ دعوت پر بلو .
لیکن جنیمن تم کھاتے بوہوت ہو .
---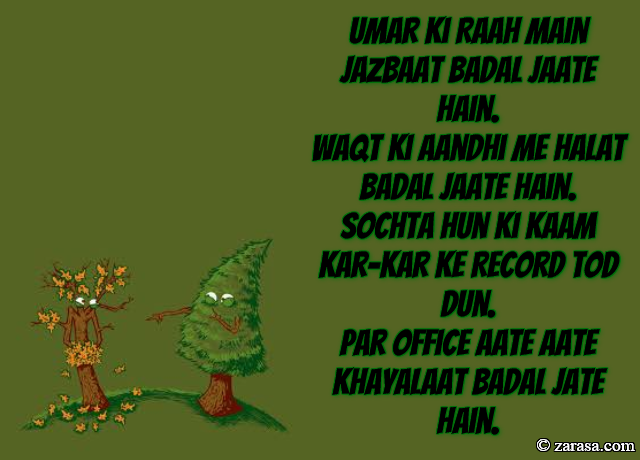 Umar Ki Raah Main Jazbaat Badal Jaate Hain.
Waqt Ki Aandhi Me Halat Badal Jaate Hain.
Sochta Hun Ki Kaam Kar-Kar Ke Record Tod Dun.
Par Office Aate Aate Khayalaat Badal Jate Hain.
उम्र की राह में जज्बात बदल जाते है,
वक़्त की आंधी में हालात बदल जाते है,
सोचता हूँ कि काम कर-कर के रिकॉर्ड तोड़ दूँ,
पर ऑफिस आते आते ख़यालात बदल जाते है।


امر کی راہ میں جذبات بدل جاتے ہیں .
وقت کی آندھی مے حالت بدل جاتے ہیں .
سوچتا ہوں کی کام کر -کر کے ریکارڈ ٹاڈ دن .
پر آفس آتے آتے خیالات بدل جاتے ہیں .
---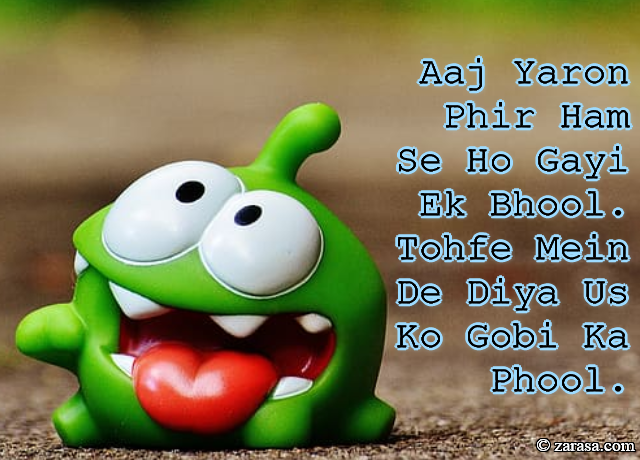 Aaj Yaron Phir Ham Se Ho Gayi Ek Bhool.
Tohfe Mein De Diya Us Ko Gobi Ka Phool.
आज यारों फिर हम से हो गई एक भूल .
तोहफे में दे दिया उस को गोबी का फूल .
آج یاروں پھر ہم سے ہو گی ایک بھول .
توہفے میں دے دیا اس کو گوبی کا پھول .
---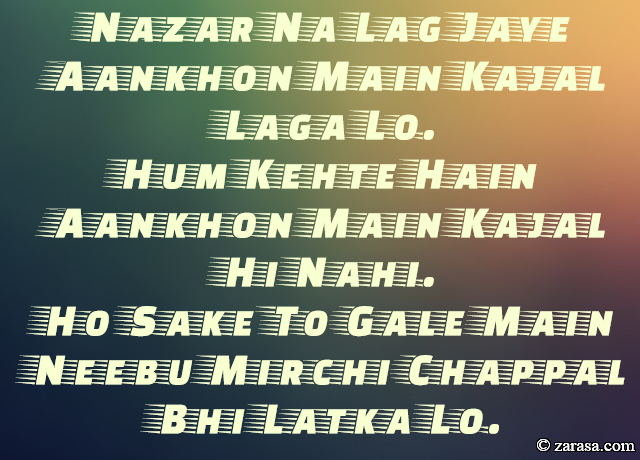 Nazar Na Lag Jaye Aankhon Main Kajal Laga Lo.
Hum Kehte Hain Aankhon Main Kajal Hi Nahi.
Ho Sake To Gale Main Neebu Mirchi Chappal Bhi Latka Lo.
नज़र ना लग जाये आँखों मैं काजल लगा लो .
हम कहते हैं आँखों मैं काजल ही नहीं .
हो सके तो गले मैं नीबू मिर्ची चप्पल भी लटका लो .
نظر نہ لگ جائے آنکھوں میں کاجل لگا لو .
ہم کہتے ہیں آنکھوں میں کاجل ہی نہیں .
ہو سکے تو گلے میں نیبو مرچی چپپل بھی لٹکا لو .
---