Funny Shayari"Kuch To Baat Hai Ap Mein Bhi"
|
Dil Bana To Deewane Bane Sharab Bani To Mekhane Bane.
Kuch To Baat Hai Ap Mein Bhi Yoonhi To Nahi Pagal Khane Bane.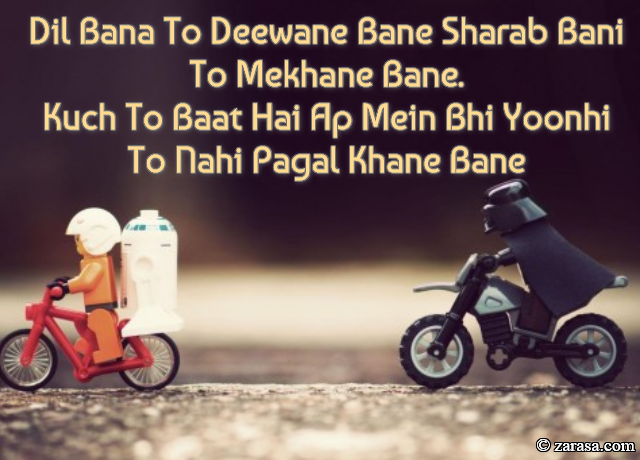 ---

दिल बना तो दीवाने बने शराब बानी तो मखाने बने .
कुछ तो बात है आप में भी यूँही तो नहीं पागल खाने बने .


---

دل بنا تو دیوانے بنے شراب بنی تو میخانے بنے .
کچھ تو بات ہے اپ میں بھی یونہی تو نہیں پاگل خانے بنے .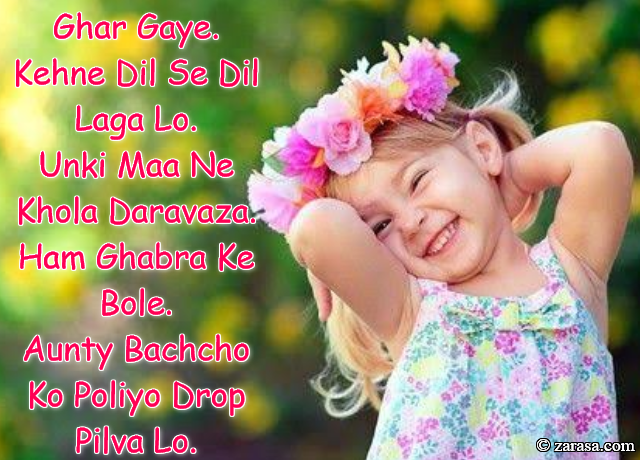 Jab Ham Unke Ghar Gaye.
Kehne Dil Se Dil Laga Lo.
Unki Maa Ne Khola Daravaza.
Ham Ghabra Ke Bole.
Aunty Bachcho Ko Poliyo Drop Pilva Lo.
जब हम उनके घर गए .
कहने दिल से दिल लगा लो .
उनकी माँ ने खोला दरवाज़ा .
हम घबरा के बोले .
आंटी बच्चो को पोलियो ड्राप पिलवा लो .

جب ہم انکے گھر گئے .
کہنے دل سے دل لگا لو .
انکی ما نے کھولا دروازہ .
ہم گھبرا کے بولے .
اونتے بچّھو کو پولیو ڈراپ پلوا لو .

---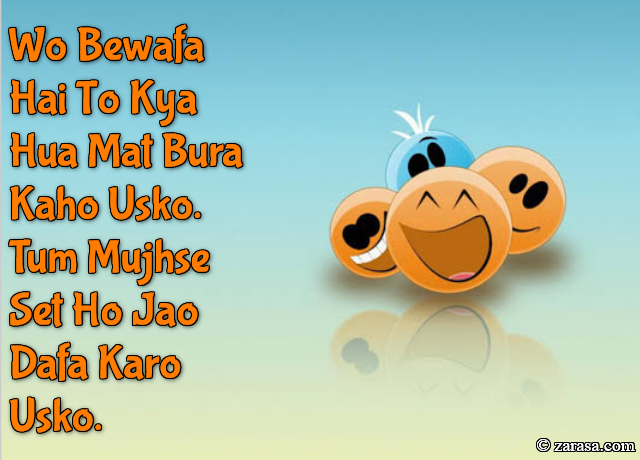 Wo Bewafa Hai To Kya Hua Mat Bura Kaho Usko.
Tum Mujhse Set Ho Jao Dafa Karo Usko.
वह बेवफा है तो क्या हुआ मत बुरा कहो उसको.
तुम मुझसे सेट हो जाओ दफा करो उसको.
وہ بیوفا ہے تو کیا ہوا مت برا کہو اسکو .
تم مجھسے سیٹ ہو جو دفع کرو اسکو .

---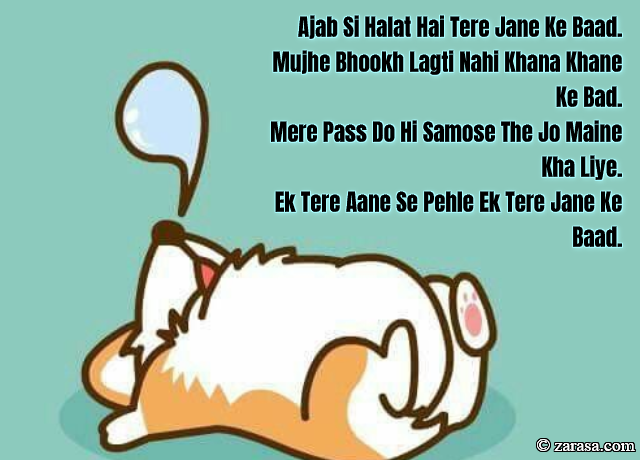 Ajab Si Halat Hai Tere Jane Ke Baad.
Mujhe Bhookh Lagti Nahi Khana Khane Ke Bad.
Mere Pass Do Hi Samose The Jo Maine Kha Liye.
Ek Tere Aane Se Pehle Ek Tere Jane Ke Baad.
अजब सी हालत है तेरे जाने के बाद,
मुझे भूख लगती नहीं खाना खाने के बाद,
मेरे पास दो ही समोसे थे जो मैंने खा लिए,
एक तेरे आने से पहले, एक तेरे जाने के बाद।
عجب سی حالت ہے تیرے جانے کے بعد .
مجھے بھوکھ لگتی نہیں کھانا خانے کے بعد .
میرے پاسس دو ہی سموسے تھے جو مہینے کھا لئے .
ایک تیرے آنے سے پہلے ایک تیرے جانے کے بعد .
---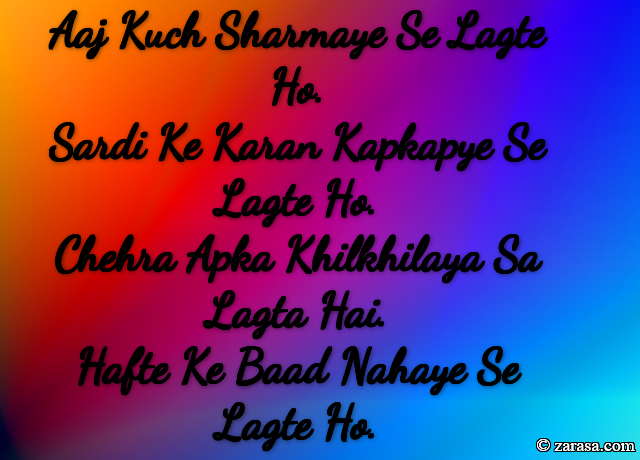 Aaj Kuch Sharmaye Se Lagte Ho.
Sardi Ke Karan Kapkapye Se Lagte Ho.
Chehra Apka Khilkhilaya Sa Lagta Hai.
Hafte Ke Baad Nahaye Se Lagte Ho.
आज कुछ शर्माए से लगते हो,
सर्दी के कारण कपकपए से लगते हो,
चेहरा आपका खिलखिलाये सा लगता है,
हफ्ते के बाद नहाए से लगते हो।

آج کچھ شرماے سے لگتے ہو .
سردی کے کران کپکپیسے لگتے ہو .
چہرہ اپکا کھلکھلایا سا لگتا ہے .
ہفتے کے بعد ناہے سے لگتے ہو .
---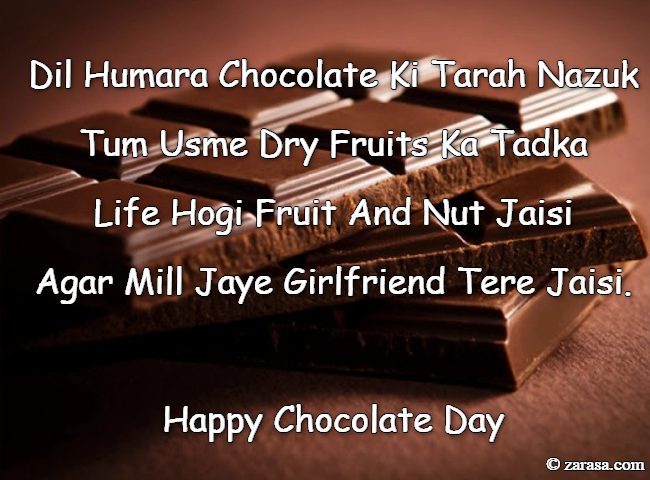 Dil Humara Chocolate Ki Tarah Nazuk
Tum Usme Dry Fruits Ka Tadka
Life Hogi Fruit And Nut Jaisi
Agar Mill Jaye Girlfriend Tere Jaisi.
Happy Chocolate Day
दिल हमारा चॉक्लेट की तरह नाज़ुक
तम उसमें ड्राई फ्रूट्स का तड़का
लाइफ होगी फ्रूट एंड नट जैसी
अगर मिल जाए गर्लफ्रेंड तेरी जैसी।
دل ہمارا چوکلاتے کی طرح نازک
تم اسمے درے فروٹس کا تڑکا
لائف ہوگی فروٹ اینڈ نٹ جیسی
اگر مل جائے گرل فرینڈ تیرے جیسی
---