Funny Shayari"Kuch To Baat Hai Ap Mein Bhi"
|
Dil Bana To Deewane Bane Sharab Bani To Mekhane Bane.
Kuch To Baat Hai Ap Mein Bhi Yoonhi To Nahi Pagal Khane Bane.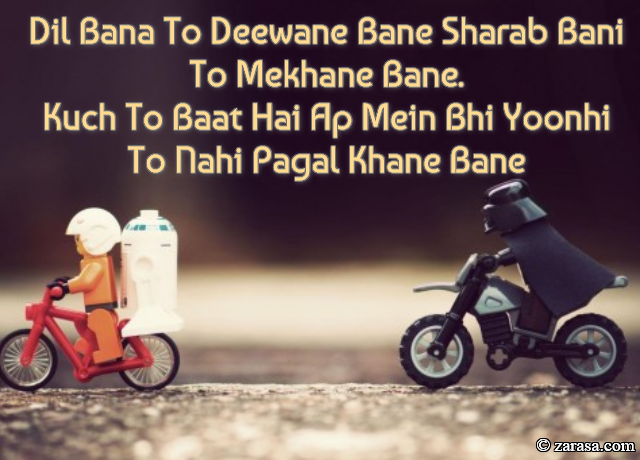 ---

दिल बना तो दीवाने बने शराब बानी तो मखाने बने .
कुछ तो बात है आप में भी यूँही तो नहीं पागल खाने बने .


---

دل بنا تو دیوانے بنے شراب بنی تو میخانے بنے .
کچھ تو بات ہے اپ میں بھی یونہی تو نہیں پاگل خانے بنے .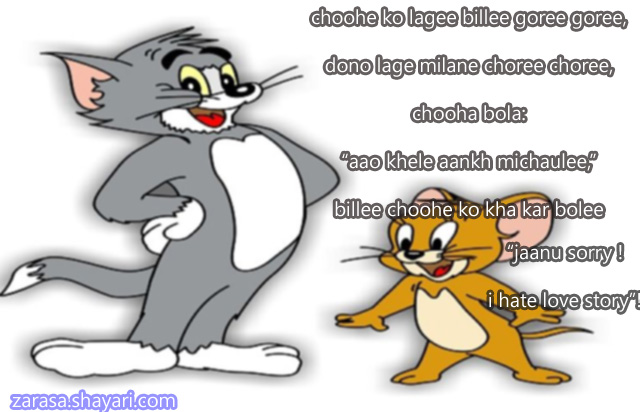 Choohe ko Lagee Billee Goree Goree,
Dono Lage Milane Choree Choree,
Chooha Bola:
"Aao khele Aankh Michaulee,"
Billee Choohe ko kha kar Bolee
"Jaanu Sorry !
I HateS Love Story"!
चूहे को लगी बिल्ली गोरी गोरी,
दोनों लगे मिलाने चोरी चोरी,
चूहा बोला:
"आओ खेले आँख मिचौली,"
बिल्ली चूहे को खा कर बोली
"जानू  सॉरी  !
इ  हेट  लव  स्टोरी "!
چوہے کو لگی بلی گوری گوری
دونوں لگے ملانے چوری چوری
چوہا بولا
"آؤ کھیلے آنکھ مچولی،"بلی چوہے کو کھا کر بولی
جانو سوررے ! ا ہتھے لوو سٹورے
---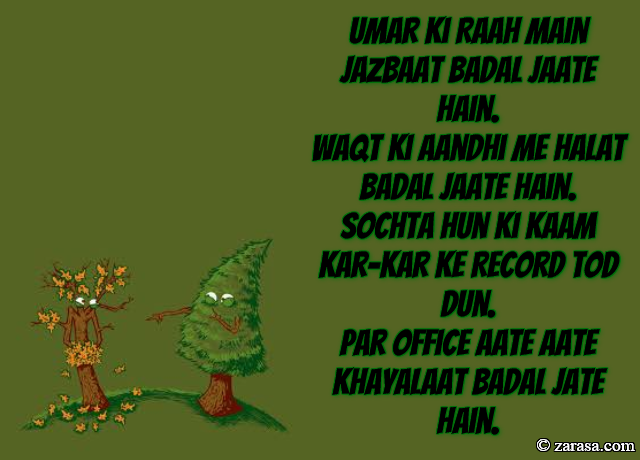 Umar Ki Raah Main Jazbaat Badal Jaate Hain.
Waqt Ki Aandhi Me Halat Badal Jaate Hain.
Sochta Hun Ki Kaam Kar-Kar Ke Record Tod Dun.
Par Office Aate Aate Khayalaat Badal Jate Hain.
उम्र की राह में जज्बात बदल जाते है,
वक़्त की आंधी में हालात बदल जाते है,
सोचता हूँ कि काम कर-कर के रिकॉर्ड तोड़ दूँ,
पर ऑफिस आते आते ख़यालात बदल जाते है।


امر کی راہ میں جذبات بدل جاتے ہیں .
وقت کی آندھی مے حالت بدل جاتے ہیں .
سوچتا ہوں کی کام کر -کر کے ریکارڈ ٹاڈ دن .
پر آفس آتے آتے خیالات بدل جاتے ہیں .
---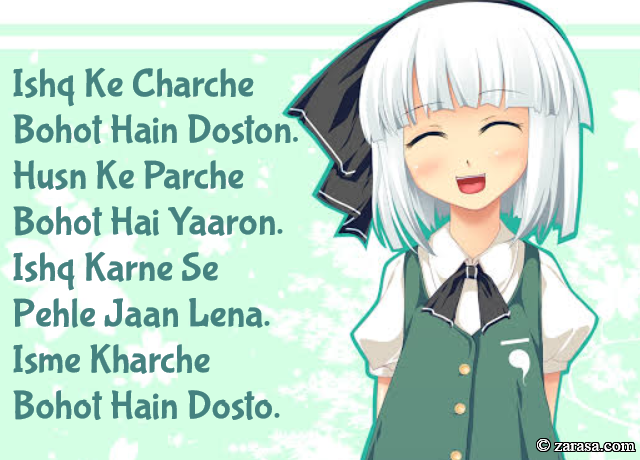 Ishq Ke Charche Bohot Hain Doston.
Husn Ke Parche Bohot Hai Yaaron.
Ishq Karne Se Pehle Jaan Lena.
Isme Kharche Bohot Hain Dosto.
इश्क़ के Charche बोहोत हैं दोस्तों .
हुस्न के पर्चे बोहोत है यारों .
इश्क़ करने से पहले जान लेना .
इसमें खर्चे बोहोत हैं दोस्तों .

عشق کے چرچے بوہوت ہیں دوستوں .
حسن کے پرچے بوہوت ہے یاروں .
عشق کرنے سے پہلے جان لینا .
اسمے خرچے بوہوت ہیں دوستو .

---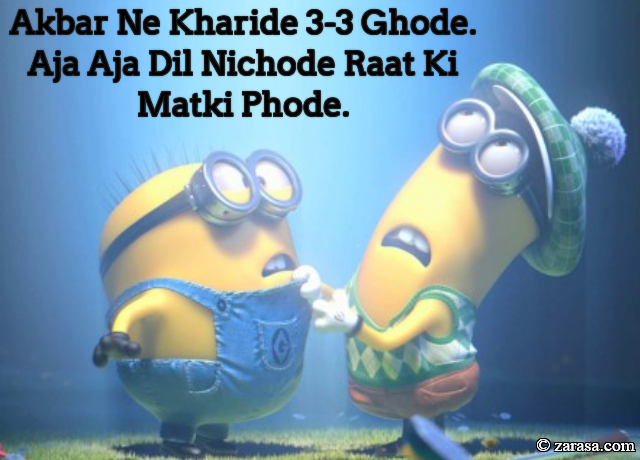 Akbar Ne Kharide 3-3 Ghode.
Aja Aja Dil Nichode Raat Ki Matki Phode.
अख़बार ने ख़रीदे ३ -३ घोड़े .
अजा अजा दिल निचोड़े रात की मटकी फोड़े .
اکبر نے خریدے ٣ -٣ غودے .
آجا آجا دل نچودے رات کی متکی فوڈے .
---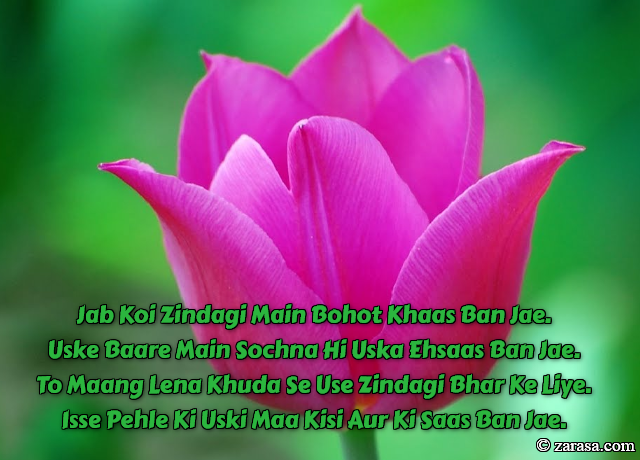 Jab Koi Zindagi Main Bohot Khaas Ban Jae.
Uske Baare Main Sochna Hi Uska Ehsaas Ban Jae.
To Maang Lena Khuda Se Use Zindagi Bhar Ke Liye.
Isse Pehle Ki Uski Maa Kisi Aur Ki Saas Ban Jae.
जब कोई ज़िन्दगी मैं बोहोत ख़ास बन जाए .
उसके बारे मैं सोचना ही उसका एहसास बन जाए .
तो मांग लेना खुदा से उसे ज़िन्दगी भर के लिए .
इससे पहले की उसकी माँ किसी और की सास बन जाए .

جب کوئی زندگی میں بوہوت خاص بن جاۓ .
اسکے بارے میں سوچنا ہی اسکا احساس بن جاۓ .
تو مانگ لینا خدا سے اسے زندگی بھر کے لئے .
اسے پہلے کی اسکی ما کسی اور کی ساس بن جاۓ .

---