Funny Shayari "Wo To Mujh Se Bhi Pyar Karti Hai"
|
Mat Kar Mere Dost Haseena Se Mohabbat.
Wo To Aankhon Se Waar Karti Hain.
Mene Teri Wali Ki Aankhon Main Dekha Hai.
Wo To Mujh Se Bhi Pyar Karti Hai.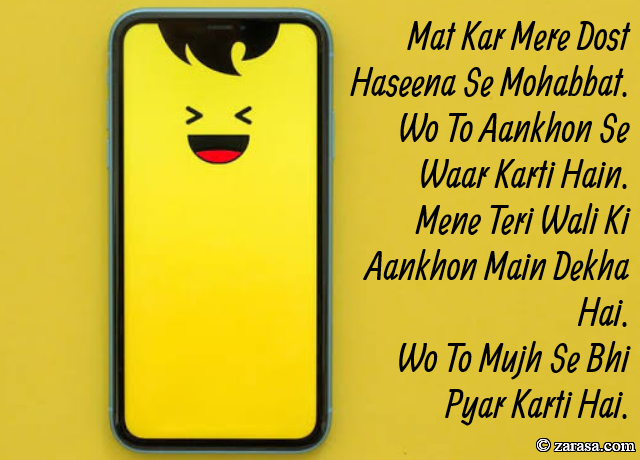 ---

मत कर मेरे दोस्त हसीना से मोहब्बत,
वो तो आँखों से वार करती हैं,
मैंने तेरी वाली की आँखों में देखा है,
वो तो मुझ से भी प्यार करती है।



---

مت کر میرے دوست حسینہ سے موحبّت .
وو تو آنکھوں سے وار کرتی ہیں .
منے تیری والی کی آنکھوں میں دیکھا ہے .
وو تو مجھ سے بھی پیار کرتی ہے .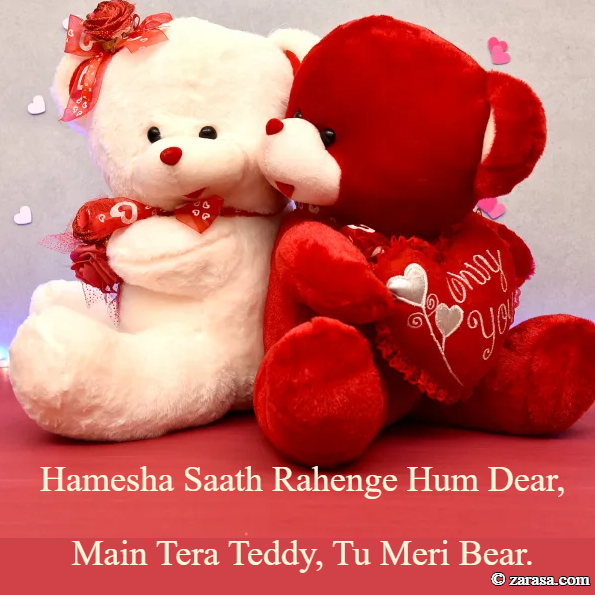 Hamesha Saath Rahenge Hum Dear,
Main Tera Teddy, Tu Meri Bear.

हमेशा साथ रहेंगे हम डियर,

मैं तेरा टेडी, तू मेरी बियर
ہمیشہ ساتھ رہینگے ہم دیر
میں تیرا تددے تو میری بیر
---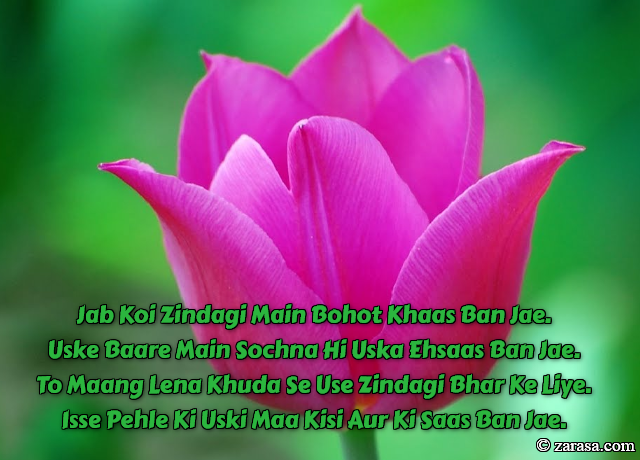 Jab Koi Zindagi Main Bohot Khaas Ban Jae.
Uske Baare Main Sochna Hi Uska Ehsaas Ban Jae.
To Maang Lena Khuda Se Use Zindagi Bhar Ke Liye.
Isse Pehle Ki Uski Maa Kisi Aur Ki Saas Ban Jae.
जब कोई ज़िन्दगी मैं बोहोत ख़ास बन जाए .
उसके बारे मैं सोचना ही उसका एहसास बन जाए .
तो मांग लेना खुदा से उसे ज़िन्दगी भर के लिए .
इससे पहले की उसकी माँ किसी और की सास बन जाए .

جب کوئی زندگی میں بوہوت خاص بن جاۓ .
اسکے بارے میں سوچنا ہی اسکا احساس بن جاۓ .
تو مانگ لینا خدا سے اسے زندگی بھر کے لئے .
اسے پہلے کی اسکی ما کسی اور کی ساس بن جاۓ .

---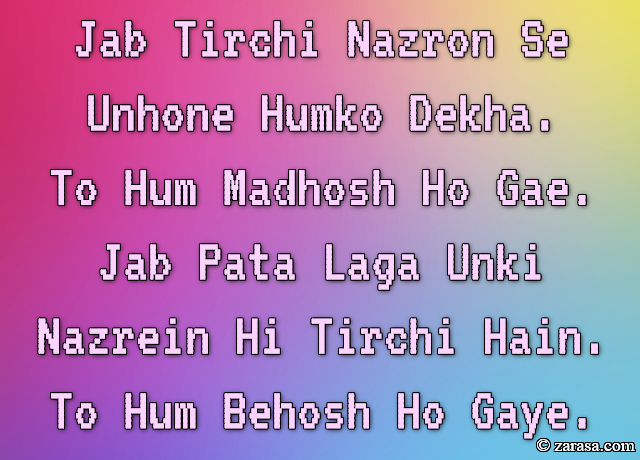 Jab Tirchi Nazron Se Unhone Humko Dekha.
To Hum Madhosh Ho Gae.
Jab Pata Laga Unki Nazrein Hi Tirchi Hain.
To Hum Behosh Ho Gaye.
जब तिरछी नज़रों से उन्होंने हमको देखा .
तो हम मदहोश हो गए .
जब पता लगा उनकी नज़रें ही तिरछी हैं .
तो हम बेहोश हो गए .

جب ترچھی نظروں سے انہونے ہمکو دیکھا .
تو ہم مدہوش ہو گے .
جب پتا لگا انکی نظریں ہی ترچھی ہیں .
تو ہم بیہوش ہو گئے .

---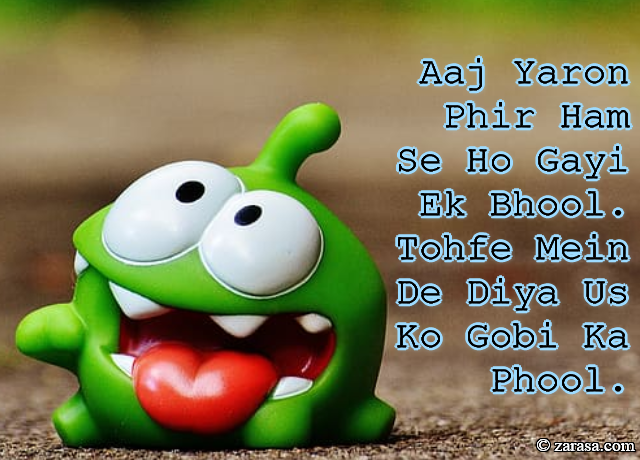 Aaj Yaron Phir Ham Se Ho Gayi Ek Bhool.
Tohfe Mein De Diya Us Ko Gobi Ka Phool.
आज यारों फिर हम से हो गई एक भूल .
तोहफे में दे दिया उस को गोबी का फूल .
آج یاروں پھر ہم سے ہو گی ایک بھول .
توہفے میں دے دیا اس کو گوبی کا پھول .
---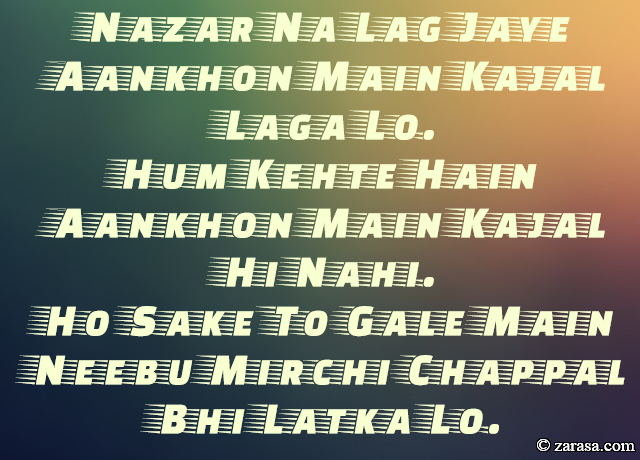 Nazar Na Lag Jaye Aankhon Main Kajal Laga Lo.
Hum Kehte Hain Aankhon Main Kajal Hi Nahi.
Ho Sake To Gale Main Neebu Mirchi Chappal Bhi Latka Lo.
नज़र ना लग जाये आँखों मैं काजल लगा लो .
हम कहते हैं आँखों मैं काजल ही नहीं .
हो सके तो गले मैं नीबू मिर्ची चप्पल भी लटका लो .
نظر نہ لگ جائے آنکھوں میں کاجل لگا لو .
ہم کہتے ہیں آنکھوں میں کاجل ہی نہیں .
ہو سکے تو گلے میں نیبو مرچی چپپل بھی لٹکا لو .
---