Funny Shayari "Wo To Mujh Se Bhi Pyar Karti Hai"
|
Mat Kar Mere Dost Haseena Se Mohabbat.
Wo To Aankhon Se Waar Karti Hain.
Mene Teri Wali Ki Aankhon Main Dekha Hai.
Wo To Mujh Se Bhi Pyar Karti Hai.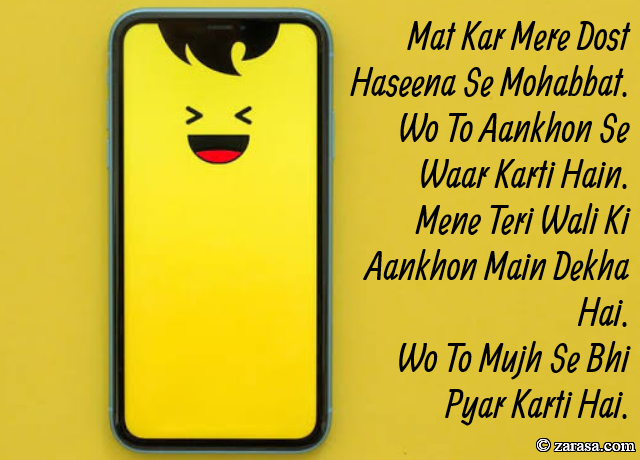 ---

मत कर मेरे दोस्त हसीना से मोहब्बत,
वो तो आँखों से वार करती हैं,
मैंने तेरी वाली की आँखों में देखा है,
वो तो मुझ से भी प्यार करती है।



---

مت کر میرے دوست حسینہ سے موحبّت .
وو تو آنکھوں سے وار کرتی ہیں .
منے تیری والی کی آنکھوں میں دیکھا ہے .
وو تو مجھ سے بھی پیار کرتی ہے .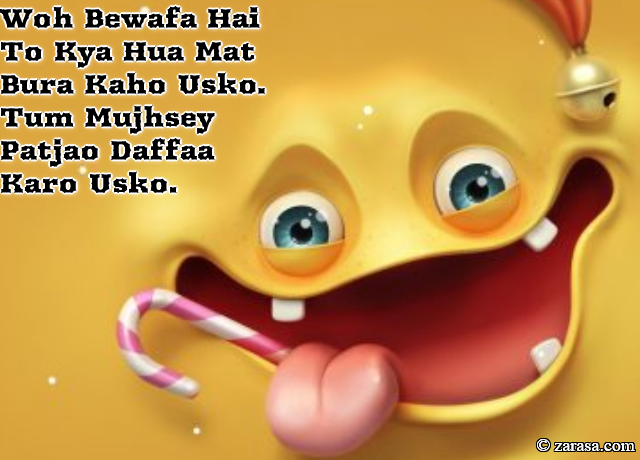 Woh Bewafa Hai To Kya Hua Mat Bura Kaho Usko.
Tum Mujhsey Patjao Daffaa Karo Usko.

वह बेवफा है तो क्या हुआ मत बुरा कहो उसको .
तुम मुझसे पटजाओ दफा करो उसको .

وہ بیوفا ہے تو کیا ہوا مت برا کہو اسکو .
تم مجھسے پتجاؤ دففا کرو اسکو .

[ssba-buttons]
---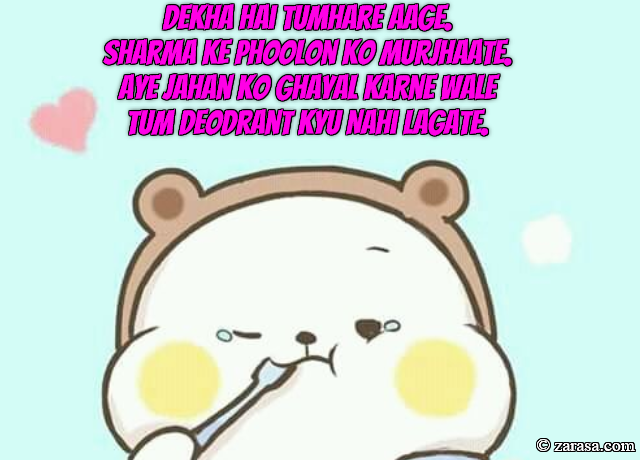 Dekha Hai Tumhare Aage.
Sharma Ke Phoolon Ko Murjhaate.
Aye Jahan Ko Ghayal Karne Wale
Tum Deodrant Kyu Nahi Lagate.

देखा है तुम्हारे आगे,
शर्मा के फूलों को मुरझाते,
ए जहाँ को घायल करने वाले
तुम डिओडोरेंट क्यों नहीं लगाते।

دیکھا ہے تمہارے آگے .
شرما کے پھولوں کو مرجھاتے .
ہے جہاں کو غیل کرنے والے .
تم دیودرانٹ کیو نہیں لگاتے .

[ssba-buttons]
---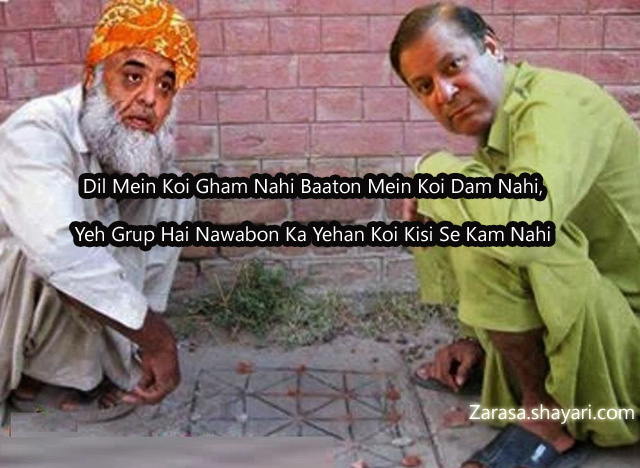 Dil Mein Koi Gham Nahi Baaton Mein Koi Dam Nahi,
Yeh Grup Hai Nawabon Ka Yehan Koi Kisi Se Kam Nahi

 



दिल में कोई गम नहीं बातों में कोई दम नहीं,
ये ग्रुप है नवाबो का यहाँ कोई किसीसे कम नहीं।

دل میں کوئی غم نہیں باتوں میں کوئی دم نہیں
یہ گروپ ہے نوابوں کا یہاں کوئی کسی سے کم نہیں

[ssba-buttons]
---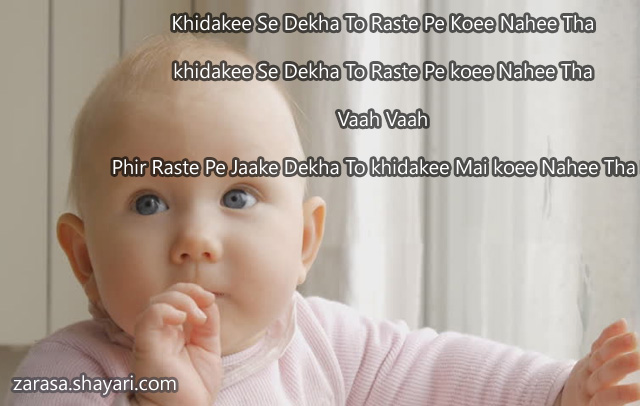 Khidakee Se Dekha To Raste Pe Koee Nahee Tha
khidakee Se Dekha To Raste Pe koee Nahee Tha
Vaah Vaah
Phir Raste Pe Jaake Dekha To khidakee Mai koee Nahee Tha ?

 




खिडकी से देखा तो रस्ते पे कोई नही था
खिडकी से देखा तो रस्ते पे कोई नही था
वाह वाह
फिर रस्ते पे जाके देखा तो खिडकी मै कोई नही था ?

کھڑکی سے دیکھا تو رستے پہ کوئی نہیں تھا
کھڑکی سے دیکھا تو رستے پہ کوئی نہیں تھا
واہ واہ
پھر رستے پہ جاکے دیکھا تو کھڑکی مے کوئی نہیں تھا

[ssba-buttons]
---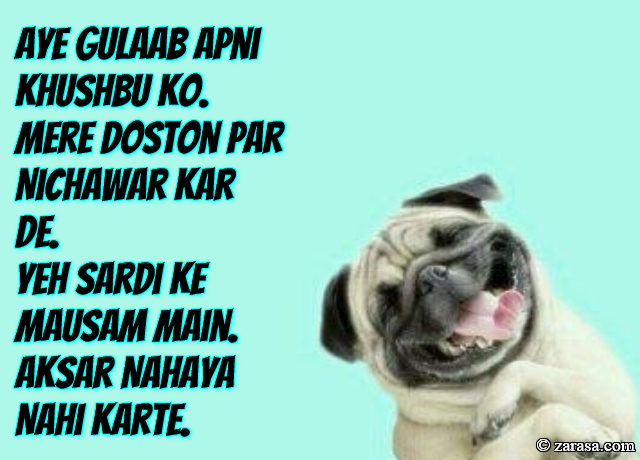 Aye Gulaab Apni Khushbu Ko.
Mere Doston Par Nichawar Kar De.
Yeh Sardi Ke Mausam Main.
Aksar Nahaya Nahi Karte.

ए गुलाब अपनी खुशबू को
मेरे दोस्तों पर न्योछावर कर दे,
यह सर्दी के मौसम में
अक्सर नहाया नहीं करते।


ہے گلاب اپنی خوشبو کو .
میرے دوستوں پر نچھاور کر دے .
یہ سردی کے موسم میں .
اکثر نہایا نہیں کرتے .


[ssba-buttons]
---