Intezaar shayari "Roz Roshan Hogi Meri Bhi Zindagi"
|
Kisi Na Kisi Roz Roshan Hogi Meri Bhi Zindagi.
Intezaar Subah Ki Roshni Ka Nahi Tere Aane Ka Hain.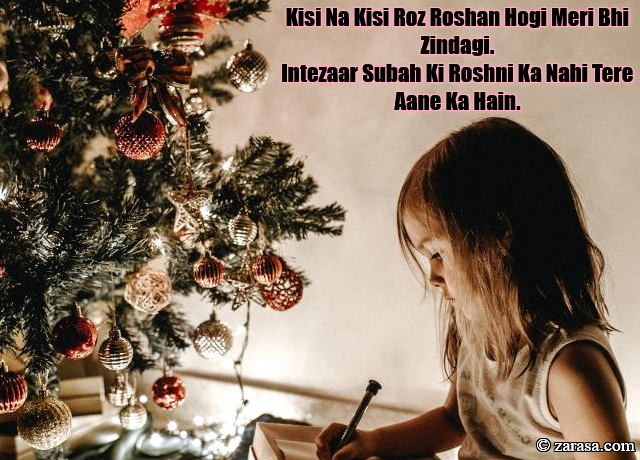 ---

किसी न किसी रोज़ रोशन होगी मेरी भी ज़िन्दगी .
इंतज़ार सुबह की रौशनी का नहीं तेरे आने का हैं .


---

کسی نہ کسی روز روشن ہوگی میری بھی زندگی .
انتظار صوبہ کی روشنی کا نہیں تیرے آنے کا ہیں .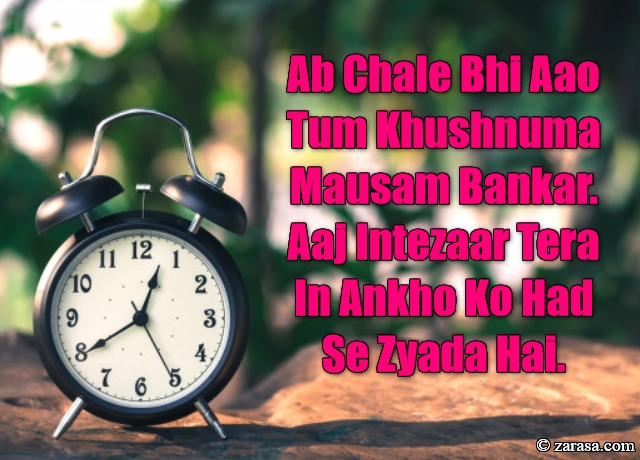 Ab Chale Bhi Aao Tum Khushnuma Mausam Bankar.
Aaj Intezaar Tera In Ankho Ko Had Se Zyada Hai.
अब चले भी आओ तुम ख़ुशनुमा मौसम बनकर .
आज इंतज़ार तेरा इन आँखों को हद से ज़्यादा है .

اب چلے بھی او تم خوشنما موسم بنکر .
آج انتظار تیرا ان انکھو کو حد سے زیادہ ہے .

---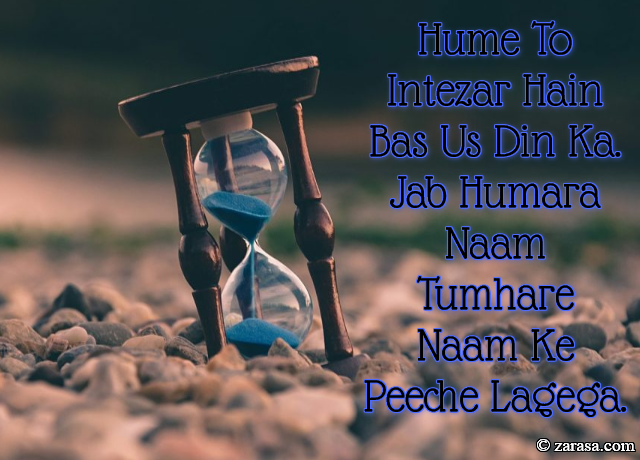 Hume To Intezar Hain Bas Us Din Ka.
Jab Humara Naam Tumhare Naam Ke Peeche Lagega.
हमे तो इंतज़ार हैं बस उस दिन का .
जब हमारा नाम तुम्हारे नाम के पीछे लगेगा .

ہمے تو انتظار ہیں بس اس دن کا .
جب ہمارا نام تمہارے نام کے پیچھے لگےگا .

---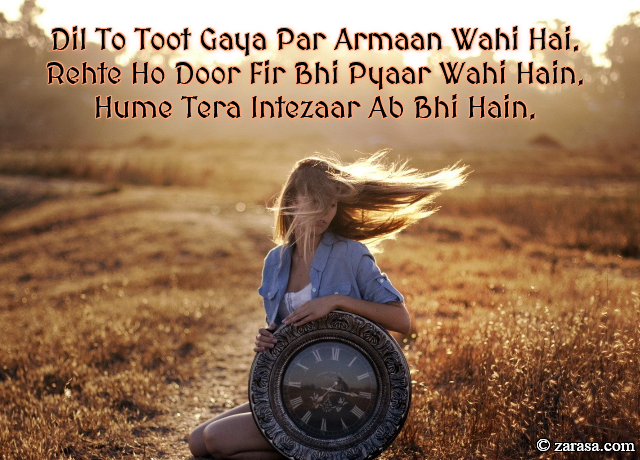 Dil To Toot Gaya Par Armaan Wahi Hai.
Rehte Ho Door Fir Bhi Pyaar Wahi Hain.
Hume Tera Intezaar Ab Bhi Hain.
दिल तो टूट गया पर अरमान वही है .
रहते हो दूर फिर भी प्यार वही हैं .
हमे तेरा इंतज़ार अब भी हैं .


دل تو ٹوٹ گیا پر ارمان وہی ہے .
رہتے ہو دور فر بھی پیار وہی ہیں .
ہمے تیرا انتظار اب بھی ہیں .


---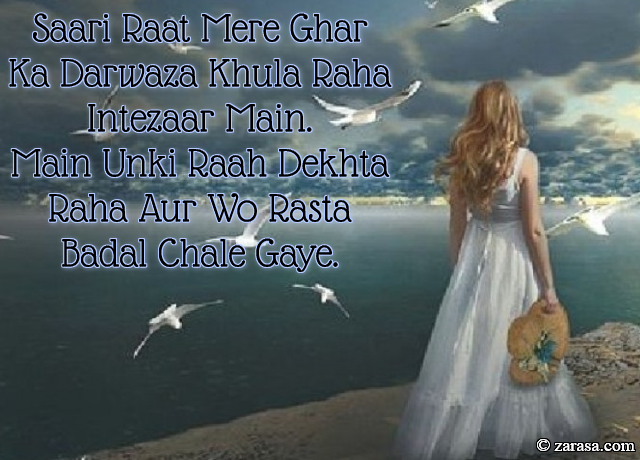 Saari Raat Mere Ghar Ka Darwaza Khula Raha Intezaar Main.
Main Unki Raah Dekhta Raha Aur Wo Rasta Badal Chale Gaye.
सारी रात मेरे घर का दरवाज़ा खुला रहा इंतेज़ार मैं .
मै उनकी राह देखता रहा और वो रास्ता बदल चले गए .
ساری رات میرے گھر کا دروازہ خلا رہا انتظار میں .
میں انکی راہ دیکھتا رہا اور وو راستہ بدل چلے گئے .
---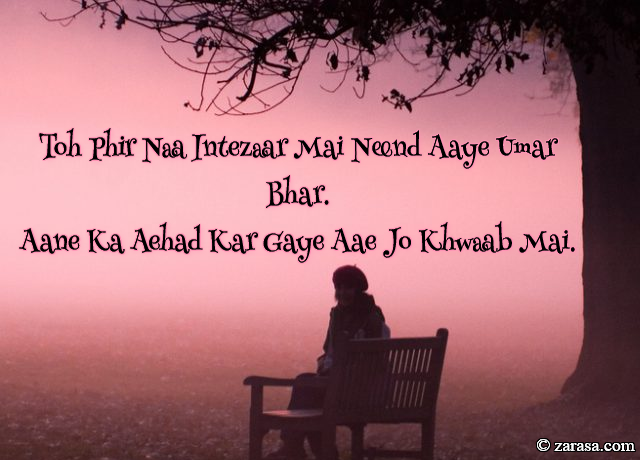 Toh Phir Naa Intezaar Mai Neend Aaye Umar Bhar.
Aane Ka Aehad Kar Gaye Aae Jo Khwaab Mai.
तोह फिर ना इंतज़ार मै नींद आये उम्र भर .
आने का एहद कर गए आए जो ख़्वाब मै .
تو پھر نا انتیزار می نیند اے عمر بھر .
آنے کا ایہد کر گئے ے جو خواب می .
---