Intezaar shayari "Roz Roshan Hogi Meri Bhi Zindagi"
|
Kisi Na Kisi Roz Roshan Hogi Meri Bhi Zindagi.
Intezaar Subah Ki Roshni Ka Nahi Tere Aane Ka Hain.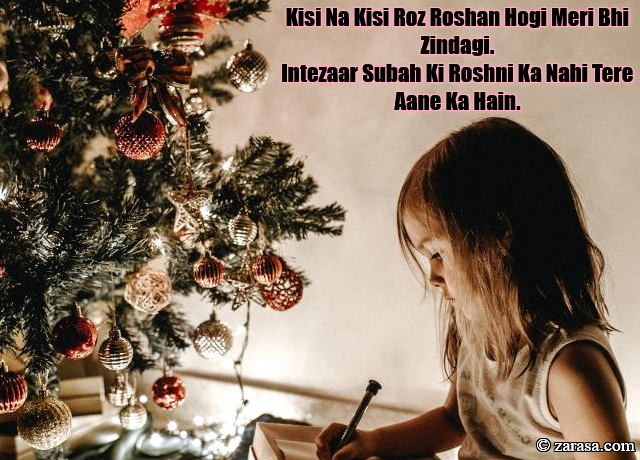 ---

किसी न किसी रोज़ रोशन होगी मेरी भी ज़िन्दगी .
इंतज़ार सुबह की रौशनी का नहीं तेरे आने का हैं .


---

کسی نہ کسی روز روشن ہوگی میری بھی زندگی .
انتظار صوبہ کی روشنی کا نہیں تیرے آنے کا ہیں .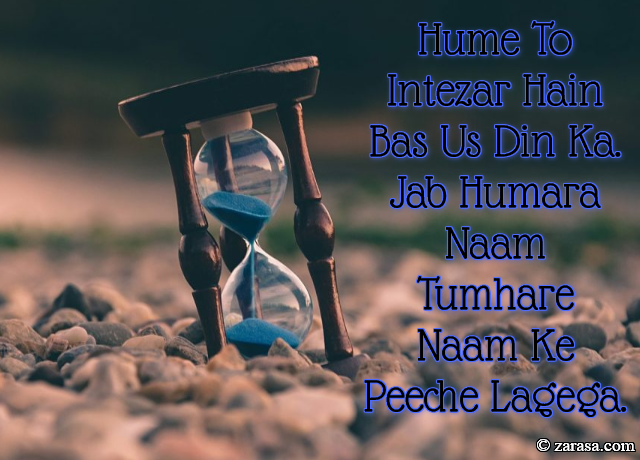 Hume To Intezar Hain Bas Us Din Ka.
Jab Humara Naam Tumhare Naam Ke Peeche Lagega.
हमे तो इंतज़ार हैं बस उस दिन का .
जब हमारा नाम तुम्हारे नाम के पीछे लगेगा .

ہمے تو انتظار ہیں بس اس دن کا .
جب ہمارا نام تمہارے نام کے پیچھے لگےگا .

---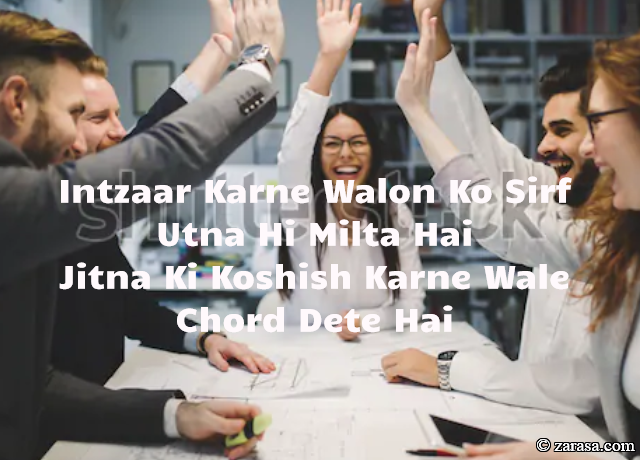 Intzaar Karne Walon Ko Sirf Utna Hi Milta Hai
Jitna Ki Koshish Karne Wale Chord Dete Hai
इंतज़ार करने वालों को सिर्फ उतना ही मिलता है
जितना की कोशिश करने वाले चोरड देते है
انتظار کرنے والوں کو صرف اتنا ہی ملتا ہے
جتنا کی کوشش کرنے والے چھوڑد دیتے ہے
---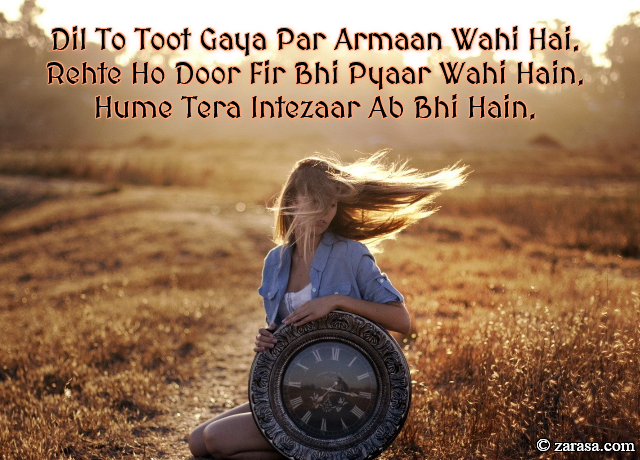 Dil To Toot Gaya Par Armaan Wahi Hai.
Rehte Ho Door Fir Bhi Pyaar Wahi Hain.
Hume Tera Intezaar Ab Bhi Hain.
दिल तो टूट गया पर अरमान वही है .
रहते हो दूर फिर भी प्यार वही हैं .
हमे तेरा इंतज़ार अब भी हैं .


دل تو ٹوٹ گیا پر ارمان وہی ہے .
رہتے ہو دور فر بھی پیار وہی ہیں .
ہمے تیرا انتظار اب بھی ہیں .


---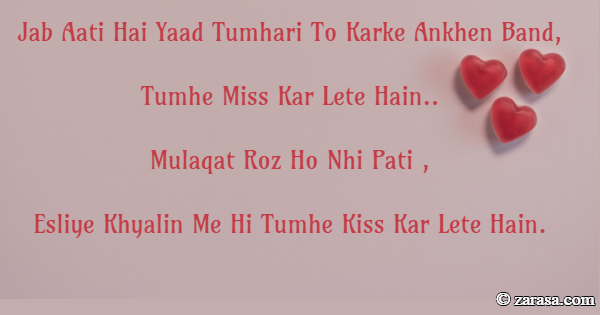 Jab Aati Hai Yaad Tumhari To Karke Ankhen Band,
Tumhe Miss Kar Lete Hain..
Mulaqat Roz Ho Nhi Pati ,
Esliye Khyalin Me Hi Tumhe Kiss Kar Lete Hain.

जब आती है याद तुम्हारी तो करके आंखे बंद,
तुम्हें मिस कर लेते हैं..
मुकालात रोज़ हो नहीं पाती,
इसलिए ख्यालों में ही तुम्हें किस कर लेते हैं।
جب آتی ہے یاد تمہاری تو کرکے آنکھ بند
تمھ مس کر لیتے ہیں
ملکات روز ہو نہی پتو
اسلئے خیالوں مے ہی تمھ کس کر لیتے ہیں
---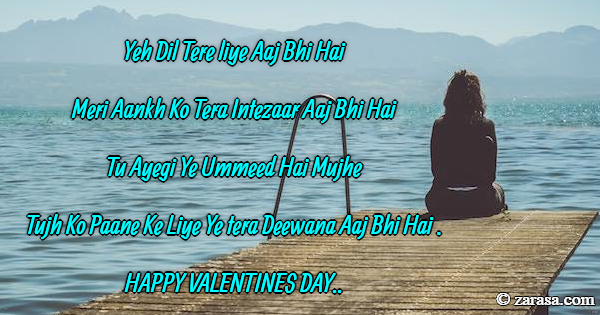 Yeh Dil Tere liye Aaj Bhi Hai
Meri Aankh Ko Tera Intezaar Aaj Bhi Hai
Tu Ayegi Ye Ummeed Hai Mujhe
Tujh Ko Paane Ke Liye Ye tera Deewana Aaj Bhi Hai .
HAPPY VALENTINES DAY..
ये दिल तेरे लिए बेक़रार आज भी है
मेरी आँख को तेरा इन्तजार आज भी है
तू आएगी ये उम्मीद है मुझे
तुझ को पाने के लिए ये तेरा दीवाना आज भी है |
हैप्पी वैलेंटाइन डे !
یہ دل تیرے لئے آج بھی ہے
میری آنکھ کو تیرا انتظار آج بھی ہے
تو ایگی یہ امید ہے مجھے
تجھ کو پانے کے لئے یہ تیرا دیوانا آج بھی ہے
---