Intezaar shayari " Intezaar shayari"
|
Aaj Pehli Baar Unko Udaas Aaj Dekha Hain.
Mere Aane Ki Jisko Khabar Naa Thi.
Aaj Unki Ankho Main Intezaar Aaj Dekha Hain.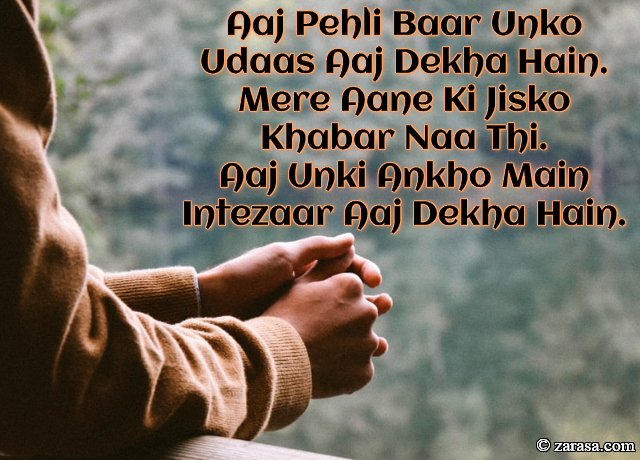 ---

आज पहली बार उनको उदास आज देखा हैं .
मेरे आने की जिसको ख़बर ना थी .
आज उनकी आँखों मैं इंतेज़ार आज देखा हैं .


---

آج پہلی بار انکو اداس آج دیکھا ہیں .
میرے آنے کی جسکو خبر نا تھی .
آج انکی انکھو میں انتظار آج دیکھا ہیں .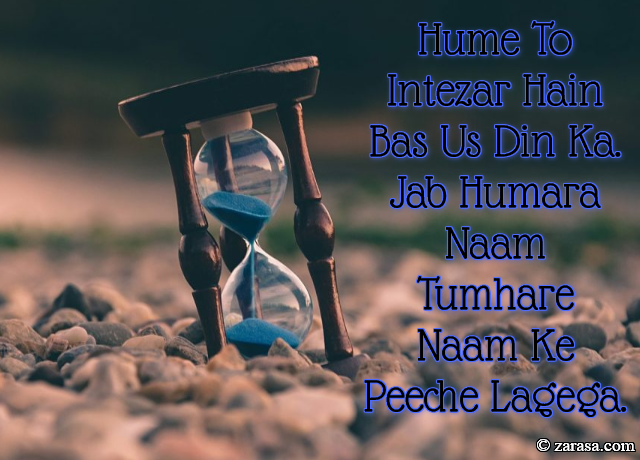 Hume To Intezar Hain Bas Us Din Ka.
Jab Humara Naam Tumhare Naam Ke Peeche Lagega.
हमे तो इंतज़ार हैं बस उस दिन का .
जब हमारा नाम तुम्हारे नाम के पीछे लगेगा .

ہمے تو انتظار ہیں بس اس دن کا .
جب ہمارا نام تمہارے نام کے پیچھے لگےگا .

---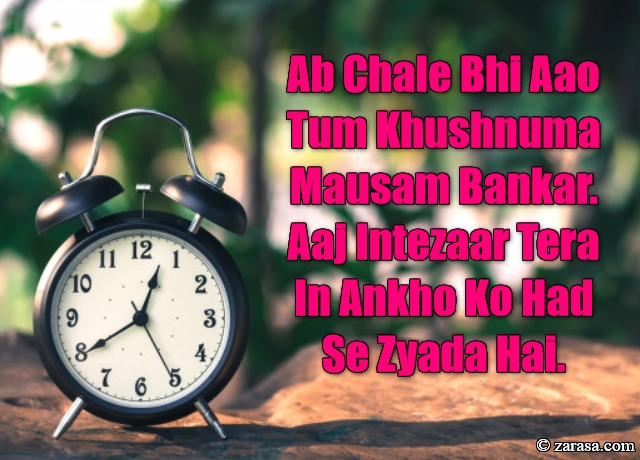 Ab Chale Bhi Aao Tum Khushnuma Mausam Bankar.
Aaj Intezaar Tera In Ankho Ko Had Se Zyada Hai.
अब चले भी आओ तुम ख़ुशनुमा मौसम बनकर .
आज इंतज़ार तेरा इन आँखों को हद से ज़्यादा है .

اب چلے بھی او تم خوشنما موسم بنکر .
آج انتظار تیرا ان انکھو کو حد سے زیادہ ہے .

---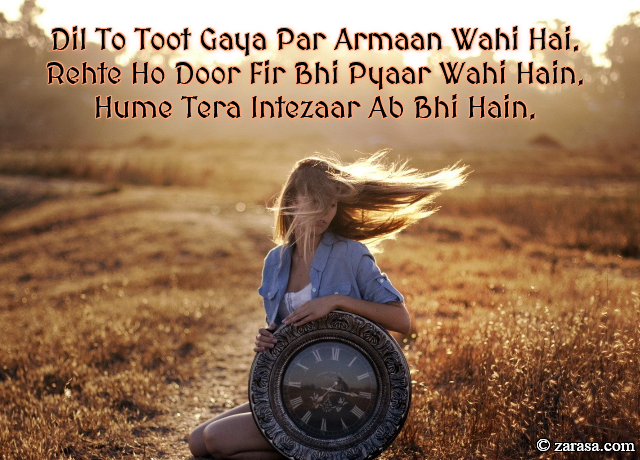 Dil To Toot Gaya Par Armaan Wahi Hai.
Rehte Ho Door Fir Bhi Pyaar Wahi Hain.
Hume Tera Intezaar Ab Bhi Hain.
दिल तो टूट गया पर अरमान वही है .
रहते हो दूर फिर भी प्यार वही हैं .
हमे तेरा इंतज़ार अब भी हैं .


دل تو ٹوٹ گیا پر ارمان وہی ہے .
رہتے ہو دور فر بھی پیار وہی ہیں .
ہمے تیرا انتظار اب بھی ہیں .


---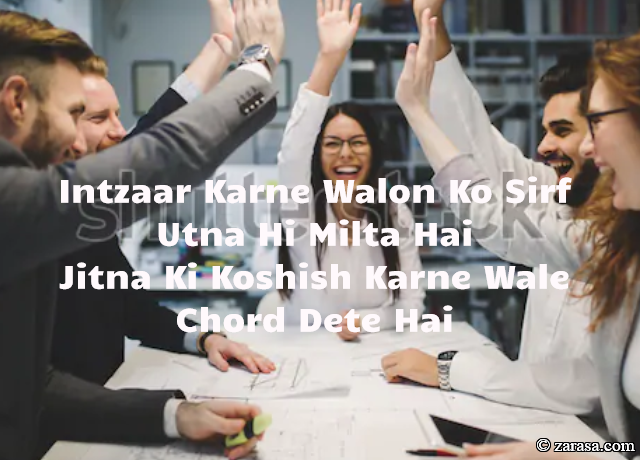 Intzaar Karne Walon Ko Sirf Utna Hi Milta Hai
Jitna Ki Koshish Karne Wale Chord Dete Hai
इंतज़ार करने वालों को सिर्फ उतना ही मिलता है
जितना की कोशिश करने वाले चोरड देते है
انتظار کرنے والوں کو صرف اتنا ہی ملتا ہے
جتنا کی کوشش کرنے والے چھوڑد دیتے ہے
---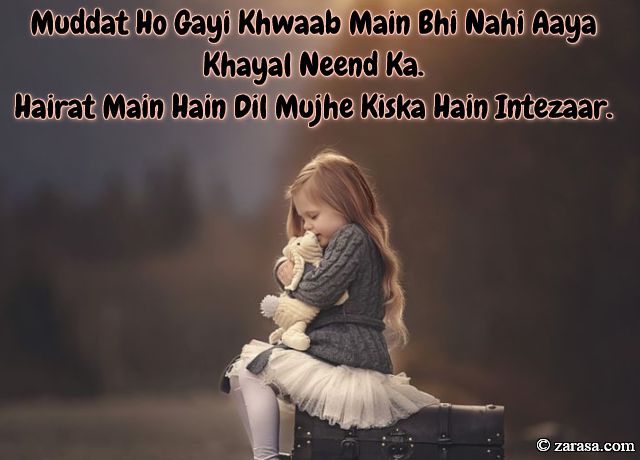 Muddat Ho Gayi Khwaab Main Bhi Nahi Aaya Khayal Neend Ka.
Hairat Main Hain Dil Mujhe Kiska Hain Intezaar.
मुद्दत हो गयी ख़्वाब मैं भी नहीं आया ख़याल नींद का .
हैरत मैं हैं दिल मुझे किसका हैं इंतज़ार .
مدّت ہو گی خواب میں بھی نہیں آیا خیال نیند کا .
حیرت میں ہیں دل مجھے کسکا ہیں انتظار .
---