Intezaar shayari "Log Dildaar Ki Raah Maut Tak Hi Dekhte Hain"
|
Log Dildaar Ki Raah Maut Tak Hi Dekhte Hain.
Ek Hum Hai Ki Khabar Mai Bhi Tera Intezaar Karte Hain.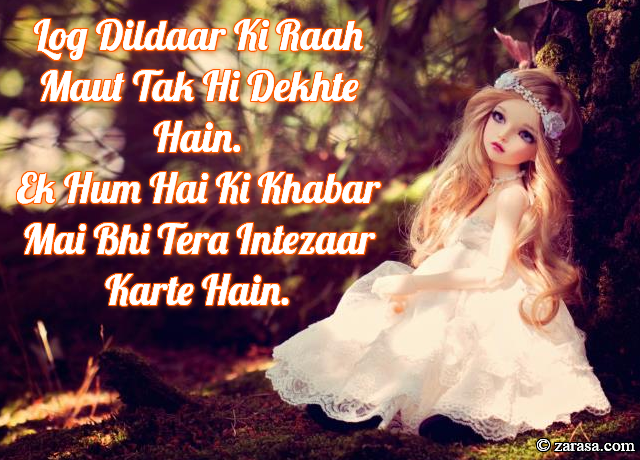 ---

लोग दिलदार की राह मौत तक ही देखते हैं .
एक हम है की ख़बर मै भी तेरा इंतेज़ार करते हैं .


---

لوگ دلدار کی راہ موت تک ہی دیکھتے ہیں .
ایک ہم ہے کی خبر می بھی تیرا انتیزار کرتے ہیں .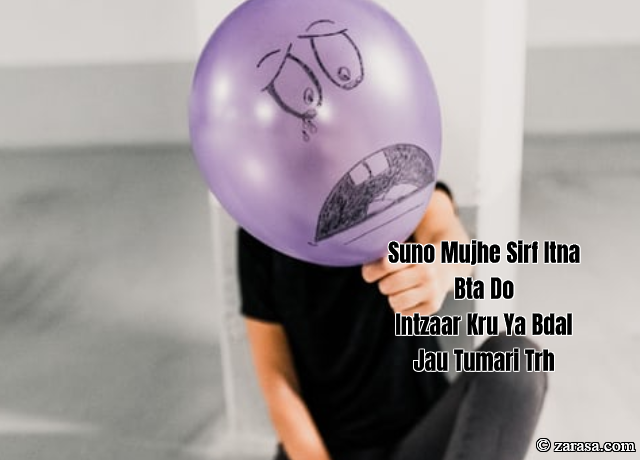 Suno Mujhe Sirf Itna Bta Do
Intzaar Kru Ya Bdal Jau Tumhari Tarh
सुनो मुझे सिर्फ इतना बता दो
इंतज़ार कृ या बदल जाऊ तुम्हारी तरह
سنو مجھے صرف اتنا بتا دو
انتظار کرو یا بدل جاؤ تماری طرح
---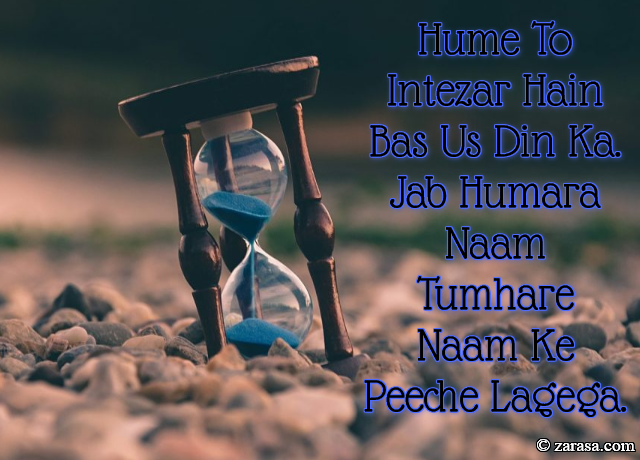 Hume To Intezar Hain Bas Us Din Ka.
Jab Humara Naam Tumhare Naam Ke Peeche Lagega.
हमे तो इंतज़ार हैं बस उस दिन का .
जब हमारा नाम तुम्हारे नाम के पीछे लगेगा .

ہمے تو انتظار ہیں بس اس دن کا .
جب ہمارا نام تمہارے نام کے پیچھے لگےگا .

---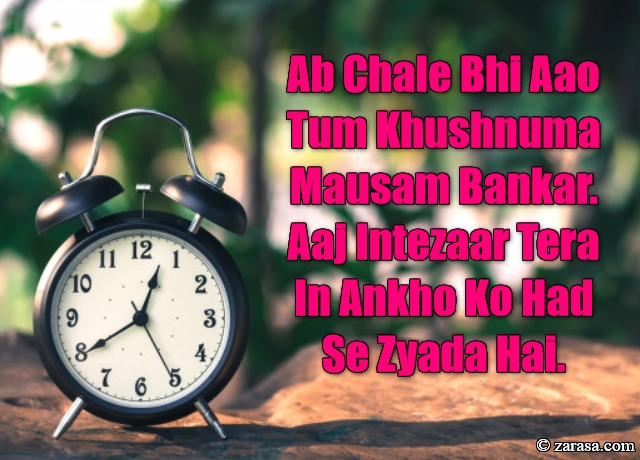 Ab Chale Bhi Aao Tum Khushnuma Mausam Bankar.
Aaj Intezaar Tera In Ankho Ko Had Se Zyada Hai.
अब चले भी आओ तुम ख़ुशनुमा मौसम बनकर .
आज इंतज़ार तेरा इन आँखों को हद से ज़्यादा है .

اب چلے بھی او تم خوشنما موسم بنکر .
آج انتظار تیرا ان انکھو کو حد سے زیادہ ہے .

---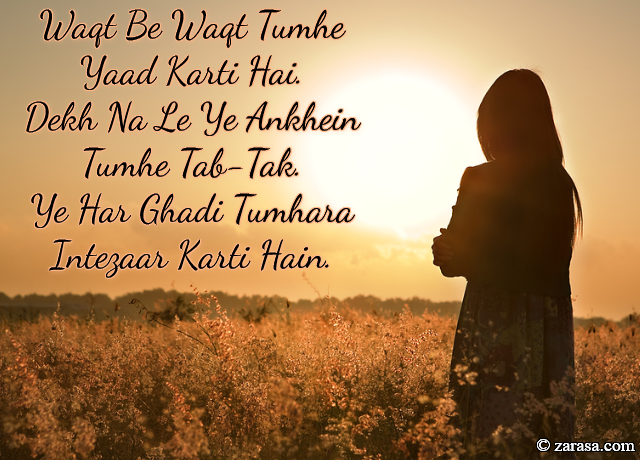 Waqt Be Waqt Tumhe Yaad Karti Hai.
Dekh Na Le Ye Ankhein Tumhe Tab-Tak.
Ye Har Ghadi Tumhara Intezaar Karti Hain.
वक़्त बे वक़्त तुम्हे याद कराती है .
देख न ले ये आंखें तुम्हे तब -तक .
ये हर घडी तुम्हारा इंतज़ार करती हैं .
وقت بے وقت تمھ یاد کرتی ہے .
دیکھ نہ لے یہ آنکھیں تمھ ٹیب -تک .
یہ ہر غدی تمہارا انتیزار کرتی ہیں .
---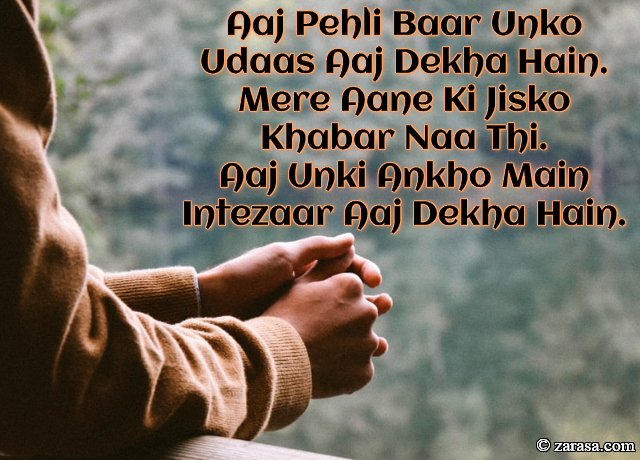 Aaj Pehli Baar Unko Udaas Aaj Dekha Hain.
Mere Aane Ki Jisko Khabar Naa Thi.
Aaj Unki Ankho Main Intezaar Aaj Dekha Hain.
आज पहली बार उनको उदास आज देखा हैं .
मेरे आने की जिसको ख़बर ना थी .
आज उनकी आँखों मैं इंतेज़ार आज देखा हैं .
آج پہلی بار انکو اداس آج دیکھا ہیں .
میرے آنے کی جسکو خبر نا تھی .
آج انکی انکھو میں انتظار آج دیکھا ہیں .
---