Shayari for Intezaar "Suno Mujhe Sirf Itna Bta Do"
|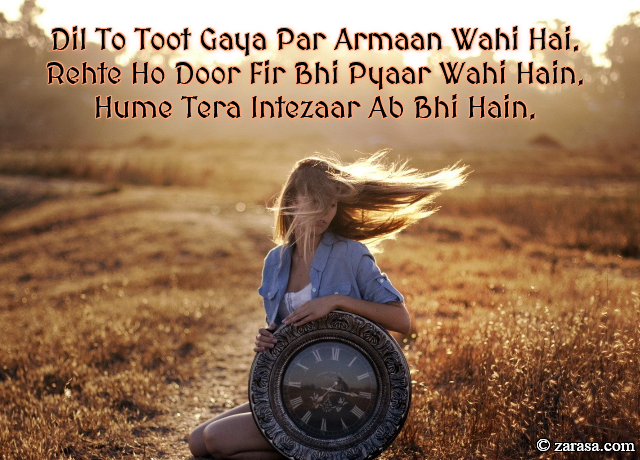 Dil To Toot Gaya Par Armaan Wahi Hai.
Rehte Ho Door Fir Bhi Pyaar Wahi Hain.
Hume Tera Intezaar Ab Bhi Hain.
दिल तो टूट गया पर अरमान वही है .
रहते हो दूर फिर भी प्यार वही हैं .
हमे तेरा इंतज़ार अब भी हैं .


دل تو ٹوٹ گیا پر ارمان وہی ہے .
رہتے ہو دور فر بھی پیار وہی ہیں .
ہمے تیرا انتظار اب بھی ہیں .


---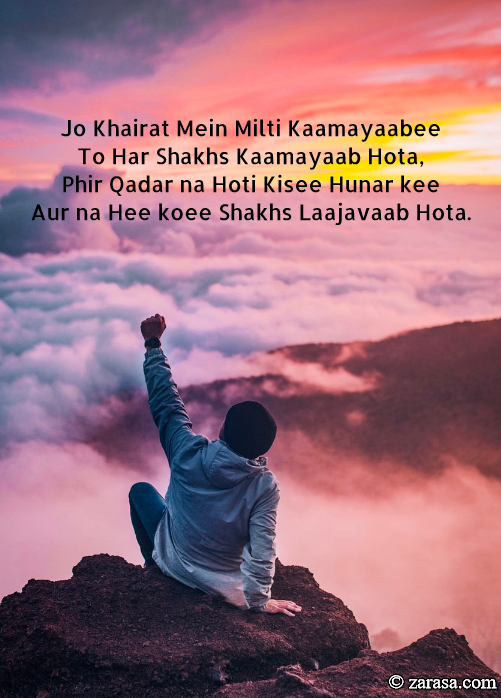 Jo Khairat Mein Milti Kaamayaabee
To Har Shakhs Kaamayaab Hota,
Phir Qadar na Hoti Kisee Hunar kee
Aur na Hee koee Shakhs Laajavaab Hota.
जो खैरात में मिलती कामयाबी
तो हर शख्स कामयाब होता ,
फिर क़दर न होती किसी हुनर की
और न ही कोइ शख्स लाजवाब होता


جو خیرات میں ملتی کامےابے
تو ہر شخص کامیاب ہوتا
پھر قدر نہ ہوتے کیسے ہنر کی
اور نہ ہی کوئی شخص لاجواب ہوتا
---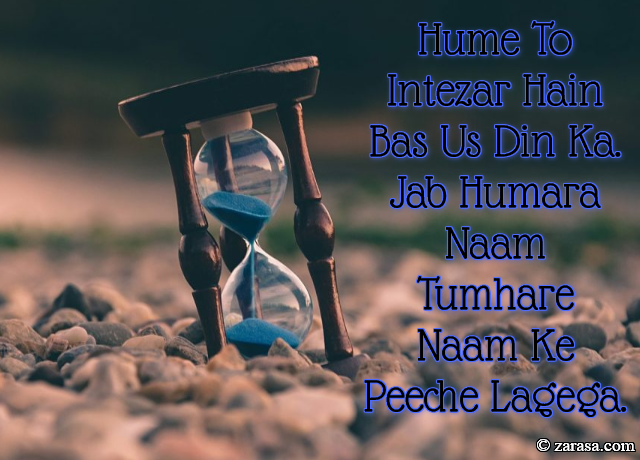 Hume To Intezar Hain Bas Us Din Ka.
Jab Humara Naam Tumhare Naam Ke Peeche Lagega.
हमे तो इंतज़ार हैं बस उस दिन का .
जब हमारा नाम तुम्हारे नाम के पीछे लगेगा .

ہمے تو انتظار ہیں بس اس دن کا .
جب ہمارا نام تمہارے نام کے پیچھے لگےگا .

---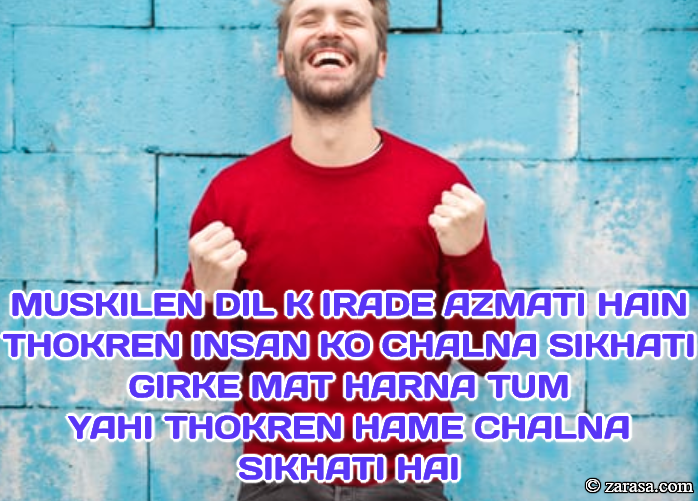 MUSHKILEN DIL KE IRADE AZMATI HAIN
THOKREN INSAN KO CHALNA SIKHATI
GIRKE MAT HARNA TUM
YAHI THOKREN HAME CHALNA SIKHATI HAI
मुश्किलें दिल क इरादे आज़माती हैं
ठोकरें इंसान को चलना सिखाती
गिरके मत हारना तुम
यही ठोकरें हमें चलना सिखाती है
مشکلیں دل کے ارادے آزماتی ہیں
ٹھوکریں انسان کو چلنا سیکھاتی
گرکے مت ہارنا تم
یہی ٹھوکریں ہمی چلنا سیکھاتی ہے
---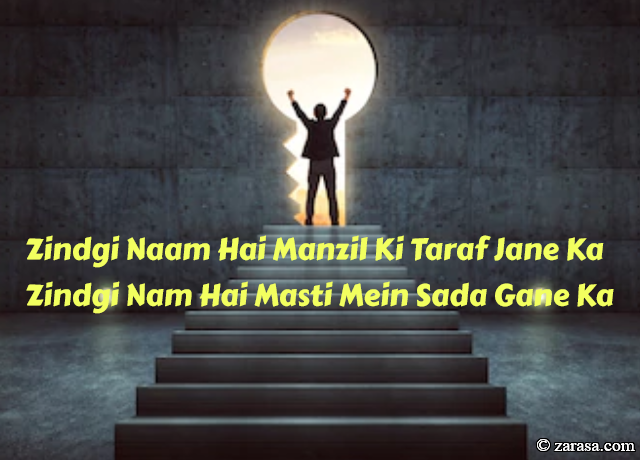 Zindgi Naam Hai Manzil Ki Taraf Jane Ka
Zindgi Nam Hai Masti Mein Sada Gane Ka
ज़िंदगी नाम है मंज़िल की तरफ जाने का
ज़िंदगी नाम है मस्ती में सदा गाने का
زندگی نام ہے منزل کی طرف جانے کا
زندگی نام ہے مستی میں سادہ گانے کا
---