MOTIVATION SHAYARI"SARI DUNIYA KEHETI HAI "
|
SARI DUNIYA KEHTI HAI HAAR MANLO
LEKIN DIL DHEERE SE KHETA HAI
EK BAR AUR KOSHISH KER
TU ZAROOR KERSAKTA HAI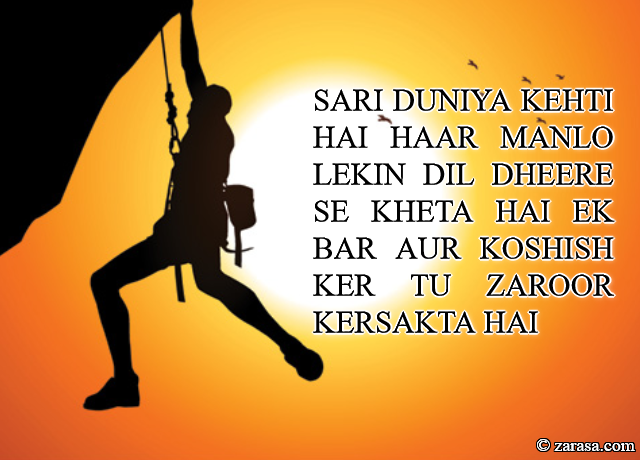 ---

साडी दुनिया खेती है हर मानलो
लेकिन दिल धीरे से कहता है
एक बार कोशिश कर
तू ज़रूर केर सकता है



---

سری دنیا کہتی ہے ہار مانلو
لیکن دل دھیرے سے کھتا ہے
ایک بار اور کوشش کر
تو ضرور کرسکتا ہے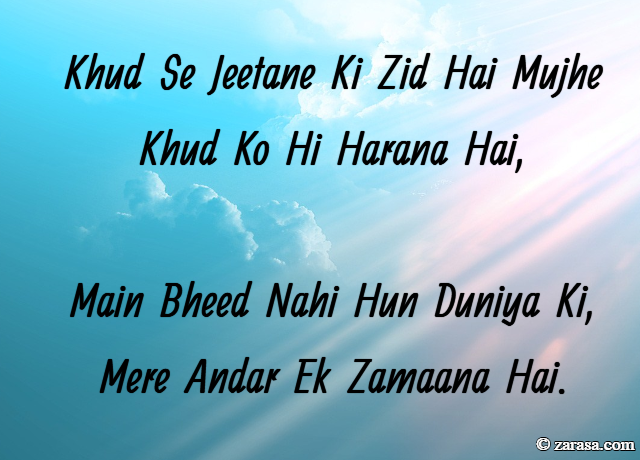 Khud Se Jeetane Ki Zid Hai Mujhe Khud Ko Hi Harana Hai,
Main Bheed Nahi Hun Duniya Ki, Mere Andar Ek Zamaana Hai.



खुद से जीतने की जिद है मुझे खुद को ही हराना है,
मै भीड़ नहीं हूँ दुनिया की ,मेरे अन्दर एक ज़माना है.
خود سے جیتنے کی زد ہے مجھے خود کو ہی ہرانا ہے
می بھیڈ نہی ہو دنیا کی میرے اندر ایک زمانہ ہے
---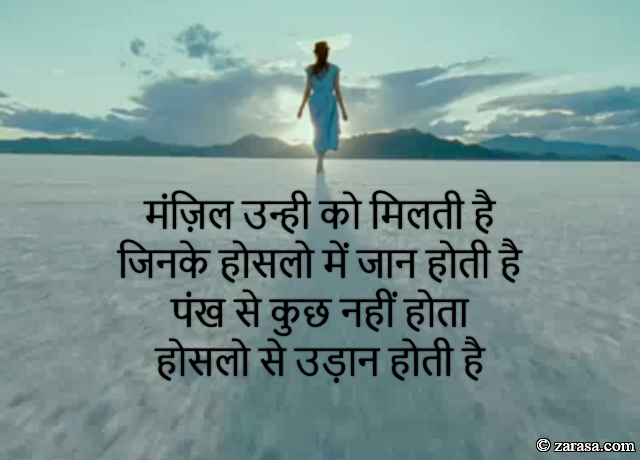 MANZIL UNHI KO MILTI HAI
JINKE SAPNO MEIN JAAN HOTI HAI
PANKH SE KUCH NAHI HOTA
HOSLO SE UDAAN HOTI HAI
मंज़िल उन्ही को मिलती है
जिनके होसलो में जान होती है
पंख से कुछ नहीं होता
होसलो से उड़ान होती है
منزل انہی کو ملتی ہے
جنکے سپنو میں جان ہوتی ہے
پنکھ سے کچھ نہیں ہوتا
ہوسلو سے ادان ہوتی ہے
---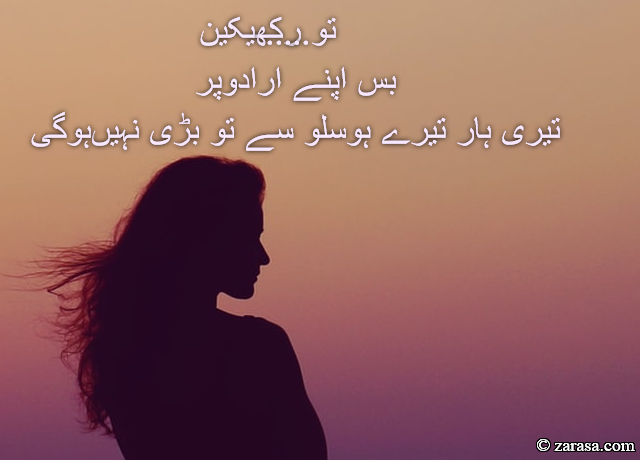 SHAAM SURAJ KO DHALNA SIKHATI HAI
SHAMA PERWANE KO JALNA SIKHATI HAI
GIRNE WALO KO HOTI TO HAI TAKLEEF PER,
THOKAR HI INSAN KO CHLNA SIKHATI HAI........
शाम सूरज को दहलना सिखाती है
शमा परवाने को जलना सिखाती है
गिरने वालो को होती तो है तकलीफ पर
ठोकर ही इंसान को चलना सिखाती है
شام سورج کو ڈھالنا سختی ہے
شمع پروانے کو جلنا سکھاتی ہے
گرنے والو کو ہوتی توہ ہے تکلیف پر
ٹھوکر ہی انسان کو چلنا سکھاتی ہے ......
---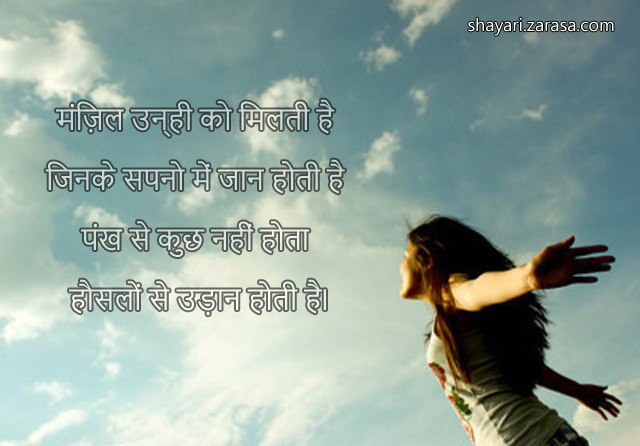 Manzil unhi ko milti hai
Jinke sapno me jaan hoti hai
Pankh se kuchh nahi hota
Hauslon se udaan hoti hai.







मंजिल उन्हीं को मिलती है
जिनके सपनो में जान होती है
पंख से कुछ नहीं होता
हौसलों से उड़ान होती है

منزل انہی کو ملتی ہے
جنکے سپنو مے جان ہوتی ہے
پنکھ سے کچھ نہیں ہوتا
حوصلوں سے ادان ہوتی ہے
---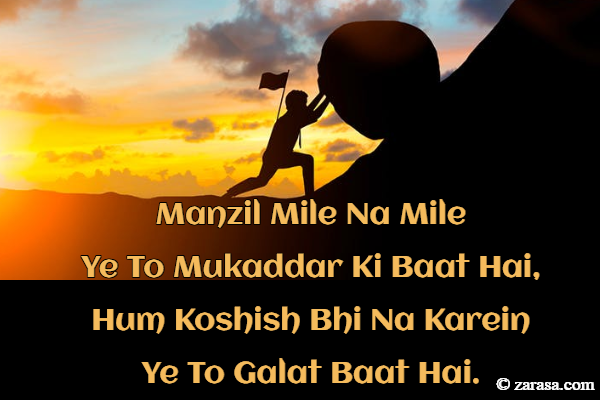 Manzil Mile Na Mile
Ye To Mukaddar Ki Baat Hai,
Hum Koshish Bhi Na Karein
Ye To Galat Baat Hai.

मंज़िल मिले न मिले
ये तो मुकद्दर की बात है,
हम कोशिश भी न करें
ये तो गलत बात है।
منزل میل نہ میل
یہ تو مقدار کی بات ہے
ہم کوشش بھی نہ کرے
یہ تو گلت بات ہے
---