MOTIVATION SHAYARI"SARI DUNIYA KEHETI HAI "
|
SARI DUNIYA KEHTI HAI HAAR MANLO
LEKIN DIL DHEERE SE KHETA HAI
EK BAR AUR KOSHISH KER
TU ZAROOR KERSAKTA HAI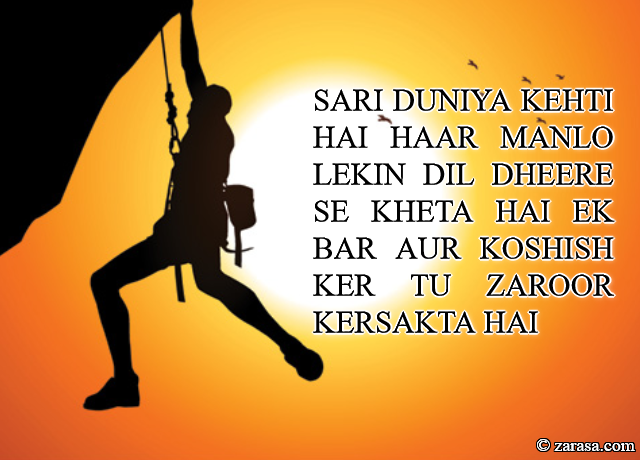 ---

साडी दुनिया खेती है हर मानलो
लेकिन दिल धीरे से कहता है
एक बार कोशिश कर
तू ज़रूर केर सकता है



---

سری دنیا کہتی ہے ہار مانلو
لیکن دل دھیرے سے کھتا ہے
ایک بار اور کوشش کر
تو ضرور کرسکتا ہے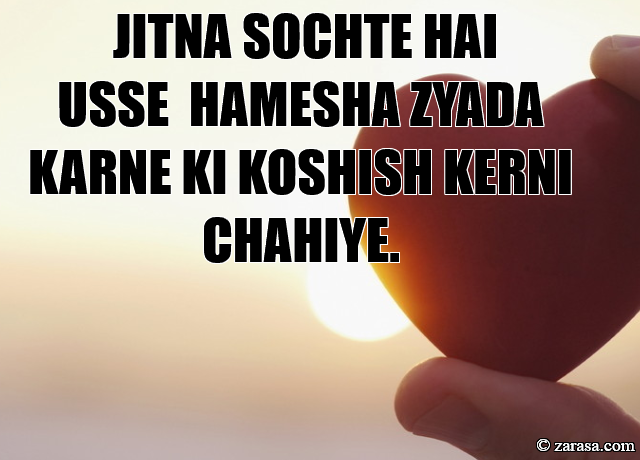 JITNA SOCHTE HAI
USSE  HAMESHA ZYADA KARNE KI KOSHISH KERNI CHAHIYE.
जितना सोचते है
उससे हमेशा ज़्यादा करने की कोशिश करनी चाहिए
جتنا سوچتے ہے
اسے ہمیشہ زیادہ کرنے کی کوشش کرنی چاہیے
---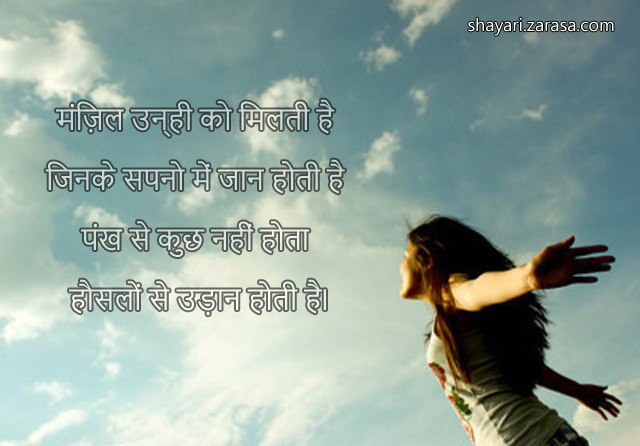 Manzil unhi ko milti hai
Jinke sapno me jaan hoti hai
Pankh se kuchh nahi hota
Hauslon se udaan hoti hai.







मंजिल उन्हीं को मिलती है
जिनके सपनो में जान होती है
पंख से कुछ नहीं होता
हौसलों से उड़ान होती है

منزل انہی کو ملتی ہے
جنکے سپنو مے جان ہوتی ہے
پنکھ سے کچھ نہیں ہوتا
حوصلوں سے ادان ہوتی ہے
---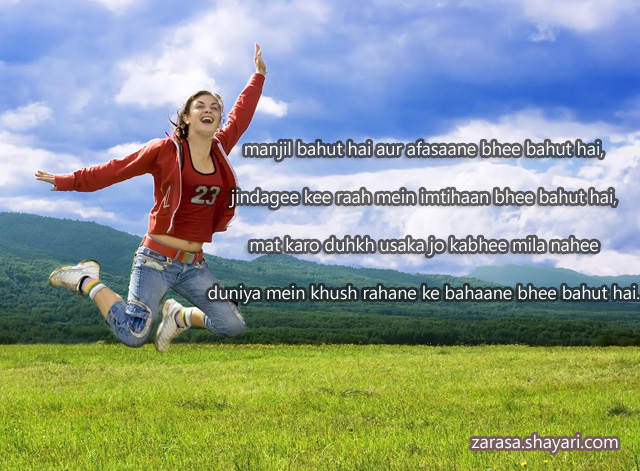 manjil bahut hai aur afasaane bhee bahut hai,
zindagee kee raah mein imtihaan bhee bahut hai,
mat karo duhkh usaka jo kabhee mila nahee
duniya mein khush rahane ke bahaane bhee bahut hai.

 

 

मंजिले बहुत है और अफ़साने भी बहुत है,
जिंदगी की राह में इम्तिहान भी बहुत है,
मत करो दुःख उसका जो कभी मिला नही
दुनिया में खुश रहने के बहाने भी बहुत है।
منجلیں  بہت  ہے  اور  افسانے  بھی  بہت ہے
زندگی کی  راہ  میں  امتحاں  بھی  بہت  ہے
مت  کرو  دھکہ  اسکا  جو  کبھی  ملا  نہی
دنیا  میں  خوش  رہنے  کے  بہانے  بھی  بہت  ہے
---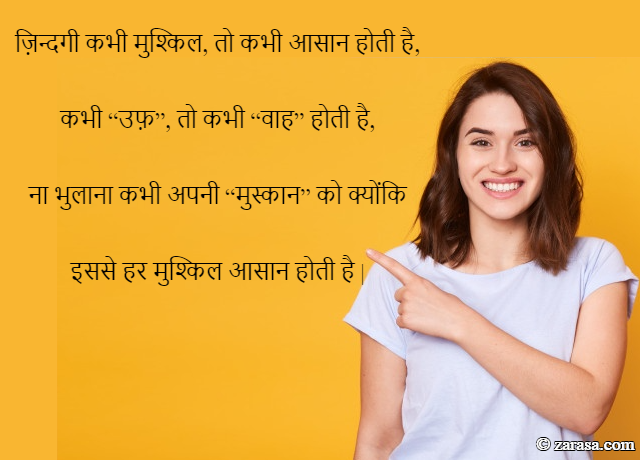 Zindagi Kabhi Mushkil, To Kabhi Aasaan Hoti Hai,
Kabhi "Uf", To Kabhi "Vaah" Hoti Hai,
Na Bhulaana Kabhi Apni "Muskaan" Ko Kyonki
Isse Har Mushkil Aasaan Hoti Hai .
ज़िन्दगी कभी मुश्किल, तो कभी आसान होती है,
कभी "उफ़", तो कभी "वाह" होती है,
ना भुलाना कभी अपनी "मुस्कान" को क्योंकि
इससे हर मुश्किल आसान होती है |
زندگی کبھی مشکل تو کبھی آسان ہوتی ہے
کبھی اف تو کبھی واہ ہوتی ہے
نہ بھلانا کبھی اپنی مسکان کو کیونکی
اسے ہر مشکل آسان ہوتی ہے
---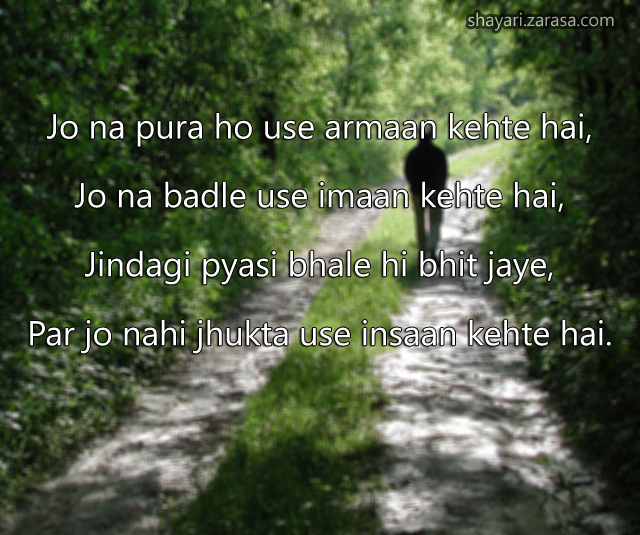 Jo na pura ho use armaan kehte hai,
Jo na badle use imaan kehte hai,
Zindagi pyasi bhale hi bhit jaye,
Par jo nahi jhukta use insaan kehte hai.






जो न पूरा हो उसे अरमाँ कहते है,
जो न बदले उसे ईमान कहते है,
जिंदगी प्यासी भले ही बीत जाये,
पर जो नहीं झुकता उसे इंसान कहते है.

جو  نہ  پورا  ہو اسے  ارمان  کہتے  ہے
جو  نہ  بدلے  اسے  امان کہتے  ہے
زندگی پیاسی  بھلے  ہی  بیت  جائے
پر  جو  نہیں  جھکتا  اسی  انسان  کہتے ہے
---