Shayari for Speeches "Abhi to Asli Manzil Paana Baki hai"
|
Abhi to Asli Manzil Paana Baki hai,
Abhi to Iraadon ka Imtihaan Baaki hai,
Abhi to Toli hai Mutthi Bhar Zameen,
Abhi Tolna Aasmaan  Baaki hai.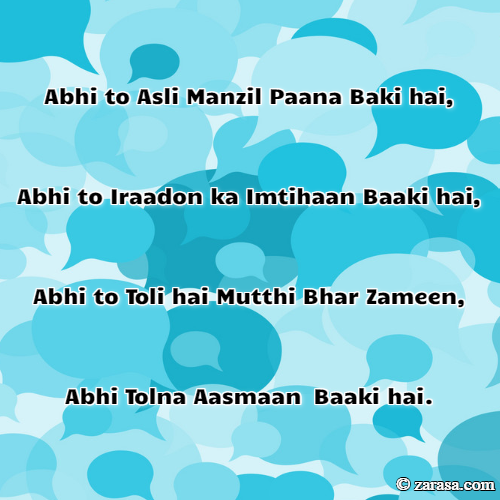 ---

अभी तो असली मंजिल पाना बाकी है,
अभी तो इरादों का इम्तिहान बाकी है,
अभी तो तोली है मुट्ठी भर जमीन,
अभी तोलना आसमान बाकी है।


---

ابھی تو اصلی منزل پانا باکی ہے
ابھی تو ارادو کا امتحاں باکی ہے
ابھی تو ٹولی ہے مٹھی بھر زمین
ابھی تولنا آسمان باکی ہے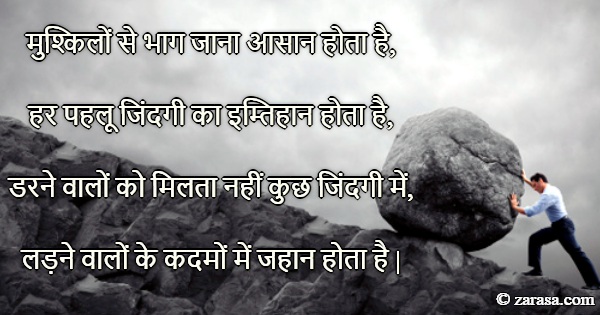 Mushkilon se Bhaag Jaana Aasan Hota Hai,
Har Pehlo Zindagi Ka Imtihaan Hota hai ,
Darne vaalon Ko Milta Nhi Kuch Zindagi Mai,
Ladne Vaalon Ke Kadmo Mai Jhan Hota Hai.
मुश्किलों से भाग जाना आसान होता है,
हर पहलू जिंदगी का इम्तिहान होता है,
डरने वालों को मिलता नहीं कुछ जिंदगी में,
लड़ने वालों के कदमों में जहान होता है |
مشکلوں سے بھاگ جانا آسان ہوتا ہے
ہر پہلو زندگی کا امتحاں ہوتا ہے
دارنے والو کو ملتا نہی کچھ زندگی می
لڑنے والو کے کدمو می جہاں ہوتا ہے
---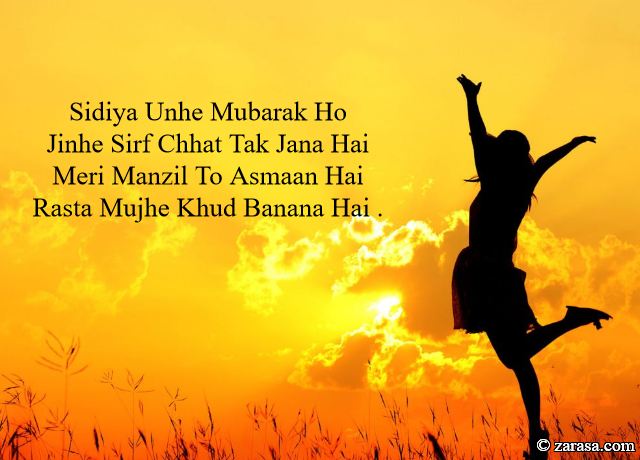 Sidiya Unhe Mubarak Ho
Jinhe Sirf Chhat Tak Jana Hai
Meri Manzil To Asmaan Hai
Rasta Mujhe Khud Banana Hai .
सिडिया उन्हें मुबारक हो
जिन्हे सिर्फ छत तक जाना है
मेरी मंज़िल तो आसमान है
रास्ता मुझे खुद बनाना है
صدیا انھ مبارک ہو
جنہے صرف چہت تک جانا ہے
میری منزل توه آسمان ہے
راستہ مجھے خود بنانا ہیں
---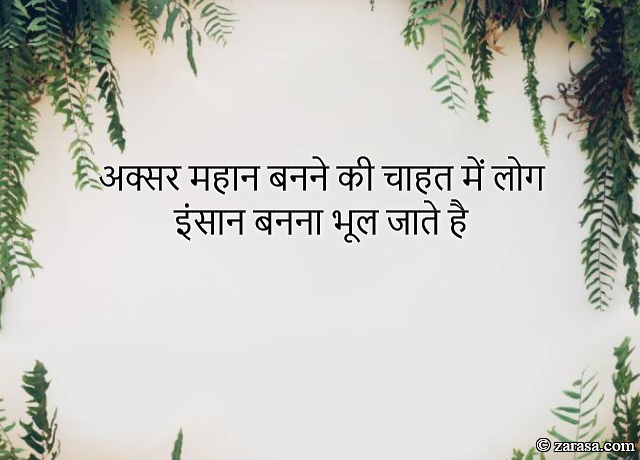 AKSER MAHAAN BANNNE KI CHAHAT
MEIN LOG INSAN BANNA BHUL JATE HAI
अक्सर महान बनने की चाहत में लोग
इंसान बनना भूल जाते है
اکثر مہان بننے کی چاہت میں لوگ
انسان بننا بھول جاتے ہے
---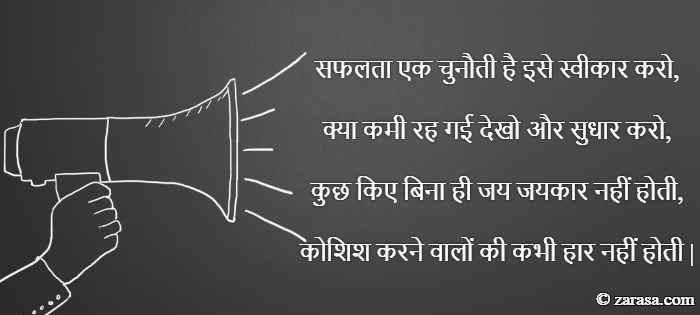 Safalta Ek Chunauti Hai Ese Sweekar Karo,
Kya kami Reh Gayi Dekho aur Sudhar Karo,
Kuch Kiye Bina Hi Jay Jaykar Nhi Hoti,
Koshish Karne Vaalo Ki Kabhi Haar Nhi Hoti.
सफलता एक चुनौती है इसे स्वीकार करो,
क्या कमी रह गई देखो और सुधार करो,
कुछ किए बिना ही जय जयकार नहीं होती,
कोशिश करने वालों की कभी हार नहीं होती |
سفلتا ایک چنوتی ہے اسے سوکار کرو
کیا کمی رہ گی دیکھو اور سدھار کرو
کچھ کے بنا ہی جے جیکر نہی ہوتی
کوشش کرنے والو کی کبھی ھار نہی ہوتی
---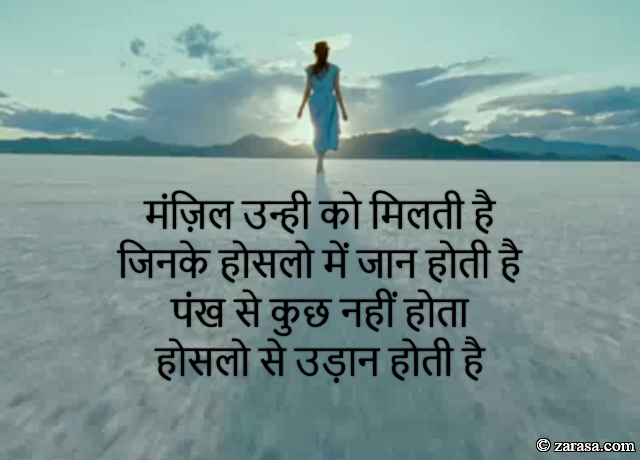 MANZIL UNHI KO MILTI HAI
JINKE SAPNO MEIN JAAN HOTI HAI
PANKH SE KUCH NAHI HOTA
HOSLO SE UDAAN HOTI HAI
मंज़िल उन्ही को मिलती है
जिनके होसलो में जान होती है
पंख से कुछ नहीं होता
होसलो से उड़ान होती है
منزل انہی کو ملتی ہے
جنکے سپنو میں جان ہوتی ہے
پنکھ سے کچھ نہیں ہوتا
ہوسلو سے ادان ہوتی ہے
---