Shayari for Speeches "Abhi to Asli Manzil Paana Baki hai"
Abhi to Asli Manzil Paana Baki hai,
Abhi to Iraadon ka Imtihaan Baaki hai,
Abhi to Toli hai Mutthi Bhar Zameen,
Abhi Tolna Aasmaan  Baaki hai.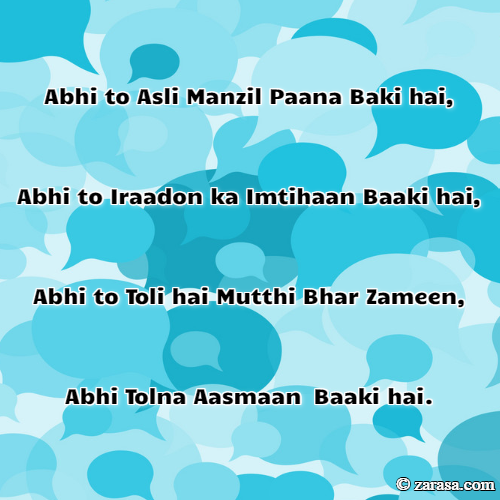 ---

अभी तो असली मंजिल पाना बाकी है,
अभी तो इरादों का इम्तिहान बाकी है,
अभी तो तोली है मुट्ठी भर जमीन,
अभी तोलना आसमान बाकी है।


---

ابھی تو اصلی منزل پانا باکی ہے
ابھی تو ارادو کا امتحاں باکی ہے
ابھی تو ٹولی ہے مٹھی بھر زمین
ابھی تولنا آسمان باکی ہے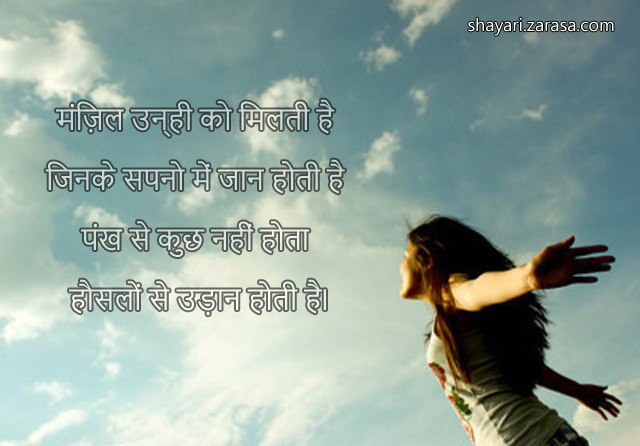 Manzil unhi ko milti hai
Jinke sapno me jaan hoti hai
Pankh se kuchh nahi hota
Hauslon se udaan hoti hai.







मंजिल उन्हीं को मिलती है
जिनके सपनो में जान होती है
पंख से कुछ नहीं होता
हौसलों से उड़ान होती है

منزل انہی کو ملتی ہے
جنکے سپنو مے جان ہوتی ہے
پنکھ سے کچھ نہیں ہوتا
حوصلوں سے ادان ہوتی ہے
---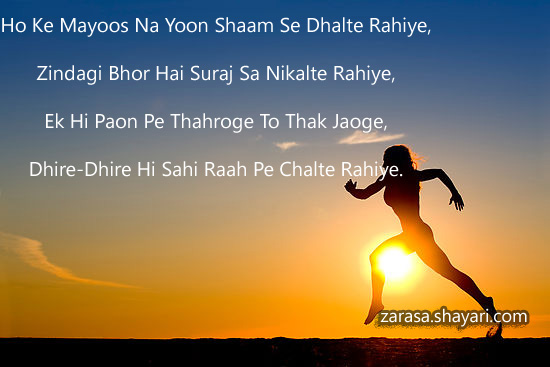 Ho Ke Mayoos Na Yoon Shaam Se Dhalte Rahiye,
Zindagi Bhor Hai Suraj Sa Nikalte Rahiye,
Ek Hi Paon Pe Thahroge To Thak Jaoge,
Dhire-Dhire Hi Sahi Raah Pe Chalte Rahiye.

 

 

हो  के  मायूस  न  यूं  शाम  से ढलते  रहिये ,
ज़िन्दगी  भोर  है  सूरज  सा  निकलते  रहिये ,
एक  ही पाऊँ  पे  ठहरोगे  तो थक  जाओगे,
धीरे -धीरे  ही  सही  राह  पे  चलते  रहिये ।
ہو کے مایوس نہ یوں شام سے ڈھلتے رہے
زندگی بھور ہے سورج سا نکلتے رہے
ایک ہی پاؤں پی ٹھہروگے تو تھک جاؤگے
دھرے -دھرے ہی سہی راہ پی چلتے رہے
---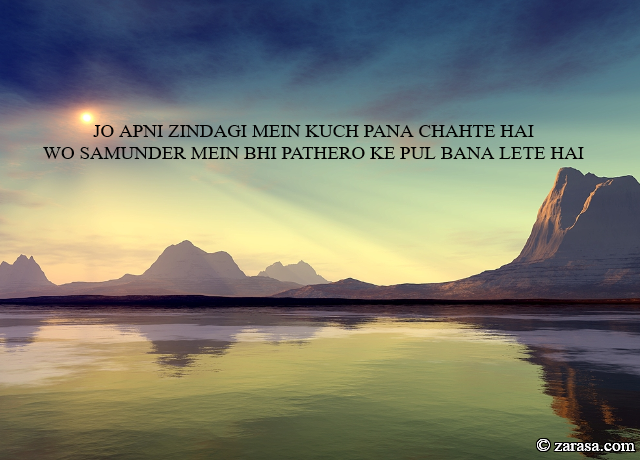 JO APNI ZINDAGI MEIN KUCH PANA CHAHTE HAI
WO SAMUNDER MEIN BHI PATHERO KE PUL BANA LETE HAI
जो अपनी में कुछ पाना चाहते है
वो समुन्दर में भी पथरो के पुल बना लेते है
جو اپنی زندگی میں کچھ پانا چاہتے ہے
وو سمندر میں بھی پتھرو کے پل بنا لیتے ہے
---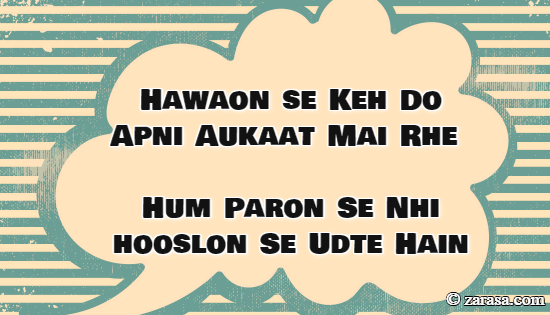 Hawaon se Keh Do Apni Aukaat Mai Rhe
Hum Paron Se Nhi hooslon Se Udte Hain.
हवाओं से कह दो अपनी औकात में रहे,
हम परों से नहीं हौसलों से उड़ते हैं |
ہواؤں سے کہدو اپنی اوکات می رہی
ہم پروں سے نہی حوصلوں سے اڑتے ہیں
---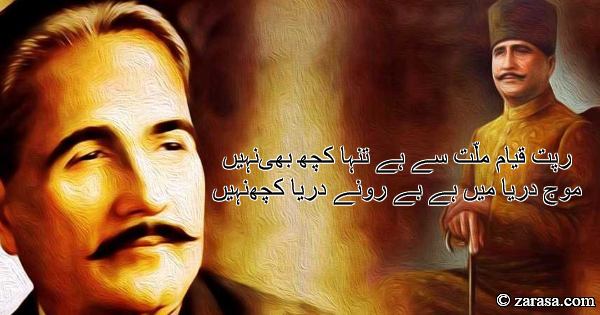 Rapt Qayam Millat se Hai, Tanha Kuchh Bhi Nahi
Moj Darya Mein Hai, Beroone Darya Kuchh Nahi.
रप्त क़ायम मिल्लत से है, तनहा कुछ भी नहीं
मौज दरया में है बेरूने दरया कुछ नहीं
رپت قیام ملّت سے ہے تنہا کچھ بھی نہیں
موج دریا میں ہے بے رونے دریا کچھ نہیں
---