Shayari for Speeches "Abhi to Asli Manzil Paana Baki hai"
|
Abhi to Asli Manzil Paana Baki hai,
Abhi to Iraadon ka Imtihaan Baaki hai,
Abhi to Toli hai Mutthi Bhar Zameen,
Abhi Tolna Aasmaan  Baaki hai.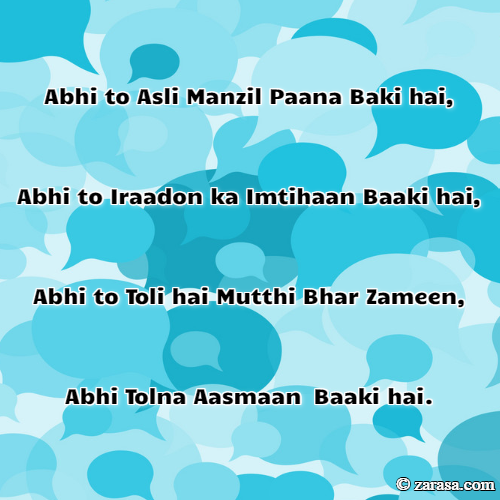 ---

अभी तो असली मंजिल पाना बाकी है,
अभी तो इरादों का इम्तिहान बाकी है,
अभी तो तोली है मुट्ठी भर जमीन,
अभी तोलना आसमान बाकी है।


---

ابھی تو اصلی منزل پانا باکی ہے
ابھی تو ارادو کا امتحاں باکی ہے
ابھی تو ٹولی ہے مٹھی بھر زمین
ابھی تولنا آسمان باکی ہے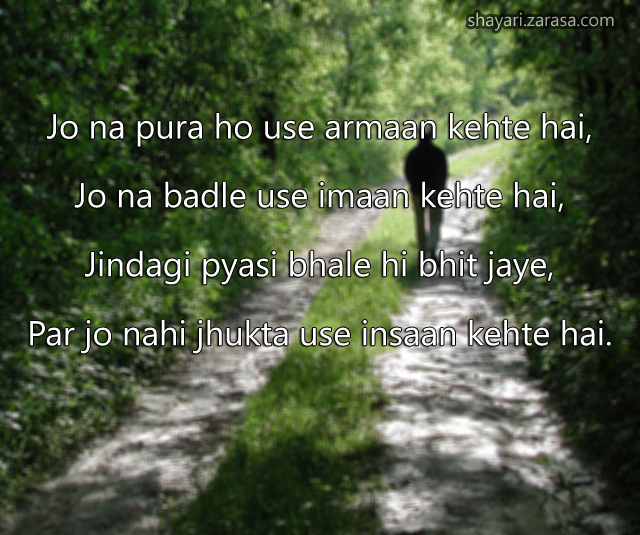 Jo na pura ho use armaan kehte hai,
Jo na badle use imaan kehte hai,
Zindagi pyasi bhale hi bhit jaye,
Par jo nahi jhukta use insaan kehte hai.






जो न पूरा हो उसे अरमाँ कहते है,
जो न बदले उसे ईमान कहते है,
जिंदगी प्यासी भले ही बीत जाये,
पर जो नहीं झुकता उसे इंसान कहते है.

جو  نہ  پورا  ہو اسے  ارمان  کہتے  ہے
جو  نہ  بدلے  اسے  امان کہتے  ہے
زندگی پیاسی  بھلے  ہی  بیت  جائے
پر  جو  نہیں  جھکتا  اسی  انسان  کہتے ہے
---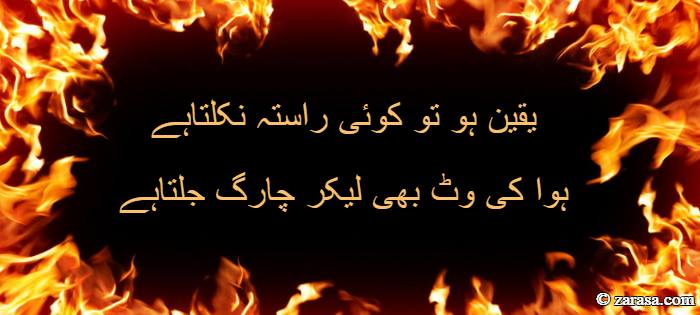 Yaqeen Ho To Koi Rasta Nikalta Hai,
Hawa Ki Ot Bhi Le Kar Charaag Jalta Hai.

यक़ीन हो तो कोई रास्ता निकलता है,
हवा की ओट भी ले कर चराग़ जलता है।
یقین ہو تو کوئی راستہ نکلتا ہے
ہوا کی وٹ بھی لیکر چارگ جلتا ہے
---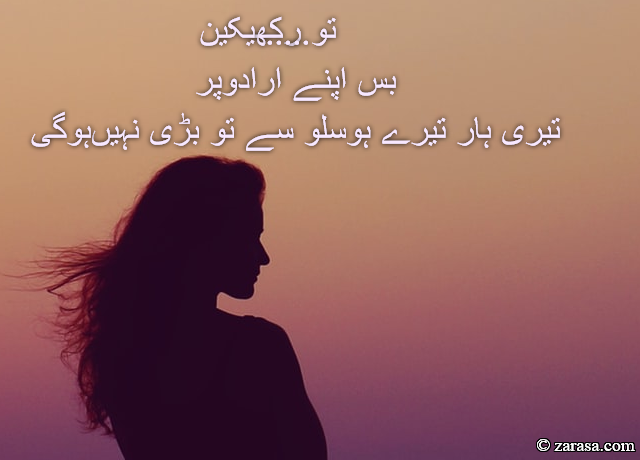 TU RAKH YAKEEN.........
BAS APNE IRADO PAR,
TERI HAR TERE HOSLE SE TO BADI NAHI HOGI
तू राख्न यकीन
बस अपने इरादों पर
तेरी हार तेरे हौसले से तो बड़ी नहीं होगी
تو رکھ یکین
بس اپنے ارادو پر ,
تیری ہر تیرے سے تو بدی نہیں ہوگی
---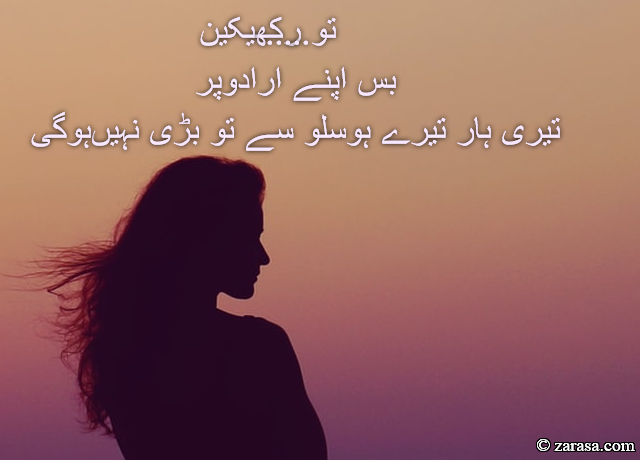 SHAAM SURAJ KO DHALNA SIKHATI HAI
SHAMA PERWANE KO JALNA SIKHATI HAI
GIRNE WALO KO HOTI TO HAI TAKLEEF PER,
THOKAR HI INSAN KO CHLNA SIKHATI HAI........
शाम सूरज को दहलना सिखाती है
शमा परवाने को जलना सिखाती है
गिरने वालो को होती तो है तकलीफ पर
ठोकर ही इंसान को चलना सिखाती है
شام سورج کو ڈھالنا سختی ہے
شمع پروانے کو جلنا سکھاتی ہے
گرنے والو کو ہوتی توہ ہے تکلیف پر
ٹھوکر ہی انسان کو چلنا سکھاتی ہے ......
---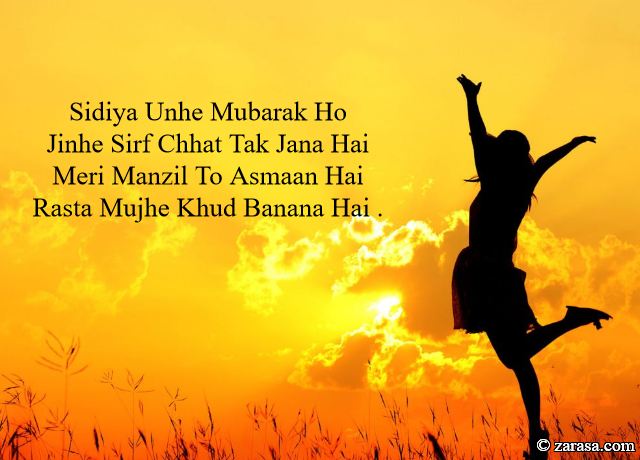 Sidiya Unhe Mubarak Ho
Jinhe Sirf Chhat Tak Jana Hai
Meri Manzil To Asmaan Hai
Rasta Mujhe Khud Banana Hai .
सिडिया उन्हें मुबारक हो
जिन्हे सिर्फ छत तक जाना है
मेरी मंज़िल तो आसमान है
रास्ता मुझे खुद बनाना है
صدیا انھ مبارک ہو
جنہے صرف چہت تک جانا ہے
میری منزل توه آسمان ہے
راستہ مجھے خود بنانا ہیں
---