MOTIVATION SHAYARI FOR STUDENTS"TU RAKH YAKEEN"
|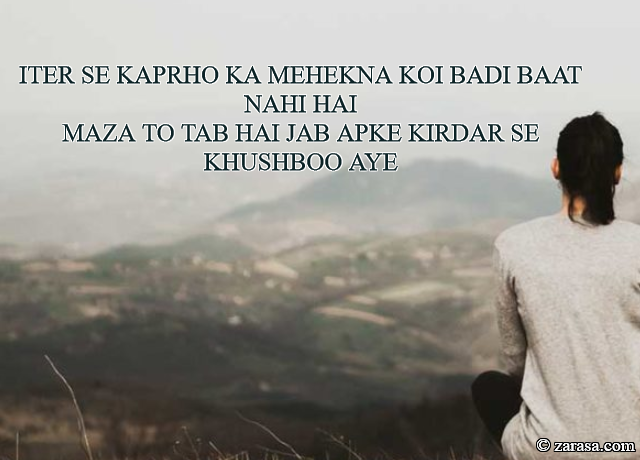 ITER SE KAPRHO KA MEHEKNA KOI BADI BAAT NAHI HAI
MAZA TO TAB HAI JAB APKE KIRDAR SE KHUSHBOO AYE
इतर से कपड़ो का मेहकना कोई बड़ी बात नहीं
मज़ा तो तब है जब आपके किरदार से खुशबू आए
اتر سے کپڑھو کا مہکنا کوئی باڈی بات نہیں ہے
مزہ تو تب ہے جب آپکے کردار سے خوشبو اے
---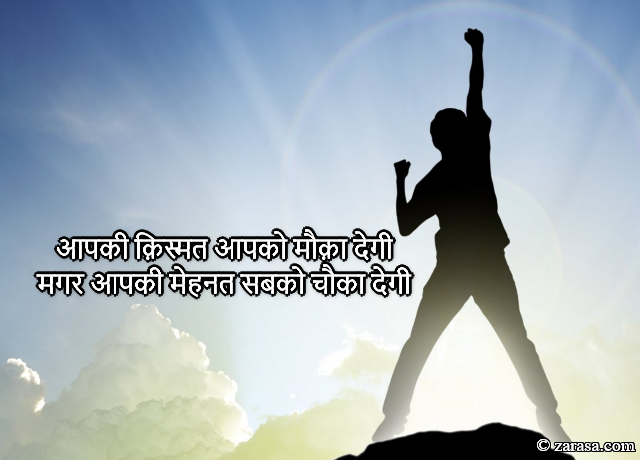 APKI KISMAT APKO MOQA DEGI
MAGER APKI MEHNAT SABKO CHOWKA DEGI
आपकी क़िस्मत आपको मौक़ा देगी
मगर आपकी मेहनत सबको चौका देगी
آپکی قسمت آپکو موقع دیگی
مگر آپکی محنت سبکو چوکا دیگی
---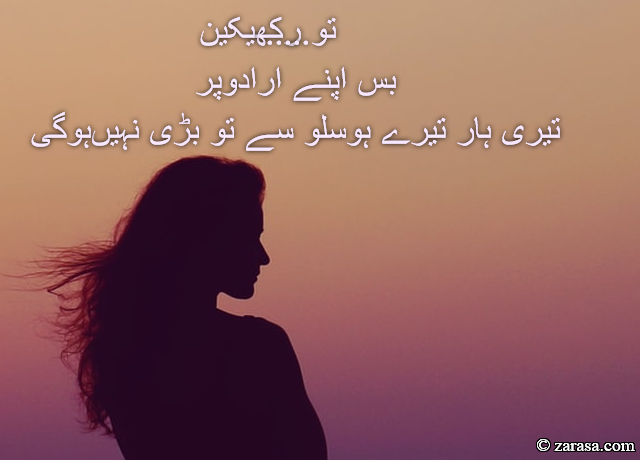 SHAAM SURAJ KO DHALNA SIKHATI HAI
SHAMA PERWANE KO JALNA SIKHATI HAI
GIRNE WALO KO HOTI TO HAI TAKLEEF PER,
THOKAR HI INSAN KO CHLNA SIKHATI HAI........
शाम सूरज को दहलना सिखाती है
शमा परवाने को जलना सिखाती है
गिरने वालो को होती तो है तकलीफ पर
ठोकर ही इंसान को चलना सिखाती है
شام سورج کو ڈھالنا سختی ہے
شمع پروانے کو جلنا سکھاتی ہے
گرنے والو کو ہوتی توہ ہے تکلیف پر
ٹھوکر ہی انسان کو چلنا سکھاتی ہے ......
---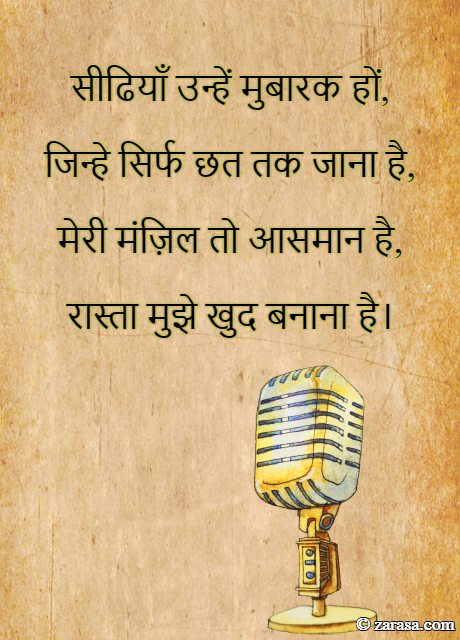 Sidiyan Unhe Mubarak Hon,
Jinhe Sirf Chhat Tak Jana Hai,
Meri Manzil To Aasmaan Hai,
Rasta Mujhe Khud Banana Hai.

सीढियाँ उन्हें मुबारक हों,
जिन्हे सिर्फ छत तक जाना है,
मेरी मंज़िल तो आसमान है,
रास्ता मुझे खुद बनाना है।
سیڈیاں انھ مبارک ہوں
جنھ صرف چھت تک جانا ہے
میری منزل تو آسمان ہے
راستا مجھے خود بنانا ہے
---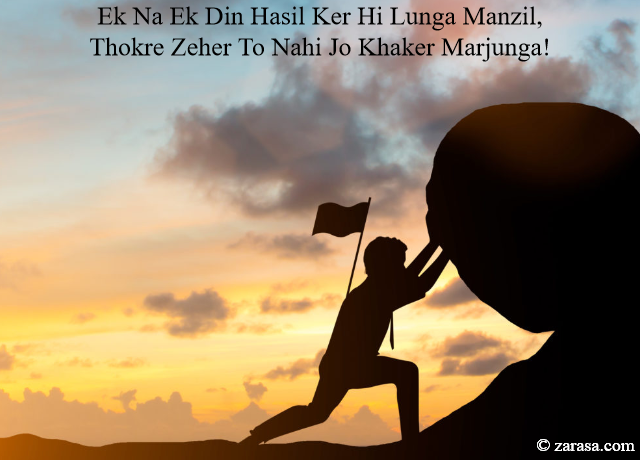 Ek Na Ek Din Hasil Ker Hi Lunga Manzil,
Thokre Zeher To Nahi Jo Khaker Marjunga!
एक न एक दिन हासिल कर ही लूंगा मंज़िल ,
ठोकरे ज़हर तो नहीं जो खाकर मेरजाऊँगा !
ایک نہ ایک دن حاصل کر ہی لونگا منزل ,
تھوکرے زہر تو نہیں جو کھاکر مرجاؤنگا !
---