MOTIVATION SHAYARI FOR STUDENTS"TU RAKH YAKEEN"
|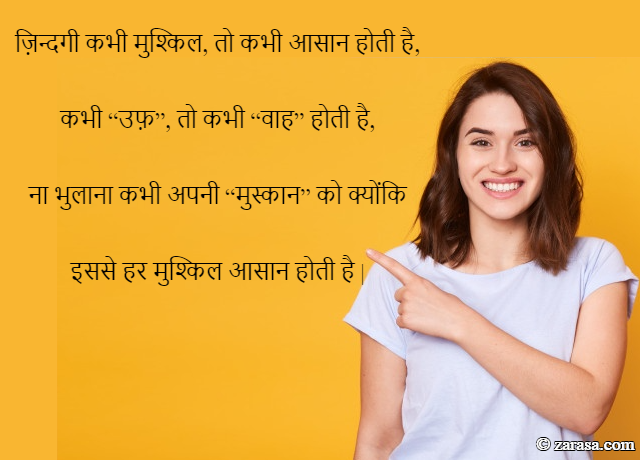 Zindagi Kabhi Mushkil, To Kabhi Aasaan Hoti Hai,
Kabhi "Uf", To Kabhi "Vaah" Hoti Hai,
Na Bhulaana Kabhi Apni "Muskaan" Ko Kyonki
Isse Har Mushkil Aasaan Hoti Hai .
ज़िन्दगी कभी मुश्किल, तो कभी आसान होती है,
कभी "उफ़", तो कभी "वाह" होती है,
ना भुलाना कभी अपनी "मुस्कान" को क्योंकि
इससे हर मुश्किल आसान होती है |
زندگی کبھی مشکل تو کبھی آسان ہوتی ہے
کبھی اف تو کبھی واہ ہوتی ہے
نہ بھلانا کبھی اپنی مسکان کو کیونکی
اسے ہر مشکل آسان ہوتی ہے
---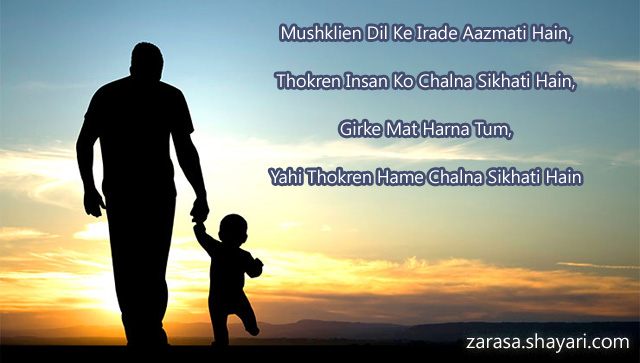 Mushklien Dil Ke Irade Aazmati Hain,
Thokren Insan Ko Chalna Sikhati Hain,
Girke Mat Harna Tum,
Yahi Thokren Hame Chalna Sikhati Hain





मुश्कलें दिल के इरादे आजमाती हैं,
ठोकरें इन्सान को चलना सिखाती हैं,
गिरके मत हारना तुम,
यही ठोकरें हमें चलना सिखाती है।
 مشکلیں دل کے ارادے آزماتی ہیں
ٹھوکریں انسان کو چلنا سختی ہیں
گرکے مت ہارنا تم
یہی ٹھوکریں ہمی چلنا سختی ہی
---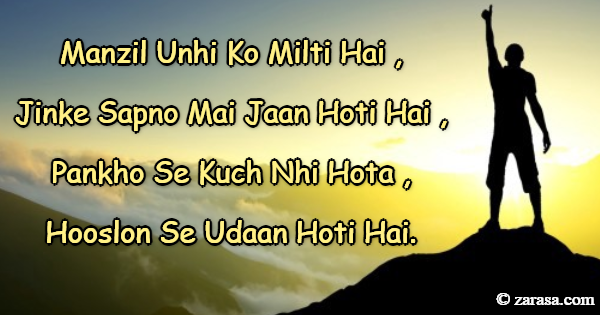 Manzil Unhi Ko Milti Hai ,
Jinke Sapno Mai Jaan Hoti Hai ,
Pankho Se Kuch Nhi Hota ,
Hooslon Se Udaan Hoti Hai.
मंजिल उन्हीं को मिलती है,
जिनके सपनों में जान होती है,
पंखों से कुछ नहीं होता,
हौसलों से उड़ान होती है |
منزل انہی کو ملتی ہے
جنکے سپنو می جان ہوتی ہے
پنکھو سے کچھ نہی ہوتا
حوصلوں سے وڈان ہوتی ہے
---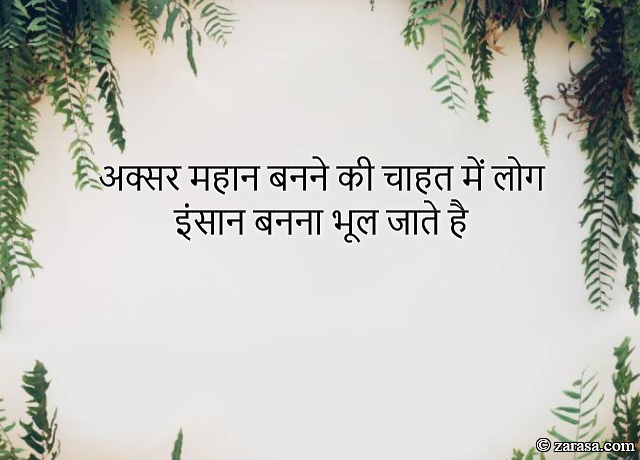 AKSER MAHAAN BANNNE KI CHAHAT
MEIN LOG INSAN BANNA BHUL JATE HAI
अक्सर महान बनने की चाहत में लोग
इंसान बनना भूल जाते है
اکثر مہان بننے کی چاہت میں لوگ
انسان بننا بھول جاتے ہے
---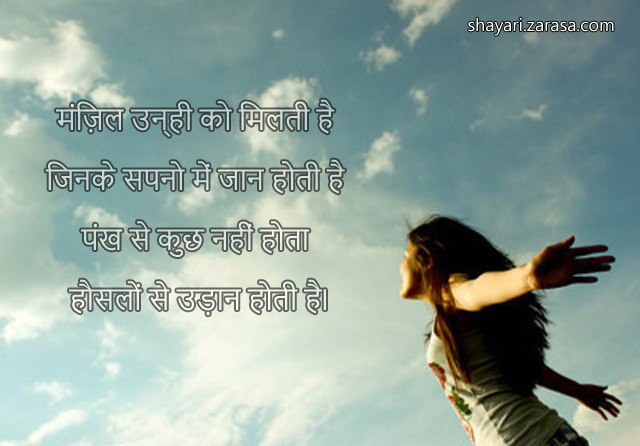 Manzil unhi ko milti hai
Jinke sapno me jaan hoti hai
Pankh se kuchh nahi hota
Hauslon se udaan hoti hai.







मंजिल उन्हीं को मिलती है
जिनके सपनो में जान होती है
पंख से कुछ नहीं होता
हौसलों से उड़ान होती है

منزل انہی کو ملتی ہے
جنکے سپنو مے جان ہوتی ہے
پنکھ سے کچھ نہیں ہوتا
حوصلوں سے ادان ہوتی ہے
---