(Motivation Shayari)"Sidiya Unhe Mubarak Ho"
|
Sidiya Unhe Mubarak Ho
Jinhe Sirf Chhat Tak Jana Hai
Meri Manzil To Asmaan Hai
Rasta Mujhe Khud Banana Hai .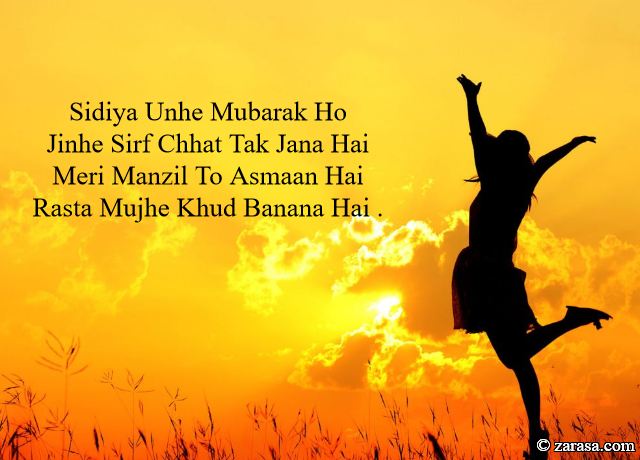 ---

सिडिया उन्हें मुबारक हो
जिन्हे सिर्फ छत तक जाना है
मेरी मंज़िल तो आसमान है
रास्ता मुझे खुद बनाना है


---

صدیا انھ مبارک ہو
جنہے صرف چہت تک جانا ہے
میری منزل توه آسمان ہے
راستہ مجھے خود بنانا ہیں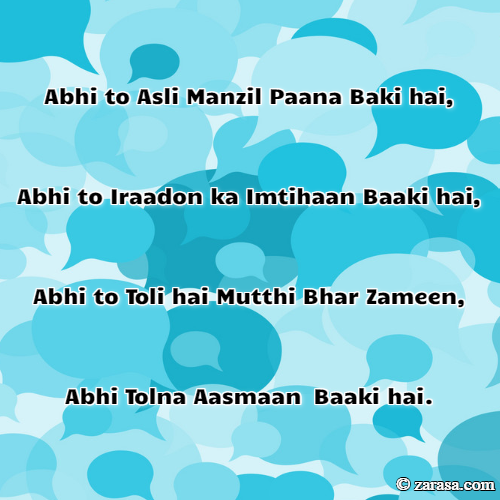 Abhi to Asli Manzil Paana Baki hai,
Abhi to Iraadon ka Imtihaan Baaki hai,
Abhi to Toli hai Mutthi Bhar Zameen,
Abhi Tolna Aasmaan  Baaki hai.
अभी तो असली मंजिल पाना बाकी है,
अभी तो इरादों का इम्तिहान बाकी है,
अभी तो तोली है मुट्ठी भर जमीन,
अभी तोलना आसमान बाकी है।
ابھی تو اصلی منزل پانا باکی ہے
ابھی تو ارادو کا امتحاں باکی ہے
ابھی تو ٹولی ہے مٹھی بھر زمین
ابھی تولنا آسمان باکی ہے
---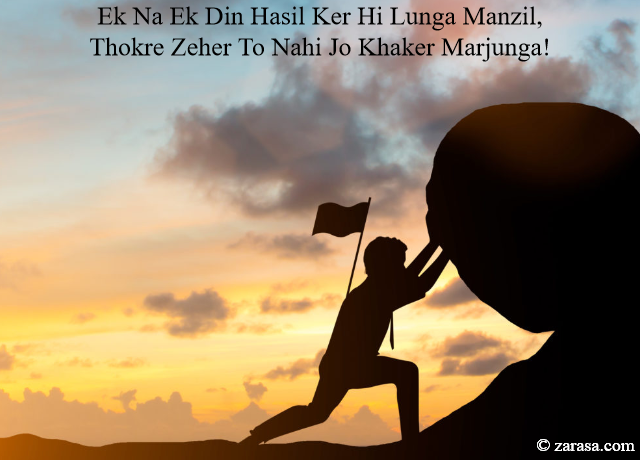 Ek Na Ek Din Hasil Ker Hi Lunga Manzil,
Thokre Zeher To Nahi Jo Khaker Marjunga!
एक न एक दिन हासिल कर ही लूंगा मंज़िल ,
ठोकरे ज़हर तो नहीं जो खाकर मेरजाऊँगा !
ایک نہ ایک دن حاصل کر ہی لونگا منزل ,
تھوکرے زہر تو نہیں جو کھاکر مرجاؤنگا !
---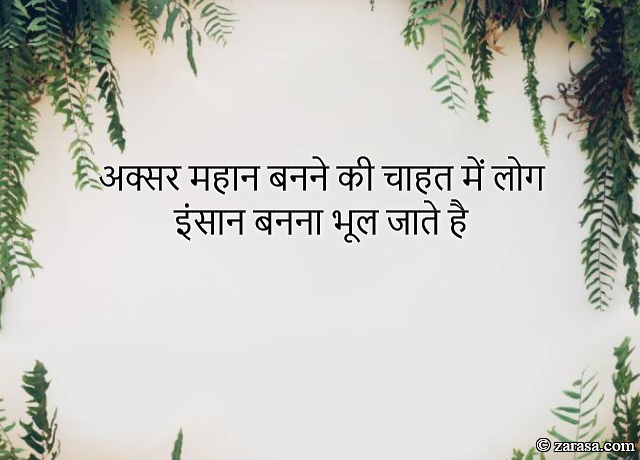 AKSER MAHAAN BANNNE KI CHAHAT
MEIN LOG INSAN BANNA BHUL JATE HAI
अक्सर महान बनने की चाहत में लोग
इंसान बनना भूल जाते है
اکثر مہان بننے کی چاہت میں لوگ
انسان بننا بھول جاتے ہے
---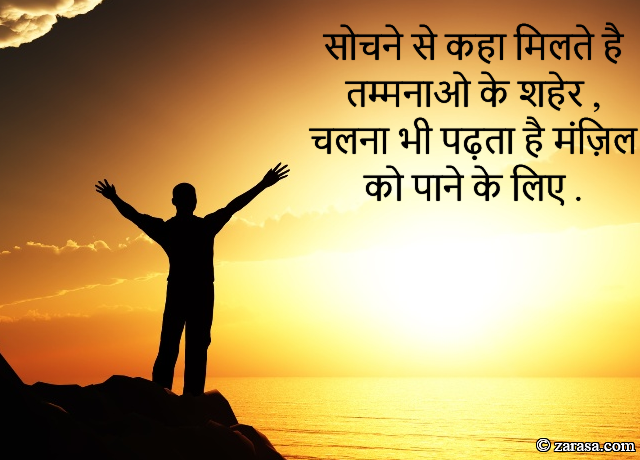 Sochne Se Kha Milte Hai Tamannao Ke Sheher,
Chalna Bhi Zaroori Hai Manzil Ko Pane Ke Liye.
सोचने से कहा मिलते है तम्मनाओ के शहेर ,
चलना भी पढ़ता है मंज़िल को पाने के लिए .
سوچنے سے کہا ملتے ہے تممناؤ کے شہر ,
چلنا بھی ضروری ہے منزل کو پانے کے لئے .
---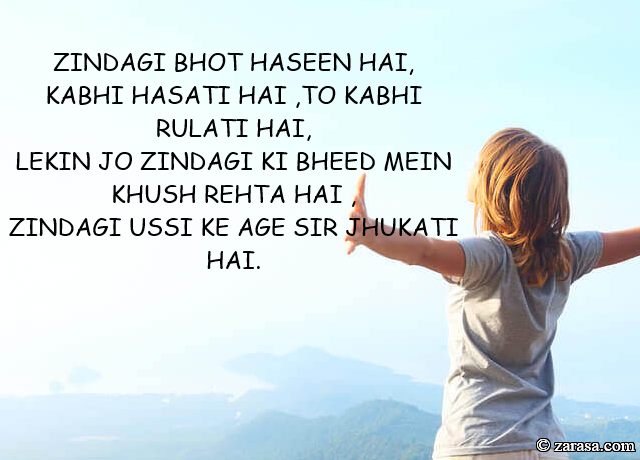 ZINDAGI BHOT HASEEN HAI,
HABHI HASTI HAI ,TO KABHI RULATI HAI,
LEKIN JO ZINDAGI KI BHEED MEIN KHUSH REHTA HAI ,
ZINDAGI USSI KE AGE SIR JHUKATI HAI.
ज़िन्दगी बोहोत हसींन है
कभी हसती है ,तोह कभी रुलाती है
लेकिन जो ज़िन्दगी की भीड़ में खुश रहता है
ज़िन्दगी उसी के आगे सर झुकाती है
زندگی بھوت حسین ہے -
کبھی ہستی ہے ,توہ کبھی رلاتی ہے -
لیکن جو زندگی کی بھیڈ میں خوش رہتاہ-
زندگی اسی کے اگے سر جھکاتی ہے -

---