(Motivation Shayari)"Sidiya Unhe Mubarak Ho"
|
Sidiya Unhe Mubarak Ho
Jinhe Sirf Chhat Tak Jana Hai
Meri Manzil To Asmaan Hai
Rasta Mujhe Khud Banana Hai .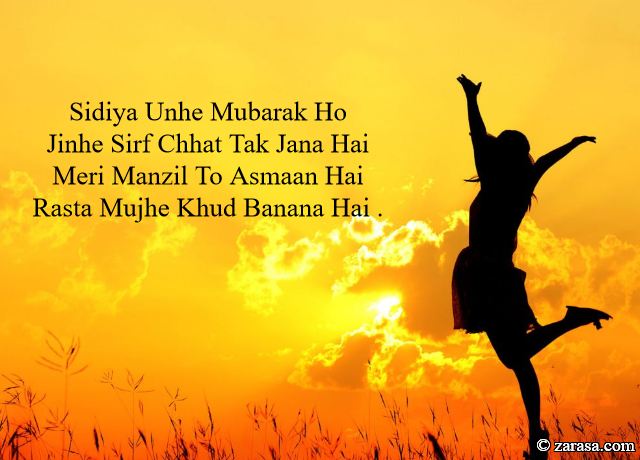 ---

सिडिया उन्हें मुबारक हो
जिन्हे सिर्फ छत तक जाना है
मेरी मंज़िल तो आसमान है
रास्ता मुझे खुद बनाना है


---

صدیا انھ مبارک ہو
جنہے صرف چہت تک جانا ہے
میری منزل توه آسمان ہے
راستہ مجھے خود بنانا ہیں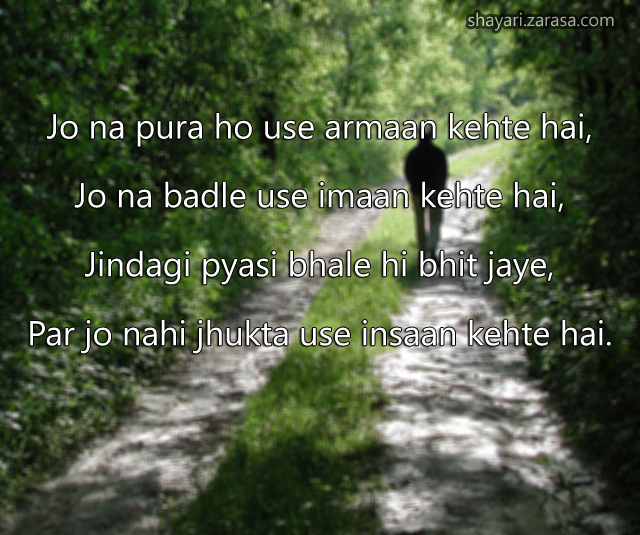 Jo na pura ho use armaan kehte hai,
Jo na badle use imaan kehte hai,
Zindagi pyasi bhale hi bhit jaye,
Par jo nahi jhukta use insaan kehte hai.






जो न पूरा हो उसे अरमाँ कहते है,
जो न बदले उसे ईमान कहते है,
जिंदगी प्यासी भले ही बीत जाये,
पर जो नहीं झुकता उसे इंसान कहते है.

جو  نہ  پورا  ہو اسے  ارمان  کہتے  ہے
جو  نہ  بدلے  اسے  امان کہتے  ہے
زندگی پیاسی  بھلے  ہی  بیت  جائے
پر  جو  نہیں  جھکتا  اسی  انسان  کہتے ہے
---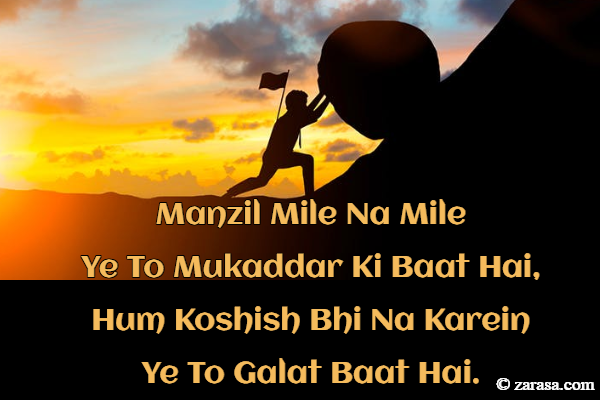 Manzil Mile Na Mile
Ye To Mukaddar Ki Baat Hai,
Hum Koshish Bhi Na Karein
Ye To Galat Baat Hai.

मंज़िल मिले न मिले
ये तो मुकद्दर की बात है,
हम कोशिश भी न करें
ये तो गलत बात है।
منزل میل نہ میل
یہ تو مقدار کی بات ہے
ہم کوشش بھی نہ کرے
یہ تو گلت بات ہے
---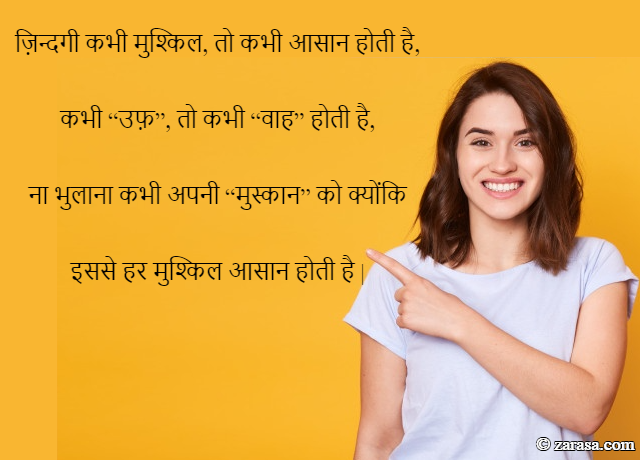 Zindagi Kabhi Mushkil, To Kabhi Aasaan Hoti Hai,
Kabhi "Uf", To Kabhi "Vaah" Hoti Hai,
Na Bhulaana Kabhi Apni "Muskaan" Ko Kyonki
Isse Har Mushkil Aasaan Hoti Hai .
ज़िन्दगी कभी मुश्किल, तो कभी आसान होती है,
कभी "उफ़", तो कभी "वाह" होती है,
ना भुलाना कभी अपनी "मुस्कान" को क्योंकि
इससे हर मुश्किल आसान होती है |
زندگی کبھی مشکل تو کبھی آسان ہوتی ہے
کبھی اف تو کبھی واہ ہوتی ہے
نہ بھلانا کبھی اپنی مسکان کو کیونکی
اسے ہر مشکل آسان ہوتی ہے
---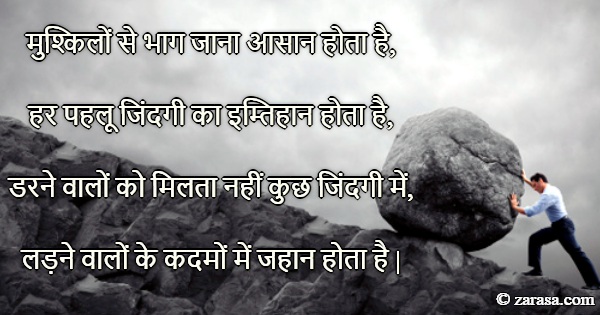 Mushkilon se Bhaag Jaana Aasan Hota Hai,
Har Pehlo Zindagi Ka Imtihaan Hota hai ,
Darne vaalon Ko Milta Nhi Kuch Zindagi Mai,
Ladne Vaalon Ke Kadmo Mai Jhan Hota Hai.
मुश्किलों से भाग जाना आसान होता है,
हर पहलू जिंदगी का इम्तिहान होता है,
डरने वालों को मिलता नहीं कुछ जिंदगी में,
लड़ने वालों के कदमों में जहान होता है |
مشکلوں سے بھاگ جانا آسان ہوتا ہے
ہر پہلو زندگی کا امتحاں ہوتا ہے
دارنے والو کو ملتا نہی کچھ زندگی می
لڑنے والو کے کدمو می جہاں ہوتا ہے
---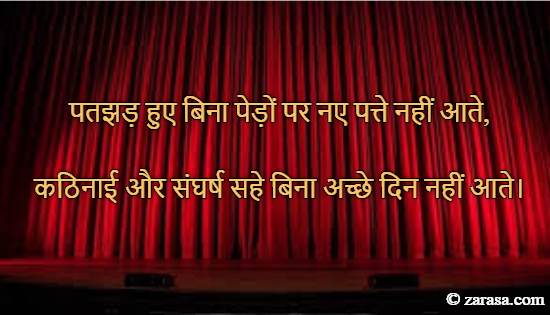 Patjhad Huye Bina Pedo Par Naye Patte Nahi Aate,
Kathinai Aur Sangharsh Sahe Bina Achhe Din Nahi Aate.

पतझड़ हुए बिना पेड़ों पर नए पत्ते नहीं आते,
कठिनाई और संघर्ष सहे बिना अच्छे दिन नहीं आते।
پتجہاڈ ہوئے بنا پیڈں پر نیے پتے نہی آتے
کٹھنائی اور سنگھرش سہی بنا اچھے دن نہیں آتے
---