Naseeb Shayari "Tera Na Milna"
|
Tera Na Milna Mera Naseeb Hi Sahi Lekin Ae Sanam.
Meri Qismat Mein Likha Hai Tujhe Toot Ke Chahna.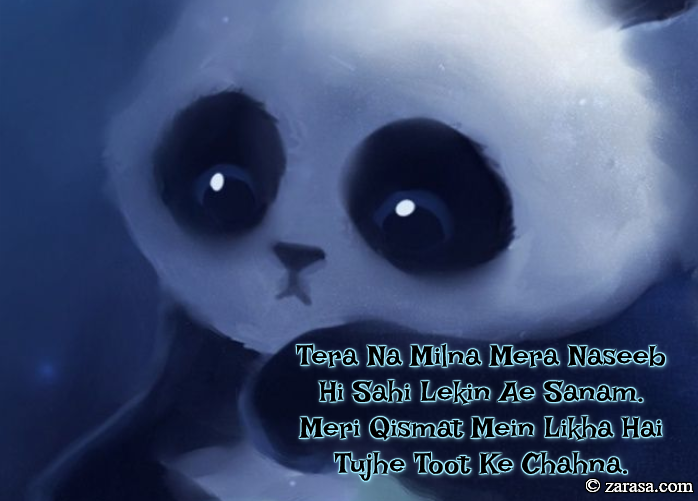 ---

तेरा ना मिलना मेरा नसीब ही सही लेकिन ऐ सनम .
मेरी क़िस्मत में लिखा है तुझे टूट के चाहना .


---

تیرا نہ ملنا میرا نصیب ہی سہی لیکن اے صنم .
میری قسمت میں لکھا ہے تجھے ٹوٹ کے چاہنا .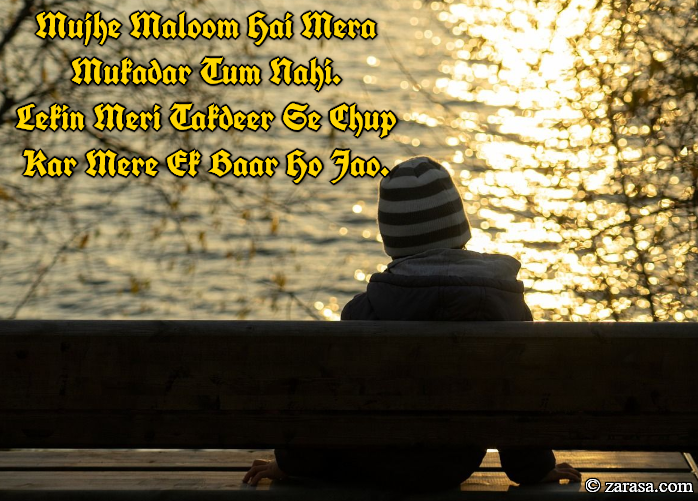 Mujhe Maloom Hai Mera Mukadar Tum Nahi.
Lekin Meri Takdeer Se Chup Kar Mere Ek Baar Ho Jao.
मुझे मालूम है मेरा मुकदर तुम नहीं .
लेकिन मेरी तकदीर से चुप कर मेरे एक बार हो जाओ .
مجھے معلوم ہے میرا مکدر تم نہیں .
لیکن میری تکدیر سے چپ کر میرے ایک بار ہو جاو .
---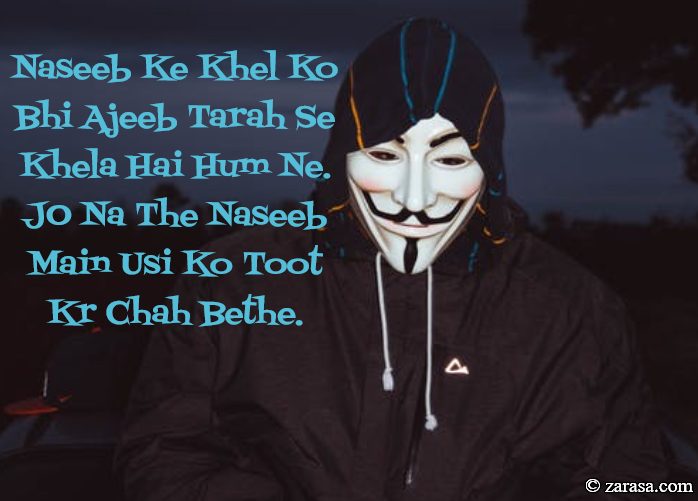 Naseeb Ke Khel Ko Bhi Ajeeb Tarah Se Khela Hai Hum Ne.
JO Na The Naseeb Main Usi Ko Toot Kr Chah Bethe.
नसीब के खेल को भी अजीब तरह से खेला है हम ने .
जो ना थे नसीब मैं उसी को टूट कर छह बैठे .
نسیب کے کھل کو بھی عجیب طرح سے کھلا ہے ہم نے .
جو نہ تھے نصیب میں اسی کو ٹوٹ کر چہ بیٹھے .
---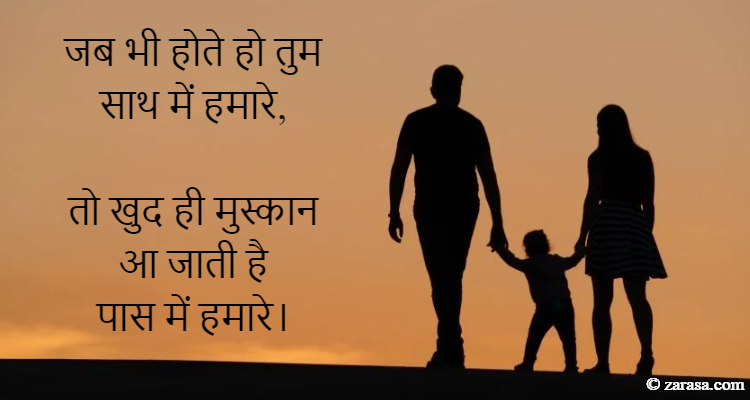 Jab Bhi Hote Ho Tum Saath Me Hamare,
To Khud Hi Muskan Aajati Hai Pass Me Hamare.
जब भी होते हो तुम साथ में हमारे,
तो खुद ही मुस्कान आ जाती है पास में हमारे।
جب بھی ہوتے ہو تم ساتھ مے ہمارے
تو خود ہی مسکن آجاتی ہے پاس مے ہمارے
---
Kon Kehta He Ke Aadmi Apni Kismat Khud Likhta Hai.
Agar Yeh Sach He To Kismat Mein Dard Kon Likta Hai?
कोण कहता हे के आदमी अपनी किस्मत खुद लिखता है .
अगर यह सच हे तो किस्मत में दर्द कोन लिकता है ?
کون کہتا ہے کے آدمی اپنی کسمت خود لکھتا ہے .
اگر یہ سچ ہے تو کسمت میں درد کون لکتا ہے ؟

---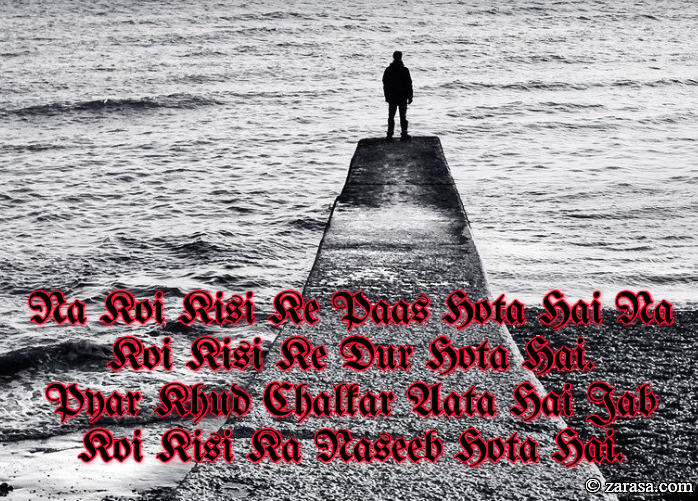 Na Koi Kisi Ke Paas Hota Hai Na Koi Kisi Ke Dur Hota Hai.
Pyar Khud Chalkar Aata Hai Jab Koi Kisi Ka Naseeb Hota Hai.
ना कोई किसी के पास होता है ना कोई किसी के दूर होता है .
प्यार खुद चलकर आता है जब कोई किसी का नसीब होता है .
نہ کوئی کسی کے پاس ہوتا ہے نہ کوئی کسی کے دور ہوتا ہے .
پیار خود چلکر آتا ہے جب کوئی کسی کا نصیب ہوتا ہے .
---