Naseeb Shayari "Tujhe Mila Nahi Humsa Koi"
|
Tujhe Mila Nahi Humsa Koi Humein Mila Nahi Tujhsa Koi.
Ye To Kismat Ki Baat Hai Ki Humari Nazar Me Is Kadar Basa Nahi Koi.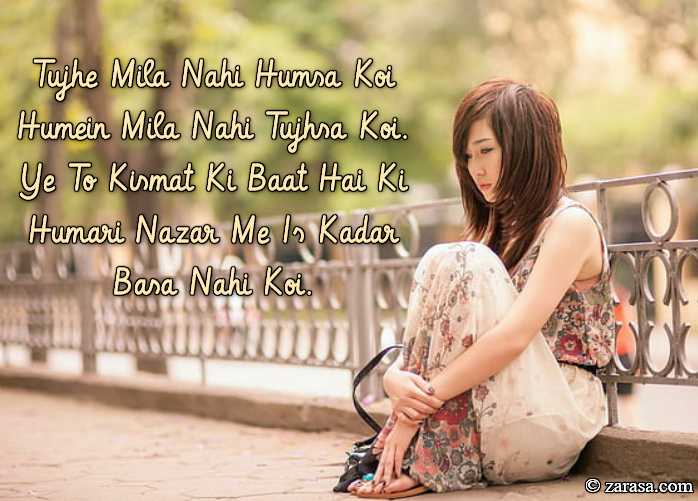 ---

तुझे मिला नहीं हमसा कोई हमें मिला नहीं तुझसे कोई .
ये तो किस्मत की बात है की हमारी नज़र में इस कदर बसा नहीं कोई .


---

تجھے ملا نہیں ہمس کوئی ہمیں ملا نہیں تجحسا کوئی .
یہ تو کسمت کی بات ہے کی ہماری نظر مے اس کدر بسا نہیں کوئی .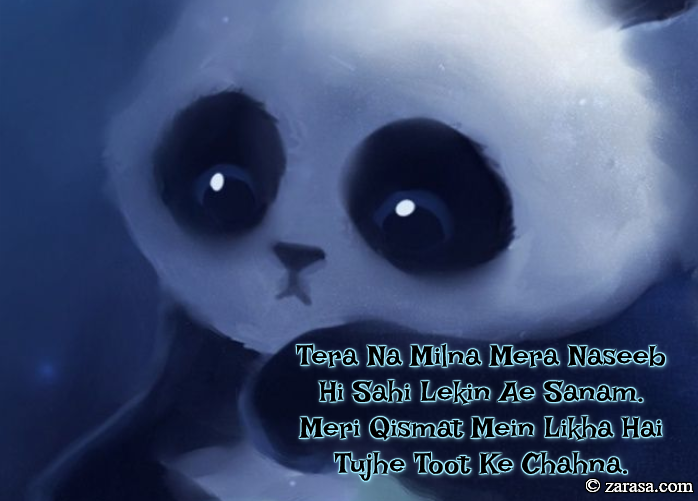 Tera Na Milna Mera Naseeb Hi Sahi Lekin Ae Sanam.
Meri Qismat Mein Likha Hai Tujhe Toot Ke Chahna.
तेरा ना मिलना मेरा नसीब ही सही लेकिन ऐ सनम .
मेरी क़िस्मत में लिखा है तुझे टूट के चाहना .
تیرا نہ ملنا میرا نصیب ہی سہی لیکن اے صنم .
میری قسمت میں لکھا ہے تجھے ٹوٹ کے چاہنا .
---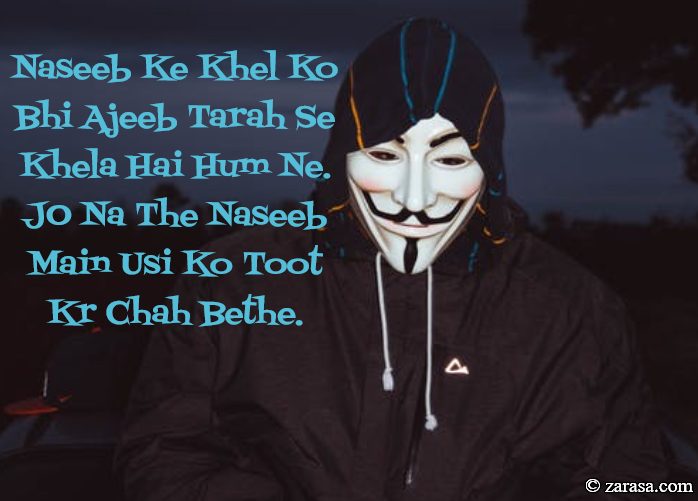 Naseeb Ke Khel Ko Bhi Ajeeb Tarah Se Khela Hai Hum Ne.
JO Na The Naseeb Main Usi Ko Toot Kr Chah Bethe.
नसीब के खेल को भी अजीब तरह से खेला है हम ने .
जो ना थे नसीब मैं उसी को टूट कर छह बैठे .
نسیب کے کھل کو بھی عجیب طرح سے کھلا ہے ہم نے .
جو نہ تھے نصیب میں اسی کو ٹوٹ کر چہ بیٹھے .
---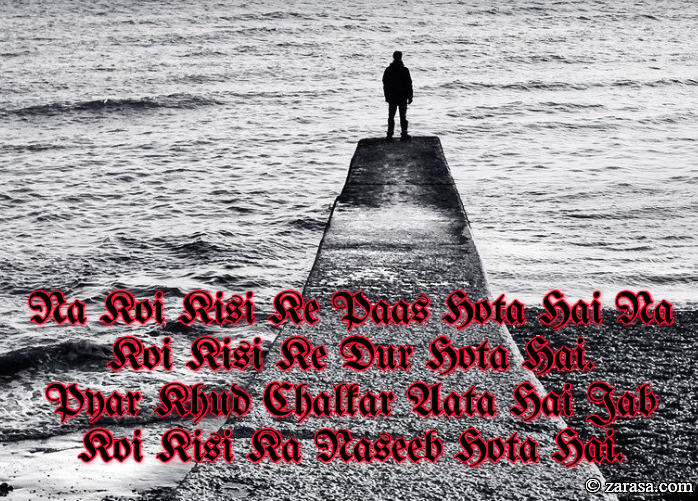 Na Koi Kisi Ke Paas Hota Hai Na Koi Kisi Ke Dur Hota Hai.
Pyar Khud Chalkar Aata Hai Jab Koi Kisi Ka Naseeb Hota Hai.
ना कोई किसी के पास होता है ना कोई किसी के दूर होता है .
प्यार खुद चलकर आता है जब कोई किसी का नसीब होता है .
نہ کوئی کسی کے پاس ہوتا ہے نہ کوئی کسی کے دور ہوتا ہے .
پیار خود چلکر آتا ہے جب کوئی کسی کا نصیب ہوتا ہے .
---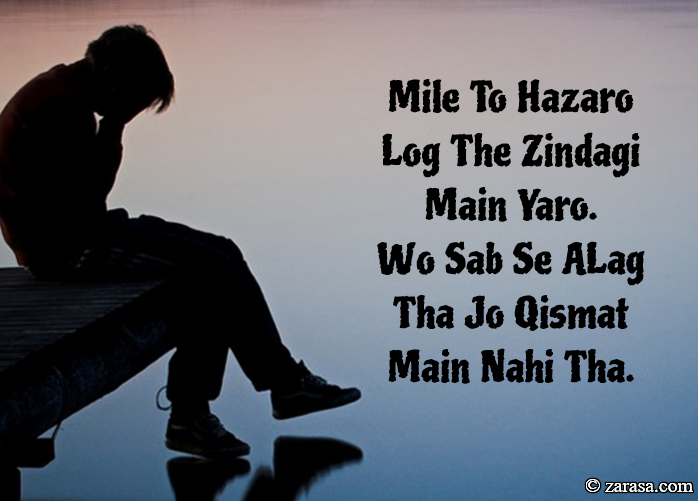 Mile To Hazaro Log The Zindagi Main Yaro.
Wo Sab Se ALag Tha Jo Qismat Main Nahi Tha.
मिले तो हज़ारो लोग थे ज़िन्दगी मैं यारो .
वो सब से अलग था जो किस्मत मैं नहीं था .
ملے تو ہزارو لوگ تھے زندگی میں یارو .
وو سب سے الگ تھا جو قسمت میں نہیں تھا .
---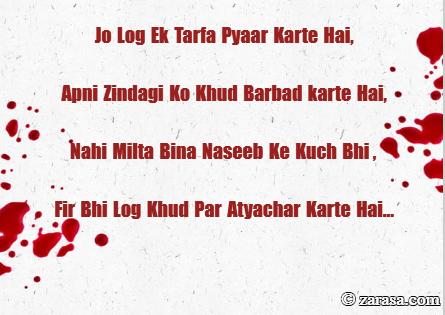 Jo Log Ek Tarfa Pyaar Karte Hai,
Apni Zindagi Ko Khud Barbad karte Hai,
Nahi Milta Bina Naseeb Ke Kuch Bhi ,
Fir Bhi Log Khud Par Atyachar Karte Hai...
जो लोग एक तरफा प्यार करते है,
अपनी ज़िन्दगी को खुद बर्बाद करते है,
नहीं मिलता बिना नसीब के कुछ भी,
फिर भी लोग खुद पर अत्याचार करते है..
جو لوگ ایک طرفہ پیار کرتے ہے
اپنی زندگی کو خود برباد کرتے ہے
نہیں ملتا بنا نصیب کے کچھ بھی
فر بھی لوگ خود پر اتیاچار کرتے ہے
---