Naseeb Shayari "Tujhe Mila Nahi Humsa Koi"
|
Tujhe Mila Nahi Humsa Koi Humein Mila Nahi Tujhsa Koi.
Ye To Kismat Ki Baat Hai Ki Humari Nazar Me Is Kadar Basa Nahi Koi.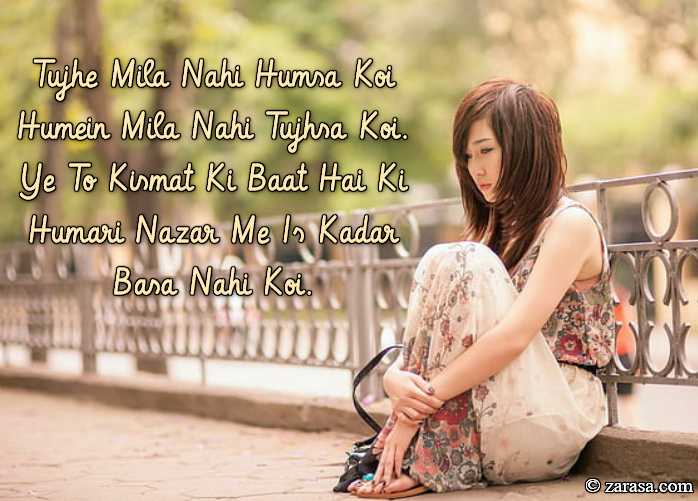 ---

तुझे मिला नहीं हमसा कोई हमें मिला नहीं तुझसे कोई .
ये तो किस्मत की बात है की हमारी नज़र में इस कदर बसा नहीं कोई .


---

تجھے ملا نہیں ہمس کوئی ہمیں ملا نہیں تجحسا کوئی .
یہ تو کسمت کی بات ہے کی ہماری نظر مے اس کدر بسا نہیں کوئی .


Kon Kehta He Ke Aadmi Apni Kismat Khud Likhta Hai.
Agar Yeh Sach He To Kismat Mein Dard Kon Likta Hai?
कोण कहता हे के आदमी अपनी किस्मत खुद लिखता है .
अगर यह सच हे तो किस्मत में दर्द कोन लिकता है ?
کون کہتا ہے کے آدمی اپنی کسمت خود لکھتا ہے .
اگر یہ سچ ہے تو کسمت میں درد کون لکتا ہے ؟

---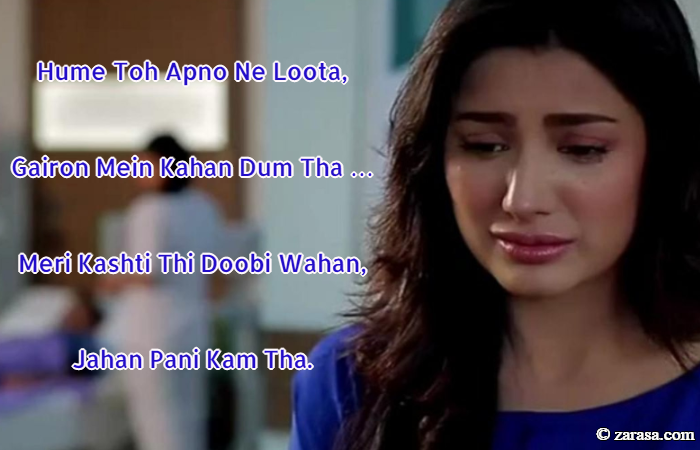 Hume Toh Apno Ne Loota,
Gairon Mein Kahan Dum Tha …
Meri Kashti Thi Doobi Wahan,
Jahan Pani Kam Tha.
हमे तोह अपनों ने लूटा ,
गैरों में कहाँ दम था।
मेरी कश्ती थी डूबी वहाँ ,
जहाँ पानी कम था।
ہمے ٹوہ اپنو نے لوٹا
گیروں می کہا دم تھا
میری کشتی تھی دوبی وہاں
جہاں پانی کم تھا
---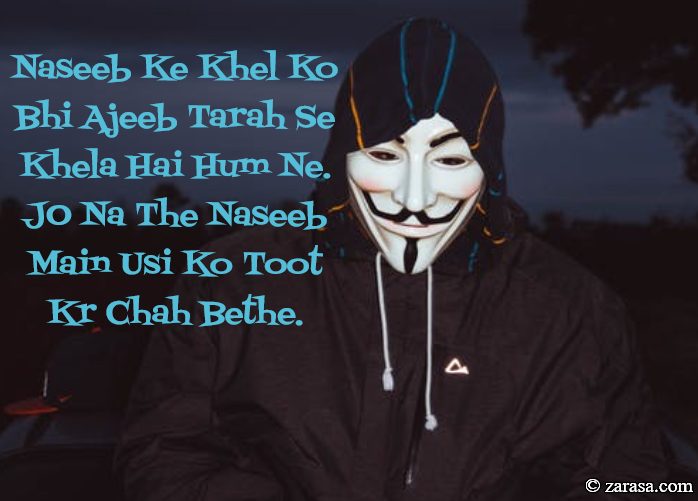 Naseeb Ke Khel Ko Bhi Ajeeb Tarah Se Khela Hai Hum Ne.
JO Na The Naseeb Main Usi Ko Toot Kr Chah Bethe.
नसीब के खेल को भी अजीब तरह से खेला है हम ने .
जो ना थे नसीब मैं उसी को टूट कर छह बैठे .
نسیب کے کھل کو بھی عجیب طرح سے کھلا ہے ہم نے .
جو نہ تھے نصیب میں اسی کو ٹوٹ کر چہ بیٹھے .
---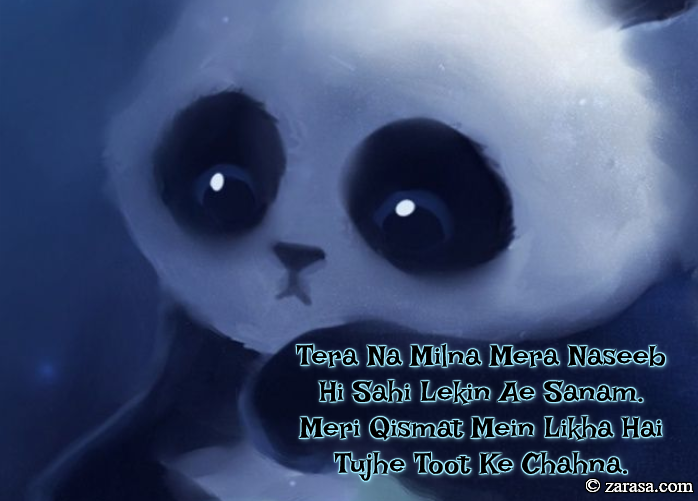 Tera Na Milna Mera Naseeb Hi Sahi Lekin Ae Sanam.
Meri Qismat Mein Likha Hai Tujhe Toot Ke Chahna.
तेरा ना मिलना मेरा नसीब ही सही लेकिन ऐ सनम .
मेरी क़िस्मत में लिखा है तुझे टूट के चाहना .
تیرا نہ ملنا میرا نصیب ہی سہی لیکن اے صنم .
میری قسمت میں لکھا ہے تجھے ٹوٹ کے چاہنا .
---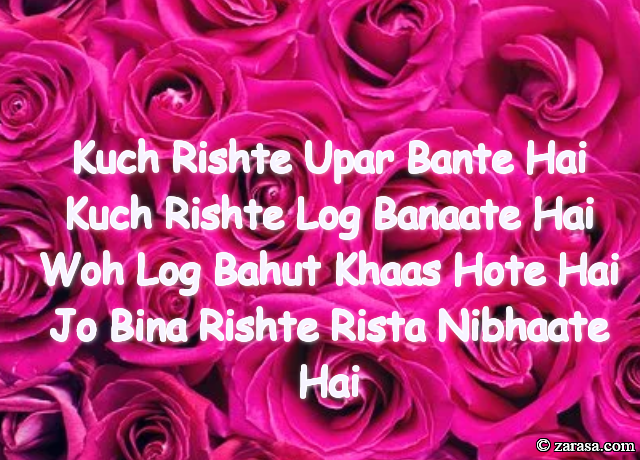 Kuch Rishte Upar Bante Hai
Kuch Rishte Log Banaate Hai
Woh Log Bahut Khaas Hote Hai
Jo Bina Rishte Rishta Nibhaate Hai
कुछ रिश्ते ऊपर बनते है
कुछ रिश्ते लोग बनाते है
वह लोग बहुत ख़ास होते है
जो बिना रिश्ते रिस्ता निभाते है
کچھ رشتے اپر بنتے ہے
کچھ رشتے لوگ بناتے ہے
وہ لوگ بہت خاص ہوتے ہے
جو بنا رشتے رستہ نبھاتے ہے
---