Naseeb Shayari "Tujhe Mila Nahi Humsa Koi"
|
Tujhe Mila Nahi Humsa Koi Humein Mila Nahi Tujhsa Koi.
Ye To Kismat Ki Baat Hai Ki Humari Nazar Me Is Kadar Basa Nahi Koi.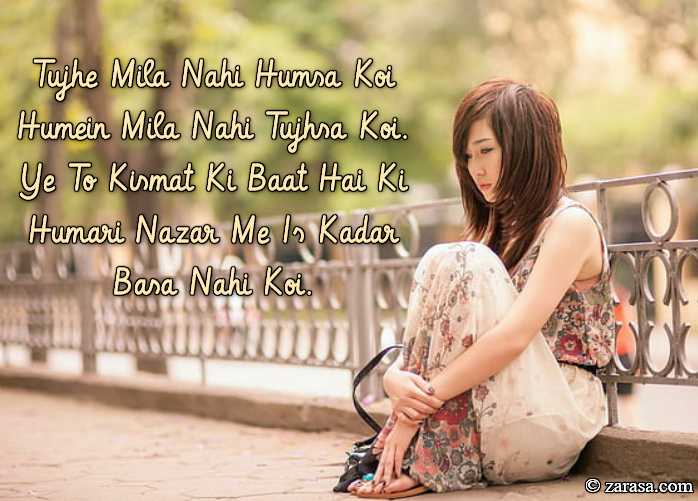 ---

तुझे मिला नहीं हमसा कोई हमें मिला नहीं तुझसे कोई .
ये तो किस्मत की बात है की हमारी नज़र में इस कदर बसा नहीं कोई .


---

تجھے ملا نہیں ہمس کوئی ہمیں ملا نہیں تجحسا کوئی .
یہ تو کسمت کی بات ہے کی ہماری نظر مے اس کدر بسا نہیں کوئی .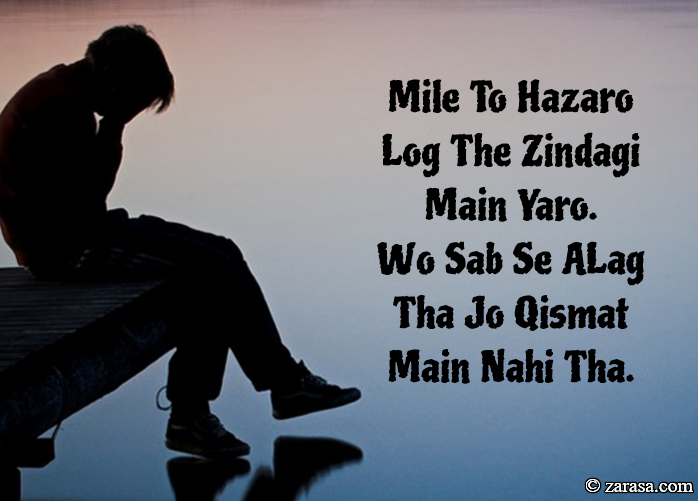 Mile To Hazaro Log The Zindagi Main Yaro.
Wo Sab Se ALag Tha Jo Qismat Main Nahi Tha.
मिले तो हज़ारो लोग थे ज़िन्दगी मैं यारो .
वो सब से अलग था जो किस्मत मैं नहीं था .
ملے تو ہزارو لوگ تھے زندگی میں یارو .
وو سب سے الگ تھا جو قسمت میں نہیں تھا .
---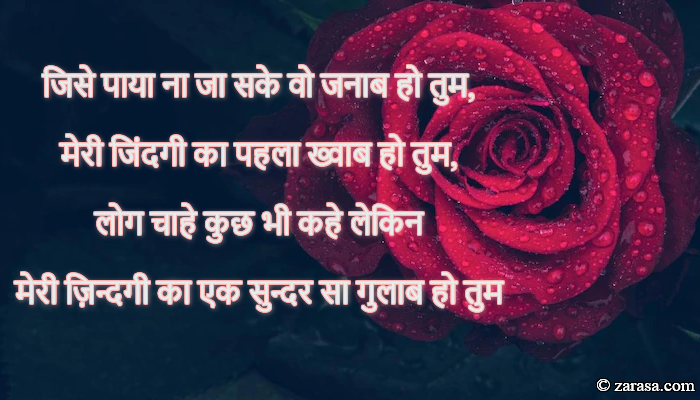 Jise Paya Na ja Sake Vo Janab Ho Tum,
Meri Zindagi Ka Pehla Khwab Ho Tum,
Log Chahe Kuch Bhi Kahe Lekin
Meri Zindagi Ka Ek Sundar sa Gulab Ho Tum.
जिसे पाया ना जा सके वो जनाब हो तुम,
मेरी जिंदगी का पहला ख्वाब हो तुम,
लोग चाहे कुछ भी कहे लेकिन
मेरी ज़िन्दगी का एक सुन्दर सा गुलाब हो तुम |

جسے پایا نہ جا سکے وو جناب ہو تم
میری زندگی کا پہلا خواب ہو تم
لوگ چاہے کچھ بھی کہے لیکن
میری زندگی کا ایک سندر سا گلاب ہو تم
---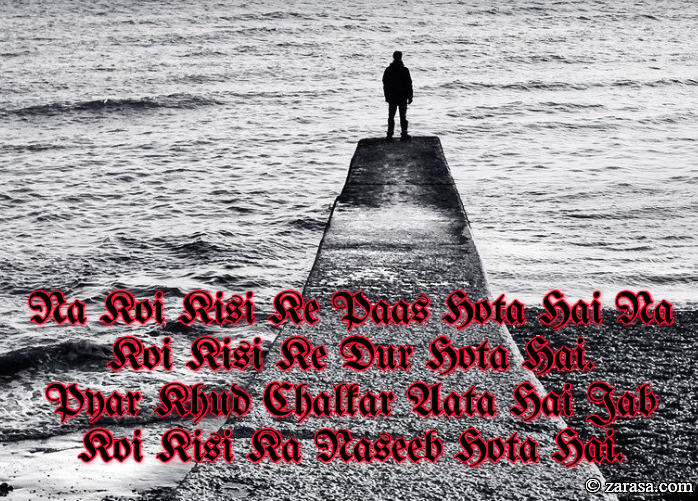 Na Koi Kisi Ke Paas Hota Hai Na Koi Kisi Ke Dur Hota Hai.
Pyar Khud Chalkar Aata Hai Jab Koi Kisi Ka Naseeb Hota Hai.
ना कोई किसी के पास होता है ना कोई किसी के दूर होता है .
प्यार खुद चलकर आता है जब कोई किसी का नसीब होता है .
نہ کوئی کسی کے پاس ہوتا ہے نہ کوئی کسی کے دور ہوتا ہے .
پیار خود چلکر آتا ہے جب کوئی کسی کا نصیب ہوتا ہے .
---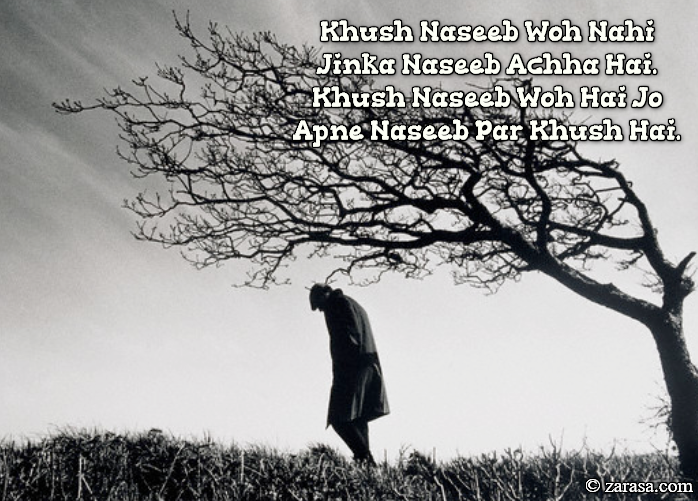 Khush Naseeb Woh Nahi Jinka Naseeb Achha Hai.
Khush Naseeb Woh Hai Jo Apne Naseeb Par Khush Hai.
खुश नसीब वह नहीं जिनका नसीब अच्छा है .
खुश नसीब वह है जो अपने नसीब पर खुश है .
خوش نصیب وہ نہیں جنکا نصیب اچھا ہے .
خوش نصیب وہ ہے جو اپنے نصیب پر خوش ہے .
---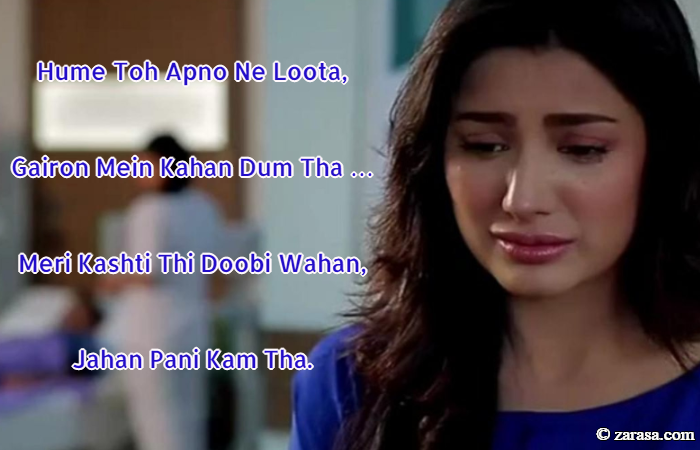 Hume Toh Apno Ne Loota,
Gairon Mein Kahan Dum Tha …
Meri Kashti Thi Doobi Wahan,
Jahan Pani Kam Tha.
हमे तोह अपनों ने लूटा ,
गैरों में कहाँ दम था।
मेरी कश्ती थी डूबी वहाँ ,
जहाँ पानी कम था।
ہمے ٹوہ اپنو نے لوٹا
گیروں می کہا دم تھا
میری کشتی تھی دوبی وہاں
جہاں پانی کم تھا
---