Patthar Shayari "Patthar Ho Hi Nahi Sakta"
|
Tumhara Dil Mere Dilo Ke Barabar Ho Hi Nahi Sakta.
Woh Sheesha Ho Hi Nahi Sakta Yeh Patthar Ho Hi Nahi Sakta.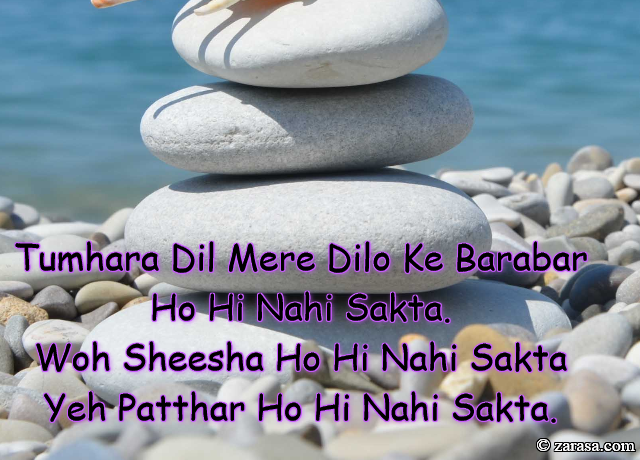 ---

तुम्हारा दिल मेरे दिलो के बराबर हो ही नहीं सकता .
वह शीशा हो ही नहीं सकता यह पत्थर हो ही नहीं सकता .



---

تمہارا دل میرے دلو کے برابر ہو ہی نہیں سکتا .
وہ شیشا ہو ہی نہیں سکتا یہ پتھر ہو ہی نہیں سکتا .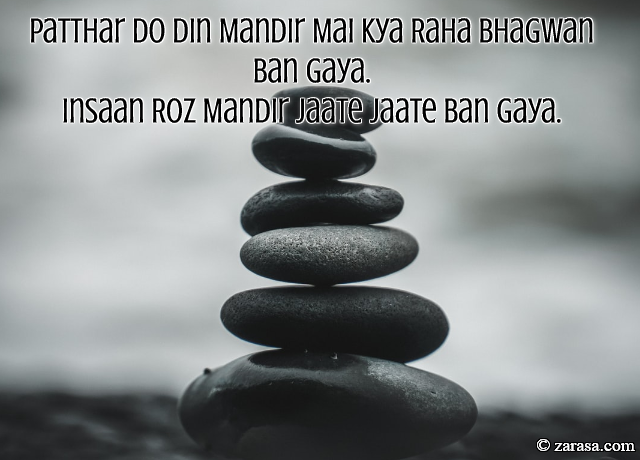 Patthar Do Din Mandir Mai Kya Raha Bhagwan Ban Gaya.
Insaan Roz Mandir Jaate Jaate Ban Gaya.
पत्थर दो दिन मंदिर मई क्या रहा भगवन बन गया .
इंसान रोज़ मंदिर जाते जाते बन गया .
پتھر دو دن مندر می کیا رہا بھگوان بن گیا .
انسان روز مندر جاتے جاتے بن گیا .
---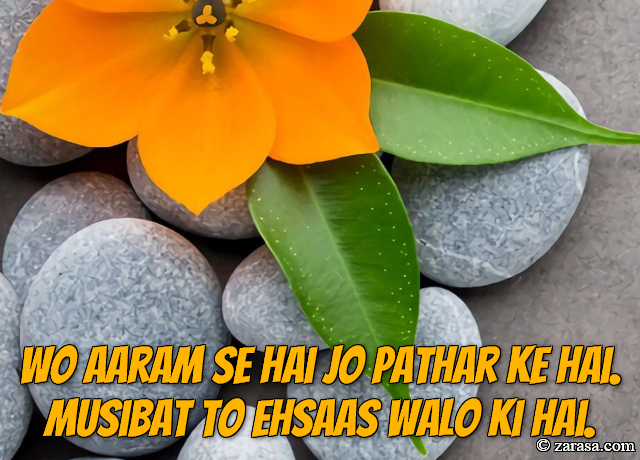 Wo Aaram Se Hai Jo Pathar Ke Hai.
Musibat To Ehsaas Walo Ki Hai.
वो आराम से है जो पत्थर के है .
मुसीबत तो एहसास वालो की है .
وو آرام سے ہے جو پتھر کے ہے .
مثبت تو احساس والو کی ہے .
---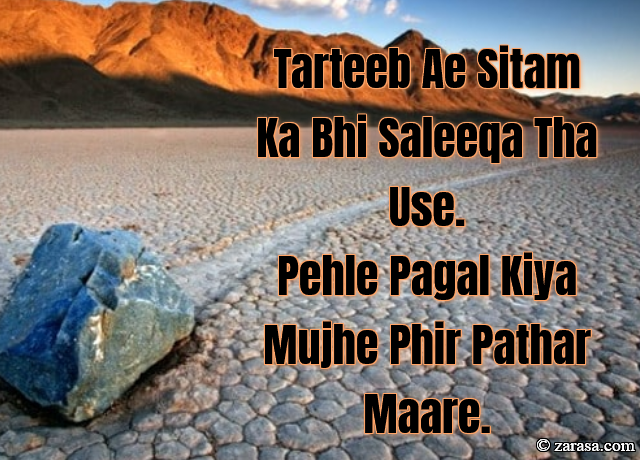 Tarteeb Ae Sitam Ka Bhi Saleeqa Tha Use.
Pehle Pagal Kiya Mujhe Phir Pathar Maare.
तरतीब ऐ सितम का भी सलीक़ा था उसे .
पहले पागल किया मुझे फिर पत्थर मारे .
ترتیب اے ستم کا بھی سلیقہ تھا اسے .
پہلے پاگل کیا مجھے پھر پتھر مارے .
---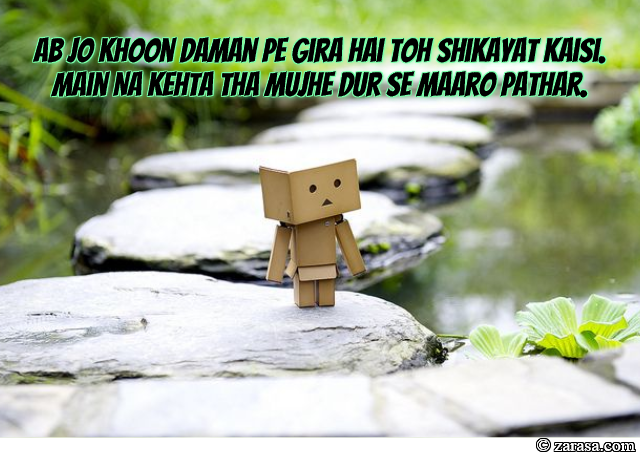 Ab Jo Khoon Daman Pe Gira Hai Toh Shikayat Kaisi.
Main Na Kehta Tha Mujhe Dur Se Maaro Pathar.
अब जो ख़ून दमन पे गिरा है तोह शिकायत कैसी .
मैं न कहता था मुझे दूर से मारो पत्थर .

اب جو خون دامن پی گرا ہے ٹوہ شکایات کیسی .
میں نہ کہتا تھا مجھے دور سے مارو پتھر .

---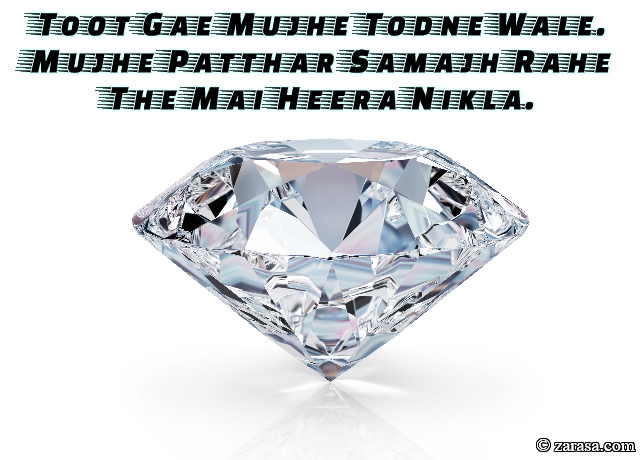 Toot Gae Mujhe Todne Wale.
Mujhe Patthar Samajh Rahe The Mai Heera Nikla.
टूट गए मुझे तोड़ने वाले .
मुझे पत्थर समझ रहे थे मै हीरा निकला .
ٹوٹ گے مجھے توڑنے والے .
مجھے پتھر سمجھ رہے تھے می ہیرا نکلا .
---