Patthar Shayari "Patthar Nahi Janab Dil Hai Mera"
|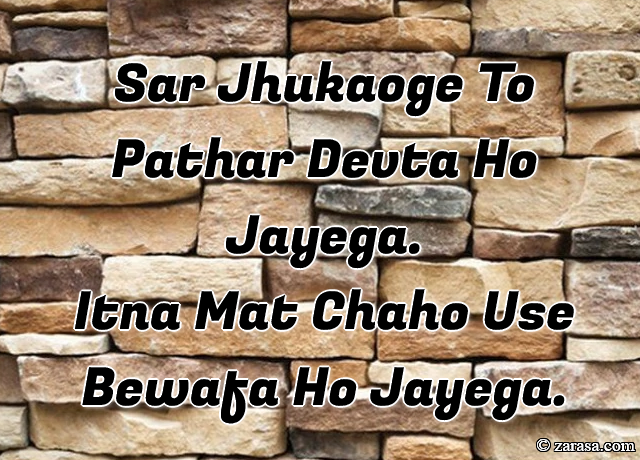 Sar Jhukaoge To Pathar Devta Ho Jayega.
Itna Mat Chaho Use Bewafa Ho Jayega.
सर झुकाओगे तो पत्थर देवता हो जायेगा .
इतना मत चाहो उसे बेवफा हो जायेगा .

سر جھکاؤگے تو پتھر دیوتا ہو جاےگا .
اتنا مت چاہو اسے بیوفا ہو جاےگا .

---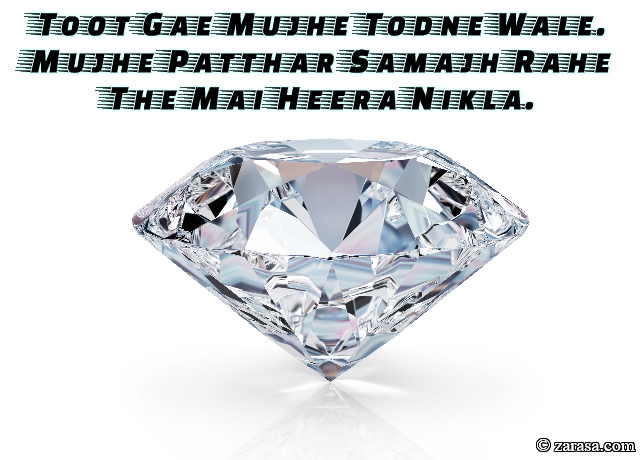 Toot Gae Mujhe Todne Wale.
Mujhe Patthar Samajh Rahe The Mai Heera Nikla.
टूट गए मुझे तोड़ने वाले .
मुझे पत्थर समझ रहे थे मै हीरा निकला .
ٹوٹ گے مجھے توڑنے والے .
مجھے پتھر سمجھ رہے تھے می ہیرا نکلا .
---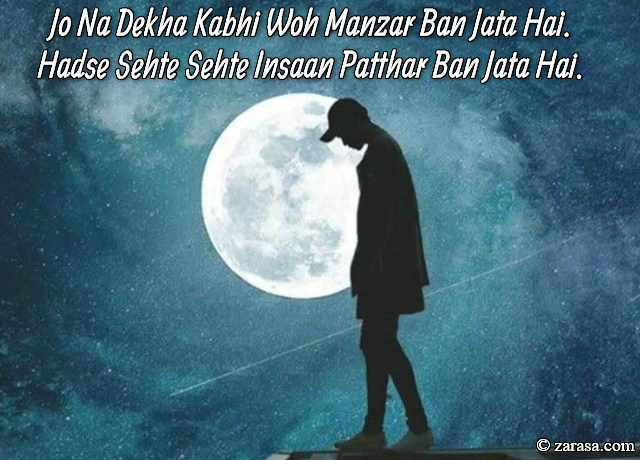 Jo Na Dekha Kabhi Woh Manzar Ban Jata Hai.
Hadse Sehte Sehte Insaan Patthar Ban Jata Hai.

जो न देखा कभी वह मंज़र बन जाता है .
हादसे सहते सहते इंसान पत्थर बन जाता है .

جو نہ دیکھا کبھی وہ منظر بن جاتا ہے .
حادثے سہتے سہتے انسان پتّھر بن جاتا ہے .
---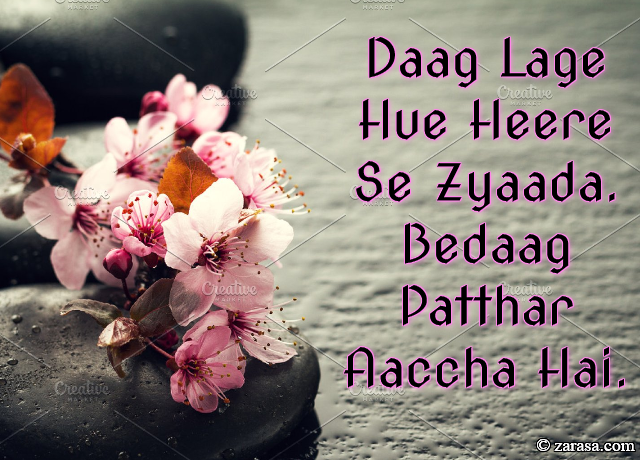 Daag Lage Hue Heere Se Zyaada.
Bedaag Patthar Aaccha Hai.
दाग़ लगे हुए हीरे से ज़्यादा .
बेदाग़ पत्थर अच्छा है .
ڈاگ لگے ہوئے ہیرے سے زیادہ .
بیداگ پتھر آکچھا ہے .
---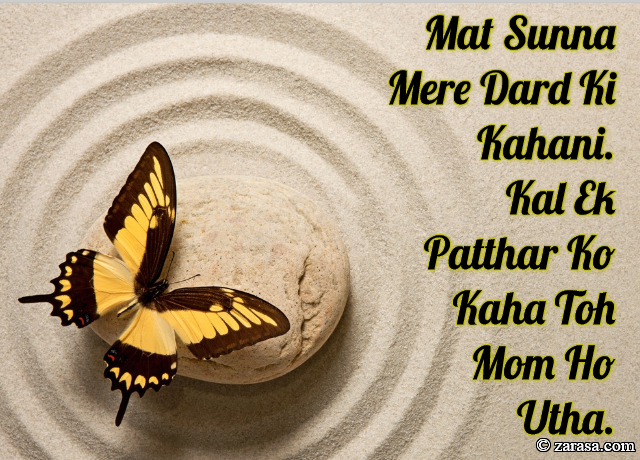 Mat Sunna Mere Dard Ki Kahani.
Kal Ek Patthar Ko Kaha Toh Mom Ho Utha.
मत सुन्ना मेरे दर्द की कहानी .
कल एक पत्थर को कहा तो माँ हो उठा .

مت سننا میرے درد کی کہانی .
کل ایک پتھر کو کہا تو موم ہو اٹھا .

---