Patthar Shayari "Patthar Par Piskar Hi Henna Sada Rang Laai"
|
Mohabbat Ki Khubsurti Ki Wajah Hi Tanhai Hi Toh Tanhai Hai.
Ki Patthar Par Piskar Hi Henna Sada Rang Laai.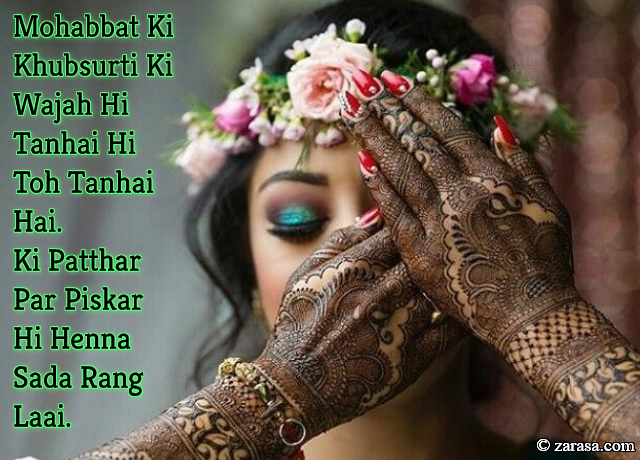 ---


मोहब्बत की खूबसूरती की वजह ही तन्हाई ही तो तन्हाई है .
की पत्थर पर पिसकर ही हेन्ना सदा रंग लाइ .



---


موحبّت کی خوبصورتی کی وجہ ہی تنہائی ہی تو تنہائی ہے.
کی پتھر پر پصکر ہی ہننا سادہ رنگ لائی .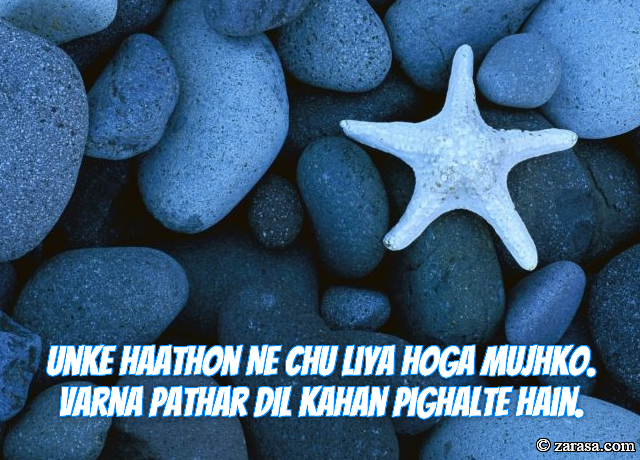 Unke Haathon Ne Chu Liya Hoga Mujhko.
Varna Pathar Dil Kahan Pighalte Hain.
उनके हाथो ने छू लिया होगा मुझको .
वर्ना पत्थर दिल कहाँ पिघलते हैं .
انکے ہاتھوں نے چو لیا ہوگا مجھکو .
ورنہ پتھر دل کہاں پگھلتے ہیں .
---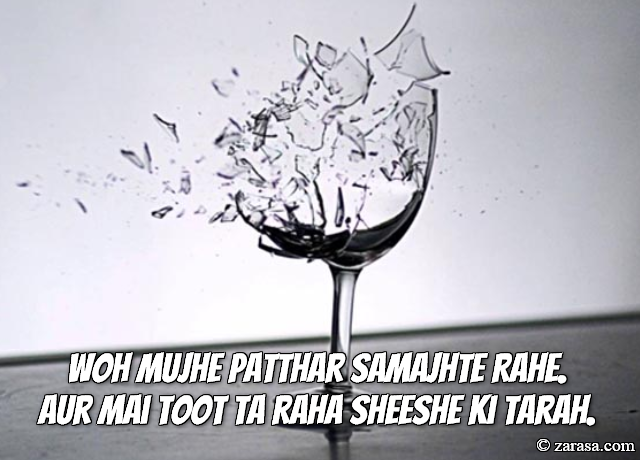 Woh Mujhe Patthar Samajhte Rahe.
Aur Mai Toot Ta Raha Sheeshe Ki Tarah.
वह मुझे पत्थर समझते रहे .
और मै टूटता रहा शीशे की तरह .
وہ مجھے پتھر سمجھتے رہے .
اور می ٹوٹ تا رہا شیشے کی طرح .
---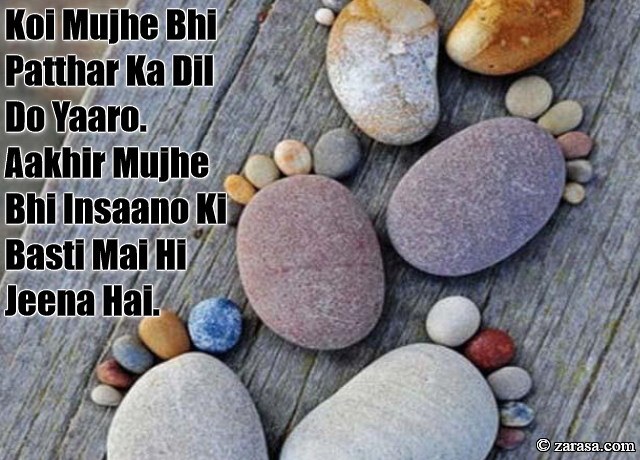 Koi Mujhe Bhi Patthar Ka Dil Do Yaaro.
Aakhir Mujhe Bhi Insaano Ki Basti Mai Hi Jeena Hai.

कोई मुझे भी पत्थर का दिल दो यारो .
आखिर मुझे भी इंसानो की बस्ती मै ही जीना है .


کوئی مجھے بھی پتھر کا دل دو یارو .
آخر مجھے بھی انسانو کی بستی می ہی جینا ہے .

---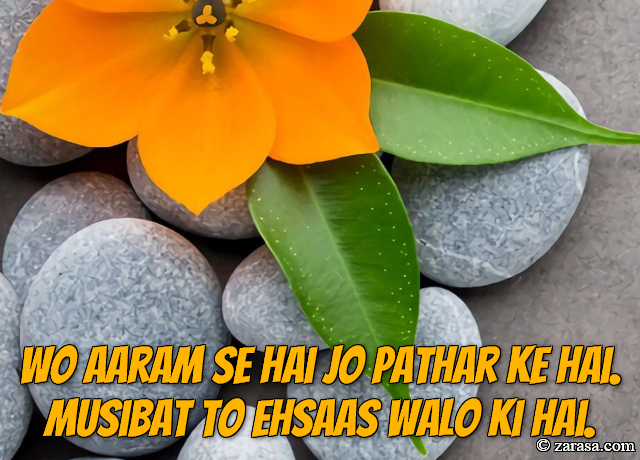 Wo Aaram Se Hai Jo Pathar Ke Hai.
Musibat To Ehsaas Walo Ki Hai.
वो आराम से है जो पत्थर के है .
मुसीबत तो एहसास वालो की है .
وو آرام سے ہے جو پتھر کے ہے .
مثبت تو احساس والو کی ہے .
---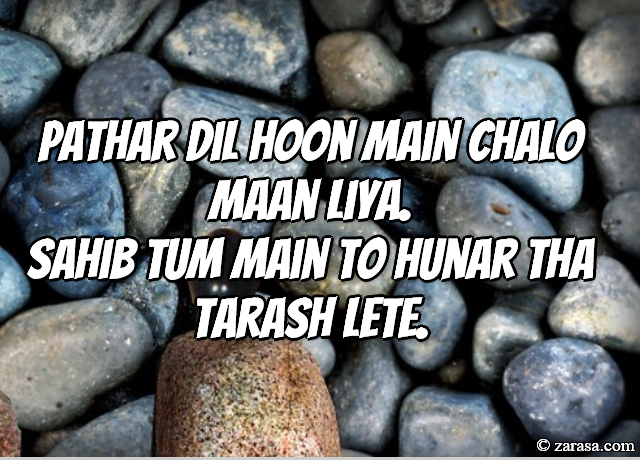 Pathar Dil Hoon Main Chalo Maan Liya.
Sahib Tum Main To Hunar Tha Tarash Lete.
पत्थर दिल हूँ मैं चलो मान लिया .
साहिब तुम मैं तो हुनर था तराश लेते .

پتّھر دل ہوں میں چلو ماں لیا .
صاحب تم میں تو ہنر تھا تراش لیتے .

---