SHAYARI FOR AAINA "Aaina Nahi Rakhta"
|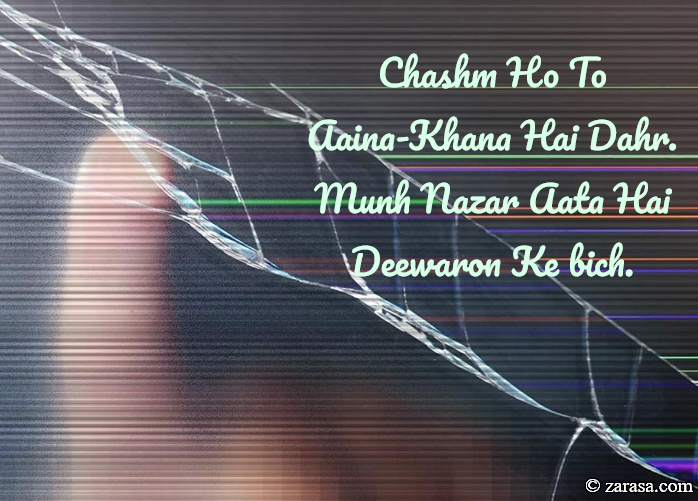 Chashm Ho To Aaina-Khana Hai Dahr.
Munh Nazar Aata Hai Deewaron Ke bich.
चश्म हो तो आइना -खाना है डहर .
मुंह नज़र आता है दीवारों के बिच .
چشم ہو تو أن -کھانا ہے دہر .
منہ نظر آتا ہے دیواروں کے بچ .
---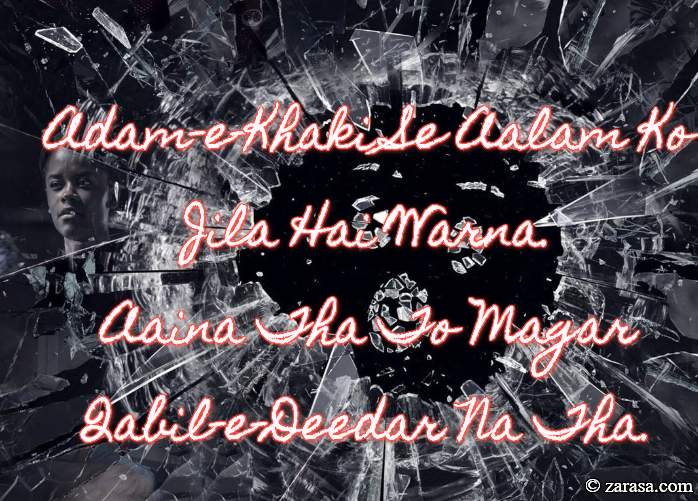 Adam-e-Khaki Se Aalam Ko Jila Hai Warna.
Aaina Tha To Magar Qabil-e-Deedar Na Tha.
आदम -इ -खाकी से आलम को जिला है वरना .
आइना था तो मगर क़ाबिल -इ -दीदार ना था .
آدم -ا -خاکی سے عالم کو جلا ہے ورنہ .
أن تھا تو مگر قبل -ا -دیدار نہ تھا .
---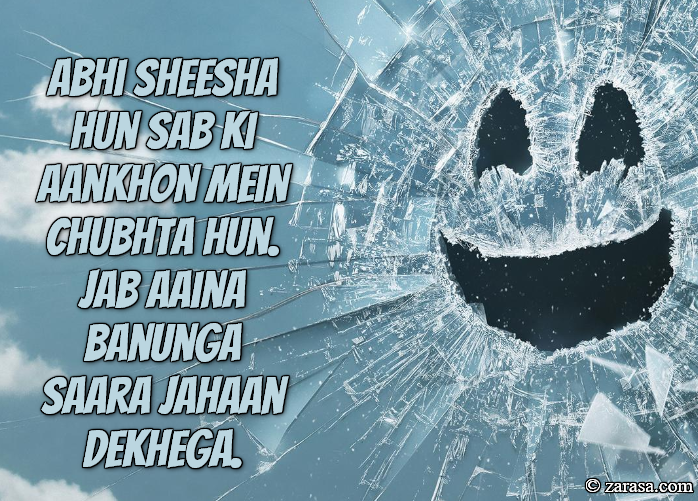 Abhi Sheesha Hun Sab Ki Aankhon Mein Chubhta Hun.
Jab Aaina Banunga Saara Jahaan Dekhega.
अभी शीशा हूँ सब की आँखों में चुभता हूँ ,
जब आईना बनूँगा सारा जहां देखेगा .
ابھی شیشہ ہوں سب کی آنکھوں میں چبھتا ہوں .
جب اینا بنوںگا سارا جہان دیکھےگا .
---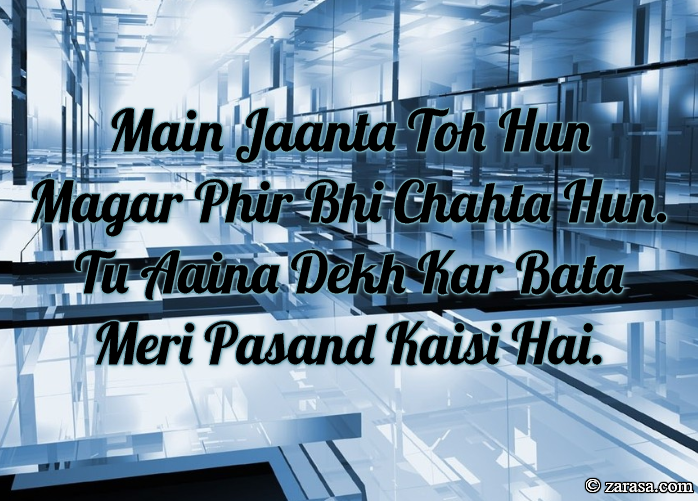 Main Jaanta Toh Hun Magar Phir Bhi Chahta Hun.
Tu Aaina Dekh Kar Bata Meri Pasand Kaisi Hai.
मैं जानता तोह हूँ मगर फिर भी चाहता हूँ .
तू आइना देख कर बता मेरी पसंद कैसी है .
میں جانتا ٹوہ ہوں مگر پھر بھی چاہتا ہوں .
تو أن دیکھ کر بتا میری پسند کیسی ہے .
---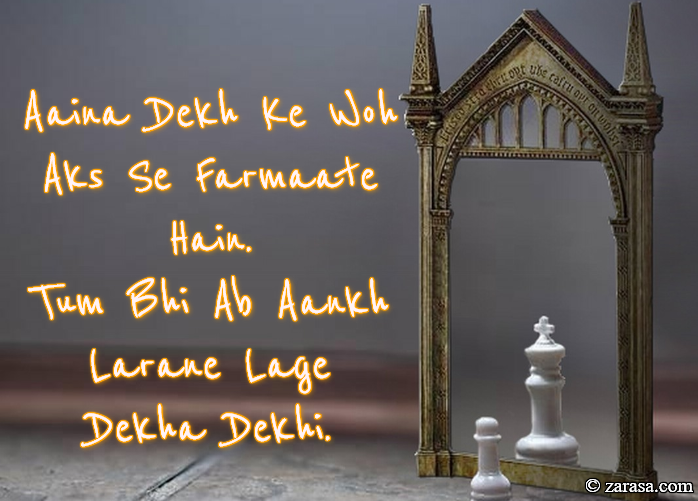 Aaina Dekh Ke Woh Aks Se Farmaate Hain.
Tum Bhi Ab Aankh Larane Lage Dekha Dekhi.
आइना देख के वह अक्स से फरमाते हैं .
तुम भी अब आँख लड़ने लगे देखा देखि .
اینا دیکھ کے وہ عکس سے فرماتے ہیں .
تم بھی اب آنکھ لڑانے لگے دیکھا دیکھی .
---