Shayari for Beauty "परवाना पाश-ओ-पेश में है जाये तो किस तरफ"
|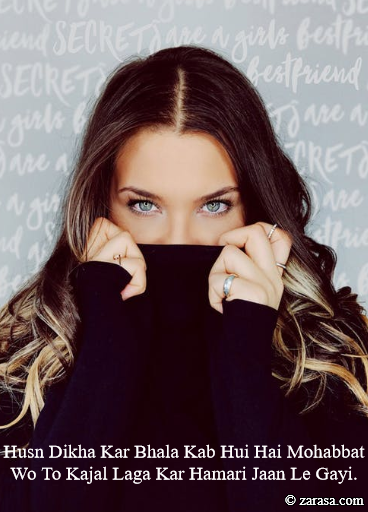 Husn Dikha Kar Bhala Kab Hui Hai Mohabbat
Wo To Kajal Laga Kar Hamari Jaan Le Gayi.
हुस्न दिखा कर भला कब हुई है मोहब्बत
वो तो काजल लगा कर हमारी जान ले गयी।
حسن دکھا کر بھلا کب ہی ہے موحبّت
وو تو کاجل لگا کر ہماری جان لے گی -
---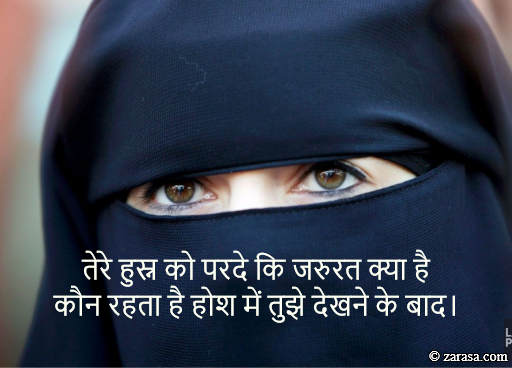 Tere Husn Ko Parde Ki Jarurat Kya Hai Zalim
Kaun Rehta Hai Hosh Me Tujhe Dekhne Ke Baad.
तेरे हुस्न को परदे कि जरुरत क्या है
कौन रहता है होश में तुझे देखने के बाद।
تیرے حسن کو پردے کی ضرورت کیا ہے ظالم
کون رہتا ہے ہوش مے تجھے دیکھنے کے بعد -
---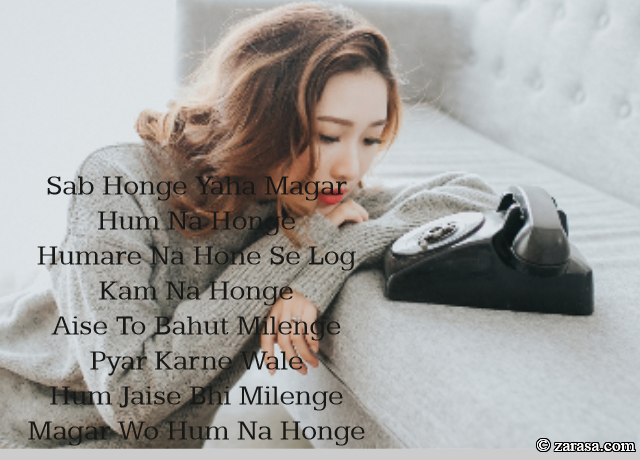 Sab Honge Yaha Magar Hum Na Honge
Humare Na Hone Se Log Kam Na Honge
Aise To Bahut Milenge Pyar Karne Wale
Hum Jaise Bhi Milenge Magar Wo Hum Na Honge
सब होंगे यहाँ मगर हम न होंगे
हमारे न होने से लोग काम न होंगे
ऐसे तो बहुत मिलेंगे प्यार करने वाले
हम जैसे भी मिलेंगे म मगर वो हम न होंगे
سب ہونگے یہا مگر ہم نہ ہونگے
ہمارے نہ ہونے سے لوگ کم نہ ہونگے
ایسے تو بہت ملینگے پیار کرنے والے
ہم جیسے بھی ملینگے مگر وہ ہم نہ ہونگے
---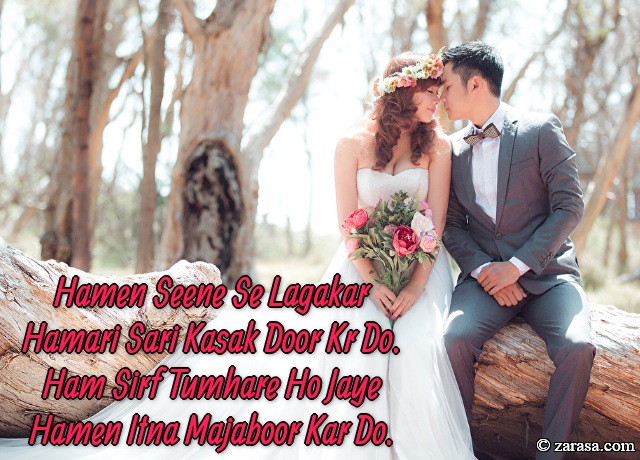 Hamen Seene Se Lagakar Hamari Sari Kasak Door Kr Do.
Ham Sirf Tumhare Ho Jaye Hamen Itna Majaboor Kar Do.
हमें सीने से लगाकर हमारी साडी कसक दूर कर दो .
हम सिर्फ तुम्हारे हो जाये हमें इतना मजबूर कर दो .
ہمیں سینے سے لگاکر ہماری سری کسک دور کر دو.
ہم صرف تمہارے ہو جائے ہمیں اتنا مجبور کر دو .
---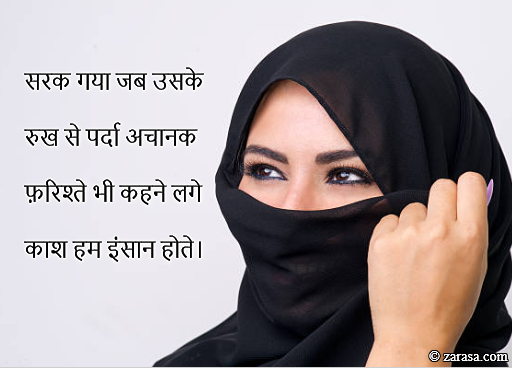 Sarak Gaya Jab Uske
Rukh Se Parda Achanak
Farishte Bhi Kehne Lage
Kaash Hum Insaan Hote.
सरक गया जब उसके
रुख से पर्दा अचानक
फ़रिश्ते भी कहने लगे
काश हम इंसान होते।
سارک گیا جب اسکے
رخ سے پردہ اچانک
فرشتے بھی کہنے لگے
کاش ہم انسان ہوتے-
---