Shayari for Beauty "Andaaz Apna Dekhte Hain Aayine Me Woh"
|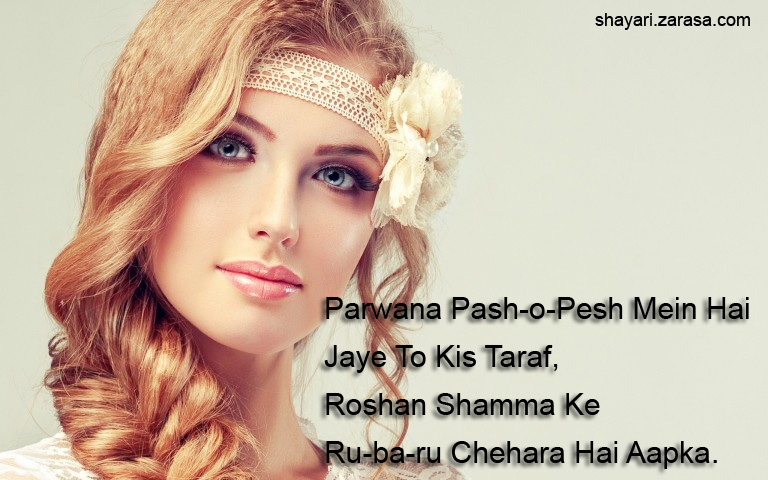 Parwana Pash-o-Pesh Mein Hai
Jaye To Kis Taraf,
Roshan Shamma Ke
Ru-ba-ru Chehara Hai Aapka.





परवाना पाश-ओ-पेश में है
जाये तो किस तरफ,
रोशन शम्मा के
रु-बा-रु चेहरा है आपका ।
پروانہ پاش-و-پیش میں ہے
جائے تو کس طرف,
روشن شمّ کے
رو-با-رو چہرہ ہے آپکا.
---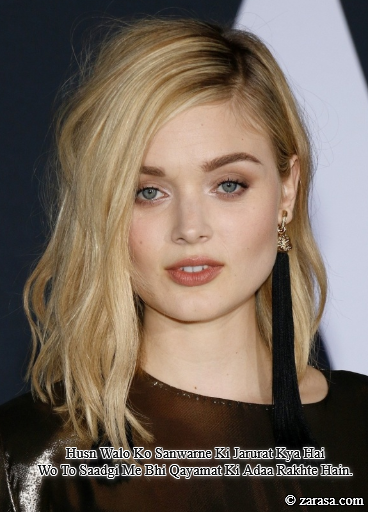 Husn Walo Ko Sanwarne Ki Jarurat Kya Hai
Wo To Saadgi Me Bhi Qayamat Ki Adaa Rakhte Hain.
हुस्न वालो को संवरने की जरुरत क्या है
वो ओ सादगी में भी कयामत की अदा रखते हैं।
حسن والو کو سنوارنے کی ضرورت کیا ہے
وو تو سادگی مے بھی قیامت کی ادا رکھتے ہیں-
---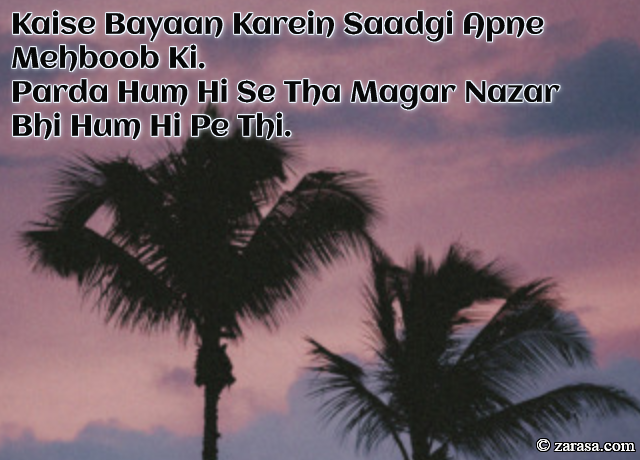 Kaise Bayaan Karein Saadgi Apne Mehboob Ki.
Parda Hum Hi Se Tha Magar Nazar Bhi Hum Hi Pe Thi.
कैसे बयान करे सादगी अपने मेहबूब की .
पर्दा हम ही से था मगर नज़र भी हम ही पे थी .
کیسے بیان کریں سادگی اپنے محبوب کی .
پردہ ہم ہی سے تھا مگر نظر بھی ہم ہی پی تھی .
---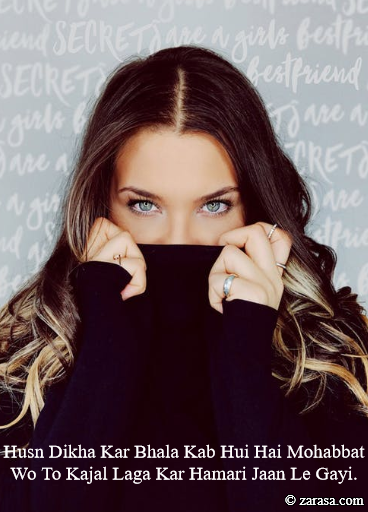 Husn Dikha Kar Bhala Kab Hui Hai Mohabbat
Wo To Kajal Laga Kar Hamari Jaan Le Gayi.
हुस्न दिखा कर भला कब हुई है मोहब्बत
वो तो काजल लगा कर हमारी जान ले गयी।
حسن دکھا کر بھلا کب ہی ہے موحبّت
وو تو کاجل لگا کر ہماری جان لے گی -
---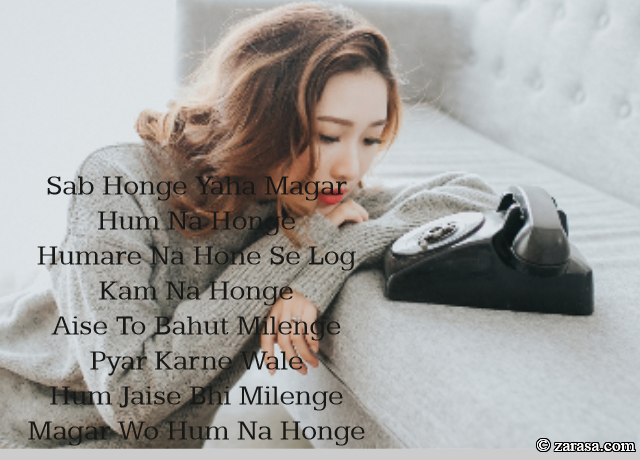 Sab Honge Yaha Magar Hum Na Honge
Humare Na Hone Se Log Kam Na Honge
Aise To Bahut Milenge Pyar Karne Wale
Hum Jaise Bhi Milenge Magar Wo Hum Na Honge
सब होंगे यहाँ मगर हम न होंगे
हमारे न होने से लोग काम न होंगे
ऐसे तो बहुत मिलेंगे प्यार करने वाले
हम जैसे भी मिलेंगे म मगर वो हम न होंगे
سب ہونگے یہا مگر ہم نہ ہونگے
ہمارے نہ ہونے سے لوگ کم نہ ہونگے
ایسے تو بہت ملینگے پیار کرنے والے
ہم جیسے بھی ملینگے مگر وہ ہم نہ ہونگے
---