Shayari for Beauty "Magar Hum Na Honge"
|
Sab Honge Yaha Magar Hum Na Honge
Humare Na Hone Se Log Kam Na Honge
Aise To Bahut Milenge Pyar Karne Wale
Hum Jaise Bhi Milenge Magar Wo Hum Na Honge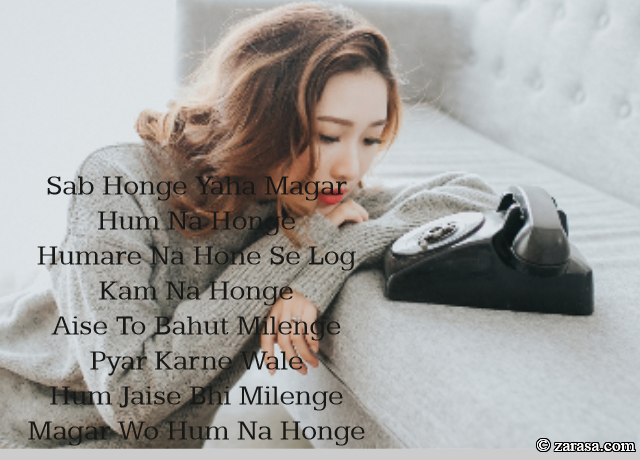 ---

सब होंगे यहाँ मगर हम न होंगे
हमारे न होने से लोग काम न होंगे
ऐसे तो बहुत मिलेंगे प्यार करने वाले
हम जैसे भी मिलेंगे म मगर वो हम न होंगे


---

سب ہونگے یہا مگر ہم نہ ہونگے
ہمارے نہ ہونے سے لوگ کم نہ ہونگے
ایسے تو بہت ملینگے پیار کرنے والے
ہم جیسے بھی ملینگے مگر وہ ہم نہ ہونگے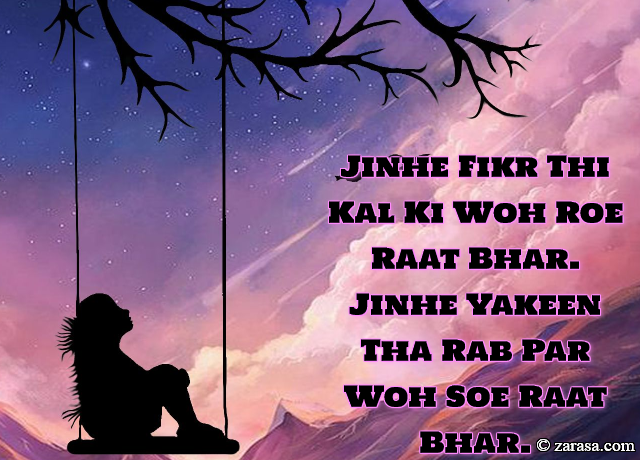 Jinhe Fikr Thi Kal Ki Woh Roe Raat Bhar.
Jinhe Yakeen Tha Rab Par Woh Soe Raat Bhar.
जिन्हे फ़िक्र थी कल की वो रोए रात भर .
जिन्हे यकीन था रब पर वो सोए रात भर .
جنھ فکر تھی کل کی وہ روے رات بھر .
جنھ یکین تھا رب پر وہ سوے رات بھر .
---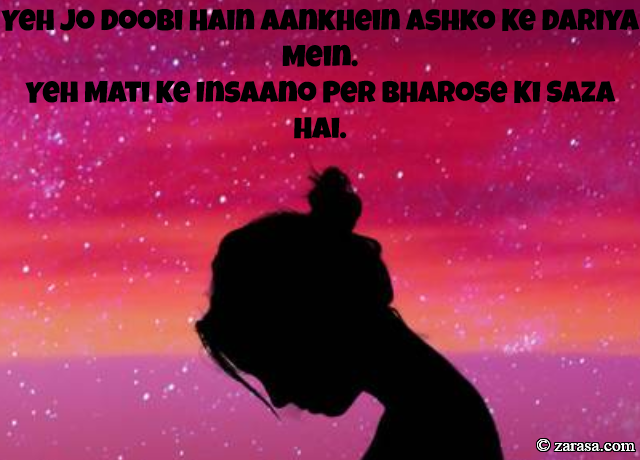 Yeh Jo Doobi Hain Aankhein Ashko Ke Dariya Mein.
Yeh Mati Ke Insaano Per Bharose Ki Saza Hai.
यह जो डूबी हैं आँखें अश्को के दरिया में .
यह माटी के इंसानो पर भरोसे की सज़ा है .
یہ جو ڈوبی ہیں آنکھیں اشکو کے دریا میں .
یہ ماٹی کے انسانو پر بھروسے کی سزا ہے .
---
Har Pal Tumhe Pyaar Karenge Ye Irada Hai,
Kayamat Tak Rahega Hamara Saath, Ye Vada Hai...
Happy Promise Day
हर पल तुम्हें प्यार करेंगे ये इरादा है,
कयामत तक रहेेगा हमारा साथ, ये वादा है…
Happy Promise Day
ہر پل تمھ پیار کرینگے یہ ارادہ ہے
کیامت تک رہیگا ہمارا ساتھ یہ وادا ہے
---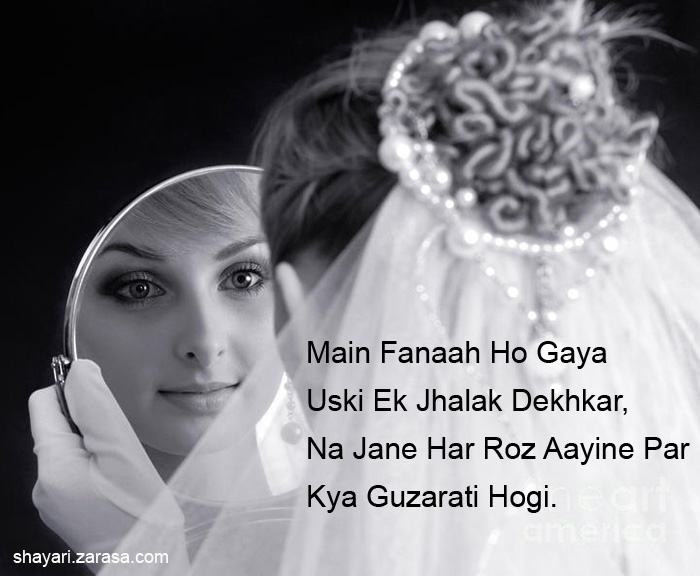 Main Fanaah Ho Gaya
Uski Ek Jhalak Dekhkar,
Na Jane Har Roz Aayine Par
Kya Guzarati Hogi.





मैं फनाह हो गया उसकी एक झलक देखकर,
न जाने हर रोज़ आईने पर क्या गुजरती होगी.
میں پھناه ہو گیا
اس کی ایک جھلک دیکھ کر،
نہ جانے ہر روز آئینے پر
کیا گزرتی ہو گی.
---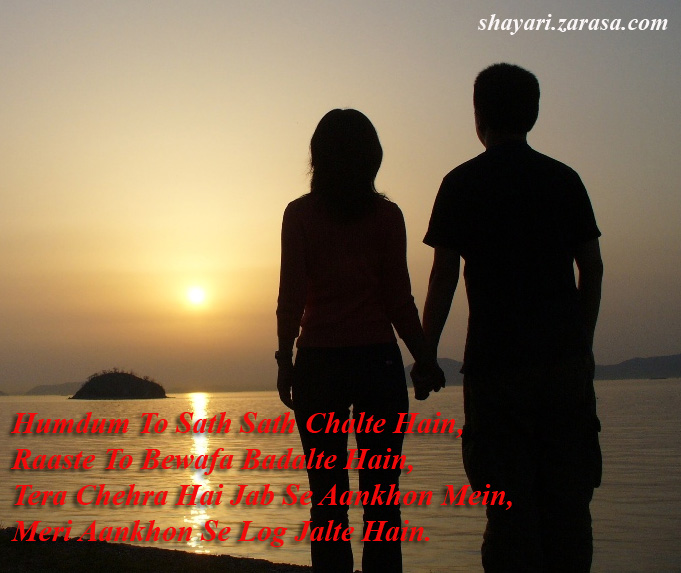 Humdum To Sath Sath Chalte Hain,
Raaste To Bewafa Badalte Hain,
Tera Chehra Hai Jab Se Aankhon Mein,
Meri Aankhon Se Log Jalte Hain.



हमदम तो साथ साथ चलते हैं,
रास्ते तो बेवफ़ा बदलते हैं,
तेरा चेहरा है जब से आँखों में,
मेरी आँखों से लोग जलते हैं.
ہمدم تو ساتھ ساتھ چلتے ہیں,
راستے تو بیوفا بدلتے ہیں,
تیرا چہرہ ہے جب سے آنکھوں میں,
- میری آنکھوں سے لوگ جلتے ہیں.
---