Shayari for Beauty "Humdum To Sath Sath Chalte Hain"
|
Humdum To Sath Sath Chalte Hain,
Raaste To Bewafa Badalte Hain,
Tera Chehra Hai Jab Se Aankhon Mein,
Meri Aankhon Se Log Jalte Hain.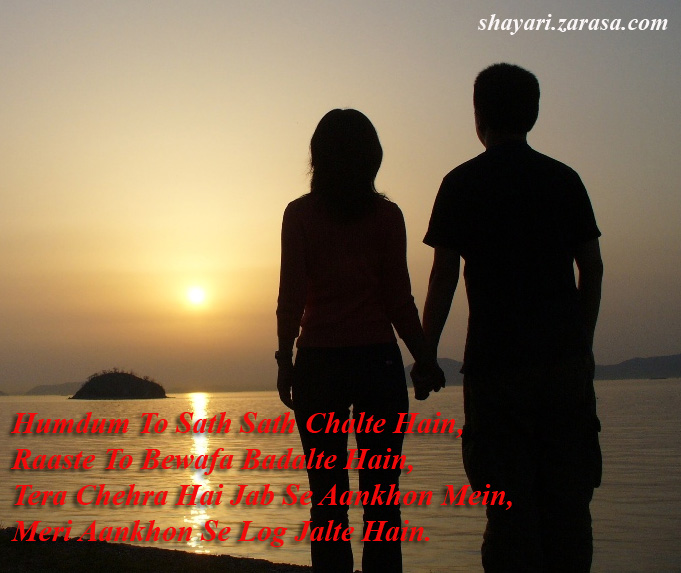 ---

हमदम तो साथ साथ चलते हैं,
रास्ते तो बेवफ़ा बदलते हैं,
तेरा चेहरा है जब से आँखों में,
मेरी आँखों से लोग जलते हैं.


---

ہمدم تو ساتھ ساتھ چلتے ہیں,
راستے تو بیوفا بدلتے ہیں,
تیرا چہرہ ہے جب سے آنکھوں میں,
- میری آنکھوں سے لوگ جلتے ہیں.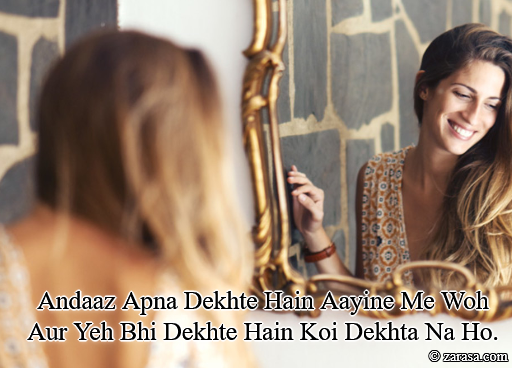 Andaaz Apna Dekhte Hain Aayine Me Woh
Aur Yeh Bhi Dekhte Hain Koi Dekhta Na Ho.
अंदाज़ अपना देखते हैं आईने में वो,
और ये भी देखते हैं कोई देखता न हो।
انداز اپنا دیکھتے ہیں اینے مے وہ
اور یہ بھی دیکھتے ہیں کوئی دیکھتا نہ ہو-
---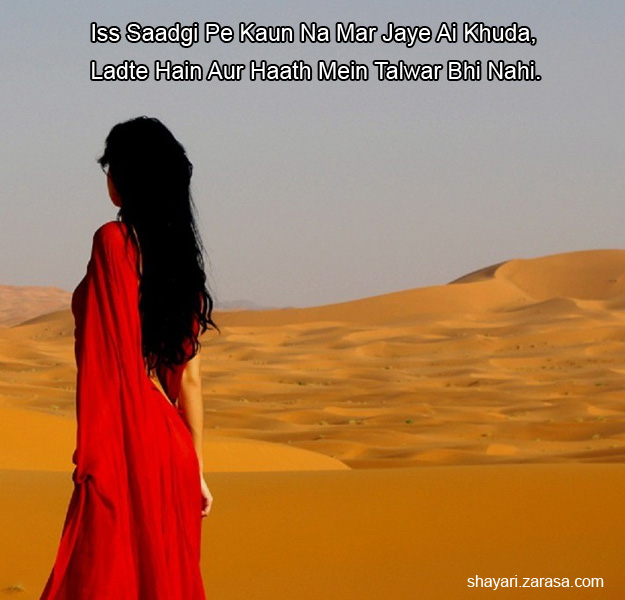 Iss Saadgi Pe Kaun Na Mar Jaye Ai Khuda,
Ladte Hain Aur Haath Mein Talwar Bhi Nahi.



इस सादगी पे कौन न मर जाये ए खुदा,
लड़ते हैं और हाथ में तलवार भी नहीं.
اس سادگی پہ کون نہ مر جائے اے خدا،
لڑتے ہیں اور ہاتھ میں تلوار بھی نہیں.
---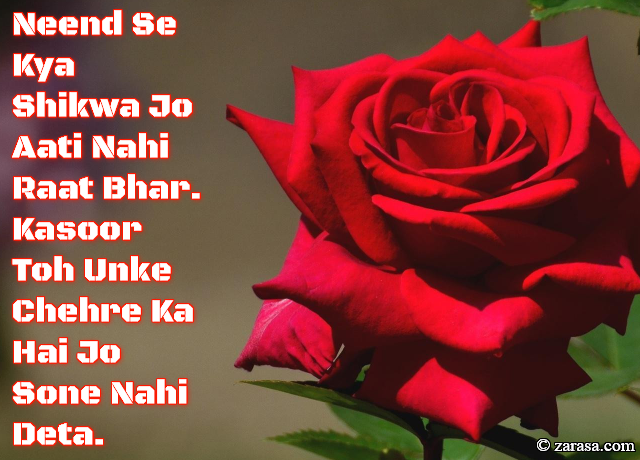 Neend Se Kya Shikwa Jo Aati Nahi Raat Bhar.
Kasoor Toh Unke Chehre Ka Hai Jo Sone Nahi Deta.
नींद से क्या शिकवा जो आती नहीं रात भर .
कसूर तो उनके चेहरे का है जो सोने नहीं देता .
نیند سے کیا شکوہ جو آتی نہیں رات بھر.
کسور تو انکے چہرے کا ہے جو سونے نہیں دیتا .
---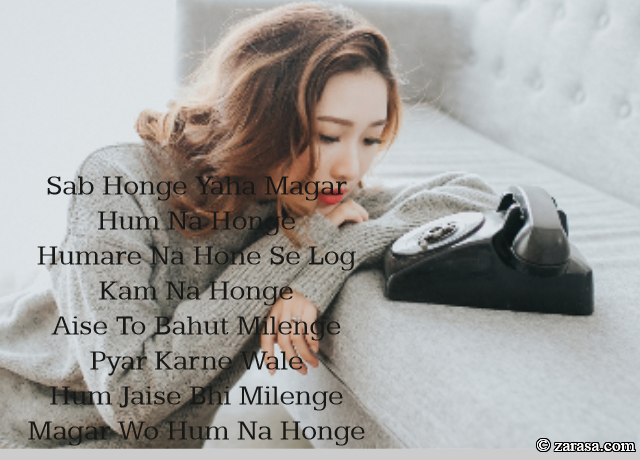 Sab Honge Yaha Magar Hum Na Honge
Humare Na Hone Se Log Kam Na Honge
Aise To Bahut Milenge Pyar Karne Wale
Hum Jaise Bhi Milenge Magar Wo Hum Na Honge
सब होंगे यहाँ मगर हम न होंगे
हमारे न होने से लोग काम न होंगे
ऐसे तो बहुत मिलेंगे प्यार करने वाले
हम जैसे भी मिलेंगे म मगर वो हम न होंगे
سب ہونگے یہا مگر ہم نہ ہونگے
ہمارے نہ ہونے سے لوگ کم نہ ہونگے
ایسے تو بہت ملینگے پیار کرنے والے
ہم جیسے بھی ملینگے مگر وہ ہم نہ ہونگے
---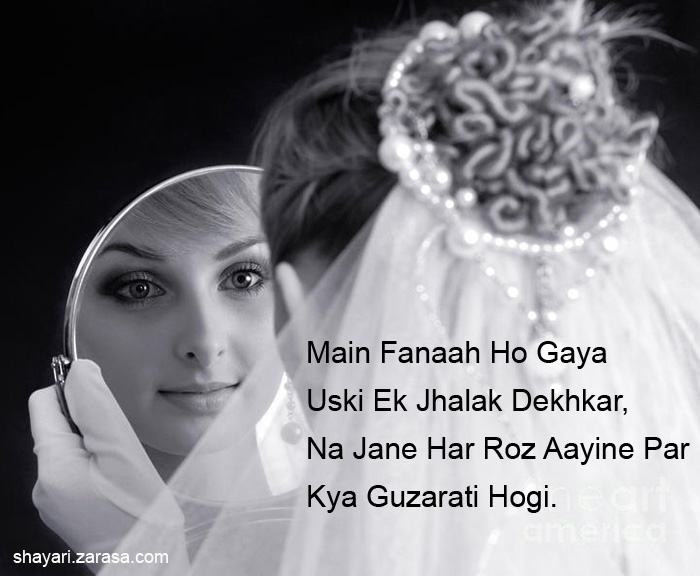 Main Fanaah Ho Gaya
Uski Ek Jhalak Dekhkar,
Na Jane Har Roz Aayine Par
Kya Guzarati Hogi.





मैं फनाह हो गया उसकी एक झलक देखकर,
न जाने हर रोज़ आईने पर क्या गुजरती होगी.
میں پھناه ہو گیا
اس کی ایک جھلک دیکھ کر،
نہ جانے ہر روز آئینے پر
کیا گزرتی ہو گی.
---