Shayari for Beauty "Tere Husn Ko Parde Ki Jarurat Kya Hai Zalim"
|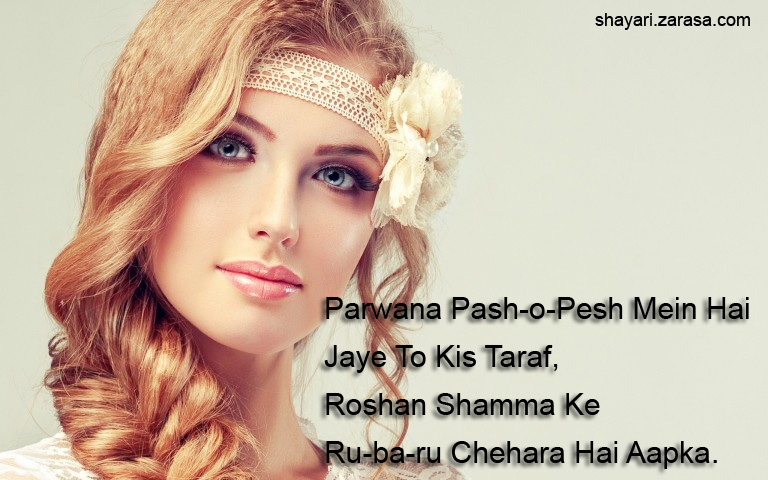 Parwana Pash-o-Pesh Mein Hai
Jaye To Kis Taraf,
Roshan Shamma Ke
Ru-ba-ru Chehara Hai Aapka.





परवाना पाश-ओ-पेश में है
जाये तो किस तरफ,
रोशन शम्मा के
रु-बा-रु चेहरा है आपका ।
پروانہ پاش-و-پیش میں ہے
جائے تو کس طرف,
روشن شمّ کے
رو-با-رو چہرہ ہے آپکا.
---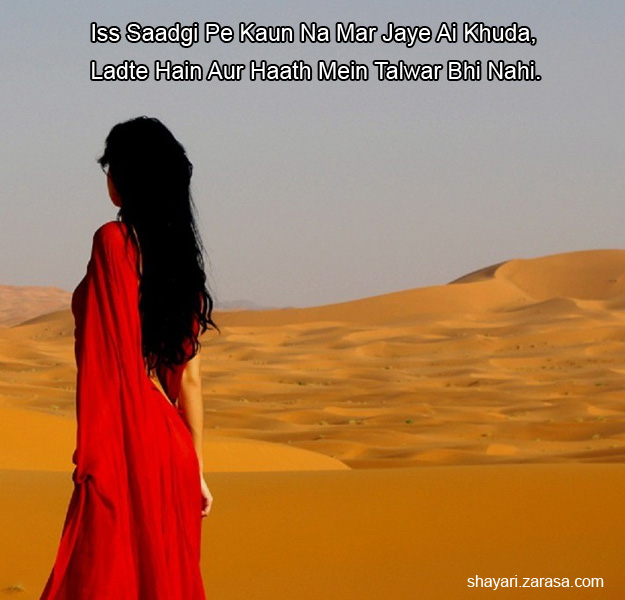 Iss Saadgi Pe Kaun Na Mar Jaye Ai Khuda,
Ladte Hain Aur Haath Mein Talwar Bhi Nahi.



इस सादगी पे कौन न मर जाये ए खुदा,
लड़ते हैं और हाथ में तलवार भी नहीं.
اس سادگی پہ کون نہ مر جائے اے خدا،
لڑتے ہیں اور ہاتھ میں تلوار بھی نہیں.
---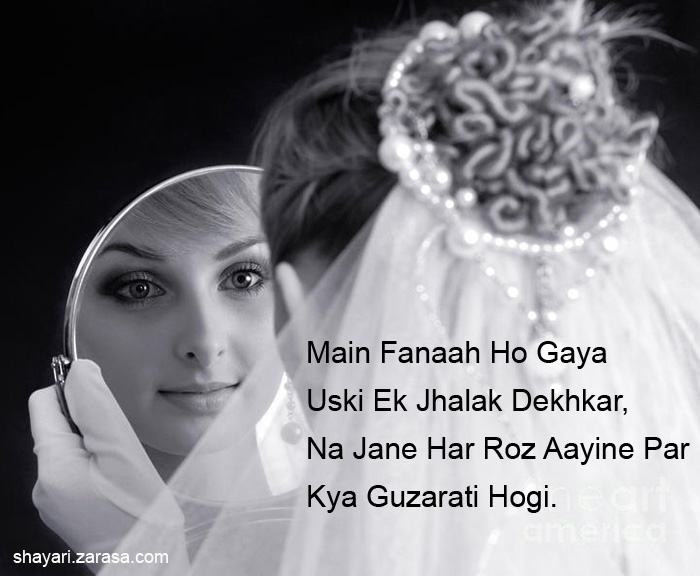 Main Fanaah Ho Gaya
Uski Ek Jhalak Dekhkar,
Na Jane Har Roz Aayine Par
Kya Guzarati Hogi.





मैं फनाह हो गया उसकी एक झलक देखकर,
न जाने हर रोज़ आईने पर क्या गुजरती होगी.
میں پھناه ہو گیا
اس کی ایک جھلک دیکھ کر،
نہ جانے ہر روز آئینے پر
کیا گزرتی ہو گی.
---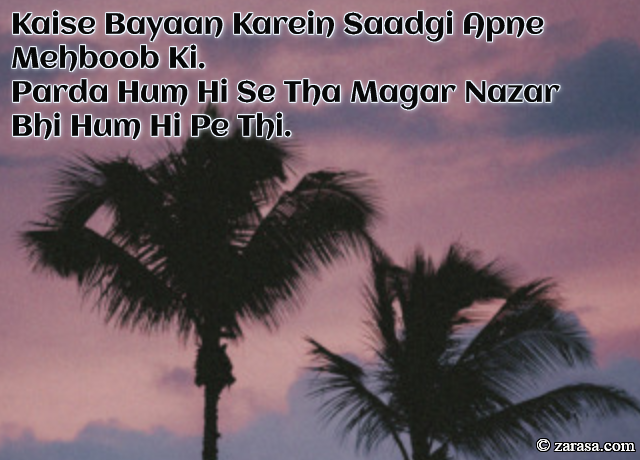 Kaise Bayaan Karein Saadgi Apne Mehboob Ki.
Parda Hum Hi Se Tha Magar Nazar Bhi Hum Hi Pe Thi.
कैसे बयान करे सादगी अपने मेहबूब की .
पर्दा हम ही से था मगर नज़र भी हम ही पे थी .
کیسے بیان کریں سادگی اپنے محبوب کی .
پردہ ہم ہی سے تھا مگر نظر بھی ہم ہی پی تھی .
---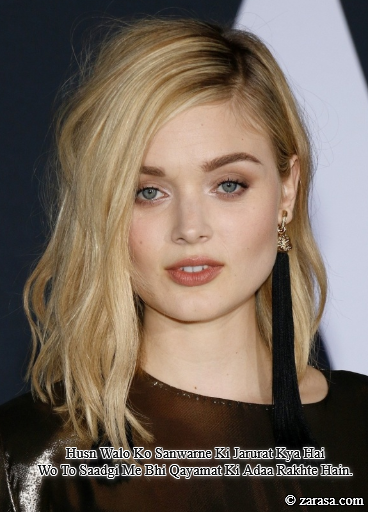 Husn Walo Ko Sanwarne Ki Jarurat Kya Hai
Wo To Saadgi Me Bhi Qayamat Ki Adaa Rakhte Hain.
हुस्न वालो को संवरने की जरुरत क्या है
वो ओ सादगी में भी कयामत की अदा रखते हैं।
حسن والو کو سنوارنے کی ضرورت کیا ہے
وو تو سادگی مے بھی قیامت کی ادا رکھتے ہیں-
---