Shayari For Chiraag "Chhed Purana Hoga"
|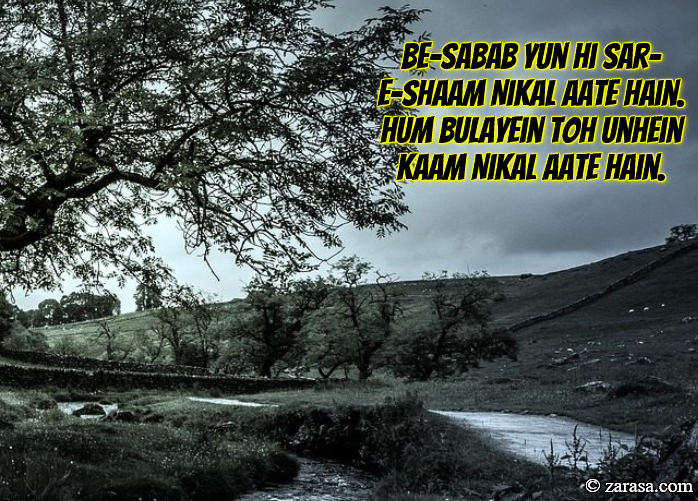 Be-Sabab Yun Hi Sar-e-Shaam Nikal Aate Hain.
Hum Bulayein Toh Unhein Kaam Nikal Aate Hain.
बे -सबब यूँ ही सर -इ -शाम निकल आते हैं .
हम बुलाएं तोह उन्हें काम निकल आते हैं .
بے -سبب یوں ہی سر -ا -شام نکل آتے ہیں .
ہم بلاییں ٹوہ انہیں کام نکل آتے ہیں .
---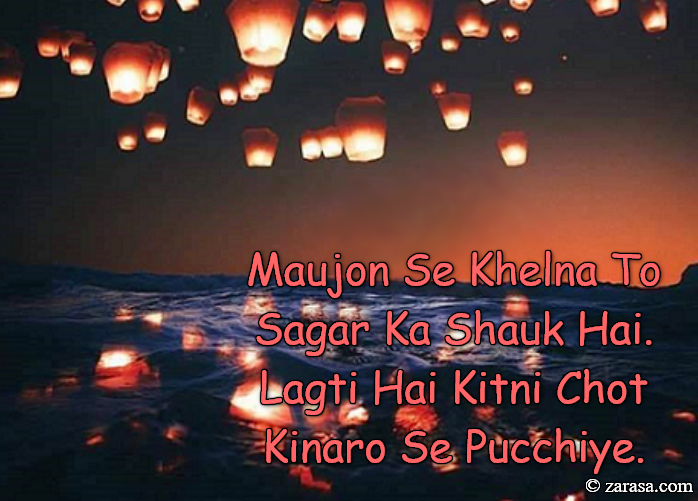 Maujon Se Khelna To Sagar Ka Shauk Hai.
Lagti Hai Kitni Chot Kinaro Se Pucchiye.
मौजों से खेलना तो सागर का शौक है .
लगती है कितनी चोट किनारो से पूछिए .
موجوں سے کھیلنا تو ساگر کا شہک ہے .
لگتی ہے کتنی چوٹ کنارو سے پکچئے .
---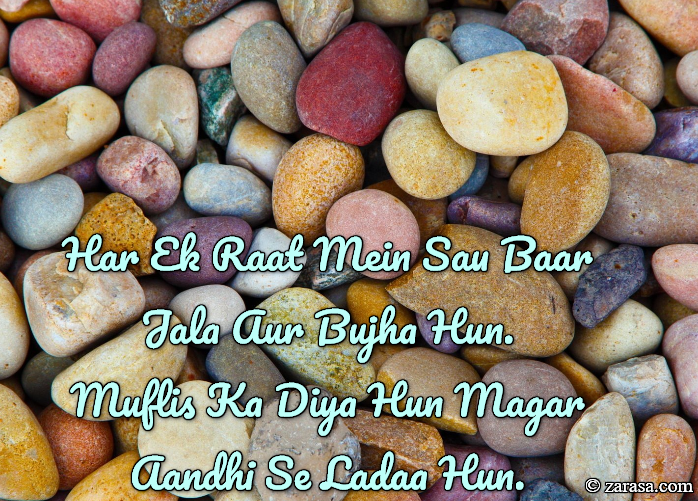 Har Ek Raat Mein Sau Baar Jala Aur Bujha Hun.
Muflis Ka Diya Hun Magar Aandhi Se Ladaa Hun.
हर एक रात में सौ बार जला और बुझा हूँ .
मुफ़लिस का दिया हूँ मगर आंधी से लड़ा हूँ .
ہر ایک رات میں سو بار جلا اور بجھا ہوں .
مفلس کا دیا ہوں مگر آندھی سے لادا ہوں .
---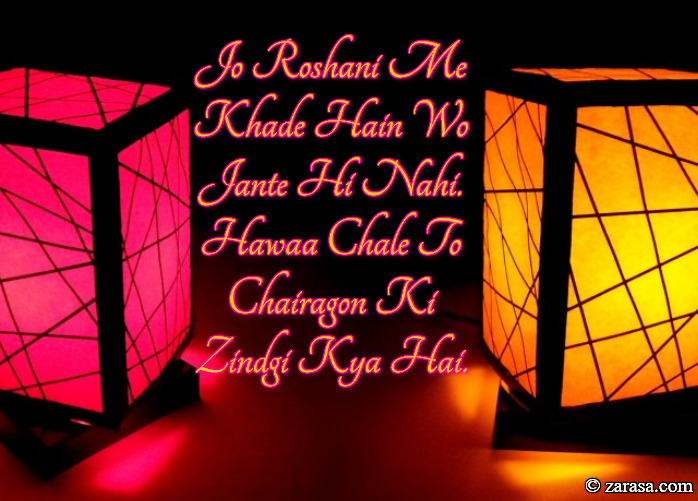 Jo Roshani Me Khade Hain Wo Jante Hi Nahi.
Hawaa Chale To Chairagon Ki Zindgi Kya Hai.
जो रोशनी में खड़े हैं वो जानते ही नहीं .
हवा चले तो चैरागों की ज़िंदगी क्या है .
جو روشنی مے کھڈے ہیں وو جانتے ہی نہیں .
ہوا چلے تو چیراگوں کی زندگی کیا ہے .
---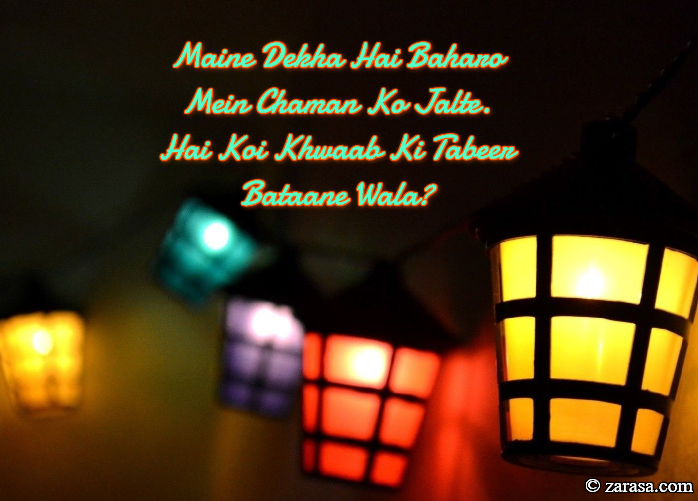 Maine Dekha Hai Baharo Mein Chaman Ko Jalte.
Hai Koi Khwaab Ki Tabeer Bataane Wala?
मैंने देखा है बहरो में चमन को जलते .
है कोई ख्वाब की ताबीर बताने वाला ?
مہینے دیکھا ہے بھرو میں چمن کو جلتے .
ہے کوئی خواب کی تعبیر بتانے والا ؟
---