Shayari For Chiraag "Yeh Kya Jagah Hai"
|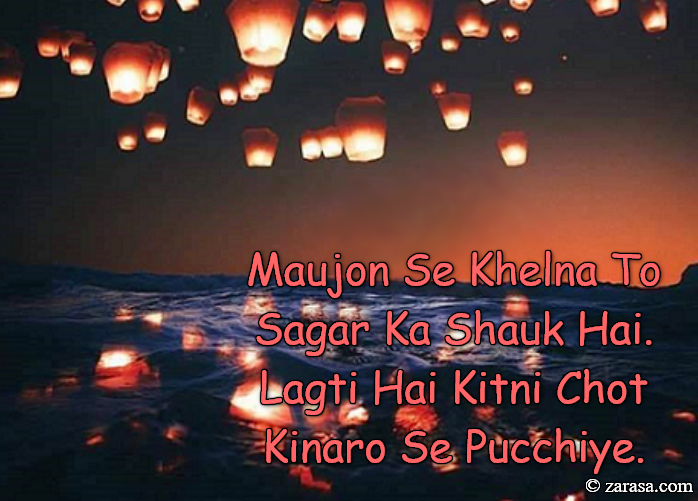 Maujon Se Khelna To Sagar Ka Shauk Hai.
Lagti Hai Kitni Chot Kinaro Se Pucchiye.
मौजों से खेलना तो सागर का शौक है .
लगती है कितनी चोट किनारो से पूछिए .
موجوں سے کھیلنا تو ساگر کا شہک ہے .
لگتی ہے کتنی چوٹ کنارو سے پکچئے .
---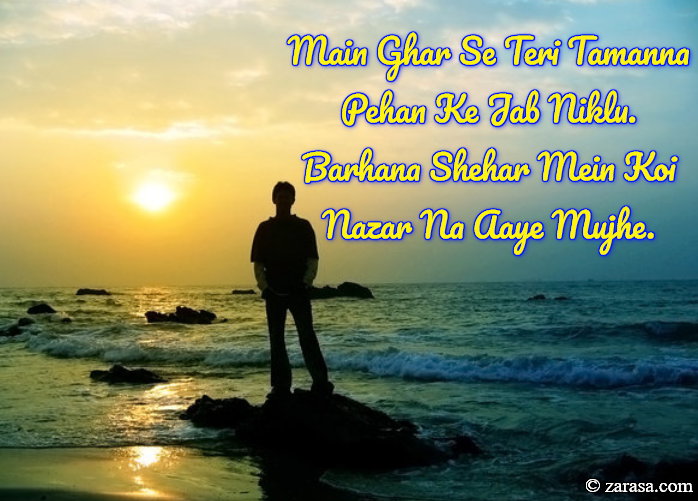 Main Ghar Se Teri Tamanna Pehan Ke Jab Niklu.
Barhana Shehar Mein Koi Nazar Na Aaye Mujhe.
मैं घर से तेरी तमन्ना पहन के जब निकलू .
बढ़ाना शहर में कोई नज़र ना आये मुझे .
میں گھر سے تیری تمنّ پہن کے جب نکلو .
بڑھانا شہر میں کوئی نظر نہ اے مجھے .
---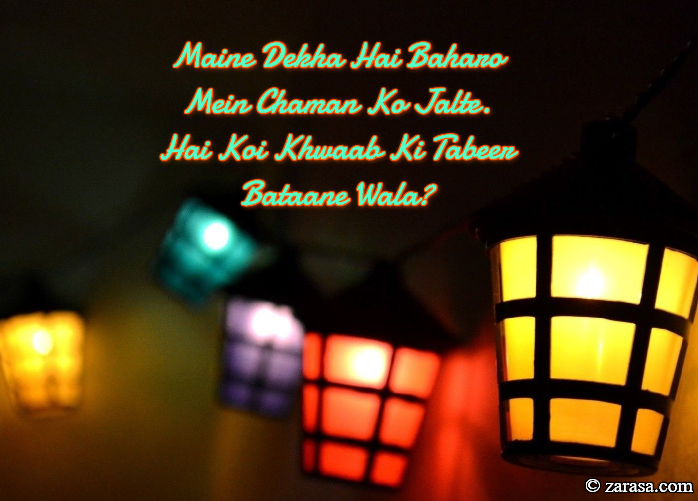 Maine Dekha Hai Baharo Mein Chaman Ko Jalte.
Hai Koi Khwaab Ki Tabeer Bataane Wala?
मैंने देखा है बहरो में चमन को जलते .
है कोई ख्वाब की ताबीर बताने वाला ?
مہینے دیکھا ہے بھرو میں چمن کو جلتے .
ہے کوئی خواب کی تعبیر بتانے والا ؟
---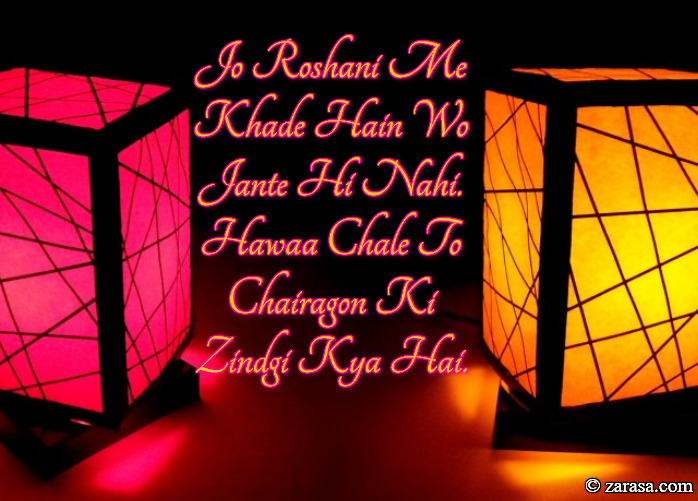 Jo Roshani Me Khade Hain Wo Jante Hi Nahi.
Hawaa Chale To Chairagon Ki Zindgi Kya Hai.
जो रोशनी में खड़े हैं वो जानते ही नहीं .
हवा चले तो चैरागों की ज़िंदगी क्या है .
جو روشنی مے کھڈے ہیں وو جانتے ہی نہیں .
ہوا چلے تو چیراگوں کی زندگی کیا ہے .
---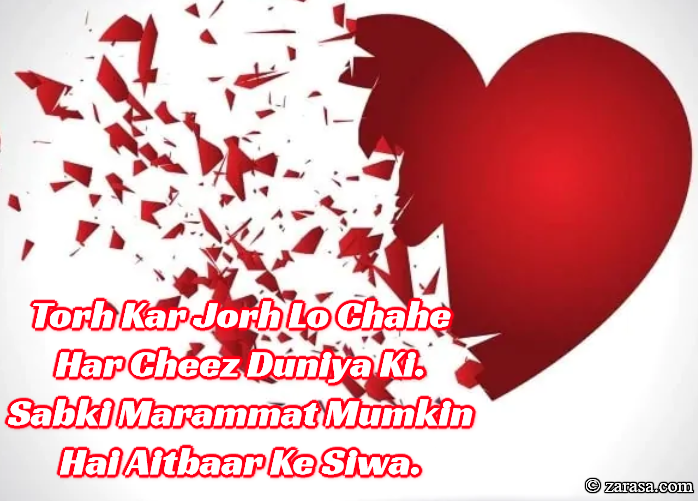 Torh Kar Jorh Lo Chahe Har Cheez Duniya Ki.
Sabki Marammat Mumkin Hai Aitbaar Ke Siwa.
तोड़ कर जोढ़ लो चाहे हर चीज़ दुनिया की .
सबकी मरम्मत मुमकिन है ऐतबार के सिवा .
تورہ کر جورہ لو چاہے ہر چیز دنیا کی .
سبکی مرمّت ممکن ہے اعتبار کے سوا .
---