Shayari For Chiraag "Hawa Se Keh Do"
|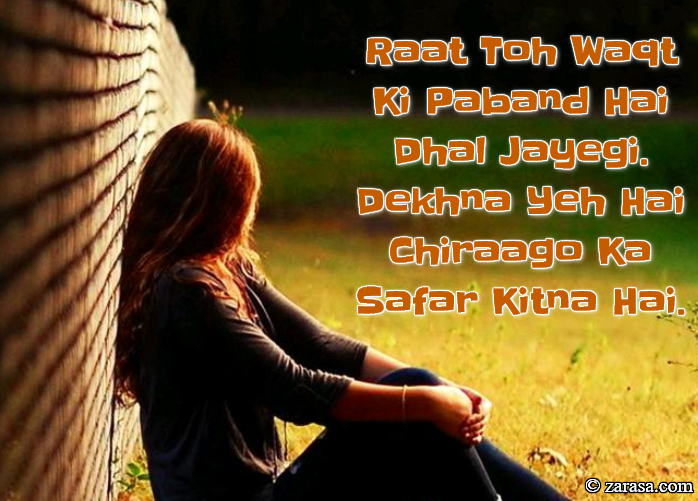 Raat Toh Waqt Ki Paband Hai Dhal Jayegi.
Dekhna Yeh Hai Chiraago Ka Safar Kitna Hai.
रात तो वक़्त की पाबंद है ढाल जाएगी .
देखना यह है चिरागो का सफर कितना है .
رات تو وقت کی پابند ہے ڈھال جاےگا .
دیکھنا یہ ہے چراگو کا سفر کتنا ہے .
---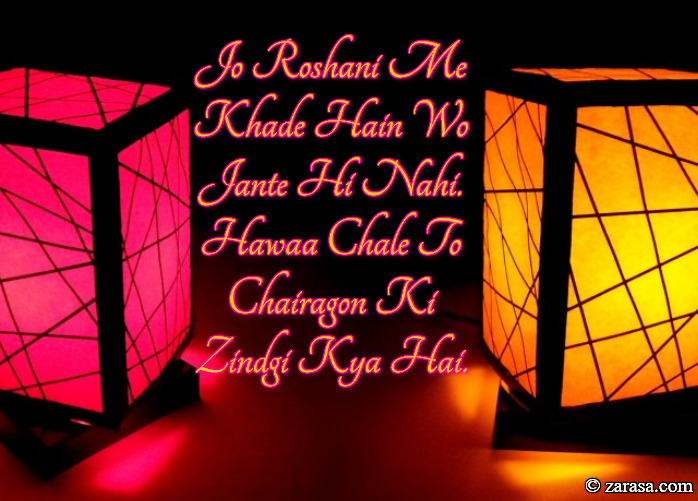 Jo Roshani Me Khade Hain Wo Jante Hi Nahi.
Hawaa Chale To Chairagon Ki Zindgi Kya Hai.
जो रोशनी में खड़े हैं वो जानते ही नहीं .
हवा चले तो चैरागों की ज़िंदगी क्या है .
جو روشنی مے کھڈے ہیں وو جانتے ہی نہیں .
ہوا چلے تو چیراگوں کی زندگی کیا ہے .
---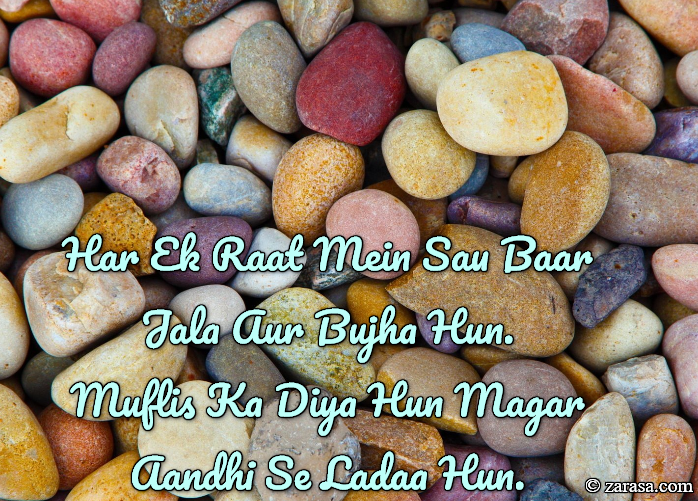 Har Ek Raat Mein Sau Baar Jala Aur Bujha Hun.
Muflis Ka Diya Hun Magar Aandhi Se Ladaa Hun.
हर एक रात में सौ बार जला और बुझा हूँ .
मुफ़लिस का दिया हूँ मगर आंधी से लड़ा हूँ .
ہر ایک رات میں سو بار جلا اور بجھا ہوں .
مفلس کا دیا ہوں مگر آندھی سے لادا ہوں .
---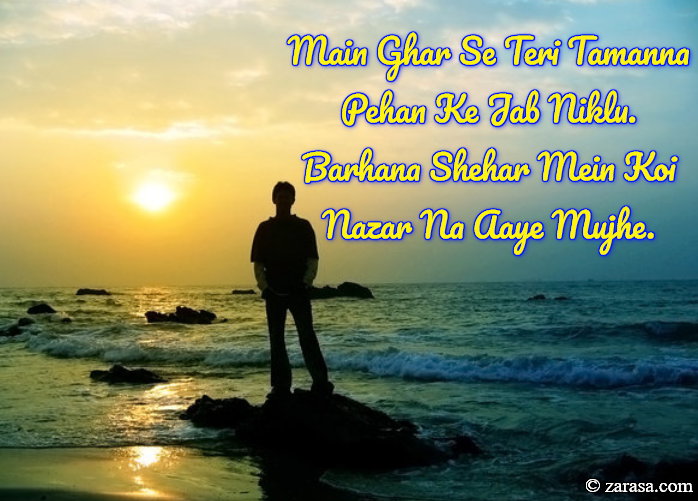 Main Ghar Se Teri Tamanna Pehan Ke Jab Niklu.
Barhana Shehar Mein Koi Nazar Na Aaye Mujhe.
मैं घर से तेरी तमन्ना पहन के जब निकलू .
बढ़ाना शहर में कोई नज़र ना आये मुझे .
میں گھر سے تیری تمنّ پہن کے جب نکلو .
بڑھانا شہر میں کوئی نظر نہ اے مجھے .
---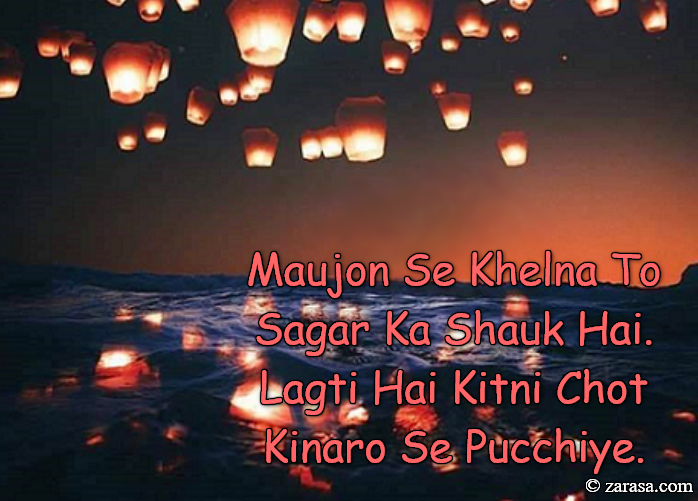 Maujon Se Khelna To Sagar Ka Shauk Hai.
Lagti Hai Kitni Chot Kinaro Se Pucchiye.
मौजों से खेलना तो सागर का शौक है .
लगती है कितनी चोट किनारो से पूछिए .
موجوں سے کھیلنا تو ساگر کا شہک ہے .
لگتی ہے کتنی چوٹ کنارو سے پکچئے .
---