Shayari for Dard "Kisi Or Ka Hona"
|
Tum Aao Kabhi Dastak Toh Do Dar_E_Dil Par.
Pyaar Umeed Se Kam Ho To Saza_E_Maut De Dena.
तुम आओ कभी दस्तक तो दो दर _इ _ दिल पर .
प्यार उम्मीद से कम हो तो सज़ा _इ _मौत दे देना .
تم آؤ کبھی دستک تو دو در _ا _دل پر .
پیار امید سے کم ہو تو سزا _ا _موت دے دینا .
---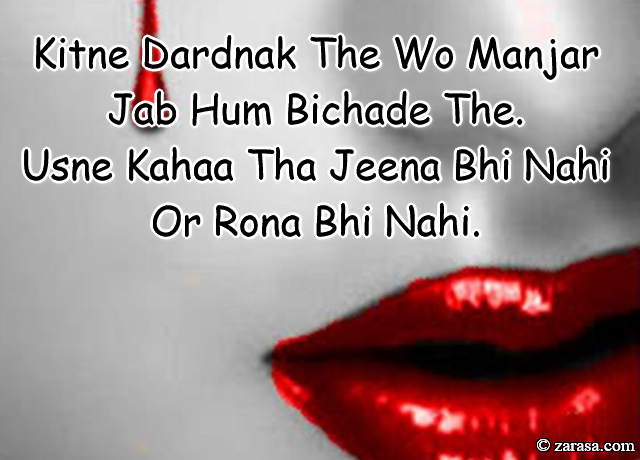 Kitne Dardnak The Wo Manjar Jab Hum Bichade The.
Usne Kahaa Tha Jeena Bhi Nahi Or Rona Bhi Nahi.
कितने दर्दनाक थे वो मंजर जब हम बिछड़े थे .
उसने कहा था जीना भी नहीं और रोना भी नहीं .
کتنے دردناک تھے وو منجر جب ہم بچادے تھے .
اسنے کہا تھا جینا بھی نہیں ور رونا بھی نہیں .
---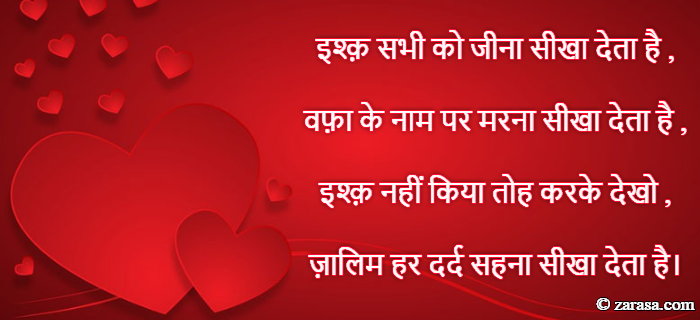 Ishq Sabhi Ko Jeena Sikha Deta Hai ,
Wafa Ke Naam Par Marna Sikha Deta Hai ,
Ishq Nhi Kiya Toh Karke Dekho,
Zalim Har Dard Sehna Sikha Deta Hai ,
इश्क़ सभी को जीना सीखा देता है ,
वफ़ा के नाम पर मरना सीखा देता है ,
इश्क़ नहीं किया तोह करके देखो ,
ज़ालिम हर दर्द सहना सीखा देता है।
عشق سبھی کو جینا سکھا دیتا ہے
وفا کے نام پر مرنا سکھا دیتا ہے
عشق نہی کیا تو کرکے دیکھو
ظالم ہر درد سہنا سکھا دیتا ہے
---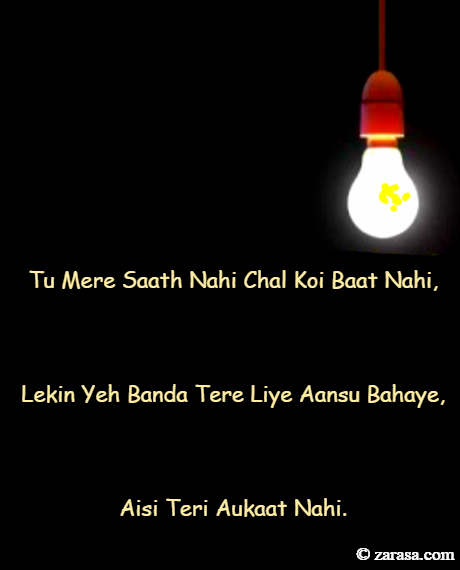 Tu Mere Saath Nahi Chal Koi Baat Nahi,
Lekin Yeh Banda Tere Liye Aansu Bahaye,
Aisi Teri Aukaat Nahi.
तू मेरे साथ नही चल कोई बात नही,
लेकिन यह बंदा तेरे लिये आँसू बहाए ,
ऐसी तेरी औकात नही।
تو میرے ساتھ نہی چل کوئی بات نہیں
لیکن یہ بندا تیرے لئے آنسو بہے
ایسی تیری اوکات نہیں
---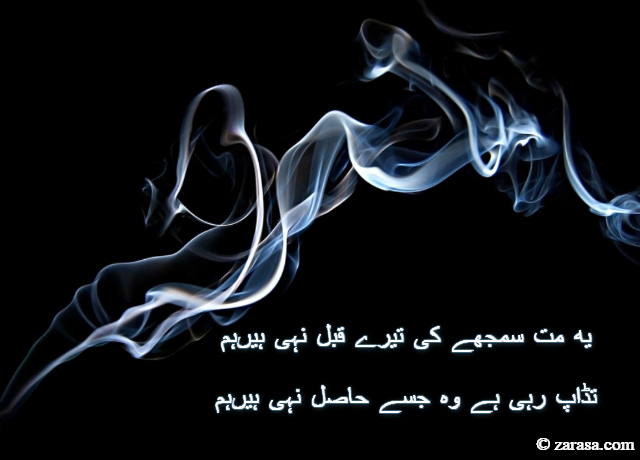 Yeh Mat Samjhiye Ki Tere Kabil Nhi Hain Hum,
Tadap Rhe Hai Vo Jise Haasil Nhi Hain Hum
ये मत समझ कि तेरे काबिल नहीं हैं हम,
तड़प रहे हैं वो जिसे हासिल नहीं हैं हम.....!!!
یه مت سمجھے کی تیرے قبل نہی ہیں ہم
تڈاپ رہی ہے وہ جسے حاصل نہی ہیں ہم
---