Shayari for Dard"Kitne Dardnak The Wo Manjar Jab Hum Bichade The"
|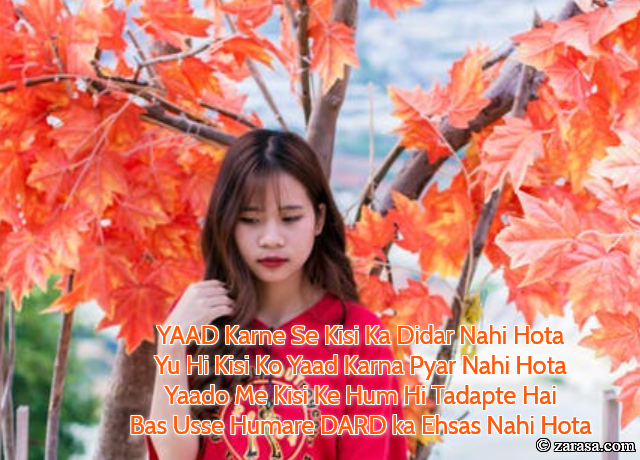 Yaad Karne Se Kisi Ka Didar Nahi Hota
Yu Hi Kisi Ko Yaad Karna Pyar Nahi Hota
Yaado Me Kisi Ke Hum Hi Tadapte Hai
Bas Usse Humare DARD ka Ehsas Nahi Hota
याद करने से किसी का दीदार नहीं होता
यु ही किसी को याद करना प्यार नहीं होता
यादो में किसी के हम ही तड़पते है
बस उससे हमारे दर्द का एहसास नहीं होता
یاد کرنے سے کسی کا دیدار ہوتا
یو ہی کسی کو یاد کرنا پیار نہیں ہوتا
یادو می کسی کے ہم ہی تداپتے ہے
بس اسے ہمارے درد کا احساس نہیں ہوتا
---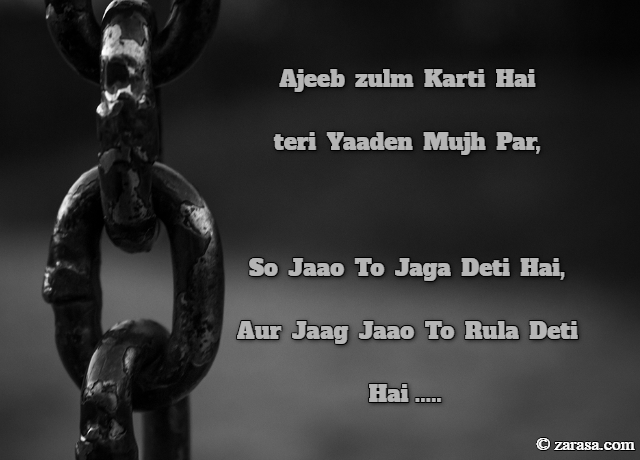 Ajeeb zulm Karti Hai teri Yaaden Mujh Par,
So Jaao To Jaga Deti Hai,Aur Jaag Jaao To Rula Deti Hai .....
अजीब जुल्म करती है तेरी यादें मुझ पर,
सो जाऊ तो जगा देती है, और जाग जाऊ तो रुला देती है…
عجیب ظلم کرتی ہے تیری یادیں مجھ پر
سو جاؤ تو جگا دیتی ہے ، اور جاگ جاؤ تو رولا دیتی ہے
---
Tum Aao Kabhi Dastak Toh Do Dar_E_Dil Par.
Pyaar Umeed Se Kam Ho To Saza_E_Maut De Dena.
तुम आओ कभी दस्तक तो दो दर _इ _ दिल पर .
प्यार उम्मीद से कम हो तो सज़ा _इ _मौत दे देना .
تم آؤ کبھی دستک تو دو در _ا _دل پر .
پیار امید سے کم ہو تو سزا _ا _موت دے دینا .
---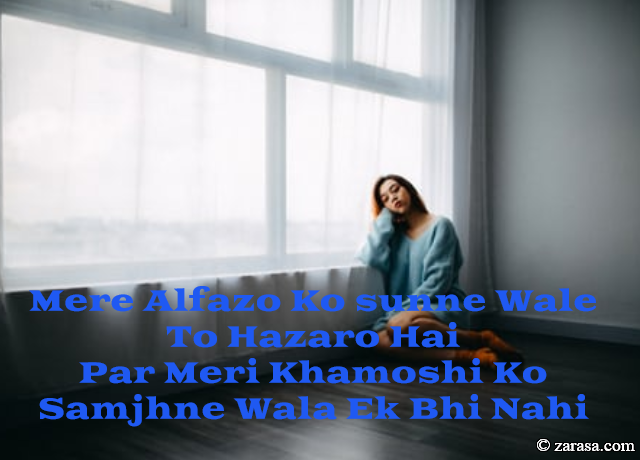 Mere Alfazo Ko sunne Wale To Hazaro Hai
Par Meri Khamoshi Ko Samjhne Wala Ek Bhi Nahi
मेरे अल्फाज़ो को सुनने वाले तो हज़ारो है
पर मेरी ख़ामोशी को समझने वाला एक भी नहीं
میرے الفاظو کو سنے والے تو ہزارو ہے
پر میری خاموشی کو سمجھنے والا ایک بھی نہیں
---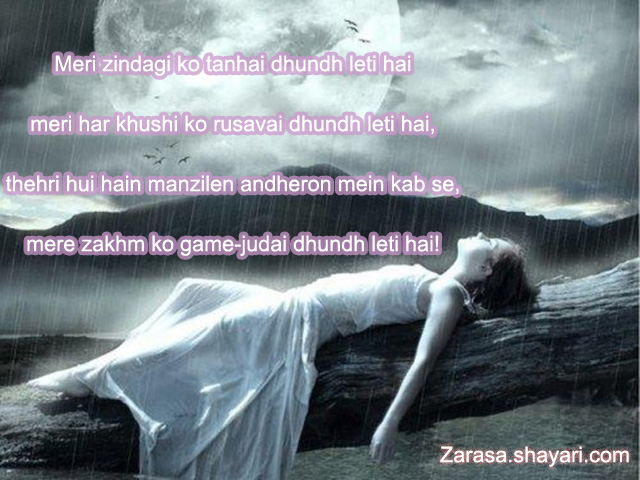 Meri zindagi ko tanhai dhundh leti hai
meri har khushi ko rusavai dhundh leti hai,
thehri hui hain manzilen andheron mein kab se,
mere zakhm ko game-judai dhundh leti hai!





मेरी ज़िन्दगी को तन्हाई ढूँढ लेती है,
मेरी हर खुशी को रुसवाई ढूँढ लेती है,
ठहरी हुई हैं मंजिलें अंधेरों में कबसे,
मेरे ज़ख्म को गमे-जुदाई ढूँढ लेती है!
میری زندگی کو تنہائی ڈھونڈ لیتی ہے
میری ہر خوشی کو رسوائی ڈھونڈ لیتی ہے
ٹھہری ہی ہیں منزلیں اندھیروں میں کب سے
میرے زخم کو گیم -جدائی ڈھونڈ لیتی ہے
---