Shayari for Dard"Aakhir Girte Hue Aasoon Ne Mujh Se Pooch Hi Liya"
|
Aakhir Girte Hue Aasoon Ne Mujh Se Pooch Hi Liya.
Nikaal Diya Na Mujhe Us Ke Liye Jiss Ke Liye Tu Kuch Bhi Nahi.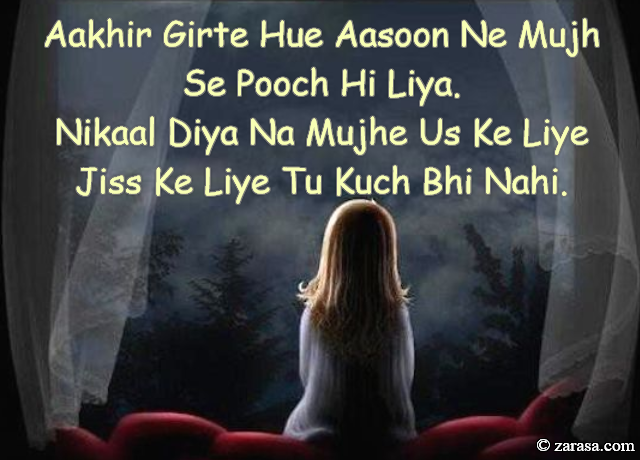 ---

आखिर गिरते हुए आसूं ने मुझ से पूछ ही लिया.
निकाल दिया न मुझे उस के लिए जिस के लिए तू कुछ भी नहीं .


---

آخر گرتے ہوئے آسوں نے مجھ سے پوچھ ہی لیا .
نکال دیا نہ مجھے اس کے لئے جیسس کے لئے تو کچھ بھی نہیں .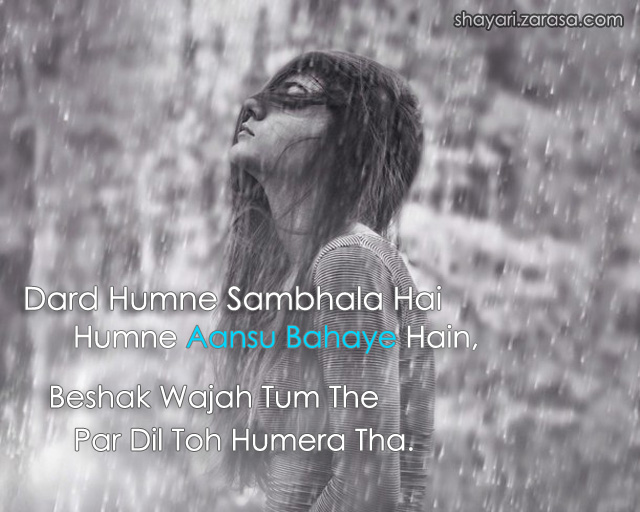 Dard Humne Sambhala Hai Humne Aansu Bahaye Hain,
Beshak Wajah Tum The Par Dil Toh Humara Tha.





दर्द हमने संभाला है हमने आँसू बहाए हैं,
बेशक वजह तुम थे पर दिल तो हमारा था।


درد ہمنے سمبھالا ہے ہمنے آنسو بھایں ہیں,
بیشک وجہ تم تھے پر دل تو ہمارا تھا.
---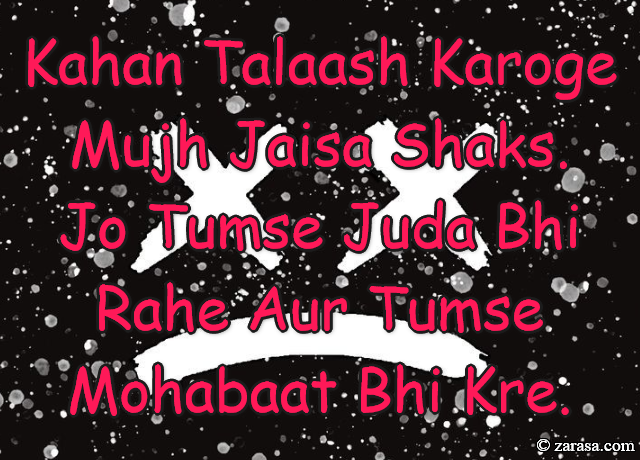 Kahan Talaash Karoge Mujh Jaisa Shaks.
Jo Tumse Juda Bhi Rahe Aur Tumse Mohabaat Bhi Kre.
कहाँ तलाश करोगे मुझ जैसा शख्स .
जो तुमसे जुदा भी रहे और तुमसे मोहबत भी करे .
کہاں تلاش کروگے مجھ جیسا شکس .
جو تمسے جدا بھی رہے اور تمسے موہبات بھی کرے .
---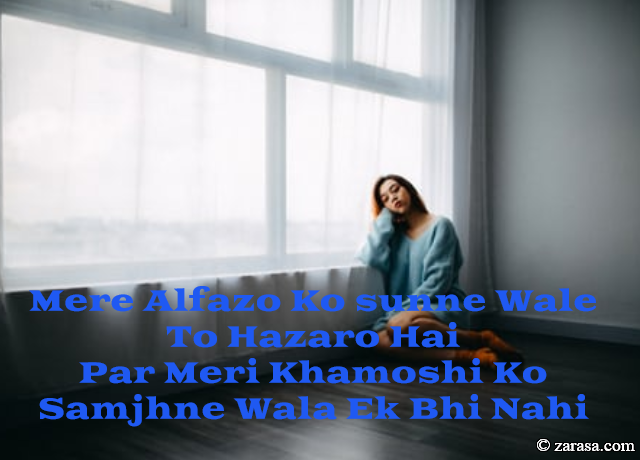 Mere Alfazo Ko sunne Wale To Hazaro Hai
Par Meri Khamoshi Ko Samjhne Wala Ek Bhi Nahi
मेरे अल्फाज़ो को सुनने वाले तो हज़ारो है
पर मेरी ख़ामोशी को समझने वाला एक भी नहीं
میرے الفاظو کو سنے والے تو ہزارو ہے
پر میری خاموشی کو سمجھنے والا ایک بھی نہیں
---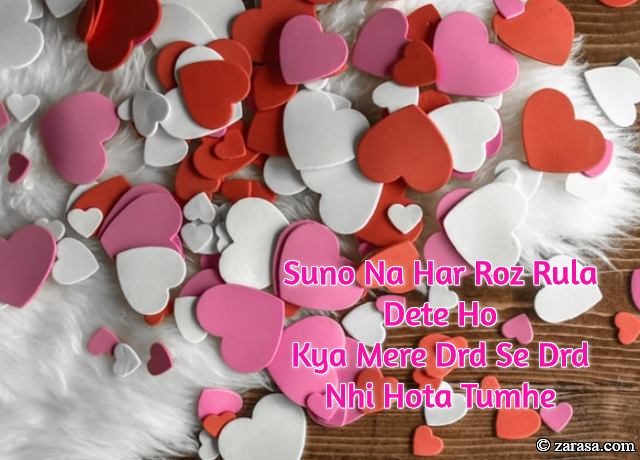 Suno Na Har Roz Rula Dete Ho
Kya Mere Dard Se Dard Nhi Hota Tumhe
सुनो ना हर रोज़ रुला देते हो
क्या मेरे दर्द से दर्द नहीं होता तुम्हे
سنو نا ہر روز رلا دیتے ہو
کیا میرے درد سے درد نہی ہوتا تمھ
---
Tum Aao Kabhi Dastak Toh Do Dar_E_Dil Par.
Pyaar Umeed Se Kam Ho To Saza_E_Maut De Dena.
तुम आओ कभी दस्तक तो दो दर _इ _ दिल पर .
प्यार उम्मीद से कम हो तो सज़ा _इ _मौत दे देना .
تم آؤ کبھی دستک تو دو در _ا _دل پر .
پیار امید سے کم ہو تو سزا _ا _موت دے دینا .
---