Shayari for Dard"Aakhir Girte Hue Aasoon Ne Mujh Se Pooch Hi Liya"
|
Aakhir Girte Hue Aasoon Ne Mujh Se Pooch Hi Liya.
Nikaal Diya Na Mujhe Us Ke Liye Jiss Ke Liye Tu Kuch Bhi Nahi.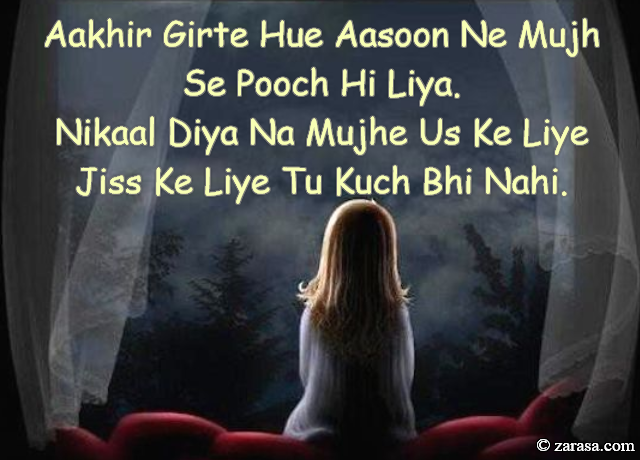 ---

आखिर गिरते हुए आसूं ने मुझ से पूछ ही लिया.
निकाल दिया न मुझे उस के लिए जिस के लिए तू कुछ भी नहीं .


---

آخر گرتے ہوئے آسوں نے مجھ سے پوچھ ہی لیا .
نکال دیا نہ مجھے اس کے لئے جیسس کے لئے تو کچھ بھی نہیں .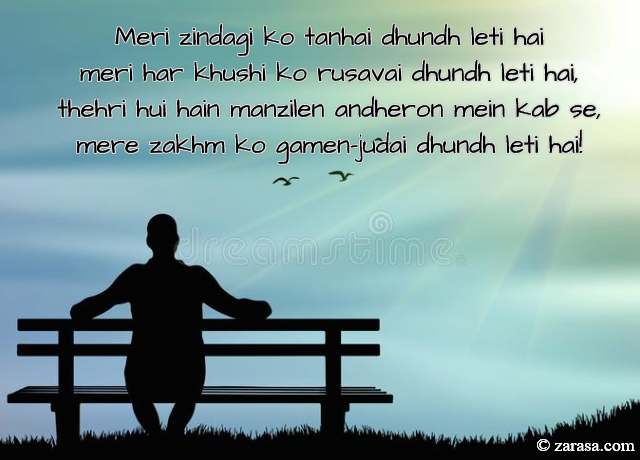 Meri zindagi ko tanhai dhundh leti hai
meri har khushi ko rusavai dhundh leti hai,
thehri hui hain manzilen andheron mein kab se,
mere zakhm ko gamen-judai dhundh leti hai!

मेरी ज़िन्दगी को तन्हाई ढूँढ लेती है,
मेरी हर खुशी को रुसवाई ढूँढ लेती है,
ठहरी हुई हैं मंजिलें अंधेरों में कबसे,
मेरे ज़ख्म को गमे-जुदाई ढूँढ लेती है!
میری زندگی کو تنہائی ڈھونڈ لیتی ہے
میری ہر خوشی کو رسوائی ڈھونڈ لیتی ہے
ٹھہری ہی ہیں منزلیں اندھیروں میں کب سے
میرے زخم کو گیم -جدائی ڈھونڈ لیتی ہے
---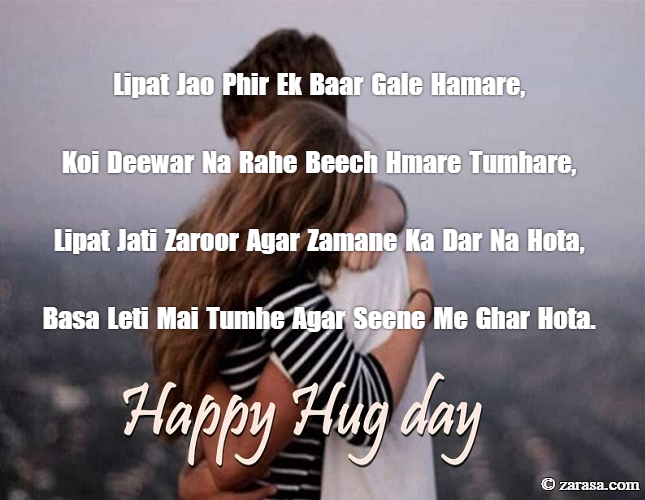 Lipat Jao Phir Ek Baar Gale Hamare,
Koi Deewar Na Rahe Beech Hmare Tumhare,
Lipat Jati Zaroor Agar Zamane Ka Dar Na Hota,
Basa Leti Mai Tumhe Agar Seene Me Ghar Hota.
लिपट जाओ फिर एक बार गले हमारे,
कोई दीवार ना रहे बीच हमारे तुम्हारे,
लिपट जाती जरूर अगर जमाने का डर ना होता,
बसा लेती मैं तुम्हें अगर सीने मैं घर होता।
لپٹ جاو پھر ایک بار گلے ہمارے
کوئی دیوار نہ رہے بیچ ہمارے تمہارے
لپٹ جاتی ضرور اگر زمانے کا در نہ ہوتا
بسا لیتی می تمھ اگر سینے مے گھر ہوتا
---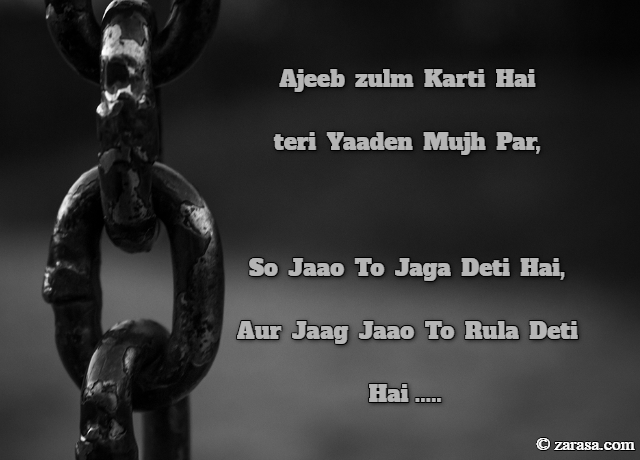 Ajeeb zulm Karti Hai teri Yaaden Mujh Par,
So Jaao To Jaga Deti Hai,Aur Jaag Jaao To Rula Deti Hai .....
अजीब जुल्म करती है तेरी यादें मुझ पर,
सो जाऊ तो जगा देती है, और जाग जाऊ तो रुला देती है…
عجیب ظلم کرتی ہے تیری یادیں مجھ پر
سو جاؤ تو جگا دیتی ہے ، اور جاگ جاؤ تو رولا دیتی ہے
---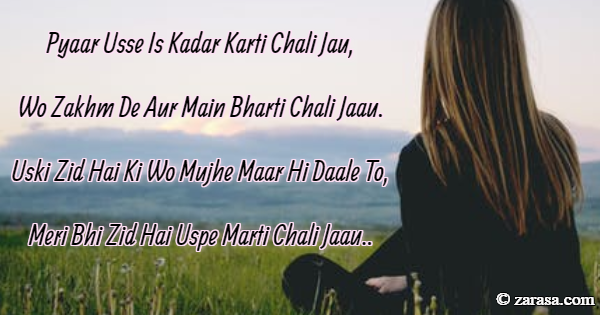 Pyaar Usse Is Kadar Karti Chali Jau,
Wo Zakhm De Aur Main Bharti Chali Jaau.
Uski Zid Hai Ki Wo Mujhe Maar Hi Daale To,
Meri Bhi Zid Hai Uspe Marti Chali Jaau..
प्यार उससे इस कदर करती चली जाऊँ,
वो जख़्म दे और मैं भरती चली जाऊँ.
उसकी ज़िद हैं कि वो मुझे मार ही डाले तो,
मेरी भी ज़िद हैं उसपे मरती चली जाऊँ..
پیار اسے اس کدر کرتی چلی جاو
وہ زخم دے اور می بھرتی چلی جاو
اسکی زد ہے کی وہ مجھے مار ہی دالے تو
میری بھی زد ہے اسپے مرتی چلی جاو
---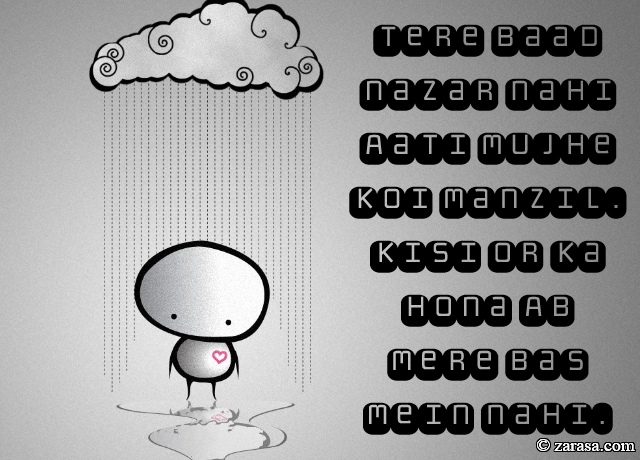 Tere Baad Nazar Nahi Aati Mujhe Koi Manzil.
Kisi Or Ka Hona Ab Mere Bas Mein Nahi.
तेरे बाद नज़र नहीं आती मुझे कोई मंज़िल .
किसी और का होना अब मेरे बस में नहीं .
تیرے بعد نظر نہیں آتی مجھے کوئی منزل .
کسی ور کا ہونا اب میرے بسس میں نہیں .
---