Shayari for Dosti(Friendship)" log roop dekhte hai , hum dil dekhte hai,"
|
Log Roop Dekhte Hai , Hum Dil Dekhte Hai,
Log Sapne Dekhte Hai , Hum Haqiqat Dekhte Hai,
Log Duniya Mein Dost Dekhte Hai ,Hum Dosto Mein Duniya Dekhte Hai.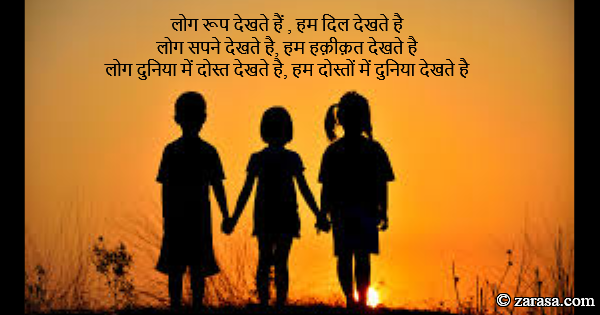 ---

लोग रूप देखते हैं , हम दिल देखते है
लोग सपने देखते है, हम हक़ीक़त देखते है
लोग दुनिया में दोस्त देखते है, हम दोस्तों में दुनिया देखते है


---

لوگ روپ دیکھتے ہے, ہم دل دیکھتے ہے
لوگ سپنے دیکھتے, ہے ہم حقیقت دیکھتے ہے
لوگ دنیا میں دوست دیکھتے, ہے ہم دوستوں میں دنیا دیکھتے ہے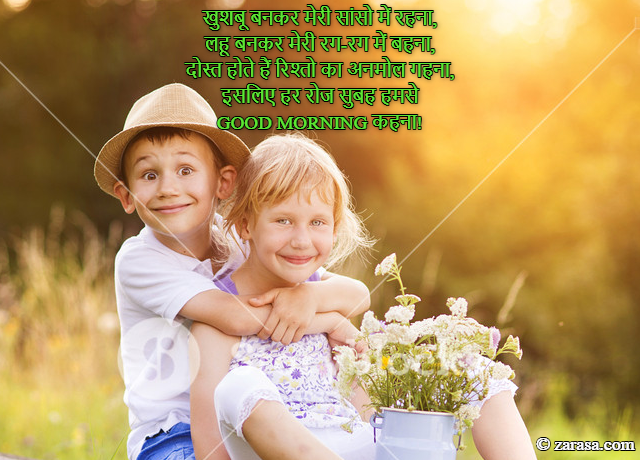 khushbu bankar meri Sason mai rehna ,
Lahu bankar meri rag-rag mai behna,
Dost Hote hai rishton ka anmol Gehna,
Isliye har roz subah hm se
Good Morning kehna.
खुशबू बनकर मेरी सांसो में रहना,
लहू बनकर मेरी रग-रग में बहना,
दोस्त होते हैं रिश्तो का अनमोल गहना,
इसलिए हर रोज सुबह हमसे
सु प्रभात कहना!
خوشبو بنکر میری ساسوں می رہنا
لہو بنکر میری رگ رگ می بہنا
دوست ہوتے ہے رشتوں کا انمول گہنا
اسلئے ہر روز سبھا ہم سے
گود مورننگ کہنا
---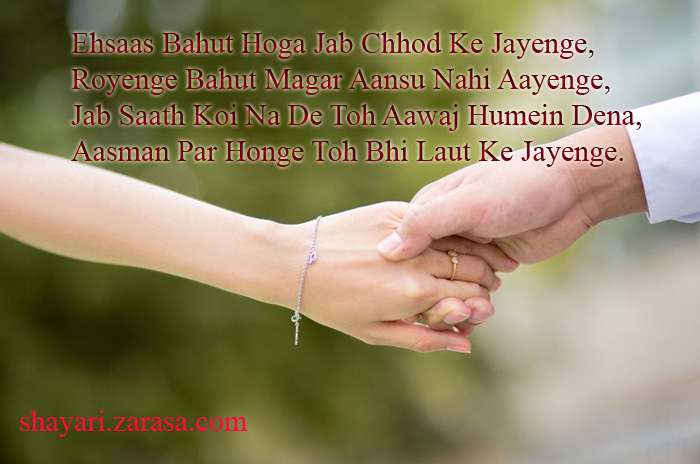 Ehsaas Bahut Hoga Jab Chhod Ke Jayenge,
Royenge Bahut Magar Aansu Nahi Aayenge,
Jab Saath Koi Na De Toh Aawaj Humein Dena,
Aasman Par Honge Toh Bhi Laut Ke Jayenge.



एहसास बहुत होगा जब छोड़ के जायेंगे,
रोयेंगे बहुत मगर आंसू नहीं आएंगे,
जब साथ कोई न दे तो आवाज हमें देना,
आसमान पर होंगे तो भी लौट के जायेंगे।
احساس بہت ہوگا جب چھوڑ کے جائیں گے،
رونا بہت مگر آنسو نہیں آئیں گے،
جب ساتھ کوئی نہ دے تو آواز ہمیں دینا،
آسمان پر ہوں گے تو بھی لوٹ کے جائیں گے
---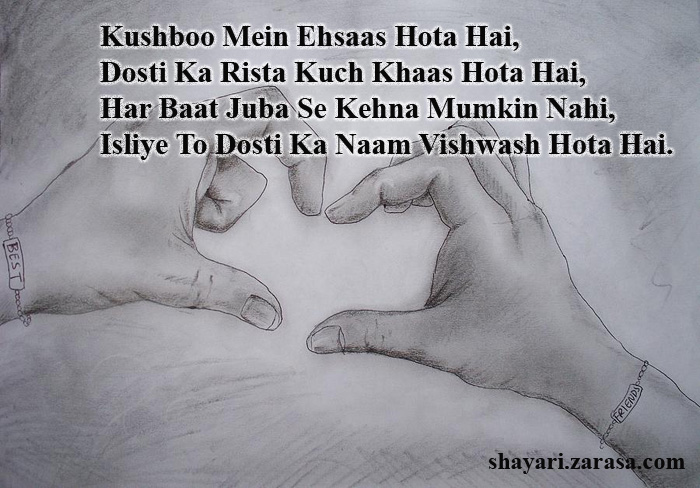 Kushboo Mein Ehsaas Hota Hai,
Dosti Ka Rista Kuch Khaas Hota Hai,
Har Baat Juba Se Kehna Mumkin Nahi,
Isliye To Dosti Ka Naam Vishwas Hota Hai.


खुशबू में एहसास होता है,
दोस्ती का रिश्ता कुछ ख़ास होता है,
हर बात ज़ुबां से कहना मुमकिन नहीं,
इसलिए तो दोस्ती का नाम विश्वास होता है.
خوشبو میں احساس ہوتا ہے،
دوستی کا رشتہ کچھ خاص ہوتا ہے،
ہر بات زباں سے کہنا ممکن نہیں،
لہذا تو دوستی کا نام وشواس ہوتا ہے.
---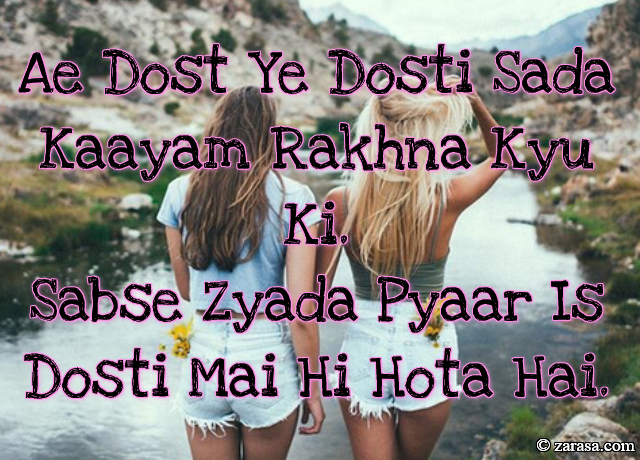 Ae Dost Ye Dosti Sada Kaayam Rakhna Kyu Ki.
Sabse Zyada Pyaar Is Dosti Mai Hi Hota Hai.
ऐ दोस्त ये दोस्ती सदा क़ायम रखना क्यों की .
सबसे ज़्यादा प्यार इस दोस्ती मै ही होता है .
اے دوست یہ دوستی صدا کاایم رکھنا کیو کی .
سبسے زیادہ پیار اس دوستی می ہی ہوتا ہے .
---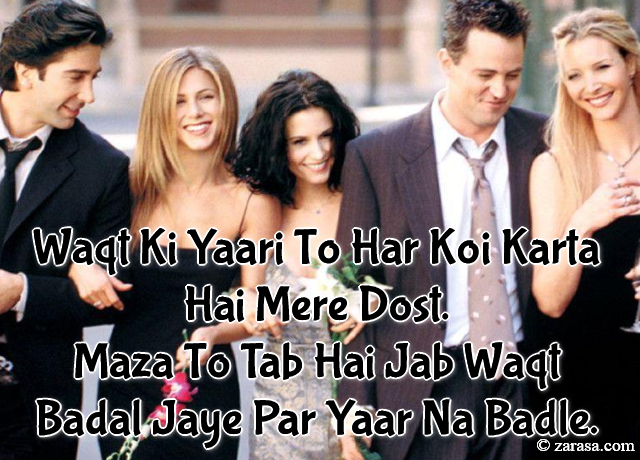 Waqt Ki Yaari To Har Koi Karta Hai Mere Dost.
Maza To Tab Hai Jab Waqt Badal Jaye Par Yaar Na Badle.
वक़्त की यारी तो हर कोई करता है मेरे दोस्त .
मज़ा तो तब है जब वक़्त बदल जाये पर यार ना बदले .
وقت کی یاری تو ہر کوئی کرتا ہے میرے دوست .
مزہ تو ٹیب ہے جب وقت بدل جائے پر یار نہ بدلے .
---