Shayari for Dosti(Friendship)"Teri Dosti Hi Meri Shaan Hai"
|
Teri Muskurahat Meri Pehchan Hai,Teri Khushi Meri Jaan Hai,Kuch Bhi Nahi Meri Zindagi Bas Itna Samajh Le,Ki Teri Dosti Hi Meri Shaan Hai.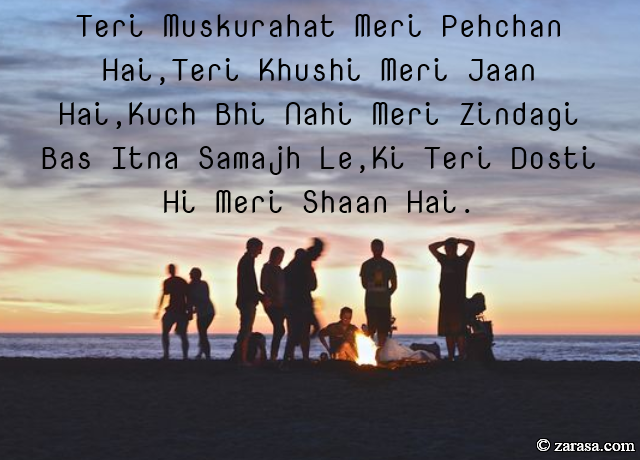 ---

तेरी मुस्कराहट मेरी पहचान है ,तेरी ख़ुशी मेरी जान है ,कुछ भी नहीं मेरी ज़िन्दगी बस इतना समझ ले ,की तेरी दोस्ती ही मेरी शान है .


---

تیری مسکراہٹ میری پہچان ہے ,تیری خوشی میری جان ہے ,کچھ بھی نہیں میری زندگی بس اتنا سمجھ لے ,کی تیری دوستی ہی میری شان ہے .


Jinki Dosti Sachi Hai Wo Kab Fariyad Karte Hai.
Zubaan Khamosh Hoti Hai Magar Dilse Yaad Karti Hai.
जिनकी दोस्ती सच्ची है वो कब फरियाद करते है .
ज़ुबान खामोश होती है मगर दिलसे याद करती है .
جنکی دوستی سچی ہے وو کب فریاد کرتے ہے .
زبان خاموش ہوتی ہے مگر دلسے یاد کرتی ہے .
---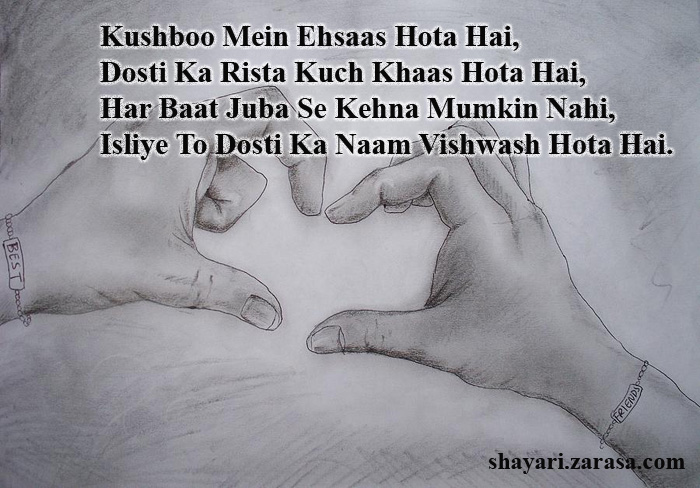 Kushboo Mein Ehsaas Hota Hai,
Dosti Ka Rista Kuch Khaas Hota Hai,
Har Baat Juba Se Kehna Mumkin Nahi,
Isliye To Dosti Ka Naam Vishwas Hota Hai.


खुशबू में एहसास होता है,
दोस्ती का रिश्ता कुछ ख़ास होता है,
हर बात ज़ुबां से कहना मुमकिन नहीं,
इसलिए तो दोस्ती का नाम विश्वास होता है.
خوشبو میں احساس ہوتا ہے،
دوستی کا رشتہ کچھ خاص ہوتا ہے،
ہر بات زباں سے کہنا ممکن نہیں،
لہذا تو دوستی کا نام وشواس ہوتا ہے.
---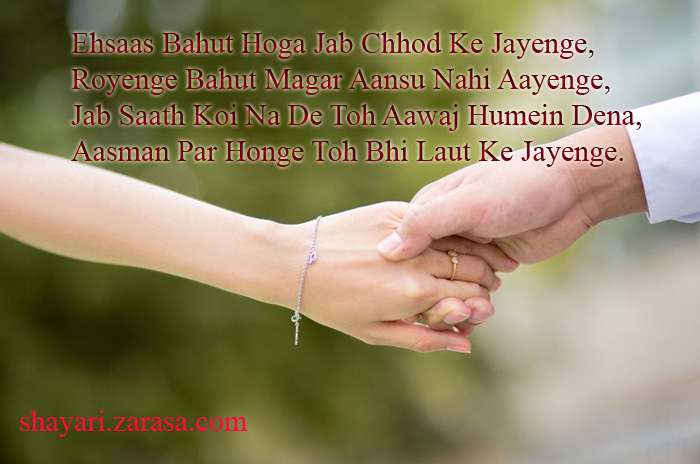 Ehsaas Bahut Hoga Jab Chhod Ke Jayenge,
Royenge Bahut Magar Aansu Nahi Aayenge,
Jab Saath Koi Na De Toh Aawaj Humein Dena,
Aasman Par Honge Toh Bhi Laut Ke Jayenge.



एहसास बहुत होगा जब छोड़ के जायेंगे,
रोयेंगे बहुत मगर आंसू नहीं आएंगे,
जब साथ कोई न दे तो आवाज हमें देना,
आसमान पर होंगे तो भी लौट के जायेंगे।
احساس بہت ہوگا جب چھوڑ کے جائیں گے،
رونا بہت مگر آنسو نہیں آئیں گے،
جب ساتھ کوئی نہ دے تو آواز ہمیں دینا،
آسمان پر ہوں گے تو بھی لوٹ کے جائیں گے
---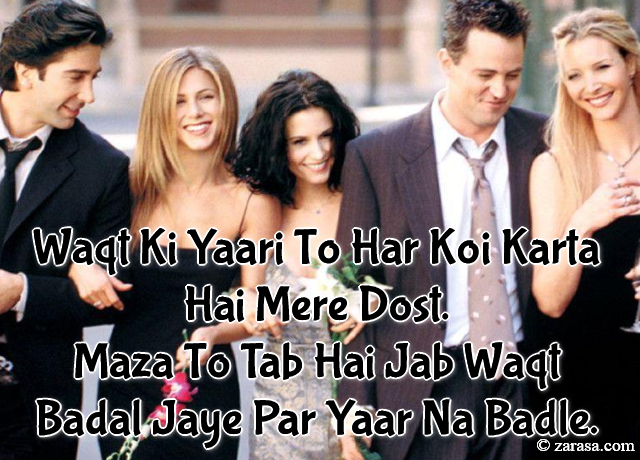 Waqt Ki Yaari To Har Koi Karta Hai Mere Dost.
Maza To Tab Hai Jab Waqt Badal Jaye Par Yaar Na Badle.
वक़्त की यारी तो हर कोई करता है मेरे दोस्त .
मज़ा तो तब है जब वक़्त बदल जाये पर यार ना बदले .
وقت کی یاری تو ہر کوئی کرتا ہے میرے دوست .
مزہ تو ٹیب ہے جب وقت بدل جائے پر یار نہ بدلے .
---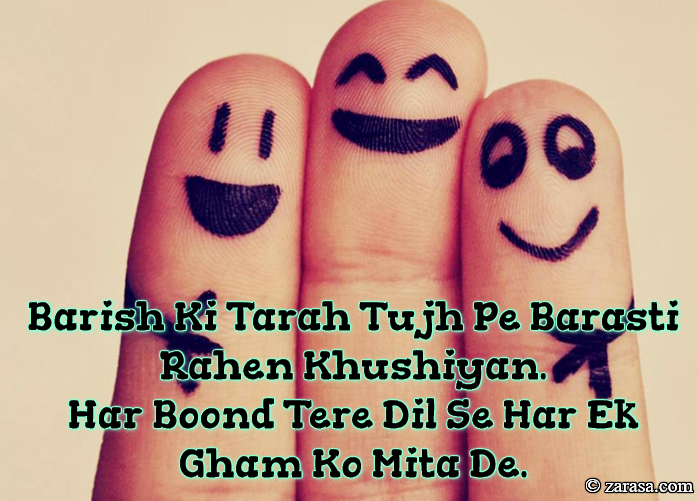 Barish Ki Tarah Tujh Pe Barasti Rahen Khushiyan.
Har Boond Tere Dil Se Har Ek Gham Ko Mita De.
बारिश की तरह तुझ पे बरसती रहें खुशियां .
हर बूँद तेरे दिल से हर एक ग़म को मिटा दे .
بارش کی طرح تجھ پی برستی رہیں خوشیاں .
ہر بوند تیرے دل سے ہر ایک غم کو مٹا دے .
---