Shayari for Dosti(Friendship) "दोस्त का प्यार दुआ से कम नहीं होती"
|
Dost ka pyar dua se kam nahi hota,
Woh chahe door ho phir bhi koi gham nahi hota,
Aksar pyar mein dosti kam ho jati hain,
Magar dosti mein pyar kabhi kam nahi hota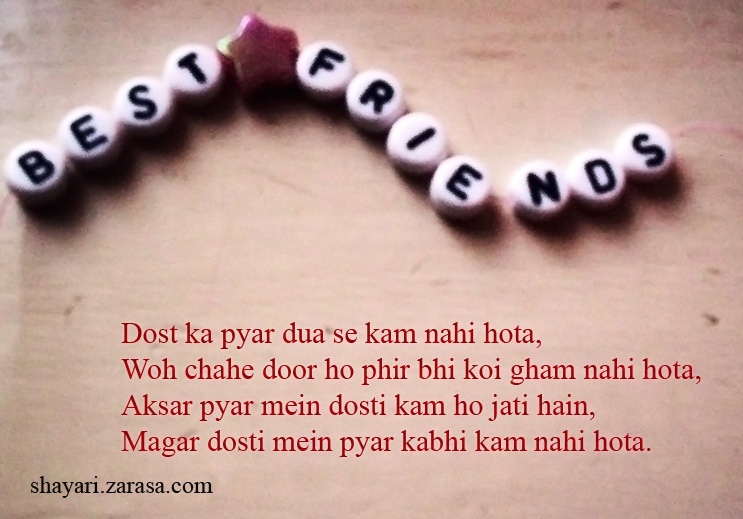 ---

दोस्त का प्यार दुआ से कम नहीं होता,
वो चाहे दूर हो फिर भी कोई ग़म नहीं होता,
अक्सर प्यार में होता कम हो जाती हैं,
मगर दोस्ती में प्यार कभी कम नहीं होता।


---

دوست کی محبت دعا سے کم نہیں ہوتی،
وہ چاہے دور ہو پھر بھی کوئی غم نہیں ہوتی،
اکثر محبت میں دوستی کم ہو جاتی ہیں،
مگر دوستی میں محبت کبھی کم نہیں ہوتی.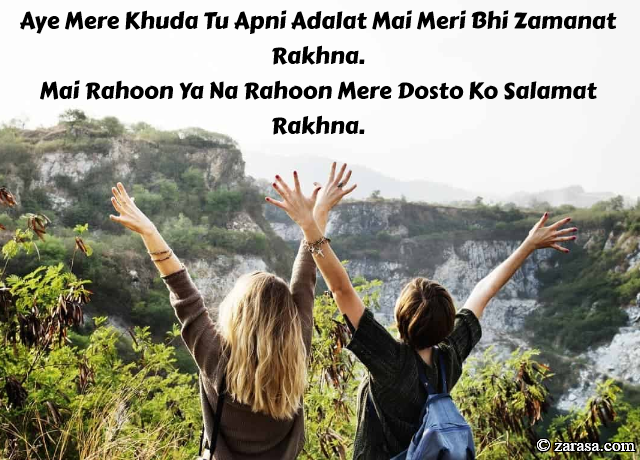 Aye Mere Khuda Tu Apni Adalat Mai Meri Bhi Zamanat Rakhna.
Mai Rahoon Ya Na Rahoon Mere Dosto Ko Salamat Rakhna.
ए मेरे ख़ुदा तू अपनी अदालत मै मेरी भी ज़मानत रखना .
मै रहूँ या न रहूँ मेरे दोस्तों को सलामत रखना .
ہے میرے خدا تو اپنی عدالت می میری بھی ضمانت رکھنا .
می رہوں یا نہ رہوں میرے دوستو کو سلامت رکھنا .
---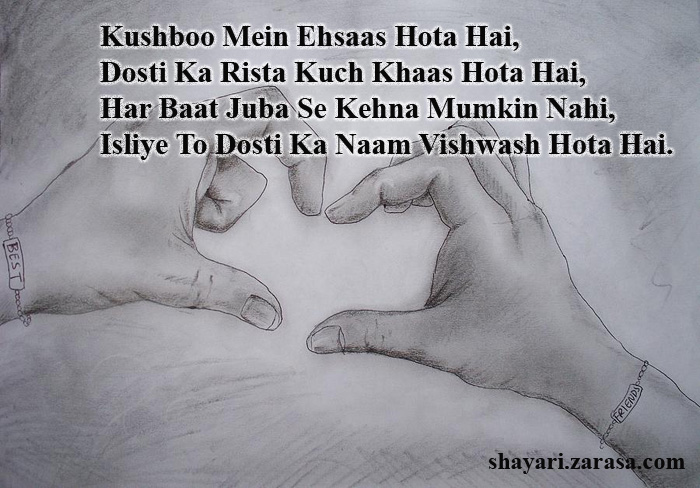 Kushboo Mein Ehsaas Hota Hai,
Dosti Ka Rista Kuch Khaas Hota Hai,
Har Baat Juba Se Kehna Mumkin Nahi,
Isliye To Dosti Ka Naam Vishwas Hota Hai.


खुशबू में एहसास होता है,
दोस्ती का रिश्ता कुछ ख़ास होता है,
हर बात ज़ुबां से कहना मुमकिन नहीं,
इसलिए तो दोस्ती का नाम विश्वास होता है.
خوشبو میں احساس ہوتا ہے،
دوستی کا رشتہ کچھ خاص ہوتا ہے،
ہر بات زباں سے کہنا ممکن نہیں،
لہذا تو دوستی کا نام وشواس ہوتا ہے.
---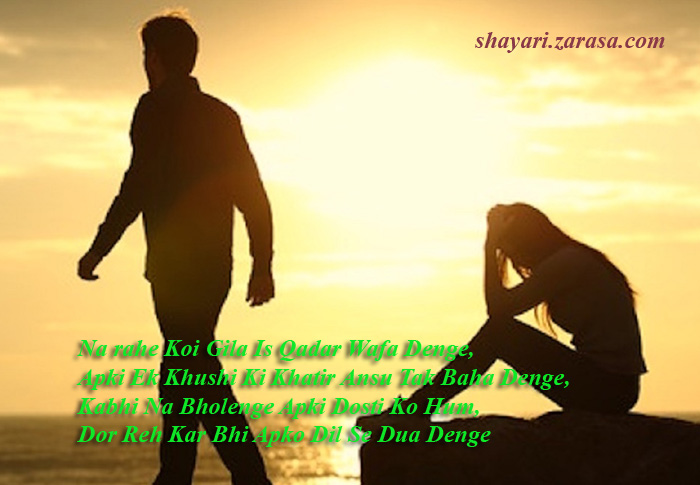 Na rahe Koi Gila Is Qadar Wafa Denge,
Apki Ek Khushi Ki Khatir Ansu Tak Baha Denge,
Kabhi Na Bholenge Apki Dosti Ko Hum,
Dor Reh Kar Bhi Apko Dil Se Dua Deng



न रहे कोई गिला इस क़दर वफ़ा देंगे,
आपकी एक ख़ुशी की खातिर आंसू तक बहा देंगे,
कभी न भूलेंगे आपकी दोस्ती को हम,
दूर रह कर भी आपको दिल से दुआ देंगे .
نہ رہے کوئی گلہ اس قدر وفا دیں گے،
آپ کی ایک خوشی کی خاطر آنسو تک بہا دیں گے،
کبھی نہ بھولیں گے آپ کی دوستی کو ہم،
دور رہ کر بھی آپ کو دل سے دعا دیں گے
---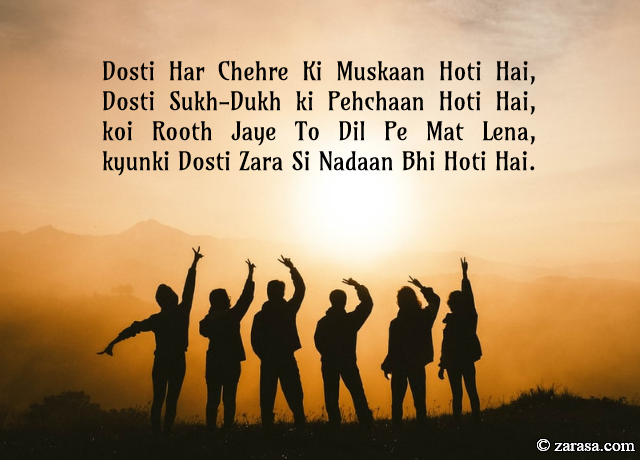 Dosti Har Chehre Ki Muskaan Hoti Hai,
Dosti Sukh-Dukh ki Pehchaan Hoti Hai,
koi Rooth Jaye To Dil Pe Mat Lena,
kyunki Dosti Zara Si Nadaan Bhi Hoti Hai.
दोस्ती हर चेहरे की मुस्कान होती है,
दोस्ती ही सुख-दुःख की पहचान होती है,
कोई रूठ भी जाये तो दिल पे मत लेना,
क्यूंकि दोस्ती ज़रा सी नादान होती है।
دوستی ہر چہرے کی مسکراہٹ ہوتی ہے
دوستی سکھ-افسوس کی شناخت ہوتی ہے
کوئی روٹھ جائے تو دل پہ مت لینا
کیوںک دوستی ذرا سی نادان بھی ہوتی ہے
---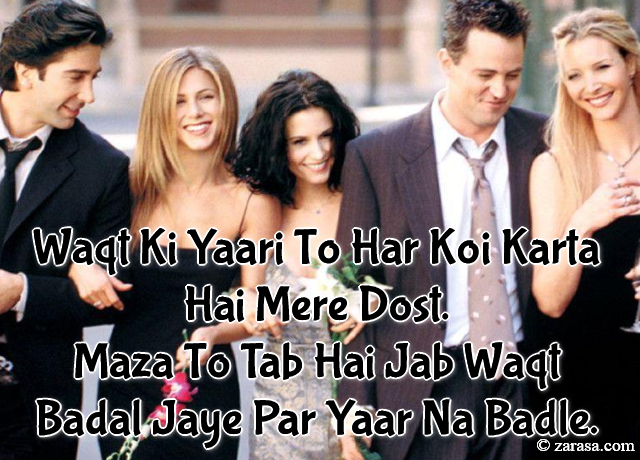 Waqt Ki Yaari To Har Koi Karta Hai Mere Dost.
Maza To Tab Hai Jab Waqt Badal Jaye Par Yaar Na Badle.
वक़्त की यारी तो हर कोई करता है मेरे दोस्त .
मज़ा तो तब है जब वक़्त बदल जाये पर यार ना बदले .
وقت کی یاری تو ہر کوئی کرتا ہے میرے دوست .
مزہ تو ٹیب ہے جب وقت بدل جائے پر یار نہ بدلے .
---