Shayari for Dosti(Friendship)"Mere Dosto Ko Salamat Rakhna"
|
Aye Mere Khuda Tu Apni Adalat Mai Meri Bhi Zamanat Rakhna.
Mai Rahoon Ya Na Rahoon Mere Dosto Ko Salamat Rakhna.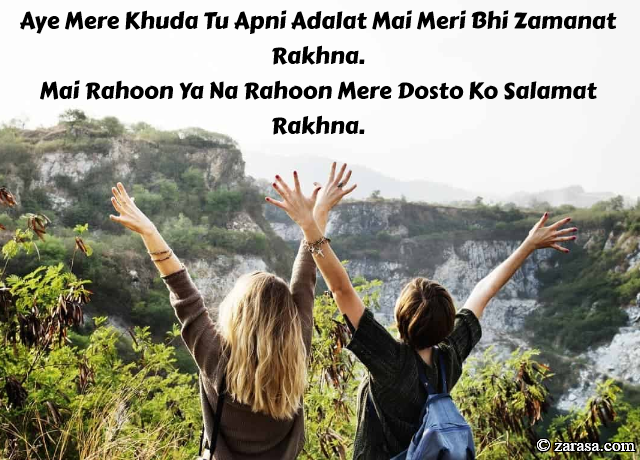 ---

ए मेरे ख़ुदा तू अपनी अदालत मै मेरी भी ज़मानत रखना .
मै रहूँ या न रहूँ मेरे दोस्तों को सलामत रखना .


---

ہے میرے خدا تو اپنی عدالت می میری بھی ضمانت رکھنا .
می رہوں یا نہ رہوں میرے دوستو کو سلامت رکھنا .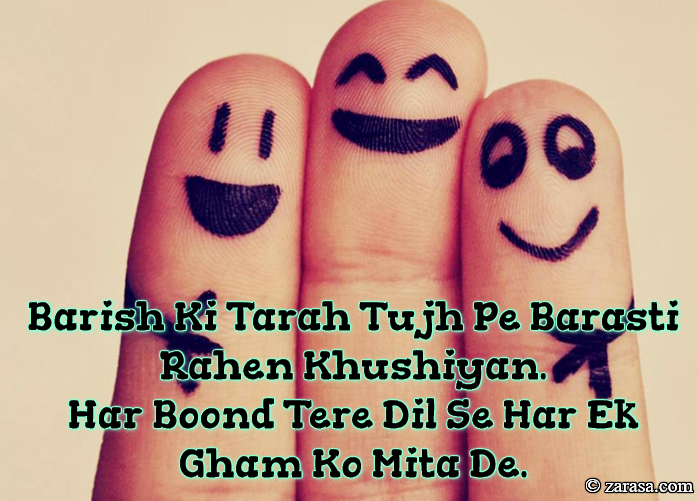 Barish Ki Tarah Tujh Pe Barasti Rahen Khushiyan.
Har Boond Tere Dil Se Har Ek Gham Ko Mita De.
बारिश की तरह तुझ पे बरसती रहें खुशियां .
हर बूँद तेरे दिल से हर एक ग़म को मिटा दे .
بارش کی طرح تجھ پی برستی رہیں خوشیاں .
ہر بوند تیرے دل سے ہر ایک غم کو مٹا دے .
---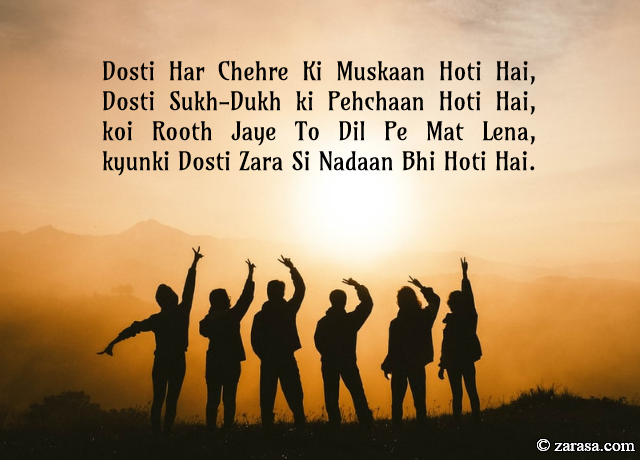 Dosti Har Chehre Ki Muskaan Hoti Hai,
Dosti Sukh-Dukh ki Pehchaan Hoti Hai,
koi Rooth Jaye To Dil Pe Mat Lena,
kyunki Dosti Zara Si Nadaan Bhi Hoti Hai.
दोस्ती हर चेहरे की मुस्कान होती है,
दोस्ती ही सुख-दुःख की पहचान होती है,
कोई रूठ भी जाये तो दिल पे मत लेना,
क्यूंकि दोस्ती ज़रा सी नादान होती है।
دوستی ہر چہرے کی مسکراہٹ ہوتی ہے
دوستی سکھ-افسوس کی شناخت ہوتی ہے
کوئی روٹھ جائے تو دل پہ مت لینا
کیوںک دوستی ذرا سی نادان بھی ہوتی ہے
---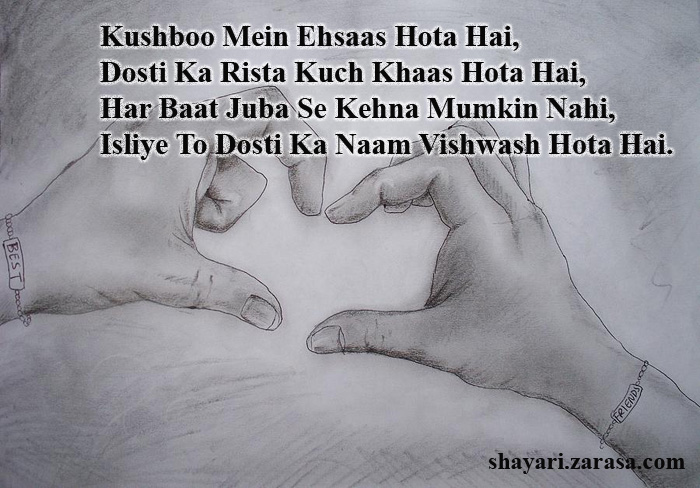 Kushboo Mein Ehsaas Hota Hai,
Dosti Ka Rista Kuch Khaas Hota Hai,
Har Baat Juba Se Kehna Mumkin Nahi,
Isliye To Dosti Ka Naam Vishwas Hota Hai.


खुशबू में एहसास होता है,
दोस्ती का रिश्ता कुछ ख़ास होता है,
हर बात ज़ुबां से कहना मुमकिन नहीं,
इसलिए तो दोस्ती का नाम विश्वास होता है.
خوشبو میں احساس ہوتا ہے،
دوستی کا رشتہ کچھ خاص ہوتا ہے،
ہر بات زباں سے کہنا ممکن نہیں،
لہذا تو دوستی کا نام وشواس ہوتا ہے.
---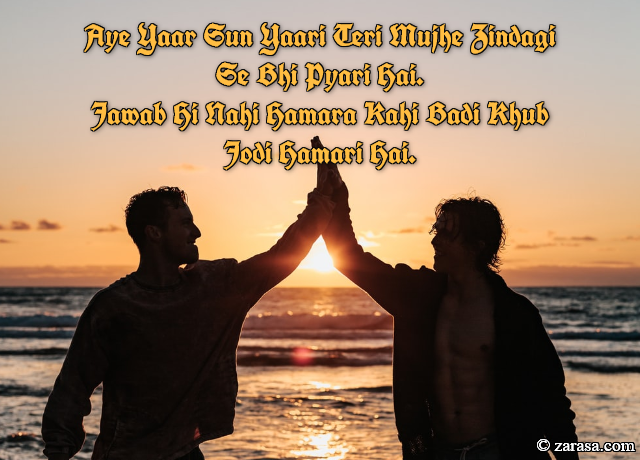 Aye Yaar Sun Yaari Teri Mujhe Zindagi Se Bhi Pyari Hai.
Jawab Hi Nahi Hamara Kahi Badi Khub Jodi Hamari Hai.
ए यार सुन यारी तेरी मुझे ज़िन्दगी से भी प्यारी है .
जवाब ही नहीं हमारा कही बड़ी खूब जोड़ी हमारी है .
ہے یار سن یاری تیری مجھے زندگی سے بھی پیاری ہے .
جواب ہی نہیں ہمارا کہی بدی خوب جوڈی ہماری ہے .
---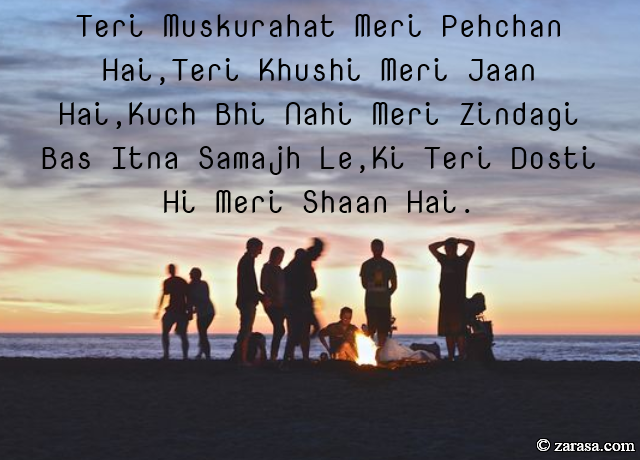 Teri Muskurahat Meri Pehchan Hai,Teri Khushi Meri Jaan Hai,Kuch Bhi Nahi Meri Zindagi Bas Itna Samajh Le,Ki Teri Dosti Hi Meri Shaan Hai.
तेरी मुस्कराहट मेरी पहचान है ,तेरी ख़ुशी मेरी जान है ,कुछ भी नहीं मेरी ज़िन्दगी बस इतना समझ ले ,की तेरी दोस्ती ही मेरी शान है .
تیری مسکراہٹ میری پہچان ہے ,تیری خوشی میری جان ہے ,کچھ بھی نہیں میری زندگی بس اتنا سمجھ لے ,کی تیری دوستی ہی میری شان ہے .
---