Shayari for Dua "Duniya se mile gum to bahut hain"
|
Duniya se mile gum to bahut hain,
In mile gamo se ankhain num to bahut hai,
Kab ke mar jaate in gamo ko sehkar.
Par dosto ki duaaon me dum bhi bhut hai.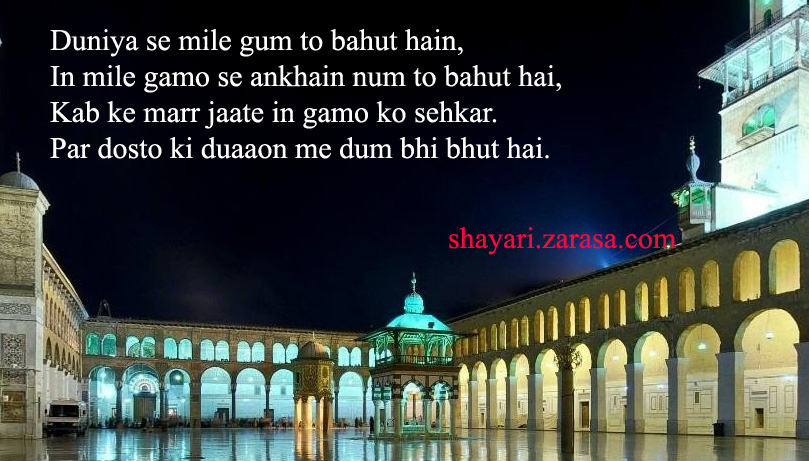 ---

दुनिया से मिले गम तो बहुत हैं,
इन मिले गमो से आँखें नम तो बहुत है,
कब के मर जाते इन गमो को सहकर.
पर दोस्तों की दुआओं में दम भी बहुत है.


---

دنیا سے ملے گم تو بہت ہیں
ان ملے گمو سے آنکھیں نم تو بہت ہے
کب کے مر جاتے ان گمو کو برداشت کرکے
پر دوستوں کی دعاؤں میں دم بھی بہت ہے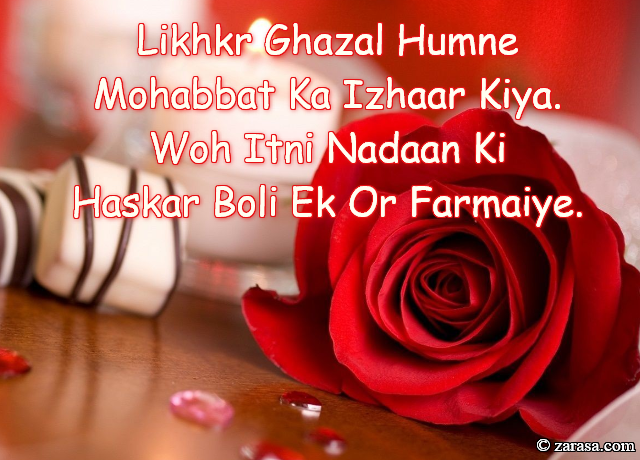 Likhkr Ghazal Humne Mohabbat Ka Izhaar Kiya.
Woh Itni Nadaan Ki Haskar Boli Ek Or Farmaiye.
लिखकर ग़ज़ल हमने मोहब्बत का इज़्हार किया .
वह इतनी नादान की हसकर बोली एक और फरमाइए .
لکھکر غزل ہمنے موحبّت کا اظہار کیا .
وہ اتنی ناداں کی حسکر بولی ایک اور فرمائے .
---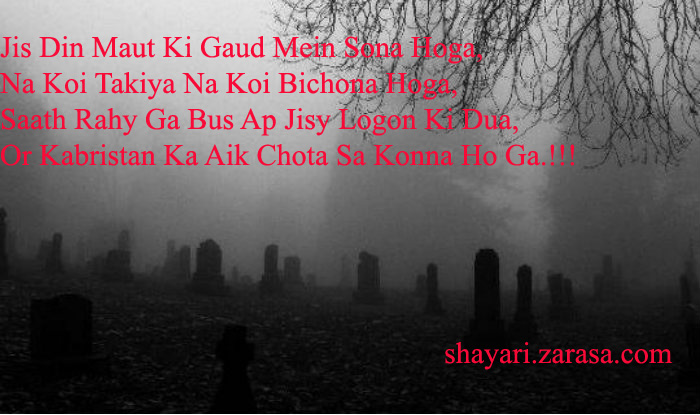 Jis Din Maut Ki Gaud Mein Sona Hoga,
Na Koi Takiya Na Koi Bichona Hoga,
Saath Rahe Gi Bus Aap Jisy Logon Ki Dua,
Or Kabristan Ka Aik Chota Sa Konna Ho Ga.!!!








जिस दिन मौत की गोद में सोना होगा
न कोई तकिया न कोई बिछोना होगा,
साथ रहे गी बस आप जैसे लोगों की दुआ,
और कब्रिस्तान का एक छोटा सा कोना हो गा!!!
جس دن موت کی گود میں سونا گے
نہ کوئی تکیا نہ کوئی بچھونا گے
ساتھ رہے گی بس آپ جیسے لوگوں کی دوا
اور قبرستان کا ایک چھوٹا سا کونا ہو گا
---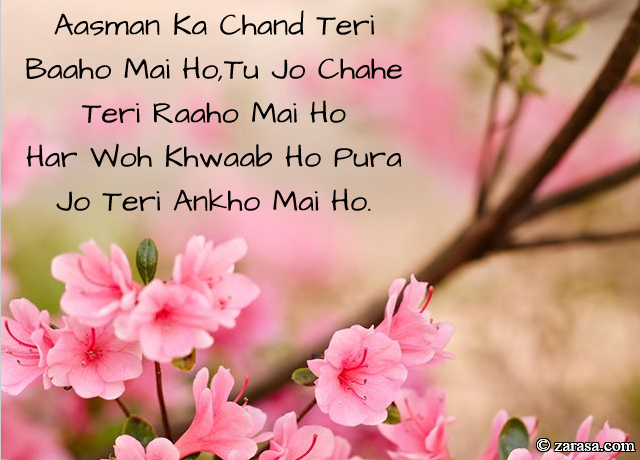 Aasman Ka Chand Teri Baaho Mai Ho,Tu Jo Chahe Teri Raaho Mai Ho
Har Woh Khwaab Ho Pura Jo Teri Ankho Mai Ho.
आसमान का चाँद तेरी बाहो मै हो ,तू जो चाहे तेरी राहो मै हो
हर वो ख़्वाब हो पूरा जो तेरी आँखों मै हो .
آسمان کا چند تیری بہو می ہو ,تو جو چاہے تیری رہاہو می ہو
ہر وہ خواب ہو پورا جو تیری انکھو می ہو .
---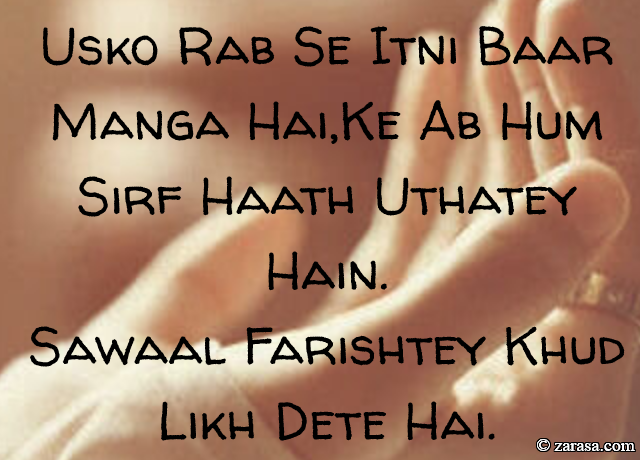 Usko Rab Se Itni Baar Manga Hai,Ke Ab Hum Sirf Haath Uthatey Hain.
Sawaal Farishtey Khud Likh Dete Hai.
उसको रब से इतनी बार माँगा है ,के अब हम सिर्फ हाथ उठाते हैं .
सवाल फ़रिश्ते ख़ुद लिख देते है .
اسکو رب سے اتنی بار منگا ہے ,کے اب ہم صرف ہاتھ اٹھاتے ہے .
سوال فرشتے خود لکھ دیتے ہے .
---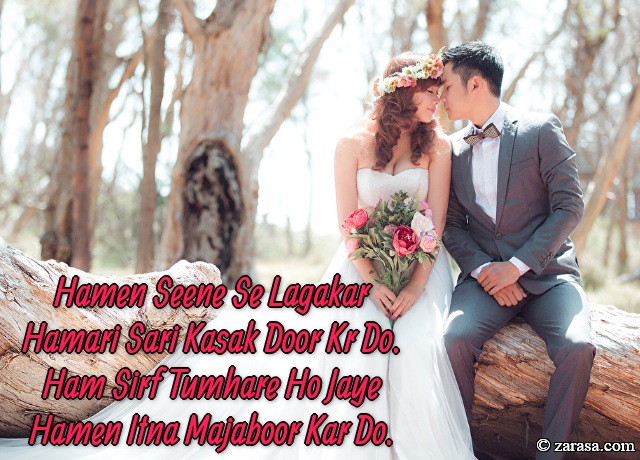 Hamen Seene Se Lagakar Hamari Sari Kasak Door Kr Do.
Ham Sirf Tumhare Ho Jaye Hamen Itna Majaboor Kar Do.
हमें सीने से लगाकर हमारी साडी कसक दूर कर दो .
हम सिर्फ तुम्हारे हो जाये हमें इतना मजबूर कर दो .
ہمیں سینے سے لگاکر ہماری سری کسک دور کر دو.
ہم صرف تمہارے ہو جائے ہمیں اتنا مجبور کر دو .
---