Shayari for Dua "Duniya se mile gum to bahut hain"
Duniya se mile gum to bahut hain,
In mile gamo se ankhain num to bahut hai,
Kab ke mar jaate in gamo ko sehkar.
Par dosto ki duaaon me dum bhi bhut hai.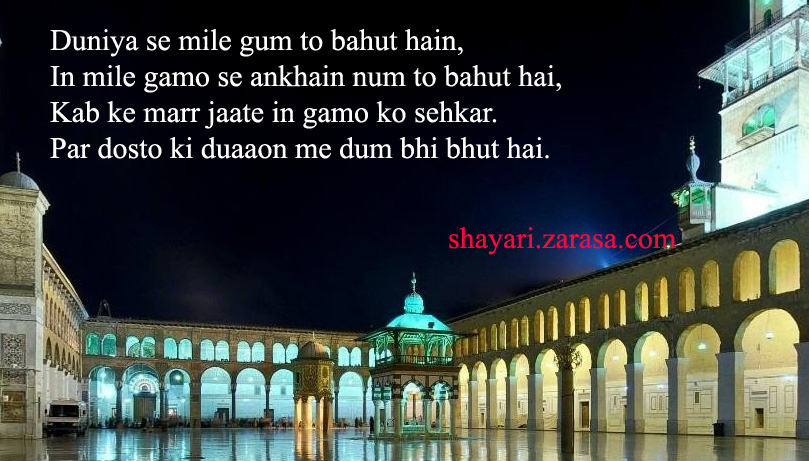 ---

दुनिया से मिले गम तो बहुत हैं,
इन मिले गमो से आँखें नम तो बहुत है,
कब के मर जाते इन गमो को सहकर.
पर दोस्तों की दुआओं में दम भी बहुत है.


---

دنیا سے ملے گم تو بہت ہیں
ان ملے گمو سے آنکھیں نم تو بہت ہے
کب کے مر جاتے ان گمو کو برداشت کرکے
پر دوستوں کی دعاؤں میں دم بھی بہت ہے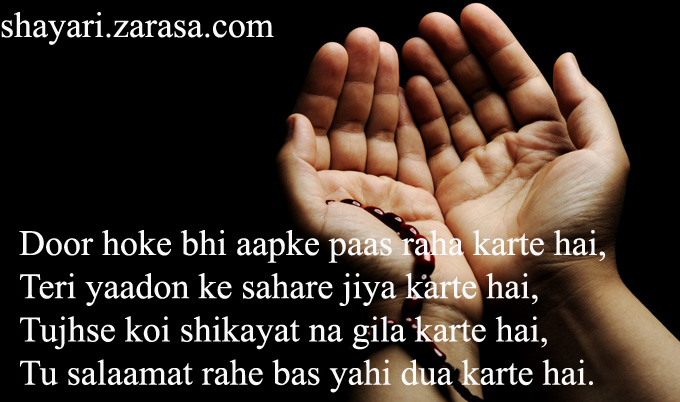 Door hoke bhi aapke paas raha karte hai,
Teri yaadon ke sahare jiya karte hai,
Tujhse koi shikayat na gila karte hai,
Tu salaamat rahe bas yahi dua karte hai.



दूर होके भी आपके पास रहा करते है,
तेरी यादों के सहारे जिया करते है,
तुझसे कोई शिकायत न गला करते है,
तो सलामत रहे बस यही दवा करते है।
دور ہوکے بھی آپکے پاس رہا کرتے ہے
تیری یادوں کے سہارے جیا کرتے ہے
تجھسے کوئی شکایات نہ گلا کرتے ہے
. تو سلامت رہے بس یہی دوا کرتے ہے
---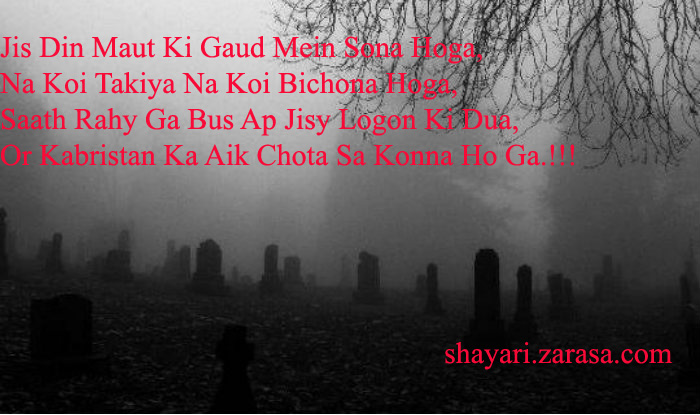 Jis Din Maut Ki Gaud Mein Sona Hoga,
Na Koi Takiya Na Koi Bichona Hoga,
Saath Rahe Gi Bus Aap Jisy Logon Ki Dua,
Or Kabristan Ka Aik Chota Sa Konna Ho Ga.!!!








जिस दिन मौत की गोद में सोना होगा
न कोई तकिया न कोई बिछोना होगा,
साथ रहे गी बस आप जैसे लोगों की दुआ,
और कब्रिस्तान का एक छोटा सा कोना हो गा!!!
جس دن موت کی گود میں سونا گے
نہ کوئی تکیا نہ کوئی بچھونا گے
ساتھ رہے گی بس آپ جیسے لوگوں کی دوا
اور قبرستان کا ایک چھوٹا سا کونا ہو گا
---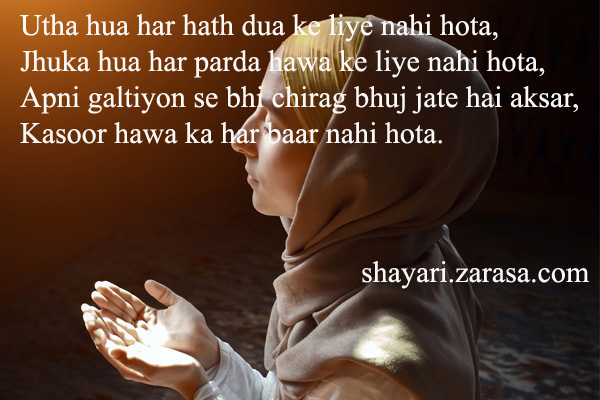 Utha hua har hath dua ke liye nahi hota,
Jhuka hua har parda hawa ke liye nahi hota,
Apni galtiyon se bhi chirag bhuj jate hai aksar,
Kasoor hawa ka har baar nahi hota.



उठा हुआ हर हाथ दुआ के लिए नहीं होता,
झुका हुआ हर पर्दा हवा के लिए नहीं होता,
अपनी गलतियों से भी चिराग भुज जाते है अक्सर,
कसूर हवा का हर बार नहीं होता।
اٹھا ہوا ہر ہاتھ دعا کے لئے نہیں ہوتا
جھکا ہوا ہر پردے ہوا کے لئے نہیں ہوتا
اپنی غلطیوں سے بھی چراغ بھج جاتے ہیں اکثر
قصور ہوا ہر بار نہیں ہوتا
---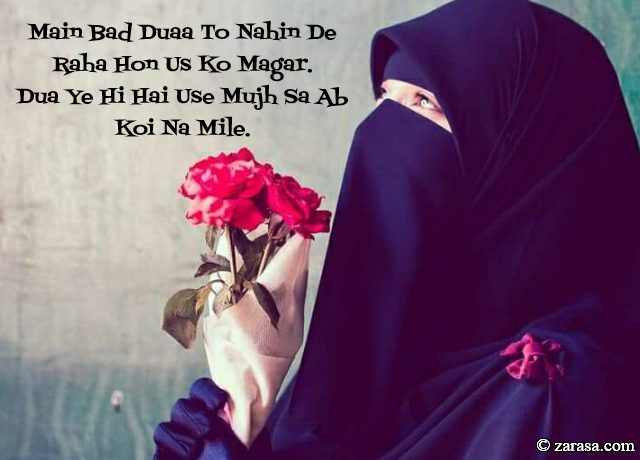 Main Bad Duaa To Nahin De Raha Hon Us Ko Magar.
Dua Ye Hi Hai Use Mujh Sa Ab Koi Na Mile.
मैं बाद दुआ तो नहीं दे रहा हों उस को मगर .
दुआ ये ही है उसे मुझ सा अब कोई ना मिले .
میں بددوا تو نہیں دے رہا ہوں اس کو مگر .
دوا یہ ہی ہے اسے مجھ سا اب کوئی نہ میل .
---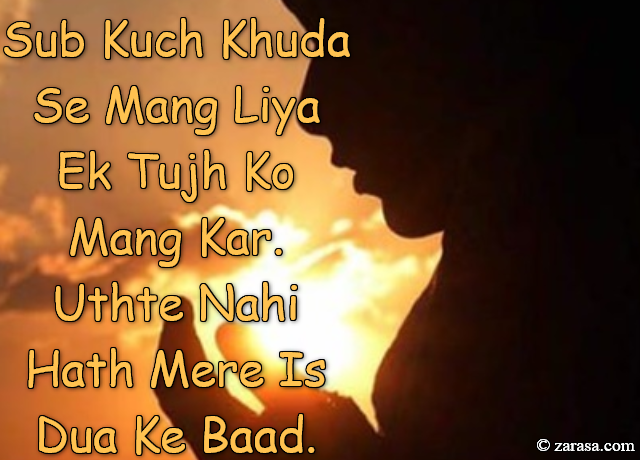 Sub Kuch Khuda Se Mang Liya Ek Tujh Ko Mang Kar.
Uthte Nahi Hath Mere Is Dua Ke Baad.
सुब कुछ खुदा से मांग लिया एक तुझ को मांग कर .
उठते नहीं हाथ मेरे ीस दुआ के बाद .
سب کچھ خدا سے مانگ لیا ایک تجھ کو مانگ کر .
اٹھتے نہیں ہاتھ میرے اس دوا کے بعد .
---