Shayari for Dua "Duniya se mile gum to bahut hain"
|
Duniya se mile gum to bahut hain,
In mile gamo se ankhain num to bahut hai,
Kab ke mar jaate in gamo ko sehkar.
Par dosto ki duaaon me dum bhi bhut hai.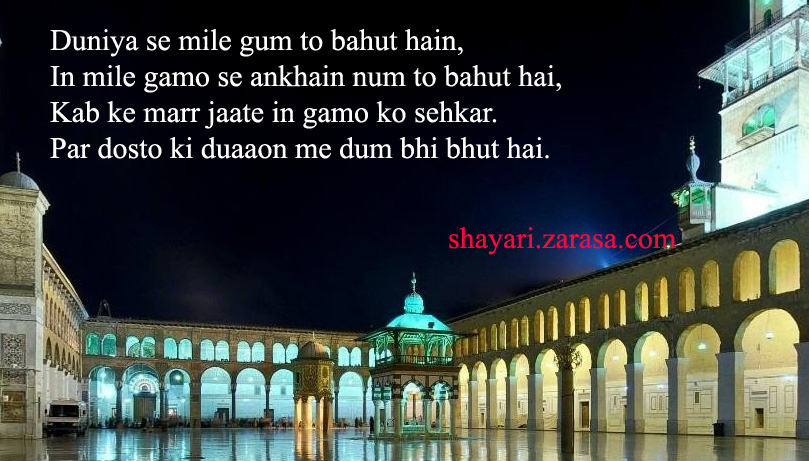 ---

दुनिया से मिले गम तो बहुत हैं,
इन मिले गमो से आँखें नम तो बहुत है,
कब के मर जाते इन गमो को सहकर.
पर दोस्तों की दुआओं में दम भी बहुत है.


---

دنیا سے ملے گم تو بہت ہیں
ان ملے گمو سے آنکھیں نم تو بہت ہے
کب کے مر جاتے ان گمو کو برداشت کرکے
پر دوستوں کی دعاؤں میں دم بھی بہت ہے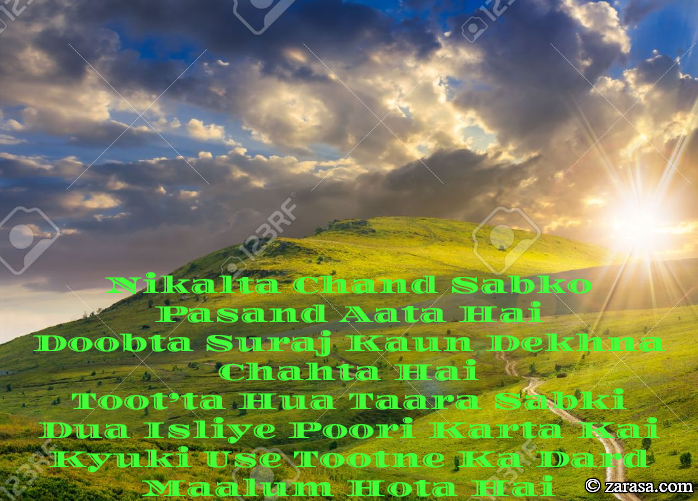 Nikalta Chand Sabko Pasand Aata Hai
Doobta Suraj Kaun Dekhna Chahta Hai
Toot'ta Hua Taara Sabki Dua Isliye Poori Karta Kai
Kyuki Use Tootne Ka Dard Maalum Hota Hai
निकलता चाँद सबको पसंद आता है
डूबता सूरज कौन देखना चाहता है
टूट 'ता हुआ तारा सबकी दुआ इसलिए पूरी करता है
क्युकी उसे टूटने का दर्द मालुम होता है
نکلتا چاند سبکو پسند آتا ہے
ڈوبتا سورج کون دیکھنا چاہتا ہے
ٹوٹ 'تا ہوا تارا سبکی دوا اسلئے پوری کرتا ہے
کیونکی اسے ٹوٹنے درد معلوم ہوتا ہے
---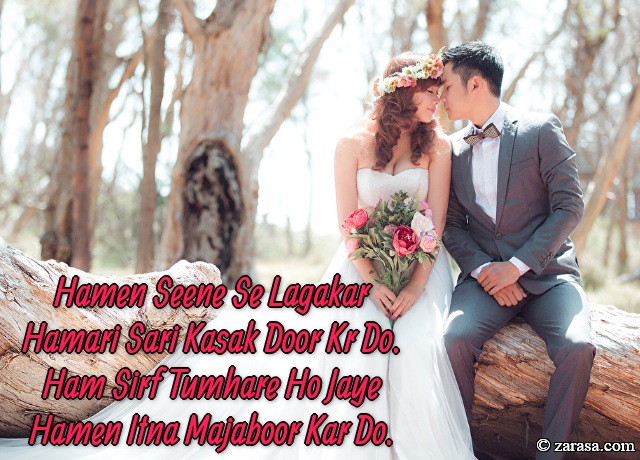 Hamen Seene Se Lagakar Hamari Sari Kasak Door Kr Do.
Ham Sirf Tumhare Ho Jaye Hamen Itna Majaboor Kar Do.
हमें सीने से लगाकर हमारी साडी कसक दूर कर दो .
हम सिर्फ तुम्हारे हो जाये हमें इतना मजबूर कर दो .
ہمیں سینے سے لگاکر ہماری سری کسک دور کر دو.
ہم صرف تمہارے ہو جائے ہمیں اتنا مجبور کر دو .
---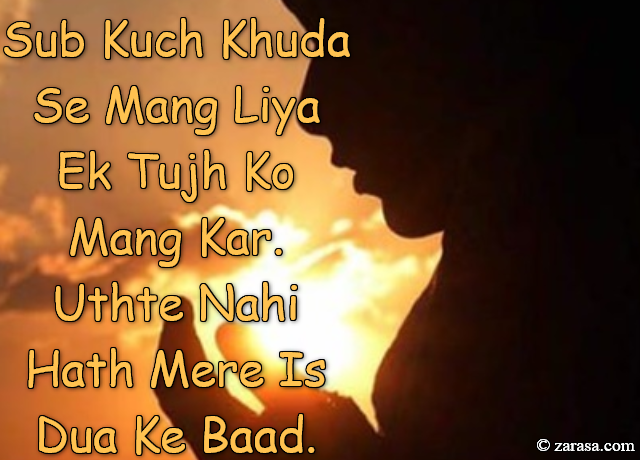 Sub Kuch Khuda Se Mang Liya Ek Tujh Ko Mang Kar.
Uthte Nahi Hath Mere Is Dua Ke Baad.
सुब कुछ खुदा से मांग लिया एक तुझ को मांग कर .
उठते नहीं हाथ मेरे ीस दुआ के बाद .
سب کچھ خدا سے مانگ لیا ایک تجھ کو مانگ کر .
اٹھتے نہیں ہاتھ میرے اس دوا کے بعد .
---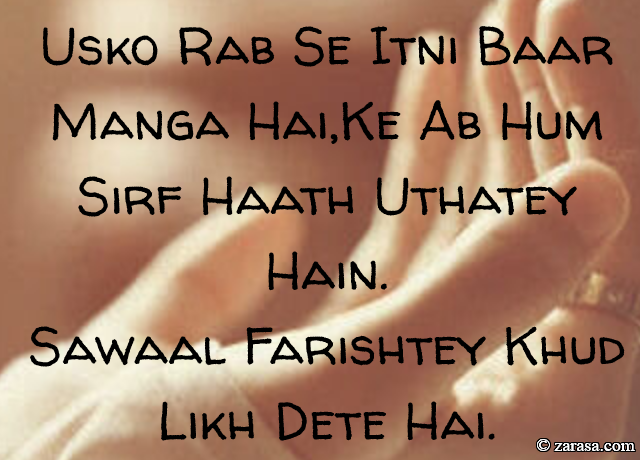 Usko Rab Se Itni Baar Manga Hai,Ke Ab Hum Sirf Haath Uthatey Hain.
Sawaal Farishtey Khud Likh Dete Hai.
उसको रब से इतनी बार माँगा है ,के अब हम सिर्फ हाथ उठाते हैं .
सवाल फ़रिश्ते ख़ुद लिख देते है .
اسکو رب سے اتنی بار منگا ہے ,کے اب ہم صرف ہاتھ اٹھاتے ہے .
سوال فرشتے خود لکھ دیتے ہے .
---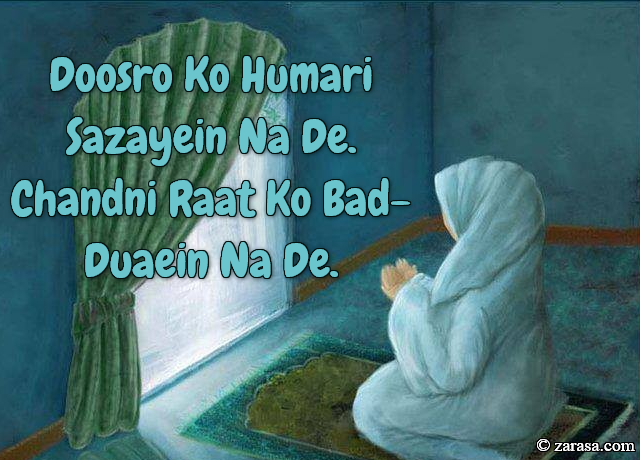 Doosro Ko Humari Sazayein Na De.
Chandni Raat Ko Bad-Duaein Na De.
दूसरो को हमारी सज़ाएं ना दे .
चांदनी रात को बाद -दुआएं ना दे .
دوسرو کو ہماری سزےیں نہ دیں .
چاندنی رات کو بعد -دعائیں نہ دے .
---