Shayari for Dua "Duniya se mile gum to bahut hain"
|
Duniya se mile gum to bahut hain,
In mile gamo se ankhain num to bahut hai,
Kab ke mar jaate in gamo ko sehkar.
Par dosto ki duaaon me dum bhi bhut hai.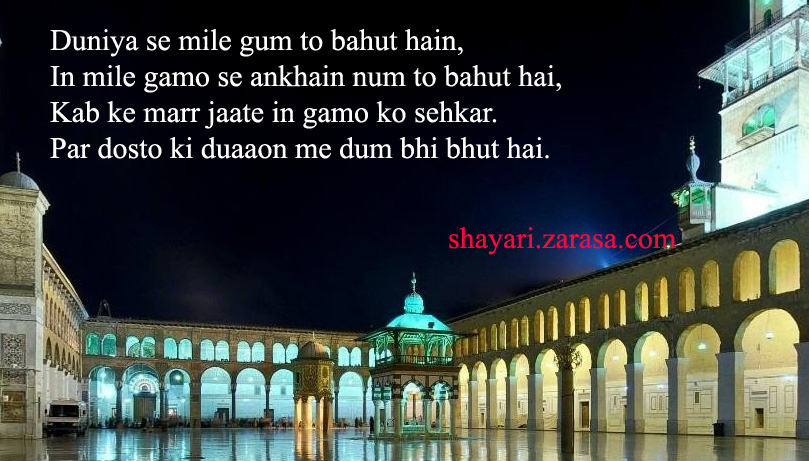 ---

दुनिया से मिले गम तो बहुत हैं,
इन मिले गमो से आँखें नम तो बहुत है,
कब के मर जाते इन गमो को सहकर.
पर दोस्तों की दुआओं में दम भी बहुत है.


---

دنیا سے ملے گم تو بہت ہیں
ان ملے گمو سے آنکھیں نم تو بہت ہے
کب کے مر جاتے ان گمو کو برداشت کرکے
پر دوستوں کی دعاؤں میں دم بھی بہت ہے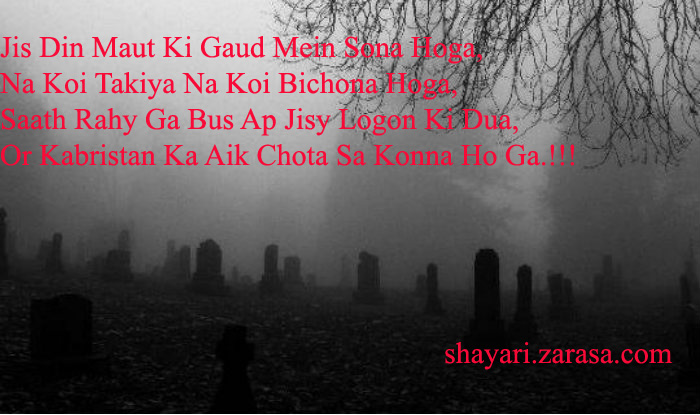 Jis Din Maut Ki Gaud Mein Sona Hoga,
Na Koi Takiya Na Koi Bichona Hoga,
Saath Rahe Gi Bus Aap Jisy Logon Ki Dua,
Or Kabristan Ka Aik Chota Sa Konna Ho Ga.!!!








जिस दिन मौत की गोद में सोना होगा
न कोई तकिया न कोई बिछोना होगा,
साथ रहे गी बस आप जैसे लोगों की दुआ,
और कब्रिस्तान का एक छोटा सा कोना हो गा!!!
جس دن موت کی گود میں سونا گے
نہ کوئی تکیا نہ کوئی بچھونا گے
ساتھ رہے گی بس آپ جیسے لوگوں کی دوا
اور قبرستان کا ایک چھوٹا سا کونا ہو گا
---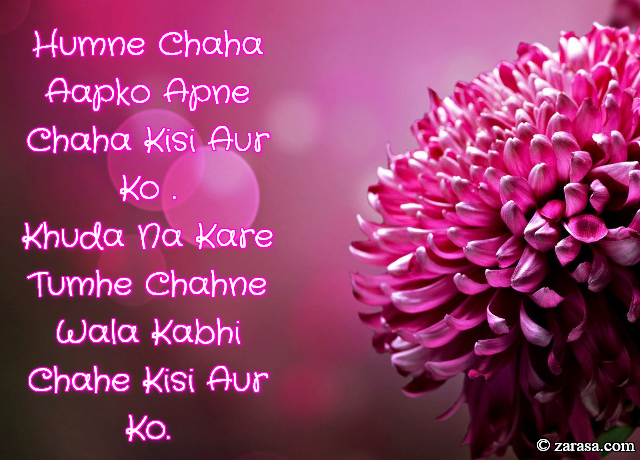 Humne Chaha Aapko Apne Chaha Kisi Aur Ko .
Khuda Na Kare Tumhe Chahne Wala Kabhi Chahe Kisi Aur Ko.
हमने चाहा आपको अपने चाहा किसी और को .
खुदा न करे तुम्हे चाहने वाला कभी चाहे किसी और को .
ہمنے چاہا آپکو اپنے چاہا کسی اور کو .
خدا نہ کرے تمھ چاہنے والا کبھی چاہے کسی اور کو .
---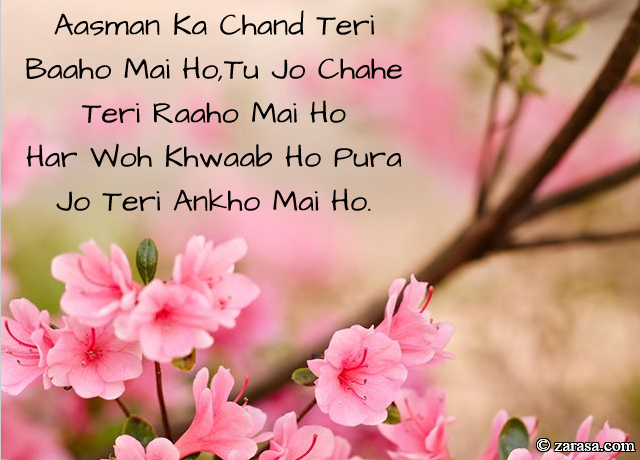 Aasman Ka Chand Teri Baaho Mai Ho,Tu Jo Chahe Teri Raaho Mai Ho
Har Woh Khwaab Ho Pura Jo Teri Ankho Mai Ho.
आसमान का चाँद तेरी बाहो मै हो ,तू जो चाहे तेरी राहो मै हो
हर वो ख़्वाब हो पूरा जो तेरी आँखों मै हो .
آسمان کا چند تیری بہو می ہو ,تو جو چاہے تیری رہاہو می ہو
ہر وہ خواب ہو پورا جو تیری انکھو می ہو .
---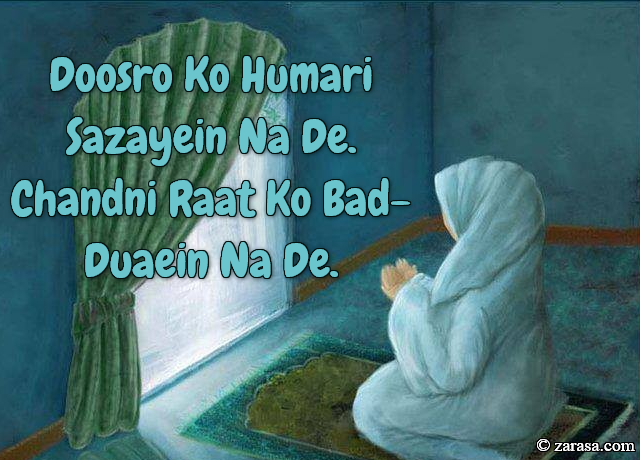 Doosro Ko Humari Sazayein Na De.
Chandni Raat Ko Bad-Duaein Na De.
दूसरो को हमारी सज़ाएं ना दे .
चांदनी रात को बाद -दुआएं ना दे .
دوسرو کو ہماری سزےیں نہ دیں .
چاندنی رات کو بعد -دعائیں نہ دے .
---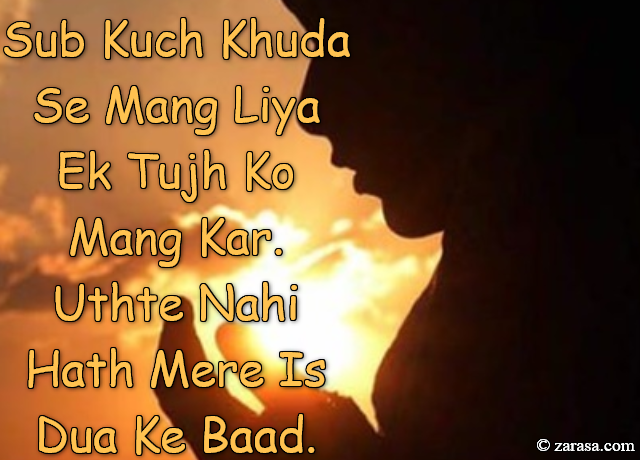 Sub Kuch Khuda Se Mang Liya Ek Tujh Ko Mang Kar.
Uthte Nahi Hath Mere Is Dua Ke Baad.
सुब कुछ खुदा से मांग लिया एक तुझ को मांग कर .
उठते नहीं हाथ मेरे ीस दुआ के बाद .
سب کچھ خدا سے مانگ لیا ایک تجھ کو مانگ کر .
اٹھتے نہیں ہاتھ میرے اس دوا کے بعد .
---