Shayari for Dua "Yad Rakhta Hai"
|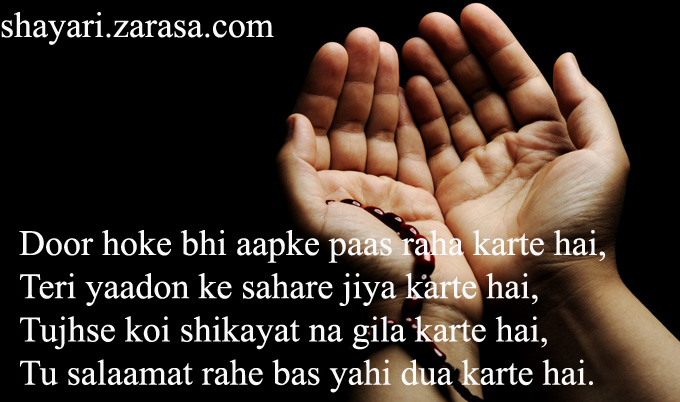 Door hoke bhi aapke paas raha karte hai,
Teri yaadon ke sahare jiya karte hai,
Tujhse koi shikayat na gila karte hai,
Tu salaamat rahe bas yahi dua karte hai.



दूर होके भी आपके पास रहा करते है,
तेरी यादों के सहारे जिया करते है,
तुझसे कोई शिकायत न गला करते है,
तो सलामत रहे बस यही दवा करते है।
دور ہوکے بھی آپکے پاس رہا کرتے ہے
تیری یادوں کے سہارے جیا کرتے ہے
تجھسے کوئی شکایات نہ گلا کرتے ہے
. تو سلامت رہے بس یہی دوا کرتے ہے
---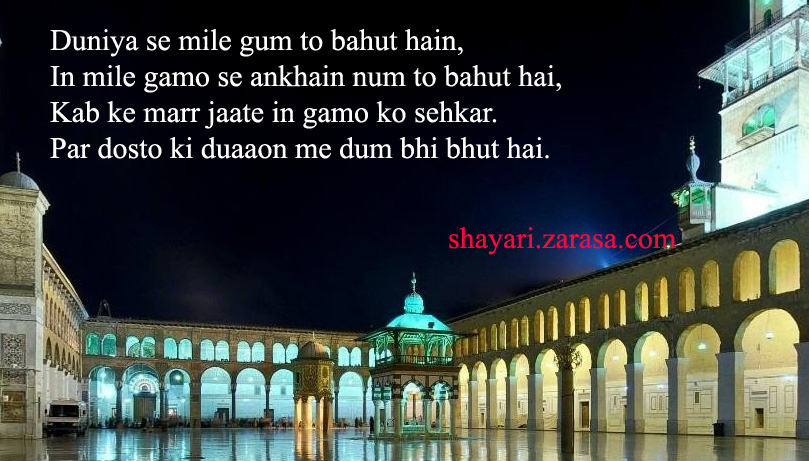 Duniya se mile gum to bahut hain,
In mile gamo se ankhain num to bahut hai,
Kab ke mar jaate in gamo ko sehkar.
Par dosto ki duaaon me dum bhi bhut hai.



दुनिया से मिले गम तो बहुत हैं,
इन मिले गमो से आँखें नम तो बहुत है,
कब के मर जाते इन गमो को सहकर.
पर दोस्तों की दुआओं में दम भी बहुत है.
دنیا سے ملے گم تو بہت ہیں
ان ملے گمو سے آنکھیں نم تو بہت ہے
کب کے مر جاتے ان گمو کو برداشت کرکے
پر دوستوں کی دعاؤں میں دم بھی بہت ہے
---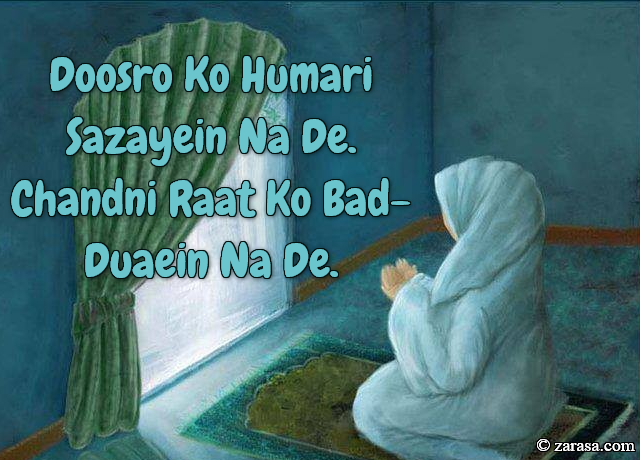 Doosro Ko Humari Sazayein Na De.
Chandni Raat Ko Bad-Duaein Na De.
दूसरो को हमारी सज़ाएं ना दे .
चांदनी रात को बाद -दुआएं ना दे .
دوسرو کو ہماری سزےیں نہ دیں .
چاندنی رات کو بعد -دعائیں نہ دے .
---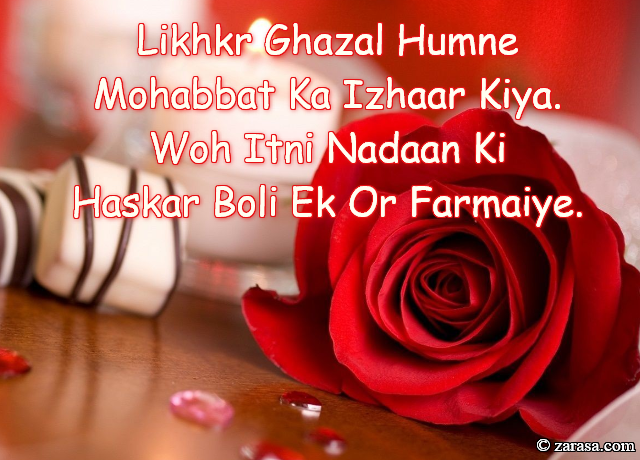 Likhkr Ghazal Humne Mohabbat Ka Izhaar Kiya.
Woh Itni Nadaan Ki Haskar Boli Ek Or Farmaiye.
लिखकर ग़ज़ल हमने मोहब्बत का इज़्हार किया .
वह इतनी नादान की हसकर बोली एक और फरमाइए .
لکھکر غزل ہمنے موحبّت کا اظہار کیا .
وہ اتنی ناداں کی حسکر بولی ایک اور فرمائے .
---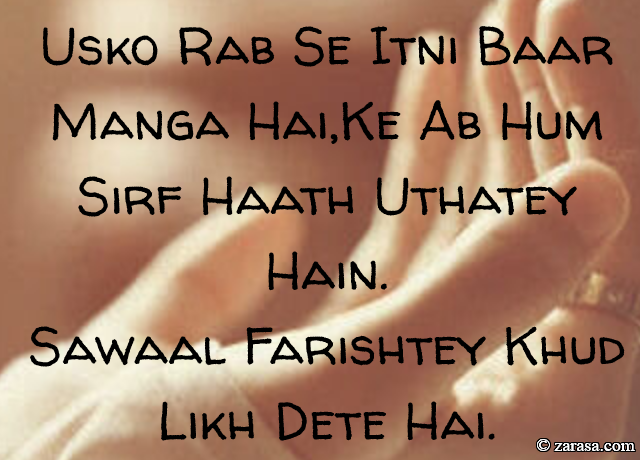 Usko Rab Se Itni Baar Manga Hai,Ke Ab Hum Sirf Haath Uthatey Hain.
Sawaal Farishtey Khud Likh Dete Hai.
उसको रब से इतनी बार माँगा है ,के अब हम सिर्फ हाथ उठाते हैं .
सवाल फ़रिश्ते ख़ुद लिख देते है .
اسکو رب سے اتنی بار منگا ہے ,کے اب ہم صرف ہاتھ اٹھاتے ہے .
سوال فرشتے خود لکھ دیتے ہے .
---