Shayari for Dua"Har Mushkil Ko Hal Karti Hai Dua"
|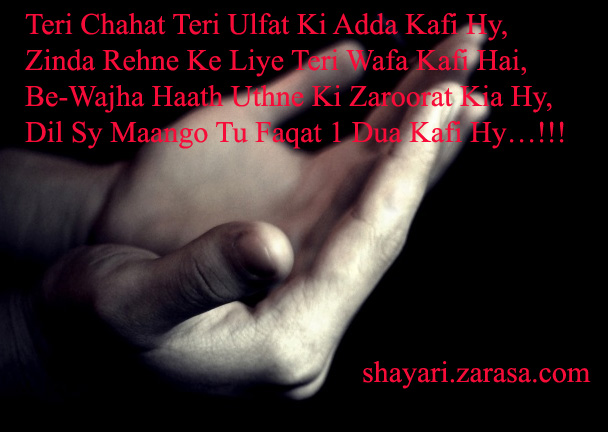 Teri Chahat Teri Ulfat Ki Adda Kafi Hai,
Zinda Rehne Ke Liye Teri Wafa Kafi Hai,
Be-Wajha Haath Uthne Ki Zaroorat Kia Hai,
Dil Sy Maango Tu Faqat 1 Dua Kafi Hai…!!!



तेरी चाहत तेरी उल्फत की अदा काफी है,
ज़िंदा रहने के लिए तेरी वफ़ा काफी है,
बे-वजह हाथ उठने की ज़रुरत क्या है,
दिल से मांगो तो फ़क़त 1 दुआ काफी है…!!!
تیری چاہت تیری الپھت کی ادا کافی ہے
زندہ رہنے کے لئے تیری وفا کافی ہے
بے وجہ ہاتھ اٹھنے کی ضرورت کیا ہے
دل سے مانگو تو فقط 1 دعا کافی ہے
---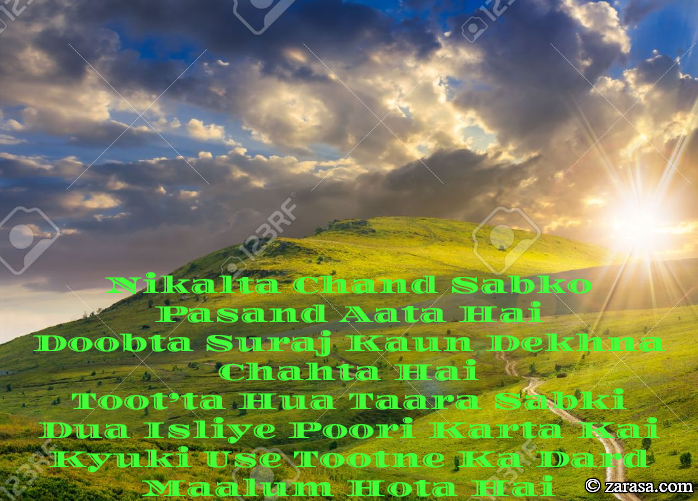 Nikalta Chand Sabko Pasand Aata Hai
Doobta Suraj Kaun Dekhna Chahta Hai
Toot'ta Hua Taara Sabki Dua Isliye Poori Karta Kai
Kyuki Use Tootne Ka Dard Maalum Hota Hai
निकलता चाँद सबको पसंद आता है
डूबता सूरज कौन देखना चाहता है
टूट 'ता हुआ तारा सबकी दुआ इसलिए पूरी करता है
क्युकी उसे टूटने का दर्द मालुम होता है
نکلتا چاند سبکو پسند آتا ہے
ڈوبتا سورج کون دیکھنا چاہتا ہے
ٹوٹ 'تا ہوا تارا سبکی دوا اسلئے پوری کرتا ہے
کیونکی اسے ٹوٹنے درد معلوم ہوتا ہے
---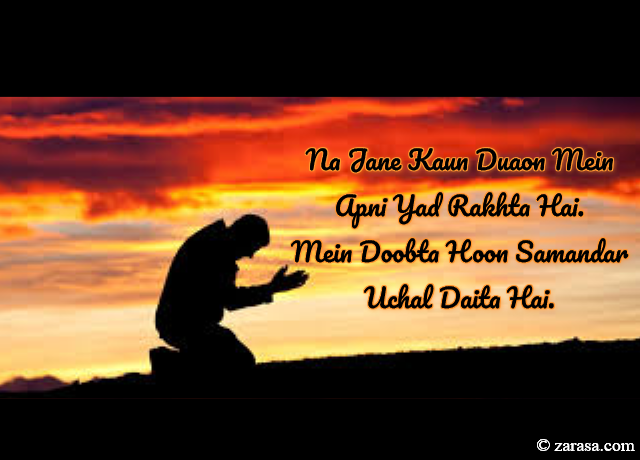 Na Jane Kaun Duaon Mein Apni Yad Rakhta Hai.
Mein Doobta Hoon Samandar Uchal Daita Hai.
ना जाने कौन दुआओं में अपनी यद् रखता है .
में डूबता हूँ समंदर उछाल देता है .
نہ جانے کون دواؤں میں اپنی یاد رکھتا ہے .
میں ڈوبتا ہوں سمندر اچھل دیتا ہے .
---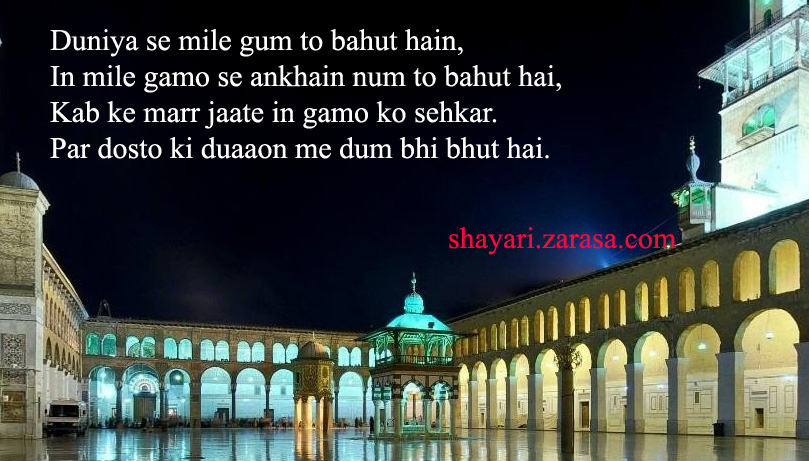 Duniya se mile gum to bahut hain,
In mile gamo se ankhain num to bahut hai,
Kab ke mar jaate in gamo ko sehkar.
Par dosto ki duaaon me dum bhi bhut hai.



दुनिया से मिले गम तो बहुत हैं,
इन मिले गमो से आँखें नम तो बहुत है,
कब के मर जाते इन गमो को सहकर.
पर दोस्तों की दुआओं में दम भी बहुत है.
دنیا سے ملے گم تو بہت ہیں
ان ملے گمو سے آنکھیں نم تو بہت ہے
کب کے مر جاتے ان گمو کو برداشت کرکے
پر دوستوں کی دعاؤں میں دم بھی بہت ہے
---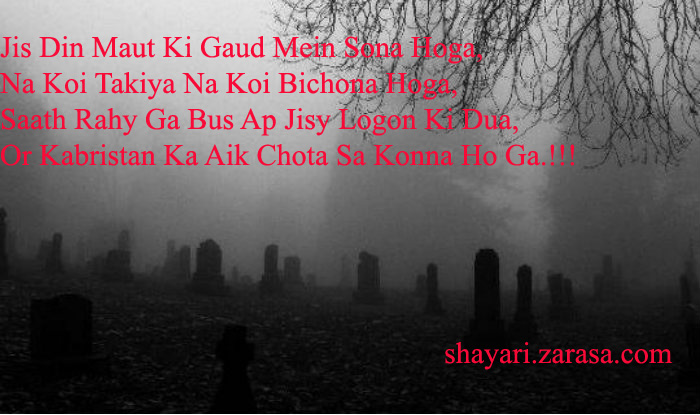 Jis Din Maut Ki Gaud Mein Sona Hoga,
Na Koi Takiya Na Koi Bichona Hoga,
Saath Rahe Gi Bus Aap Jisy Logon Ki Dua,
Or Kabristan Ka Aik Chota Sa Konna Ho Ga.!!!








जिस दिन मौत की गोद में सोना होगा
न कोई तकिया न कोई बिछोना होगा,
साथ रहे गी बस आप जैसे लोगों की दुआ,
और कब्रिस्तान का एक छोटा सा कोना हो गा!!!
جس دن موت کی گود میں سونا گے
نہ کوئی تکیا نہ کوئی بچھونا گے
ساتھ رہے گی بس آپ جیسے لوگوں کی دوا
اور قبرستان کا ایک چھوٹا سا کونا ہو گا
---