Shayari for Dua"Usko Rab Se Itni Baar Manga Hai"
|
Usko Rab Se Itni Baar Manga Hai,Ke Ab Hum Sirf Haath Uthatey Hain.
Sawaal Farishtey Khud Likh Dete Hai.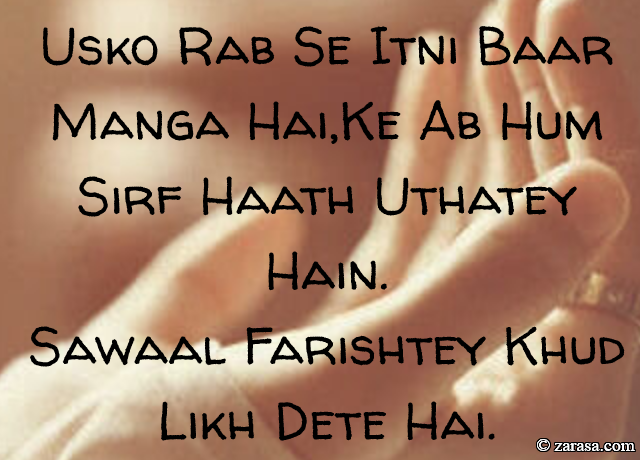 ---

उसको रब से इतनी बार माँगा है ,के अब हम सिर्फ हाथ उठाते हैं .
सवाल फ़रिश्ते ख़ुद लिख देते है .


---

اسکو رب سے اتنی بار منگا ہے ,کے اب ہم صرف ہاتھ اٹھاتے ہے .
سوال فرشتے خود لکھ دیتے ہے .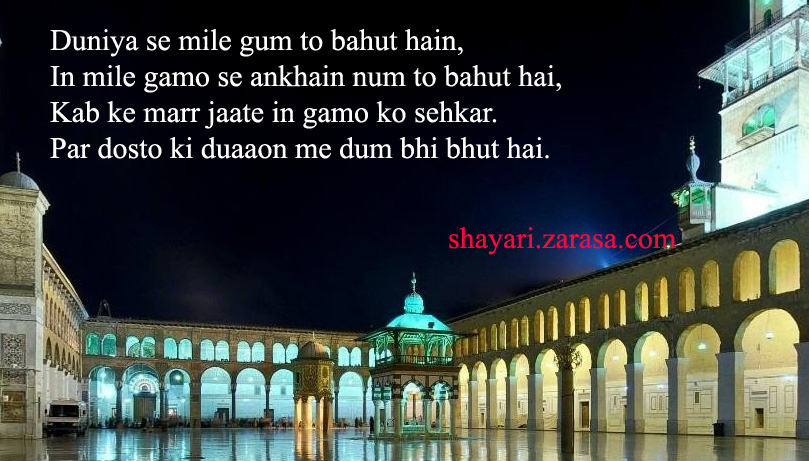 Duniya se mile gum to bahut hain,
In mile gamo se ankhain num to bahut hai,
Kab ke mar jaate in gamo ko sehkar.
Par dosto ki duaaon me dum bhi bhut hai.



दुनिया से मिले गम तो बहुत हैं,
इन मिले गमो से आँखें नम तो बहुत है,
कब के मर जाते इन गमो को सहकर.
पर दोस्तों की दुआओं में दम भी बहुत है.
دنیا سے ملے گم تو بہت ہیں
ان ملے گمو سے آنکھیں نم تو بہت ہے
کب کے مر جاتے ان گمو کو برداشت کرکے
پر دوستوں کی دعاؤں میں دم بھی بہت ہے
---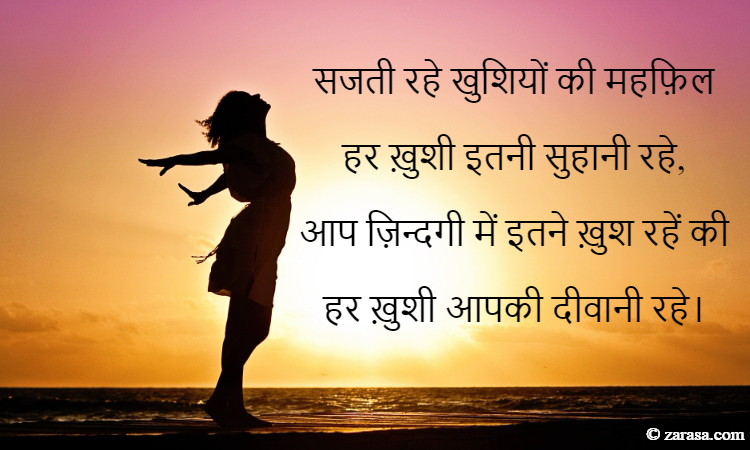 Sajti Rahe Khushiyon Ki Mehfil
Har Khushi Itni Suhani Rahe,
Aap Zindagi Me Itne Khush Rahen Ki
Har Khushi Apki Deewani Rahe .
सजती रहे खुशियों की महफ़िल
हर ख़ुशी इतनी सुहानी रहे,
आप ज़िन्दगी में इतने ख़ुश रहें की
हर ख़ुशी आपकी दीवानी रहे।
سجتی رہے خوشیوں کی محفل
ہر خوشی اتنی سہانی رہے
آپ زندگی مے اتنے خوش رہیں کی
ہر خوشی آپکی دیوانی رہے
---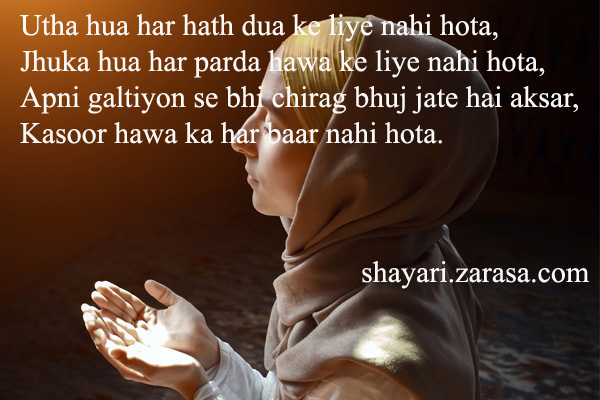 Utha hua har hath dua ke liye nahi hota,
Jhuka hua har parda hawa ke liye nahi hota,
Apni galtiyon se bhi chirag bhuj jate hai aksar,
Kasoor hawa ka har baar nahi hota.



उठा हुआ हर हाथ दुआ के लिए नहीं होता,
झुका हुआ हर पर्दा हवा के लिए नहीं होता,
अपनी गलतियों से भी चिराग भुज जाते है अक्सर,
कसूर हवा का हर बार नहीं होता।
اٹھا ہوا ہر ہاتھ دعا کے لئے نہیں ہوتا
جھکا ہوا ہر پردے ہوا کے لئے نہیں ہوتا
اپنی غلطیوں سے بھی چراغ بھج جاتے ہیں اکثر
قصور ہوا ہر بار نہیں ہوتا
---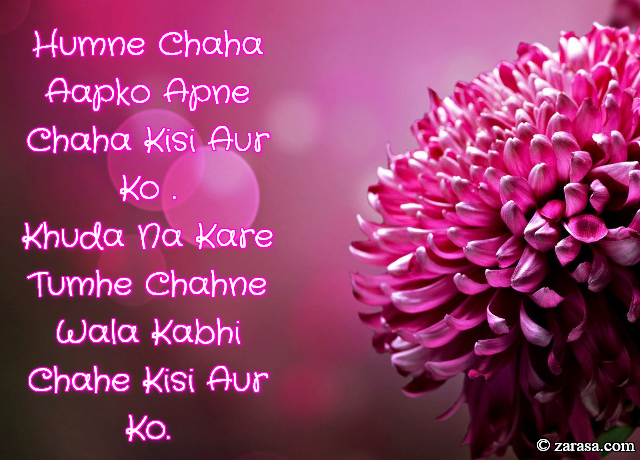 Humne Chaha Aapko Apne Chaha Kisi Aur Ko .
Khuda Na Kare Tumhe Chahne Wala Kabhi Chahe Kisi Aur Ko.
हमने चाहा आपको अपने चाहा किसी और को .
खुदा न करे तुम्हे चाहने वाला कभी चाहे किसी और को .
ہمنے چاہا آپکو اپنے چاہا کسی اور کو .
خدا نہ کرے تمھ چاہنے والا کبھی چاہے کسی اور کو .
---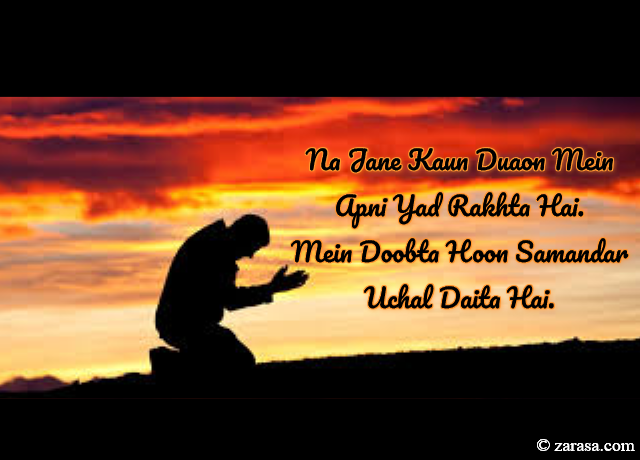 Na Jane Kaun Duaon Mein Apni Yad Rakhta Hai.
Mein Doobta Hoon Samandar Uchal Daita Hai.
ना जाने कौन दुआओं में अपनी यद् रखता है .
में डूबता हूँ समंदर उछाल देता है .
نہ جانے کون دواؤں میں اپنی یاد رکھتا ہے .
میں ڈوبتا ہوں سمندر اچھل دیتا ہے .
---