Shayari for Dua"Khuda Na Kare"
|
Humne Chaha Aapko Apne Chaha Kisi Aur Ko .
Khuda Na Kare Tumhe Chahne Wala Kabhi Chahe Kisi Aur Ko.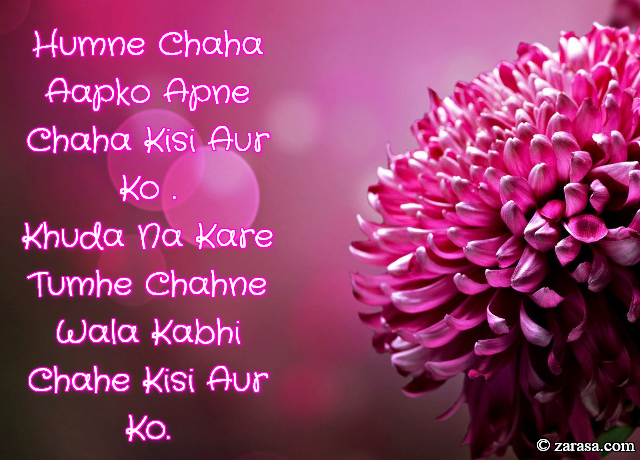 ---

हमने चाहा आपको अपने चाहा किसी और को .
खुदा न करे तुम्हे चाहने वाला कभी चाहे किसी और को .


---

ہمنے چاہا آپکو اپنے چاہا کسی اور کو .
خدا نہ کرے تمھ چاہنے والا کبھی چاہے کسی اور کو .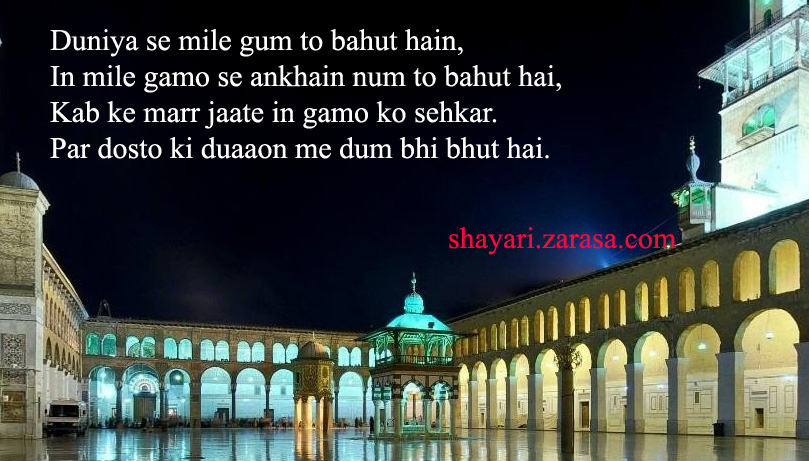 Duniya se mile gum to bahut hain,
In mile gamo se ankhain num to bahut hai,
Kab ke mar jaate in gamo ko sehkar.
Par dosto ki duaaon me dum bhi bhut hai.



दुनिया से मिले गम तो बहुत हैं,
इन मिले गमो से आँखें नम तो बहुत है,
कब के मर जाते इन गमो को सहकर.
पर दोस्तों की दुआओं में दम भी बहुत है.
دنیا سے ملے گم تو بہت ہیں
ان ملے گمو سے آنکھیں نم تو بہت ہے
کب کے مر جاتے ان گمو کو برداشت کرکے
پر دوستوں کی دعاؤں میں دم بھی بہت ہے
---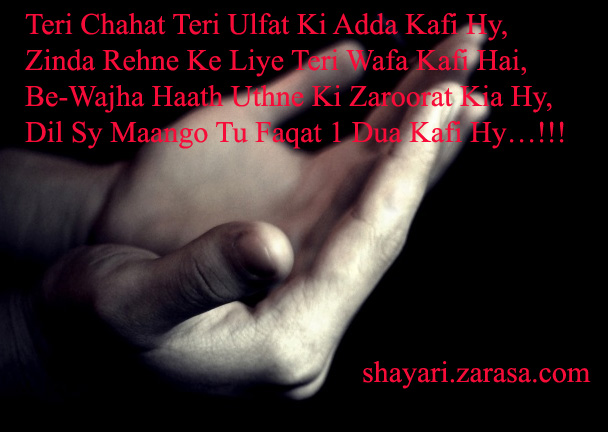 Teri Chahat Teri Ulfat Ki Adda Kafi Hai,
Zinda Rehne Ke Liye Teri Wafa Kafi Hai,
Be-Wajha Haath Uthne Ki Zaroorat Kia Hai,
Dil Sy Maango Tu Faqat 1 Dua Kafi Hai…!!!



तेरी चाहत तेरी उल्फत की अदा काफी है,
ज़िंदा रहने के लिए तेरी वफ़ा काफी है,
बे-वजह हाथ उठने की ज़रुरत क्या है,
दिल से मांगो तो फ़क़त 1 दुआ काफी है…!!!
تیری چاہت تیری الپھت کی ادا کافی ہے
زندہ رہنے کے لئے تیری وفا کافی ہے
بے وجہ ہاتھ اٹھنے کی ضرورت کیا ہے
دل سے مانگو تو فقط 1 دعا کافی ہے
---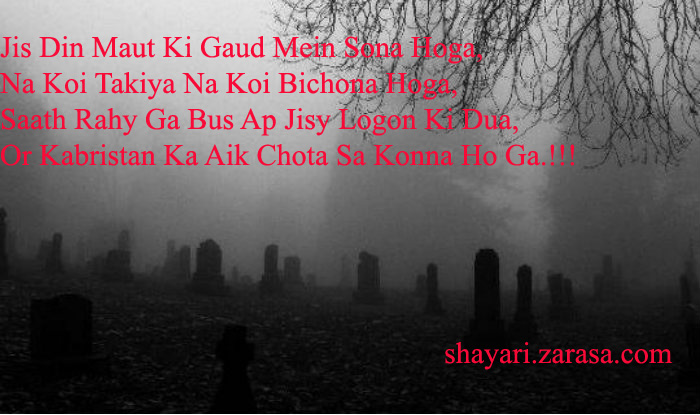 Jis Din Maut Ki Gaud Mein Sona Hoga,
Na Koi Takiya Na Koi Bichona Hoga,
Saath Rahe Gi Bus Aap Jisy Logon Ki Dua,
Or Kabristan Ka Aik Chota Sa Konna Ho Ga.!!!








जिस दिन मौत की गोद में सोना होगा
न कोई तकिया न कोई बिछोना होगा,
साथ रहे गी बस आप जैसे लोगों की दुआ,
और कब्रिस्तान का एक छोटा सा कोना हो गा!!!
جس دن موت کی گود میں سونا گے
نہ کوئی تکیا نہ کوئی بچھونا گے
ساتھ رہے گی بس آپ جیسے لوگوں کی دوا
اور قبرستان کا ایک چھوٹا سا کونا ہو گا
---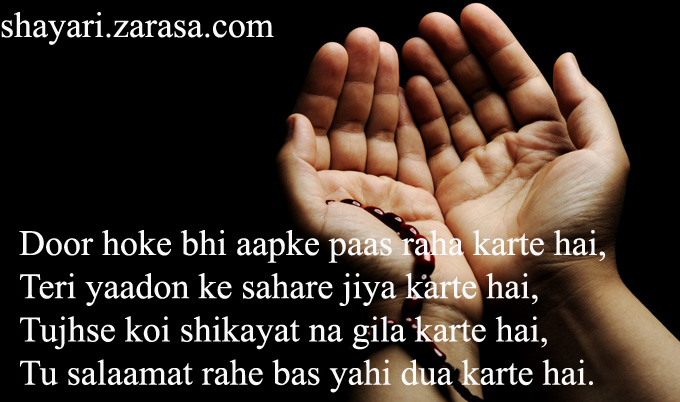 Door hoke bhi aapke paas raha karte hai,
Teri yaadon ke sahare jiya karte hai,
Tujhse koi shikayat na gila karte hai,
Tu salaamat rahe bas yahi dua karte hai.



दूर होके भी आपके पास रहा करते है,
तेरी यादों के सहारे जिया करते है,
तुझसे कोई शिकायत न गला करते है,
तो सलामत रहे बस यही दवा करते है।
دور ہوکے بھی آپکے پاس رہا کرتے ہے
تیری یادوں کے سہارے جیا کرتے ہے
تجھسے کوئی شکایات نہ گلا کرتے ہے
. تو سلامت رہے بس یہی دوا کرتے ہے
---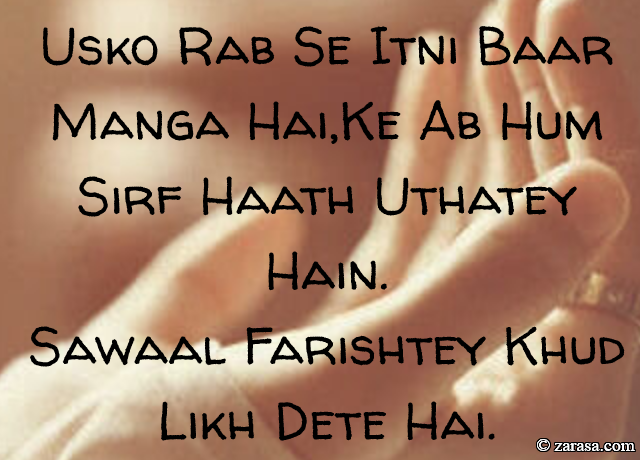 Usko Rab Se Itni Baar Manga Hai,Ke Ab Hum Sirf Haath Uthatey Hain.
Sawaal Farishtey Khud Likh Dete Hai.
उसको रब से इतनी बार माँगा है ,के अब हम सिर्फ हाथ उठाते हैं .
सवाल फ़रिश्ते ख़ुद लिख देते है .
اسکو رب سے اتنی بار منگا ہے ,کے اب ہم صرف ہاتھ اٹھاتے ہے .
سوال فرشتے خود لکھ دیتے ہے .
---