Shayari for Eyes "Tera Hi Intezar"
|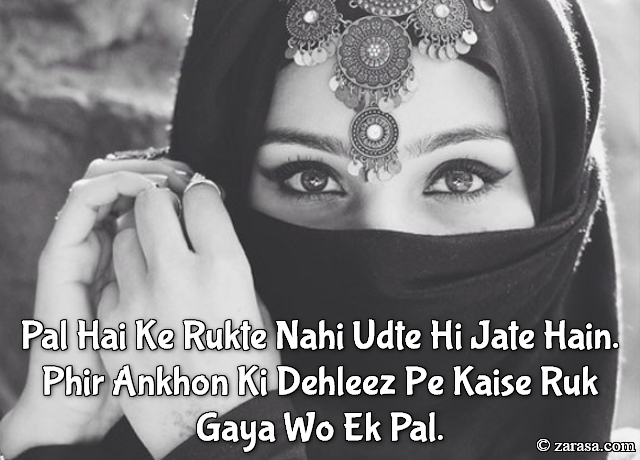 Pal Hai Ke Rukte Nahi Udte Hi Jate Hain.
Phir Ankhon Ki Dehleez Pe Kaise Ruk Gaya Wo Ek Pal.
पल है के रुकते नहीं उड़ते ही जाते है .
फिर आँखों की देहलीज़ पे कैसे रुक गया वो एक पल .
پل ہے کے روکتے نہیں اوڈتے ہی جاتے ہیں .
پھر آنکھوں کی دہلیز پی کیسے روک گیا وہ ایک پل .
---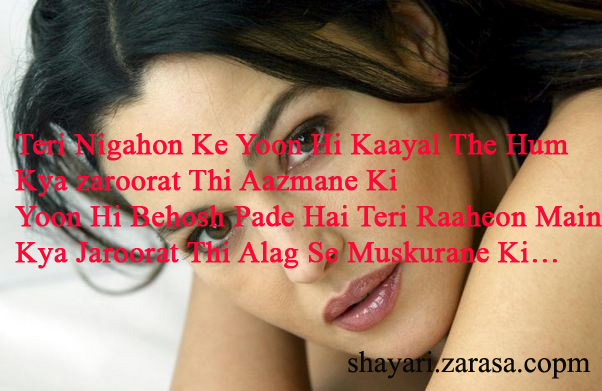 Teri Nigahon Ke Yoon Hi Kaayal The Hum
Kya zaroorat Thi Aazmane Ki
Yoon Hi Behosh Pade Hai Teri Raaheon Main
Kya Jaroorat Thi Alag Se Muskurane Ki…



तेरी निगाहों के यूं ही कायल थे हम
क्या ज़रुरत थी आज़माने की
यूं ही बेहोश पड़े है तेरी राहों मैं
क्या जरूरत थी अलग से मुस्कुराने की…
تیری نگاہوں کے یوں ہی کایل تھے ہم
کیا ضرورت تھی آزمانے کی
یوں ہی بیہوش پڑے ہے تیری راہوں میں
کیا ضرورت تھی الگ سے مسکرانے کی
---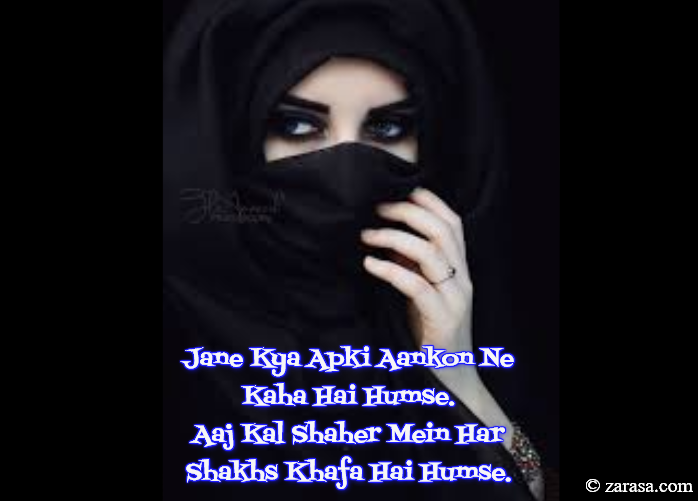 Jane Kya Apki Aankon Ne Kaha Hai Humse.
Aaj Kal Shaher Mein Har Shakhs Khafa Hai Humse.
जाने क्या आपकी आंखों ने कहा है हमसे .
आज कल शहर में हर शख्स खफा है हमसे .
جانے کیا آپکی آنکوں نے کہا ہے ہمسے .
آج کل شہر میں ہر شخص خفا ہے ہمسے .
---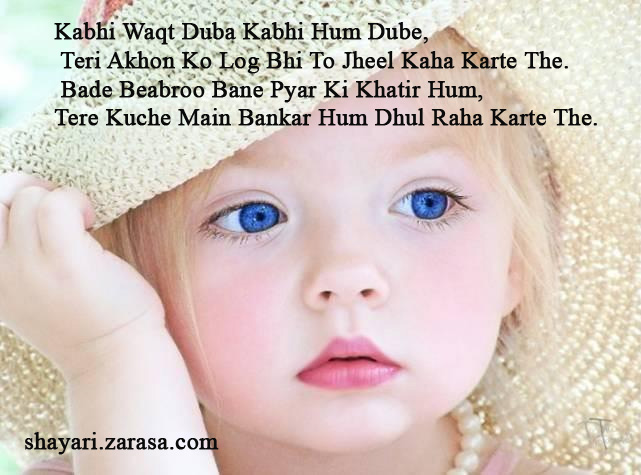 Kabhi Waqt Duba Kabhi Hum Dube,
Teri Akhon Ko Log Bhi To Jheel Kaha Karte The.
Bade Beabroo Bane Pyar Ki Khatir Hum,
Tere Kuche Main Bankar Hum Dhul Raha Karte The.


कभी वक़्त डूबा कभी हम दुबे,
तेरी आँखों को लोग भी तो झील कहा करते थे.
बड़े बेआबरू बने प्यार की खातिर हम,
तेरे कूचे मैं बनकर हम धूल रहा करते थे।
کبھی وقت ڈوبا کبھی ہم ڈوبے
تیری انکھون کو لوگ بھی جھیل کہا کرتے تھے
برھے بےابرو بنے پیار کی خھاتر ہم
تیرے کوچے مے بنکر ہم دھول رحا کرتے تھے
---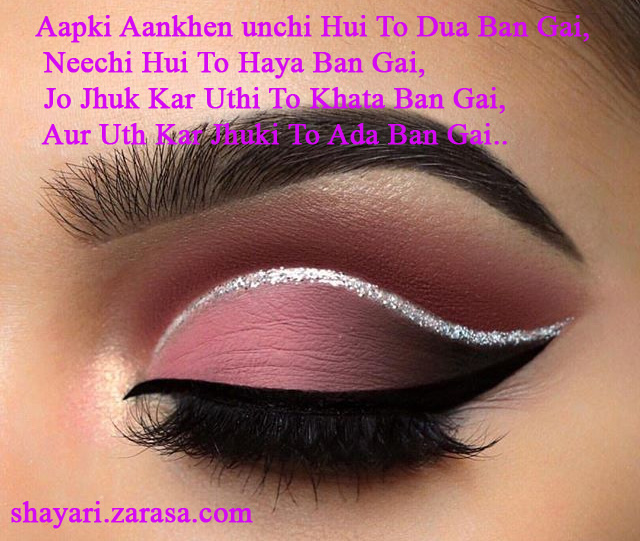 Aapki Aankhen unchi Hui To Dua Ban Gai,
Neechi Hui To Haya Ban Gai,
Jo Jhuk Kar Uthi To Khata Ban Gai,
Aur Uth Kar Jhuki To Ada Ban Gai..



आपकी आँखें ऊँची हुई तो दुआ बन गई,
नीची हुई तो हाय बन गई,
जो झुक कर उठी तो खता बन गई,
और उठ कर झुकी तो अदा बन गई।
اپ کی انکحعن اءنچی حوی تو حےا بن گی
نععچحی حوی تو حےا بن گین
جو جھک کر اٹھی تو ختا بن گین
اور اٹھ کر جھکی تو ادا بن گین۔
---